Wave riders / Australia
Australian DJs: Double J
The warmth of Australia's wireless provides a crucial platform for overlooked stories and offbeat music – and fights the good fight in uniting a country plagued by the tyranny of distance. Monocle dials into four of the country's most singular radio voices to meet the people behind the microphone.
We're back to the good old power of radio. It's something that can bind a huge nation together to make it feel stronger than the sum of its parts but it's also something intimate and personal; a place where moments are shared. That look across the lanes of Sydney traffic to catch the eye of a driver you just know is listening to the same voice you are and laughing in tandem – that's the spirit.
Why has radio become so important in Australia? Size matters, for one, and despite the nation's fame as heaven for the early-morning run on the beach, it's also a place of long car rides and faraway places made closer by a familiar voice.
Here we profile four presenters who set the pace and summarise the depth and tone of the Australian welcome, be it independent vinyl junkie, scrappy man of the people, cheery voice of the nation or former politician setting the world to rights without leaning on a soundbite. We travelled far and wide and have been welcomed into studios across the land. Thanks for tuning in.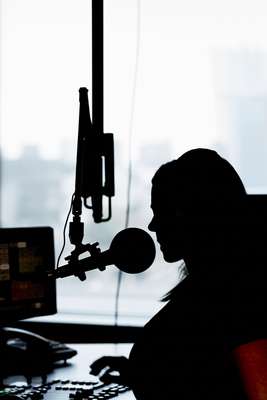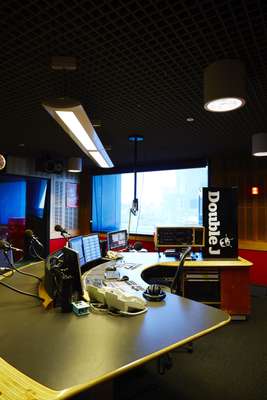 Myf Warhurst
Lunch with Myf
Double J
Renowned for her wry sense of humour and encyclopaedic musical knowledge, Myf Warhurst, it is safe to say, is as universally loved as you can be by fussy Australian radio listeners and television viewers. She has hosted programmes on AM, FM and digital platforms across the Australian Broadcasting Corporation's (ABC) national radio network; she has also been co-host of ABC television's hugely popular live-to-air music-quiz show Spicks and Specks for seven years. It's fair to say that she's a household name.
Warhurst is the daughter of schoolteachers and grew up around Victoria, where she lamented the isolation and lacklustre local programming. "I only had the choice of listening to commercial radio or a very grassroots regional ABC station at the time. The options were pretty dire; and, of course, there was no internet," she says. "I'd been told about [ABC's national youth station] Triple J in the late 1980s – this mythical radio station run by young people – but I didn't hear it until I moved to the big smoke, Melbourne, in the 1990s." It was a revelation, by all accounts. "It blew my mind. It gave me an education in non-mainstream music and set me on a path to discover everything that I possibly could about the music that I was listening to."
Starting her career as a print journalist, Warhurst was editor of Inpress, a music-heavy independent Melbourne street newspaper. She cut her teeth volunteering at Melbourne's Triple R community radio station before spending 10 years at Triple J. "It gave me the opportunity to make a career out of the two things that I love – broadcasting and music. It also provided a formative education in music, opening up my musical world when I most needed it and pointing me in the right direction," she says.
Her musical trajectory has seen several successful forays into the world of television, most notably in her role as team captain on ABC's Spicks and Specks. "I'd never done anything like that before," she says. "I'm not a comedian and the show had a comedy angle. We were a little shoddy at the start but the audience didn't seem to mind. It was a really fun thing to do and I think that's what the audience liked. We got to talk all about music and hear hilarious stories from our teen idols who joined us as team members on the show."
Despite her ease in front of the camera, Warhurst has spent the bulk of her career behind the microphone and now appears on ABC's digital network Double J, where she presents Lunch with Myf. She champions new independent releases, plays live music recordings and puts her prodigious music knowledge to good use by creating her own playlists.
Despite moving to Double J, considered to be Triple J's "older sister", Warhurst retains an affection for the youth station where she began her disc-spinning journey. "Triple J has had a huge effect on my life and on the lives of other kids growing up in regional Australia," she says. "Not least of all, regional kids seem so much cooler and better informed than I ever was. Triple J has changed the social landscape for countless young Aussies."
Double J was established by ABC as a youth radio station in 1975, morphed into Triple J in 1980 and by the end of the decade was broadcasting nationally. In 2014, Double J was relaunched as a digital station. (The J's, by the way, refer to the station's original call sign: 2JJ.)