Wave riders / Australia
Australian DJs: FBI
The warmth of Australia's wireless provides a crucial platform for overlooked stories and offbeat music – and fights the good fight in uniting a country plagued by the tyranny of distance. Monocle dials into four of the country's most singular radio voices to meet the people behind the microphone.
Marty Doyle
Dusty Fingers
FBI
People in Sydney refer to Marty Doyle as a "general man about town", which is both vague and accurate. At the time of our interview Doyle had just started work as an artist rep for Red Bull Sound Select; the night before he deejayed at a store opening. He runs a band management company called Magic Cactus and two months earlier he put on his own music festival called At First Sight. So yes, he does get about.
Today Doyle's at the studios of FBI (Free Broadcast Inc), the community-radio station in Sydney's inner-west where he is creative producer and host of the diverse music show Dusty Fingers. "My job at FBI is where my heart lies; I've been here five years," he says.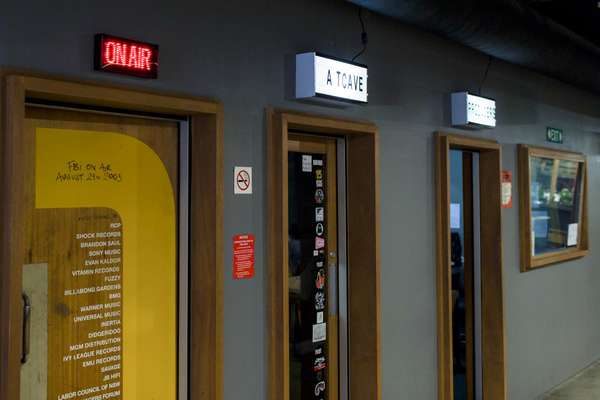 FBI occupies the 94.5 frequency on FM radio in Sydney and has 459,000 on-air and 162,000 online listeners per month, aged from 20 to 40. Programmes range from art to talkback to specialist music and of all the music FBI blasts out, 50 per cent is Australian and 25 per cent comes from Sydney. "It's a stepping stone, and not just for bands. Film-makers, playwrights – it's the first place they go to get noticed," he says.
It is also true for show hosts: keeping up with the FBI family is like reading The Royal Tenenbaums script. Kate Jinx, former host of the station's film show, today programmes local cinema Golden Age. Jimmy Sing, a former music-show host, opened the Goodgod Small Club in Sydney's cbd. Tyson Koh, another host, now produces national music TV show Rage.
FBI hosts are specialists first, presenters second. "I would rather listen to someone who has a deep knowledge of something than a shiny voice," says Doyle, who hosts Dusty Fingers every Wednesday from 21.00 to 23.00. "I've got free licence to play whatever I like." And he does: punk, soul, garage, psych and more.
"We're a small team and we're not for profit," adds Doyle; FBI relies on subscribers, paid employees and volunteers. "And we're just 12 years old, which is not that old. We're still at an infant stage."
Staff numbers: 10 staff, 100-150 volunteers
Studio: In the inner-western suburb of Alexandria in Sydney
Station owned/funded by: Free Broadcast Incorporated
Key shows: Sunset, The Playlist, Dusty Fingers, Ears Have Ears, Jack Off with Jack Shit