Katamama hotel / Seminyak
Bright idea: Katamama hotel
Bali's crafted Katamama hotel is the PTT Family's tropical take on the ­mid-century Californian style – and there are plans to go global.
"We spent two years working with ­artisans in the Balinese village of Penglipuran to hand-press these bricks," says Ronald Akili, co-founder of the ptt Family, the Singaporean firm behind the ­stunning new Katamama hotel in ­Seminyak, Bali. The bricks in questions number almost one-and-a-half million and are a ­concrete example of the care and commitment Akili and his team have put into the design of this postcard-pretty 58-room stop-in, which opens in March.
The boxy, five-storey building is modern in design but conveys a sense of permanence and belonging thanks to a creative pastiche of architectural styles. The Andra Martin-designed exterior takes its cues from the Balinese ­building practice of tri angga (a system of ­keeping buildings in proportion with the humans that inhabit them), and ­flourishes informed by late US architect Frank Lloyd Wright. The ­interiors are skirted with warm teak finishes that frame the lush vegetation that surrounds the seaside plot.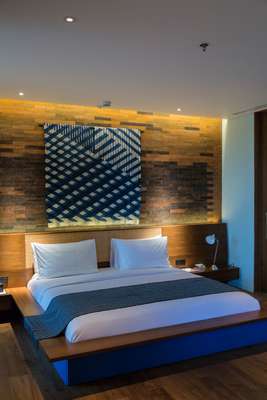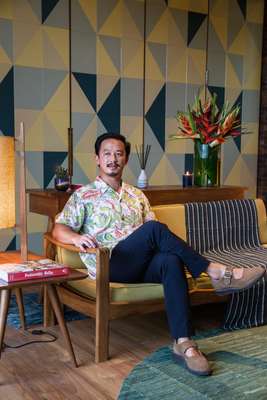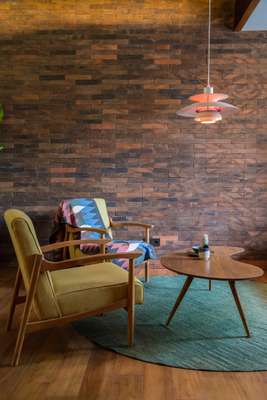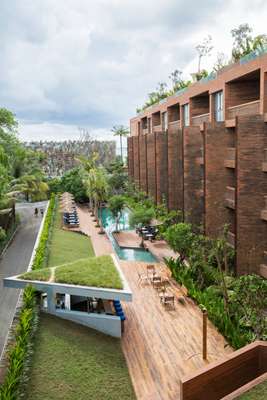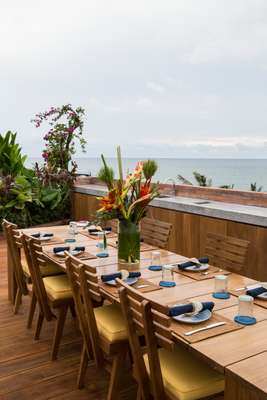 "[Building] the Katamama felt more like we were building a house," says ­product and interior executive Sashia Rosari, who is standing beside a tall, 1960s-style lamp and a tapestry that's made from Javanese reeds. "Ronald's design is driven by his passion for the mid-century look. Sometimes the reference wasn't just furniture: it might have been a Bauhaus room. It's a particular vibe or particular feel."
The feel Rosari and the team have plumped for is influenced by the jengki design movement, a little-known but endlessly fascinating postwar style that boomed around Indonesia in the 1950s. Think of a tropical take on the ­mid-century Californian look with dark-wood furniture and intricate joinery. "We talked about every detail," says Lukito Salim, a carpenter from Surabaya who left his distinctive mark on many of the furnishings throughout the hotel. In the rooms there's a craft-focused take on ­hospitality to be found in the woven wares from ­Kalimantan in Borneo, and snug indigo-dyed ikat dressing gowns made in the nearby Gianyar area.
There's a decent cultural ­offering too, including architectural tours of the area. While sunrise is greeted with the ­therapeutic and evocative din of gongs being bashed, those with an ear for ­Indonesian disco can spin a few vinyls from the in-house ­collection. Guests wanting to ­unwind with a cocktail should head to the colourful lobby bar for a memorable fruit-infused arak: a rice spirit.
With operations in Singapore, Bali and Jakarta, ptt's clubs, restaurants, and hotels are finessing Southeast Asian hospitality. Next to the Katamana is the firm's beautiful Potato Head Beach Club (see issue 76), which has been a staple with a young creative crowd since opening in an idyllic beachside strip in 2011. But the hotel is a benchmark as much as another new opening for owners Jason Gunawan and Akili. "My aim is to take Katamama global," says the latter. It's an ambitious concept – but not necessarily an unrealistic one.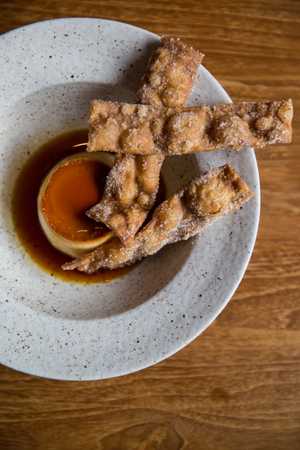 Bali has a rich craft tradition and the hotel has formed close-knit relationships with village businesses to produce its textile throws in Tarum and ceramics in Gaya, Ubud. The team also encourages international brands to try exploring the market. Aussie-based Movida provides the Spanish food in the terrazzo-tiled restaurant; Balinese halibut is served alongside a selection of Spanish conservas and hams.