Briefing / Global
Business
Briefing
A new Asian-oriented airport in Queensland and efforts to wean Sri Lanka off costly dairy imports.
Q&A
Jason Varker-Miles
Owner, Precinct 75
Sydney
Jason Varker-Miles and business partner Mays Chalak discovered Precinct 75 in 2013 and spent more than a year transforming the derelict turn-of-the-century property, seven kilometres southwest of Sydney's CBD, a brand new hub for creative entrepreneurs.
What inspired the creation of Precinct 75?
Sydney has undergone many urban-development changes over the past five years. Some larger, historic manufacturing facilities are disappearing in the inner city to make way for residential developments. One catalyst was the desire for smaller, creative and artisan-style business owners to work close to their homes, maintaining a good work-life balance. Precinct 75 was perfectly placed to help fill this gap.
What did the development originally set out to be?
A place for bespoke businesses to thrive and a destination that would attract visitors while retaining the heritage and character of the buildings. Seventy-one unique businesses call Precinct 75 home, ranging from a microbrewery and a bakery to Australia's first urban winery.
How has Precinct 75 revitalised the district?
It has made huge changes to the area by transforming a deteriorating and largely vacant industrial property into a thriving destination with purpose, where creative businesses can work and grow in a like-minded community. Now locals and visitors have access to great coffee, food and interesting design. Precinct 75 was credited as a key factor for average house prices in [the neighbourhood of] St Peters growing by 44 per cent over the past three years.
precinct75.com.au
---
Got milk?
Sri Lanka
[AGRICULTURE]
Dairy farming isn't the agricultural industry one would typically associate with tea and cinnamon-loving Sri Lanka. Yet a new partnership with Wellard Rural Exports, Australia's largest livestock exporter, is aiming to develop a large-scale dairy industry capable of weaning the country off costly milk imports, which set the government back roughly AU$423m (€275m) per year.
The initial phase of the project in 2012 brought instant success and earned Wellard contracts to supply 2,500 dairy cattle to the island nation. Sri Lanka may hit its target of becoming self-sufficient in milk production by 2020.
---
Runway success
Toowomba
[EXPORTS]
The origin of Toowoomba's name is a source of debate in the small Queensland city. In 1875, mayor William Groom is rumoured to have declared it Aboriginal for "place of the future" but the more believable translation is the less poetic "swamp", which is what the area was then. Yet as a Cathay Pacific freighter jet bound for Hong Kong left on a trial cargo run last year, Groom may have had the last laugh.
"We are the biggest agricultural producing region in the country and, for the Asian market, we thought we could be a very big exporter," says John Wagner, chairman of Wagner Group, the construction company that took a au$100m (€63m) punt on the city's first airport in 2014.
Controversially named Brisbane West Wellcamp Airport (despite being a two-hour drive from the state capital), it has taken off rapidly as airlines look to capitalise on a new gateway to the mineral-rich agricultural hub.
wellcamp.com.au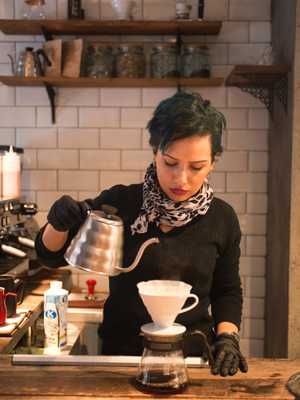 Cool beans
Istanbul
[COFFEE]
Sam Cevikoz has a portrait of Mustafa Kemal Ataturk, father of the Turkish republic, tattooed on his arm but he has not lost his Australian ear for good beans. "Coffee speaks to you when it's being roasted," says Cevikoz, who was born in Istanbul and went on to run cafés and restaurants in Sydney for about 30 years before co-founding Ministry of Coffee Istanbul (MOC) in 2013. "People take the coffee out before that second crack but we let it happen in the cooling tray. They don't do that in Turkey and it makes a hell of a difference."
In January, Cevikoz sold his stake in MOC and launched Federal Coffee Company, serving Australian blends in a warmly lit, book-lined nook. He caught the wave of young Turks looking for a more laidback cup of coffee than the local variant.
"There's a new café opening every week in Istanbul," says Cevikoz, who also runs an accredited barista academy and a roaster capable of turning out 12 tonnes of coffee a week. If you're in London you can also check out his new Soho branch.