Australia's vernacular / Wallington
Form and function: Wallington
Australia's architectural heritage is rooted in practicality but has since been elevated – even those houses that are already on stumps – by modern interpretation to become something altogether more elegant and enduring. Monocle crisscrosses the country to pick out some prime examples.
The modern homestead
Wallington, Victoria
Built on a 1960s-era former commercial plant nursery not far from the seaside town of Ocean Grove in Victoria, this stone-clad house has the feel of a traditional homestead. The modern metal roof is a practical response to the climate – and a nod to the area's vernacular. "Rural Australia's history with its functional metal-roofed sheds influenced the long singular roofline," says Melbourne-based architect Clare Cousins, who designed the three-bedroom property for a couple and their young children. "The house is embedded within the landscape; the material [Western Australian limestone] is as if it were of the earth."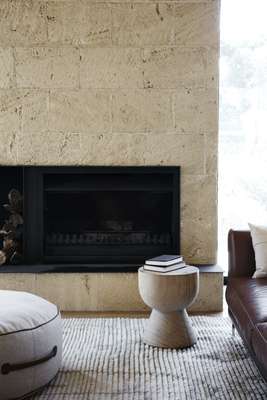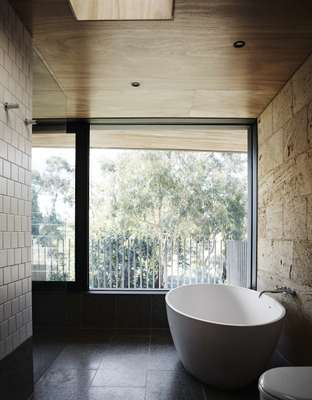 Inside, spotted-gum timber and stone floors bring the elements into the rooms. Warm, natural furnishings – chairs in rattan, leather and wicker – provide earthy consistency. "These materials provide a warm, textured and robust interior," says Cousins. "The house celebrates materials in their natural state."
In fact, Cousins' house is larger and more complex than it looks: it is semi-submerged underground. Though single-storey at the front, at the back it uses the fall of the land to create two levels (the children's bedrooms open out onto a lawn). Yet even its more lavish touches, such as the billabong-shaped swimming pool, reference the natural landscape. Outside, orchards and a working vineyard surround the property. "It feels like a private botanic garden," says Cousins.
Western Australia is a centre for limestone production; the hard coastal Tamala limestone is found in the sedimentary core of the Carnarvon and Perth basins. It was first quarried around 1834 and used in the construction of Perth and the surrounding region. It was also burnt in kilns to create quicklime and used for lime mortar and limewash in buildings.