Franklin / Hobart
Go wild: Hobart
David Moyle's innovative fare is transforming Tasmania into a new food frontier.
"Hobart felt like it was growing and changing and to get a space like this in what is essentially a CBD is extraordinary," says David Moyle, the genial chef and founder of Franklin, which opened here in late 2014. From a berth at the brushed-concrete bar during a busy mid-week lunch service you'd be hard pressed to guess you were sitting in a sleepy city of some 200,000 on a remote island in the Southern Ocean.
The art deco building is a beauty. It once housed the presses of The Mercury newspaper but today the space is a restaurant bedecked with Danish chairs from Hay in pale beech, Tasmanian oak tables and a lively open kitchen where five chefs busily pluck, chop and prep the steady stream of afternoon orders. Architecturally there's a hard industrial look that is softened with the addition of animal-fur rugs and airy floor-to-ceiling windows that wouldn't look out of place in Los Angeles, London or Sydney. But there is something irreducibly Tasmanian about proceedings here: the food. "The beauty of Tasmania is that you get some extraordinarily interesting ingredients," says Moyle, whose previous posts include running kitchens in Melbourne and Byron Bay plus a stint at Tasmania's Peppermint Bay. Moyle has always had an interest in design but found his footing as a chef after moving to Melbourne from Port Fairy, Victoria, at the age of 17. Since then he has set a ferocious pace in establishing and developing his own kitchens, working with lauded chefs such as Bill Marchetti and Andrew McConnell. All that before settling in this unlikely food frontier in 2012.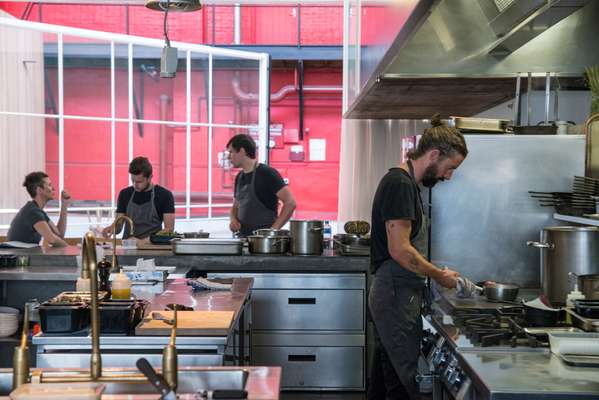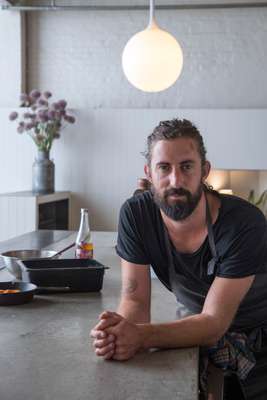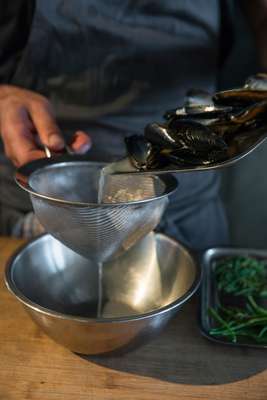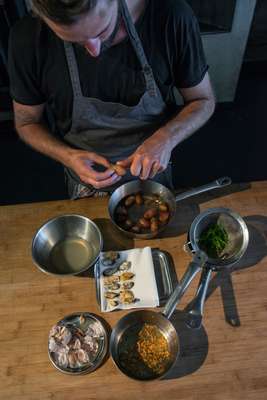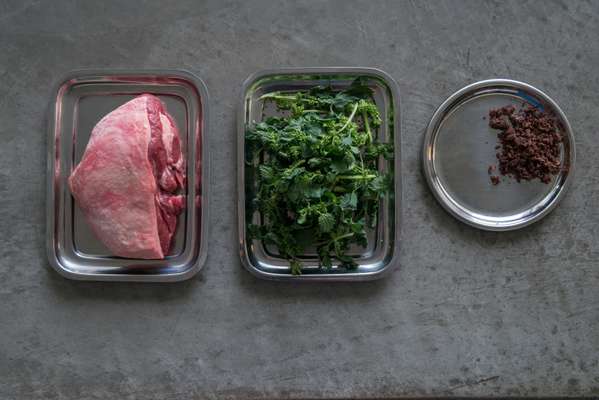 But moving to Tasmania isn't as simple as the idyllic surrounds and bucolic pace of life suggest. "The curse is that growers or producers don't have a business where they can provide regular delivery," says Moyle. It's a common woe: the produce here is some of Australia's most prized but the island's isolation means distribution channels can't always be relied upon.
"Produce comes in a box according to what's grown and you adapt to whatever's around. Sometimes there's a glut: stone fruits might be on for the next few weeks, then there may be one variety of plum, then on to the late-season peaches," says Moyle as he delicately slices and salts a pinky cut of Flinders Island lamb rump.
"You're absolutely defined by the seasons," he adds, a point brought to life by a procession of producers bearing coffee beans and brown bags bulging with vegetables, who stop in on Moyle as he poaches a brace of flame-red apricots.
Franklin's menu is a tasteful homage to the island's gorgeously grown goods: fresh periwinkles and slow-growing angasi oysters from the mudflats of Port Arthur; Scottish Longhorn beef from the centre of the island. There's also a culture of backyard businesses here that churn out butter, olive oil, honey and tangy cheese. That's before we put in a word for Tasmania's full-bodied, cool-climate pinot noirs. All of it adds up to make Franklin's fare some of the most distinctive in Australia.
Tasmania has long been lampooned for its isolation (and a perceived hickishness) by mainlanders but those who actually make the journey across the Bass Strait, the choppy 240km that separates the island from Australia proper, rarely regret the trip. As Moyle's sumptuous, well-conceived plates and fresh-picked produce suggest, there's something truly special growing here.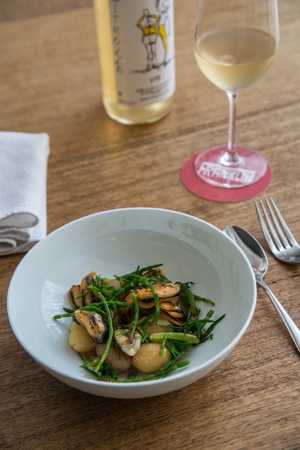 Recipe
Mussels with new potatoes and garlic
Ingredients
500g mussels in shell
150g new potatoes
3 cloves of garlic
150ml grapeseed oil
200ml chicken stock
30g mixed samphire
and spinach
Squeeze of lemon juice
Salt and pepper
The method
1.
Cook mussels in a dry, covered pot. Shell and retain the juice.

2.
Boil potatoes in lightly salted water. Remove then peel.

3.
Crush peeled garlic cloves with a pestle and mortar, add to the oil with a pinch of salt, pan fry until golden brown.

4.
Blanch sea greens in boiling water then plunge into cold water.

5.
Place potatoes in pot with chicken stock and mussel juice and cook until the liquid is reduced by a quarter.

6.
Mix garlic and oil, salt, pepper and lemon juice. Place in serving bowl.

7.
Sear mussels then add to potatoes and greens in serving bowl. Serve.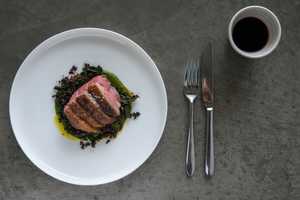 Recipe
Roasted lamb with nettle sauce and dried olives
Ingredients
500g lamb rump
120g stinging nettles
1 shallot, peeled
50ml grapeseed oil
150ml chicken stock
50g dried black olives
Salt and pepper
The method
1.
Place lamb skin-side down into a preheated oven at 150C and roast for 25 minutes.

2.
Remove and place on a medium-heat stovetop to crisp up for 10 minutes. Tip excess fat into a container and leave lamb to rest for 10 minutes.

3.
Put shallot into pot with oil and raise to high heat, then add 90g of nettles and stir until broken down.

4.
Add stock and cook for 3 minutes uncovered on high heat, then blend until smooth.

5.
Spread remaining nettles on a tray, spray with oil and toast at 150C for 6 minutes.

6.
Slice lamb and place over the nettle purée. Add toasted nettles and dried olives. Serve.