April 2016 / Tokyo
Expo 92: What's in store?
Tokyo's Isetan department store has found success by treating its customers like royalty and turning shopping into an experience. Monocle hands over its credit card to a kimono-clad sales associate.
Tokyo has many places to shop for bedding but few that will book you for a one-on-one 45-minute session with a professional pillow fitter such as Naomi Suzuki. In a small, private room at Isetan department store in Tokyo's Shinjuku district – near the shelves of Ralph Lauren and Yves Delorme bed linen and a limited-offer ¥1.5m (€12,000) waterbed – Suzuki will take precise measurements of the length and curvature of your neck and jot down notes about your sleeping habits as if she were diagnosing a medical condition. She will explain the differences between foam, charcoal tubes and buckwheat-hull stuffing, dim the lights to simulate bedtime and have you try a few of the 90 ready-made pillows on a mattress that feels similar to what you sleep on at home. Suzuki might even suggest building your own pillow or let you take home a tester for a week.
Chances are that you'll agree with her when she says that ¥20,000 (€160) is a small price to pay for a good night's rest. "I tell customers that most people shift 20 to 30 times in their sleep at night so there's a good reason to consider a customised pillow with soft and firm parts," says Suzuki.
This is how Isetan hopes to turn standard commercial transactions into something special. It's as much about treating everyday walk-ins like vips as it is helping customers sift through the shop's vast inventory to find a product that's an exact fit. A lot has changed since Isetan, which was founded as a kimono shop in 1886, moved to Shinjuku in the 1930s and began its transformation into a retail standout. But the store's basic role remains the same. "Our business was built on providing cradle-to-grave products and services," says general manager Masaaki Takano, who has been with the company for 35 years. "There's probably nothing comparable to what we do in any other country."
Isetan is not the oldest of Japan's venerable department stores: that title belongs to Mitsukoshi (and the two share the same owner). But there is no other department store that brings in more money or asserts a stronger pull on the spendthrift and fashion-aware than Isetan's flagship shop. It gets 25 million visitors a year.
The shop has to be a generalist – selling wedding dresses, wristwatches, meals for weaning infants, home renovations, funeral services and Borsalino hats – but also stay ahead of trends. You could spend a lifetime browsing here while also finding what you need for every occasion and season along the way. Such is the power of the Shinjuku Isetan that brands will test-release products here before selling anywhere else. It's attained this status amid Shinjuku's grit of neon signs, sex shops and budget business hotels. In a crowded field of fast-fashion retailers, boutiques, homegrown brands and e-commerce sites, Isetan offers hope that Japan's struggling department-store sector can stay relevant.
Shinjuku Isetan is actually two buildings: the seven-storey main store focusing on women's fashion and household goods and an eight-storey annex that's dedicated to menswear. They are owned by Tokyo-based operator Isetan Mitsukoshi, formed in 2008 when two major Japanese department store chains merged. The company employs about 12,300 people and has 74 shops across Japan but Shinjuku Isetan, with about 2,500 employees, is still the biggest draw and the top money-maker. It rakes in ¥258bn (€2.1bn) annually, which is roughly 20 per cent of Isetan Mitsukoshi's overall department-store revenues.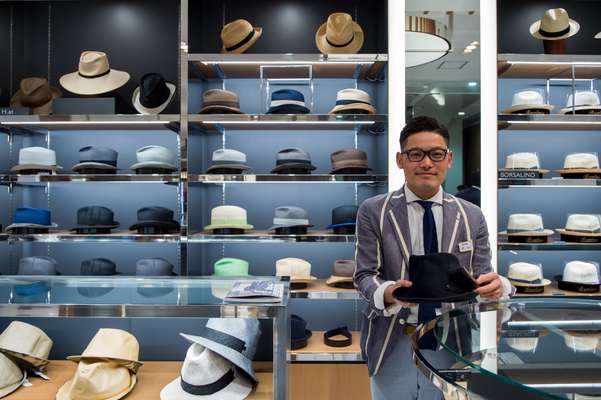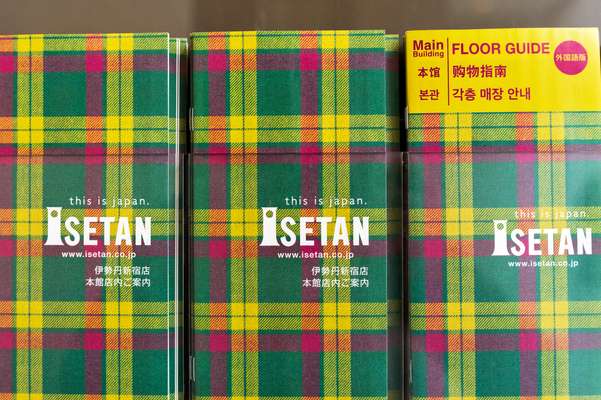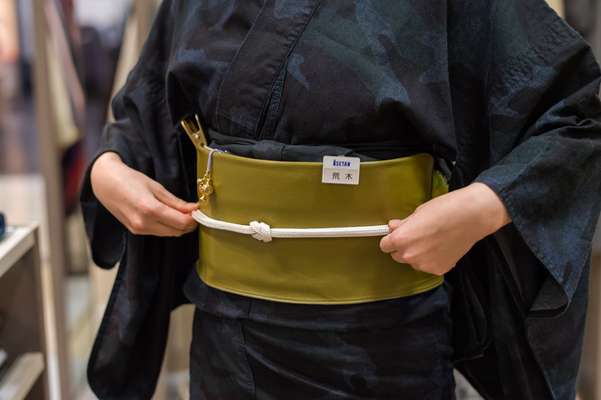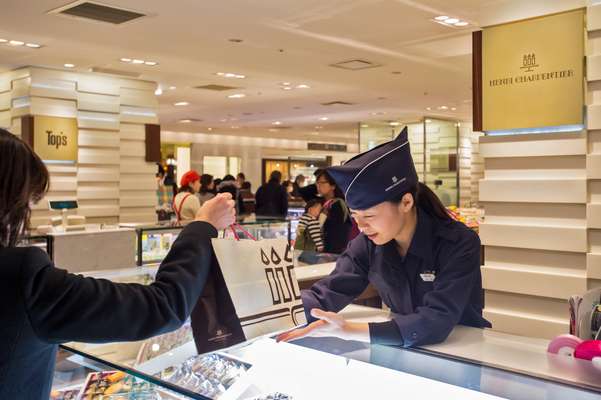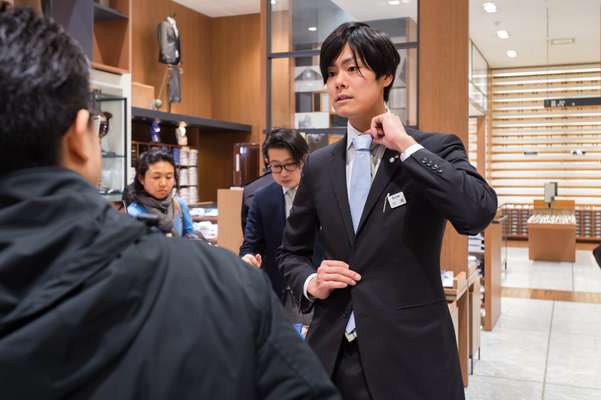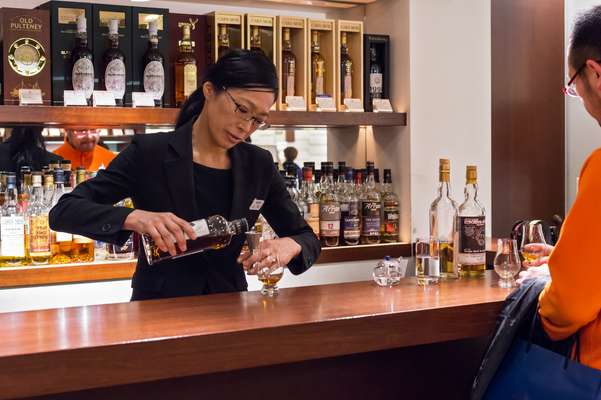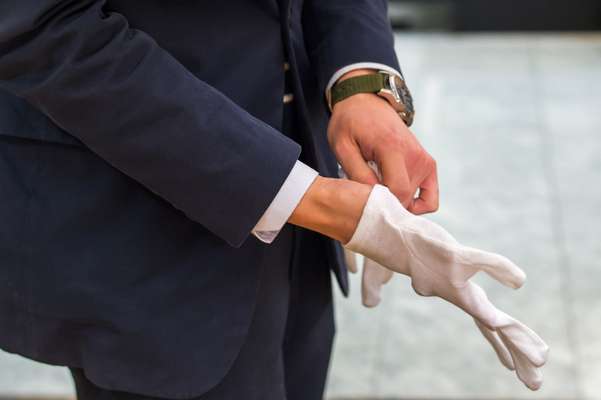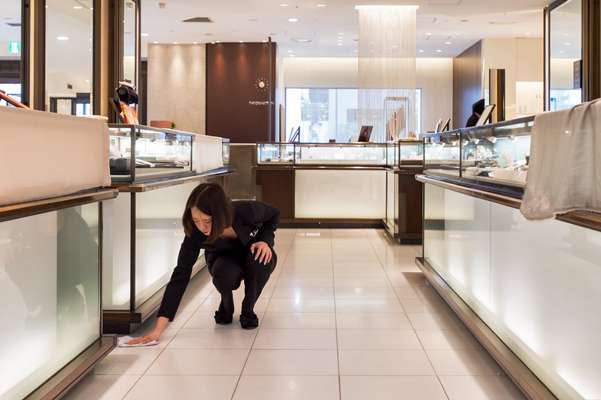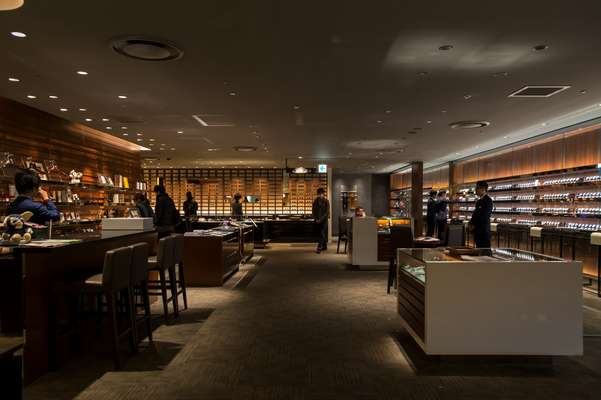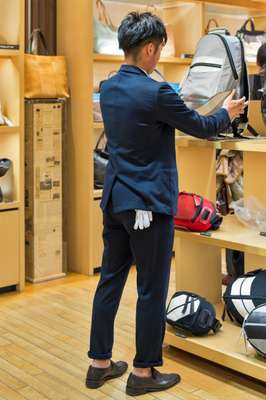 There's a lot that the staff need to squeeze in before the shop opens at 10.30 sharp. Sales targets and logistics have to be reviewed, shelves restocked, floors and countertops wiped down. On the ground floor of the main building, 80 women who work at the cosmetics counters are doing smile warm-ups. They pair off and take turns complimenting each other and grinning and giggling in embarrassment, before their manager reminds them about the rising number of complaints and sends them away for some last-minute feather-dusting.
Not long after the front doors open the crowd is thickest in women's shoes. The department is anchored by Yuko Takashima, a fast-talking 23-year veteran who has been in shoes and bags for most of her career. She is second in command of a section that stocks more brands, sells more items and makes more money than any other in Japan's department-store industry. Women, she says, come for the variety: the stockroom holds more than 30,000 pairs of shoes, a sprawling collection that includes Pradas and Manolo Blahniks and hundreds of other big-name and obscure brands. There's also kitsch. In the corner – next to a dizzying array of insoles, gel pads and patches for toes, arches, insteps and heels – cobblers at Shoe Kitchen do repairs while dressed in chef whites and toques.
Takashima is constantly reminding her staff of 350 about the importance of listening. "Customers confide in us about their shoe-related complaints and we pass on the information to our product developers, who can use it to improve Isetan's in-house shoe brand Number Twenty-One," she says.
Some Isetan customers know exactly where to get what they need. Masako Fukushima, who has been coming for decades, is in the basement looking at boxes of fruit to send as a condolence gift. But plenty of customers are like Kazushige Ishii, who has come with his girlfriend, Emi Yanagawa, to get her new shoes. "We knew we couldn't go wrong at Isetan. We assumed that we would find what we were looking for if we came here," he says.
This is where Isetan's corps of assistant managers come in. They see to it that people have reasons to buy. Only four years on the job, Kiri Kuramoto advises 30 sweet shops on the best ways to inspire gift-giving. Food is vital to Isetan's business and the depachika – meaning department-store basement – is usually the shop's last chance to ring up a sale before a customer heads home. "The display cases constantly need to be rearranged so people will be enticed," she says.
Isetan's top brass try their best to promote the store as a "fashion museum" where a visit doesn't always involve going home weighed down with tartan-print shopping bags. The staff aren't salespeople: they're stylists. They can earn fancier titles by taking the initiative to master an ever-changing line-up of brands. There are sommeliers for wines but also towel sommeliers, sleep advisers, shoe counsellors, kimono consultants, baby concierges and a birth-to-death protocol guru who can tell you how much cash to give at a wedding and how long to wait before visiting the graves of deceased family members.
Upstairs, in trendy womenswear, Natsue Suzuki is dressing mannequins to a soundtrack of chirping birds. After six years here she has developed a unique look: white-leather halter top over a red sweater, baggy jeans and a gold triangle jutting from the middle of one ear. "When I first joined, this shop didn't do cutting-edge fashion," she says. It seems unthinkable now: Suzuki is surrounded by brands such as Hyke, Toga, Mackintosh and MSGM, and she hosts fitting sessions for VIP customers in a room hidden behind a mirror. "There's a storewide effort to make the service we provide more personal," she says.
In an industry where the revenues have fallen by a third from a peak of ¥9trn (€73bn) over the past two decades, novelty sells. Isetan does this with pop-ups, demonstrations and dioramas in oversized picture frames that get refreshed every two weeks or so. When Isetan renovated the main Shinjuku store in 2013 it designated more space near the escalators for temporary displays. Here you find sample kitchen layouts by Toyo Kitchen Style, books on Japanese folk art and tapestry-covered deer heads by artist Frederique Morrel. There are also coffee counters and a glass-enclosed classroom where artists run workshops for children.
As successful as the shop is, its sales have slid 10 per cent from the early 1990s. Fashion retailers Beams, United Arrows and Ships, as well as fast-fashion brands, are making it harder for Isetan to woo new customers. Its strategy has been to go on the offensive: since 2012 it has opened small shops that are pared-down versions of the Shinjuku store. What started as an experiment in cosmetics shops for young women is now an expanding network of speciality shops selling menswear and womenswear at Haneda Airport and in downtown Tokyo and Nagoya.
It's hard to fully appreciate Isetan's polished exterior until you peek into the stockroom – what staff call the "backyard". Squeezed into dim hallways are half-unpacked boxes, hanging clothes covered in plastic and cubbyhole lockers. The walls are unpainted, hopelessly scuffed and plastered with reminders about the mechanics of the perfect Isetan smile. It's the only place in the building where staff can let down their guard. As the day's second shift braces for the mid-afternoon rush there will be staff meetings in the stairwells, women selling leftover bento meals from the food floor, men hawking discounted handbags and tables piled high with knockdown designer shoes.
At the border between the two worlds it's customary for the staff to stop and bow. Once they're on the shop side they keep backyard activities to themselves. They speak in code, referring to bathroom breaks as going to the "T-junction" and to their lunch hour as "number one" or "number two" (which some might suggest would be more suitable monikers for those toilet trips). Every department has a secret song to notify the staff when they have achieved the day's sales target: Beethoven's Symphony No 9 is a popular choice. When the staff hear Raindrops Keep Fallin' on My Head they know what the weather's doing and start covering shopping bags with plastic covers and slipping in a word about slippery pavements.
Isetan's most cherished customers are the otokuisama: big spenders and loyal regulars. There's nothing the staff won't do for them. Looking for custom-made shoes? Isetan will fly a shoemaker from Italy to take measurements and bring him back for a personalised fitting (the bill: ¥3m, or €24,000). Need your shoes shined? The shop will send someone to polish every pair in your closet.
In the men's annex is Shinya Shimazaki, who has put in 24 years with the company and keeps the otokuisama happy. Last year he organised three parties for these special customers; when he talks about it, his voice softens to a whisper. "We want to get to know our customers personally," he says. The financial crisis was a pivotal moment. "We used to keep our distance," says Shimazaki. "Now we think about how we can make people love everything about this store."
At closing time, the song Machi ga Kureru Toki (When the City Goes to Bed) begins to play. Staff are still busy seeing off customers. Outside the men's annex it's dark when Genya Shimoyama, from the business-suits department, accompanies a young couple to the front door. He's one of the lucky ones; the stragglers might not leave for another couple of hours. Says Shimoyama: "We don't kick customers out: we wait until they're ready to go."