Los Eucaliptos / Buenos Aires
Family building
In 1943 two Argentinian architects built a radical apartment block in Buenos Aires that would redefine the communal living space. Decades later the modernist marvel is still the glue that holds its inhabitants together.
Behind a canopy of banana plants and palms, Los Eucaliptos sits on a quiet side street off the roaring Cabildo Avenue in Belgrano, a lush upper-middle-class neighbourhood of Buenos Aires known for its contrast of high-rise blocks and white-marble façades. It's set back from the road, meaning few of the Porteños walking their dachshunds and glossy weimaraners take a second glance at this steel-framed nine-storey concrete apartment building, despite it being one of Argentina's most important works of modernist architecture.
Built in 1943 by young Buenos Aires-born architects Juan Kurchan and Jorge Ferrari Hardoy, the project aimed to promote a new model for urban living and a modernist blueprint for Buenos Aires architects to follow. Six years earlier the pair had travelled to Paris with the hope of working with Le Corbusier as draftsmen in his legendary Rue de Sevres Atelier. The two South Americans were in luck: Corbusier engaged them in the further development of his Plan for Buenos Aires project, a scheme he had begun speculatively working on during a visit to the city in 1929.
When Kurchan and Hardoy returned to Argentina in 1938 the students were inspired to implement some of Le Corbusier's principles, whose own efforts in the city had been hampered by the conservative government of the time. They were dismayed to find that an austere rationalism had become the mainstream architectural currency so in protest established the avant-garde Austral Group with other likeminded young architects. Their aim was to challenge conventional building practices and put forward an experimental approach to architecture and design with an emphasis on communal living.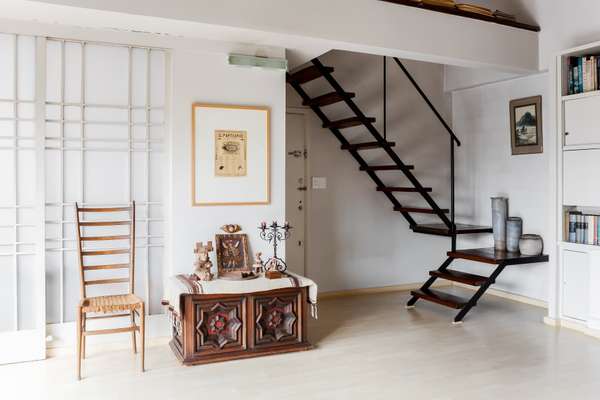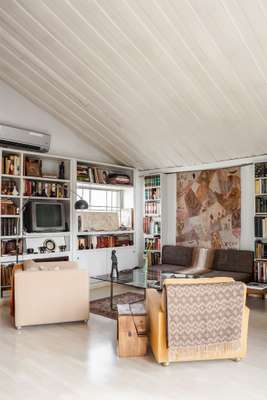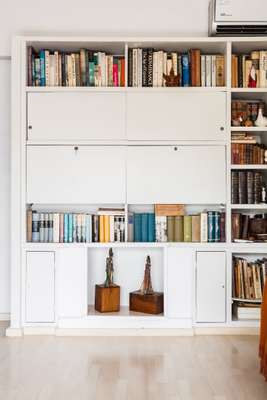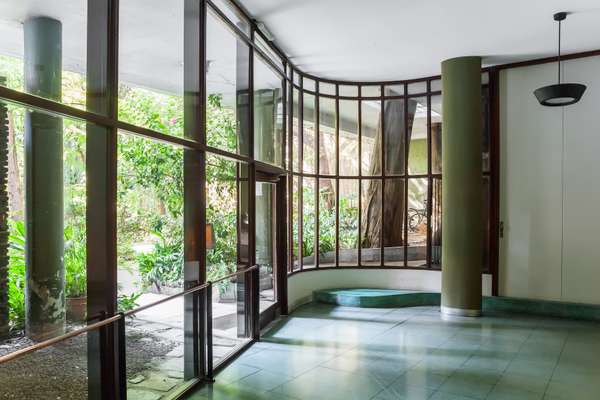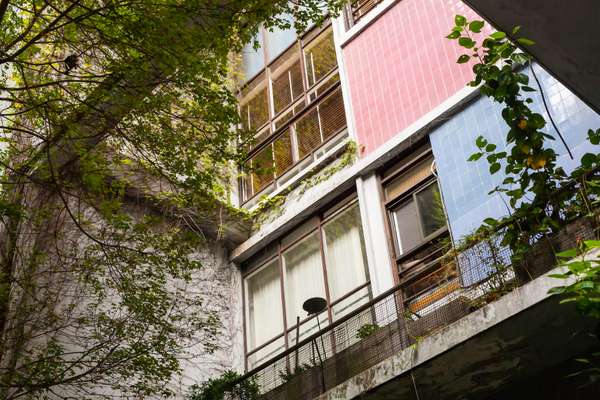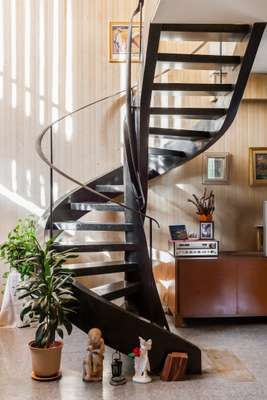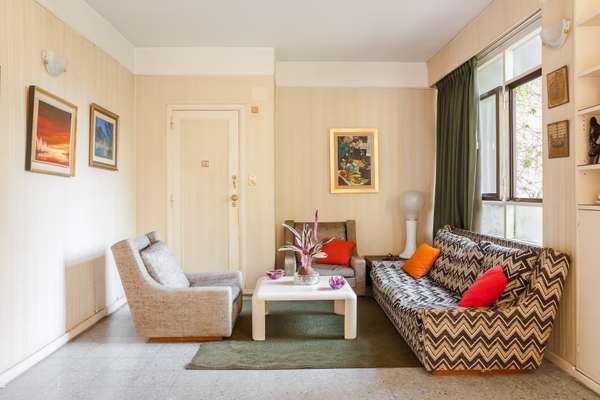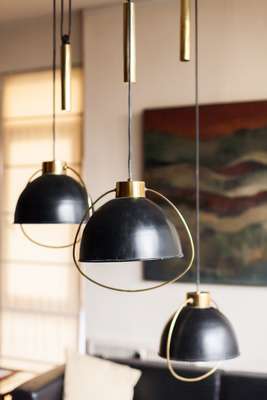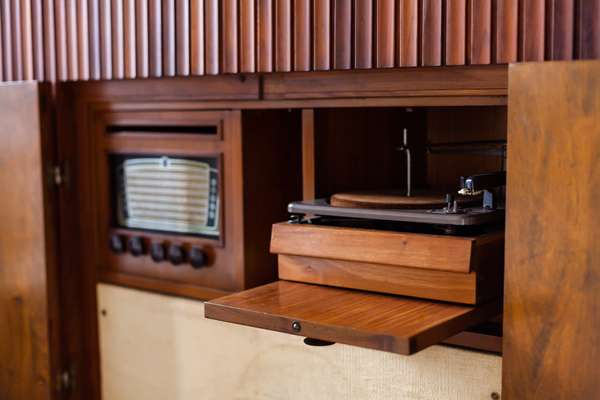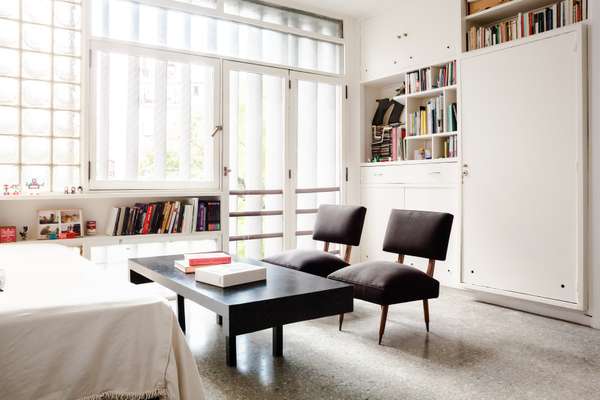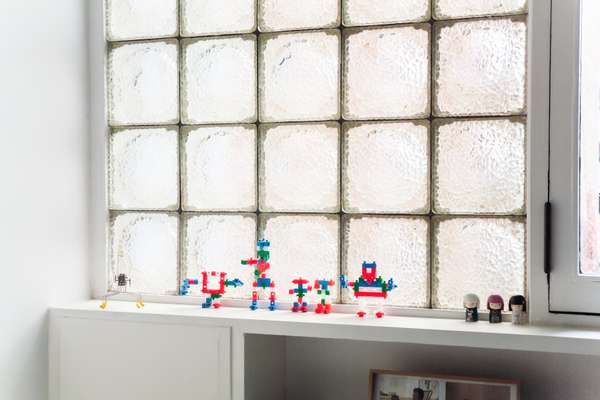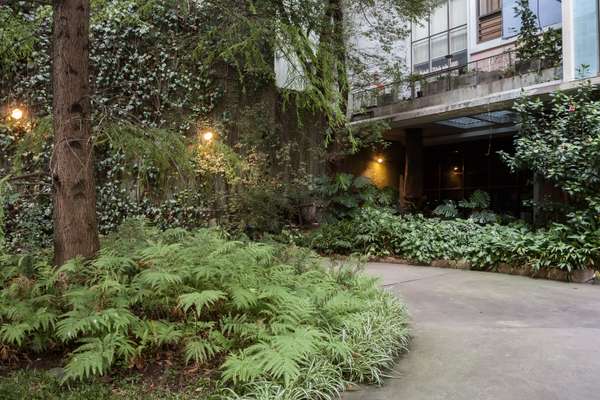 The pair also teamed up with Catalan Antonio Bonet to produce the BKF chair (Bonet-Kurchan-Ferrari, now known as the Butterfly chair), a much-copied innovation originally made from two bent tubular steel rods and a leather sling, creating a suspended seat. Along with custom-built fittings the chairs were eventually used to furnish some of the apartments.
In 1941, following the success of two earlier developments in Buenos Aires and with funding from Kurchan's parents, the idea for Los Eucaliptos was presented for planning permission. The design incorporated two large pre-existing eucalyptus trees to create a green scheme that nurtured the symbiosis between nature and architecture – a concept not tried before in Buenos Aires. Unusually for the time, the block was set back from the road, challenging the strict regulations that called for uniform street façades.
Inspired by Le Corbusier's Unite d'Habitation of Marseille as well as Tecton Group's Highpoint II building in London, they aimed to create a self-sufficient unit with a communal library, crèche, shared service corridor and external laundry area. There was also an in-house restaurant and a central heating and refrigeration system. "The compact nature of the studio flats suggests that they wanted to encourage the idea of a small hotel where both board and lodging was included in the rent," says Luz Rodriguez Chatruc, an architect and one of the block's younger residents. She explains that features such as centralised fridges were, sadly, taken out of service in the mid-1990s and that the library is now used for storage.
Despite this, the residents of the block's 29 units are keenly aware of its heritage and community-minded creators. "We are all attached to this building and very conscious of its value," says Gustavo Wagmaister, the building's longest-standing resident and administrator, who shows us around the lobby with its curved glass frontage and sage green interior. "There's a waiting list to buy and rent; it's unusual for a resident to move or sell up."
It's not hard to see why: the building and its verdant jungle surroundings are a contrast to the area's drab 1970s apartment blocks. Each detail is designed to maximize space and light, from the horizontal shutters and glass-brick walls in the northwest-facing living areas to the opaque glass sliding doors and skylight windows in the loft-style penthouse units.
Despite the fact that many of the original communal areas are now closed, Gustavo is proud of the unique dynamic that has developed over the years. "There's always been a warm atmosphere [that goes] beyond a polite greeting in the hallway," he says. "Many of us have become good friends. There's an amazing sense of community and we look out for each other, especially the older residents. We're like a family, which is precisely what the architects hoped for when they conceived this extraordinary building."
Residents 01
Gustavo Wagmaister and Salvo Tavella
Gustavo Wagmaister and Salvo Tavella live in adjacent apartments on the same floor (they share their spaces by propping the doors open). A retired flight steward, Wagmaister is the longest-standing resident and also oversees the administration of the block. Tavella is from Sicily and teaches at an Italian school.
Wagmaister's apartment, the larger of the two, retains the wood-panelled walls and shelving units that were a feature of the original flats; many also came furnished with Kurchan and Hardoy's designs. Wagmaister also inherited a cache of works by Austrian modernist interior designer Walter Loos from the original owner. Loos settled in Argentina in 1940 and had previously worked for Adolf Loos in Paris, though the two were not related.
Wagmaister's Loos collection includes a pulley lighting system, leather dining chairs and a concealed pull-out record player and radio storage unit. Purpose-built wooden planters were also incorporated into the bedroom side-table unit, a rarity at a time when indoor plants were not commonplace.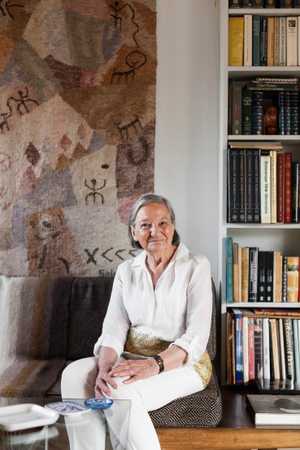 Retired literature professor Celia Pozzi, 90, bought her penthouse flat on her return to Argentina after 30 years spent living in New York, Mexico and Italy. "I was familiar with the architects' work and interested in living in a building of this style," she says. "I was seduced not only by the front garden but also by the amenities and convenience that the flat afforded: an en suite bedroom on a separate floor and a partitioned space that I could use to store my [5,000] books and that could double as my workspace."
Pozzi's interior includes many original features: hingeless doors that swivel on an axis and vast storage units built into the walls. She particularly values the layout of the windows, which provide "good ventilation and plenty of natural light".
She remembers the two original eucalyptus trees fondly, which after decades of growth had caught up with the building and reached the height of her 10th-floor balcony but were later chopped to first floor height, their trunks and roots remaining intact.
"One of the trees was very close to my window and I could observe the birds nesting each year and hear them sing," she says. "It was a shame that they chopped them. Unfortunately the roots were beginning to interfere and compromise both the foundations and the structure. They were pushing up the tiles in the lobby and the trees were robbing the living spaces of light. Sadly, it was the only option to guarantee the building's long-term survival."
Residents 03
Luz Rodriguez Chatruc and Norberto Nenninger 
"I already knew about the building and had drawn it in my second year at college but never clicked when I was given the address that it would be Los Eucaliptos," says architect Norberto Nenninger, who was thrilled when he was given the chance to rent a smaller apartment before moving to the larger unit that he's been renting for eight years with his girlfriend Luz Rodriguez Chatruc, also an architect. "For us it's inconceivable to live anywhere else," says Rodriguez Chatruc. "It's definitely an issue as we'd like kids in the future and the current space is too small. In an ideal world we would buy one of the bigger apartments or rent the whole floor if the neighbours were ever to leave."
"Many of the details are now classic design features but for the time they were pioneering," says Nenninger, pointing out the granite floors and built-in storage units. He also praises the vertical louvers that combat the day's bright sunlight. "You swivel them according to the position of the sun so they always work regardless of the time of day. It's such a simple idea but we couldn't live without them."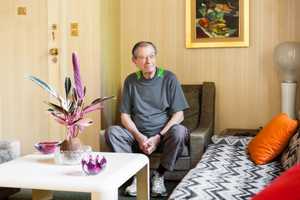 Resident 04
Jose Maria Gonzalez 
"I was sold; I thought it was beautiful," says Jose Maria Gonzalez wistfully as he describes the black-granite spiral staircase that convinced him to buy his property in 1999. He has lived here with his wife ever since; the two share a duplex which allows them to live and work across two floors.
Gonzalez is a retired accountant while his wife continues to practise as a beautician and sees clients at home in an upstairs studio. "We're centrally located so everything is within reach yet we're surrounded by greenery," he says. "At times you almost forget you live in the city."
The 1960s furniture Gonzalez bought at the time takes pride of place in the living room. "I used to buy from [revered Argentine furniture designer] Antonio Churba when he had his own shop – the furniture was built to last." Churba's zigzag fabric and lamp complement the original polished-granite tiled floor perfectly. It was obscured for years under heavy carpet until Gonzalez discovered it by chance when a section lifted; he promptly returned the floor to its former glory.