Central group / Thailand
Grand central
A family firm that has become one of Asian retail's biggest hitters has equally strong ambitions abroad. With its portfolio of European department stores, Central Group is confounding critics and giving new life to historic shopping destinations.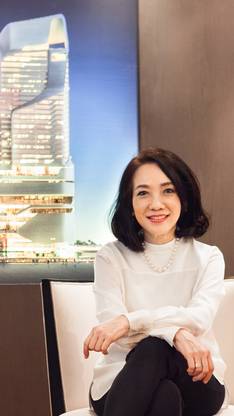 A simple story about a Thai family's stroll through Copenhagen city centre back in 2012 reveals the characteristic "can-do" philosophy behind one of Asia's most successful and fastest-growing retail empires, Central Group. It also sheds light on the company's remarkable expansion into the heart of traditional European retail.
"My brother and his family were on holiday, walking around Copenhagen – it is such a beautiful city – and they came across Illum [the department store]," says Yuwadee Chirathivat, who heads up the group's retail arm as chief executive of the Central Department Store Group. "I thought it was so historic as well as being so centrally located; it seemed ideal."
The following year, in 2013, Central bought Illum in a deal that took many in global-retail circles by surprise. A Thai family-controlled business acquiring a historic shop in Denmark: sceptics questioned whether they would even know what they were doing. Relatively few of them were probably aware, however, that Central Group had already made its first foray into European retail in 2011 with the purchase of La Rinascente, a chain of well-known stores in Italy, at a cost of roughly €260m.
The group's latest European move came last year with its purchase of a controlling stake in Kaufhaus des Westens, or KaDeWe, a department store in the centre of the German capital known as Berlin's answer to Harrods. Acquiring the stake also meant gaining control of two other affiliated retailers: Hamburg's Alsterhaus and Munich's Oberpollinger. Since these acquisitions, Central Group has become Europe's third-largest operator of luxury department stores.
Critics have claimed the European purchases are little more than trophy acquisitions. Again, Yuwadee and her arm of the company have proved them wrong, turning solid profits from these retailers while investing in their long-term futures. Central Group has set aside more than €900m to overhaul the properties. This will include sprucing up the German shops as well as a five-year plan to revamp Illum. The group has also decided to build a new Rinascente in Rome, due to open in early 2017.
On meeting Yuwadee it is clear that she has a huge passion for the family's business. Speaking in her office in the flagship Central Chidlom store in Bangkok, she becomes animated when talking about the European acquisitions. The push into Europe brings the group into contact with wealthy new customers; not just locals in these markets but also Asian visitors. Tapping into the tourism trade is a key part of the group's long-term strategy.
Consider the heritage, the gracious look and locations of most of Central's European acquisitions, says Yuwadee. "Our main aim is to put together a collection of historic luxury department stores located in cities with a strong presence of tourists," she says. As the granddaughter of the Central Group's founder Tiang Chirathivat, Yuwadee is one of the key members of the family-controlled conglomerate. The family came 14th on the Forbes list of Asia's richest families and third on the Forbes Thailand Top 50 rich list, with an estimated fortune of nearly €10.9bn. Besides retail the family has interests in hospitality and commercial property development. But it's retail that accounts for more than two thirds of the group's nearly €7bn in annual sales.
According to Tos Chirathivat, Central Group's chief executive officer – and Yuwadee's brother – Central will use its expertise to transform the European shops into "must-visit destinations".Central is also investing heavily in its efforts to add more luxury aspects to some of its higher-end shops. Measures include putting more emphasis on the design and architecture of malls.
But not all touched by Central turns to gold. The group beat a retreat from China, closing three shops after unsuccessfully battling local distribution networks. Meanwhile, the gleaming yet costly exterior of the 37-storey Central Embassy complex in Bangkok is still being finished amid extended delays. When completed, it will include a much-anticipated Park Hyatt hotel, due to open in the fourth quarter of this year on the floors above the six-storey shopping mall. But progress in the construction has been slow.
But none of this deters Yuwadee: many other plans to expand and innovate are in the pipeline. The group developed a strategy in late 2015 to open 10 new shopping malls between now and 2017, including seven new projects in Thailand and one in Malaysia. Thailand is going through a difficult period under a military government blamed for mismanaging the economy. But recent figures suggest a tentative economic recovery is underway. In Europe's high-end retail centres, meanwhile, a growing stream of cashed-up tourists from China and Southeast Asia are offsetting any slowdown in local consumer demand. As for Central Group, with plans to boost capital investment and leverage its "Asian-ness," it's all good news – as Yuwadee is the first to acknowledge.
Family values:  the Chirathivats
Yuwadee Chirathivat is one of eight siblings among a set of Central Group executives descended from Tiang Chirathivat, her late grandfather and clan patriarch. A poor Hainan native who migrated to Thailand, he built the group from his first venture, a general store called Keng Seng Lee ("basket shop"), which opened in 1947 in Bangkok's Thonburi district. A decade later Tiang's eldest son Samrit Chirathivat opened the first Central Department Store in Bangkok.
Tiang married three times and had 25 children. While the family remains in control of Central Group, recently outside employees have been given more of a role. This combination is the perfect mix, says Yuwadee: "Yes we're family-run but we operate with the right professionals handling the right jobs."