My last meal / New York
Laurie Anderson: Diverse dish
Meet Laurie Anderson: musician, director, artist, composer and inventor. Here she holds forth on dogs, violins, cheese and Lou Reed.
"I was forced to play the violin; not at gunpoint or anything. We had a family orchestra and we needed violins. We were eight kids and we all played – flute, cello, clarinet, piano and violin. It was like the Von Trapp family. We wore matching outfits: red turtleneck sweaters and navy pants for the boys, navy skirts for the girls. I grew up in Chicago and didn't appreciate it like I do now. It's a generous place and the people are genuinely friendly. But I like New Yorkers; people are very awake here.
My mother was a terrible cook – and by terrible I mean monotonous. Sometimes we had liver, which we would scrape off the table onto our laps and down into our shoes, and then we'd squish out to the woods to get rid of it. Have you ever had liver in your shoes? It's not a good feeling.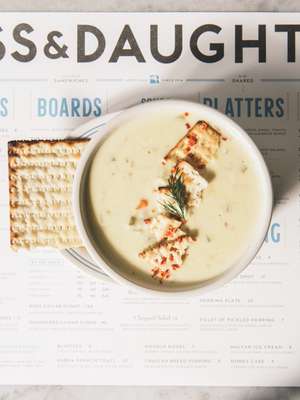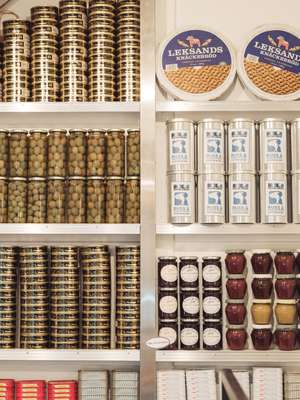 I played the violin until I was 16 and then stopped for a decade. When I was 26 I was really lost and I decided to stay in bed until I could think of a good reason to get up. And so I stayed there for a year. It was near here, between Avenues B and C. I wasn't depressed; I just decided I didn't know what I was going to do so I was going to wait until I did. I made the same food every day for that year: a pie. I would go out after I'd taught night class and buy the same things: cornmeal, black beans, broccoli and cheese. At the end of that year I had a lightbulb moment: I wanted to make singing sculptures.
I moved to New York in 1966. When I began as an artist in the 1970s it was still idealistic. I was part of a group. I did a lot of street stuff, a lot of operas and I did sculpture. I was in Soho; it was messed up. We kept our lights off at night because we lived there illegally.
I met my husband [Lou Reed] at a music festival based on Kristallnacht that John Zorn [composer] did in Munich. It was wonderful to meet someone who was never boring. We loved the Russ & Daughters shop [around the corner on Houston Street] and Lou would have loved it here at the café but it opened a year after he died. Have you had the horseradish cream cheese? They take something really sharp and put it into something humble.
I've done too many things in prisons recently to think about a last meal. But I can talk about my best meal. Who would be there? Lou, his cousin "Red Shirley", John Zorn; people who would enjoy this food. Socrates might have been good to have there. I'm interested in the Socratic method and would ask him if he imagined Plato inventing that concept after him.
I'm guest director at Brighton Festival [2016] and I'm going to do another concert for dogs. I swore I'd never do it again but they're so fun. The first time I did it was in Sydney. It was an invocation to whales because they hear in the same frequency range. I couldn't believe it: there were all these Aussie dogs that wanted to rock.
Speaking of dogs, Heart of a Dog [Anderson's 2015 film] is about stories, not dogs. Habeas Corpus [a New York installation last year], with ex-Guantanamo detainee Mohamed el Gharani, is the work of which I'm most proud. It was political in a way that was weird and gave people room to make up their own minds. I'm not that ambitious; I'm not someone who wants to open the Munich office. I just don't care. I've asked myself if that's just a bullshit thing that I say as I've said it many times. I love working and I love making stuff – I'm doing some things now that I have no idea about!"
Smoked whitefish chowder
Serves 4 to 6
Ingredients
1 tbsp extra virgin olive oil
1 tbsp unsalted butter
2 leeks, diced
1 carrot, diced
2 small stalks celery, diced
1 clove garlic, chopped
1 large russet potato, peeled and cut into cubes
2 tsps fresh thyme, finely chopped
60g flour
60ml dry white wine
475ml vegetable stock
1 bay leaf
475ml whole milk
225g smoked whitefish meat, cut into small pieces
180ml full cream
To garnish
Handful dill, chopped
Few espelette pepper flakes
The method
Heat olive oil and butter in large stockpot over medium heat. Add leeks, carrot and celery and cook for 5 minutes, until soft.

Add garlic, potatoes, thyme and cook for 2 minutes.

Sprinkle flour over vegetables and stir to create a dry roux.

Stir the wine, stock and bay leaf. Bring to a simmer for 30 minutes. Stir in milk and whitefish and return mixture to a gentle simmer.

Discard bay leaf. Stir in cream and season with salt and pepper. Garnish with dill and espelette pepper. Serve.