Robert Wu / Taipei
Robert Wu: Words of wisdom
Eslite booksellers' founder gives us chapter and verse on getting the best from his team.
Guests checking into the smart Eslite hotel in central Taipei are left in little doubt about the proprietor's true passion: floor-to-ceiling bookshelves line the walls of the lobby-turned-library. Robert Wu, the founder of the Eslite empire, sits upstairs leafing through a pile of books in search of a familiar passage. "The world of books is the greatest among all human inventions," he says, echoing the sentiment of one of his favourite authors, Hermann Hesse.
Judging by Wu's surroundings, a quarter of a century in the book trade has been good to him. Eslite's debut hotel, opened last year, occupies a tranquil spot overlooking the Songshan Cultural and Creative Park. Next door, inside a four-storey shopping mall put together by Eslite, craft shops and teahouses sit side by side with an Eslite art gallery, a cinema and performance hall – and, of course, one of its 46 bookshops, which began enlightening the capital in 1989 before spreading across Taiwan.
Wu is not, however, a typical bookseller and his establishment status in Taiwan is a long way from where it all started. He made his initial fortune from investments in property and selling kitchen equipment to hotels at a time when reforms were turning Taiwan into one of Asia's first tiger economies. "I was raised on the principle that you reap what you sow," he says.
Yet this youthful fortune was quickly followed by a serious heart condition. Mandatory bed rest – in hindsight, his second stroke of good luck – allowed Wu to read voraciously. Chancing on the works of Hesse and Albert Schweitzer, a Franco-German philosopher-physician, provided impetus for a change of career. "That's when it became clear to me that money is not what I am after in life," says Wu. "It didn't bring me happiness but it did enable me to achieve something worthwhile."
Determined to create a book culture in Taiwan, Wu set up his first shop under the name of an old French word for "elite". The first branch initially sold rare books on art and architecture and became a popular student hangout in 1990s Taipei. "I had no idea how to run a bookstore and just wanted to share the benefits of reading with fellow book-lovers," says Wu.
Eslite took 15 years to turn a profit. The retailer is known for providing bibliophiles with a cosy nook to read titles without any obligation to purchase. "Bookshops are the only business where customers can benefit without spending any money," says Wu, insisting that his company is not a good commercial case study since he didn't start out with a model built to make money. Wu supported the business at this time with his own wealth and that of some investors.
Last year the doyen of Taiwan's book scene turned 65. His 37-year-old daughter Mercy now manages the business day to day, including overseeing the 2,500-odd employees, leaving the elder Wu to focus on overseas expansion. The first mainland Chinese bookshop opened in 2015 in Suzhou, near Shanghai (which is itself the next city on the list): more than one million people visited the shop within its first three weeks. Eslite tailors its modern interiors to each location so Wu works closely with architects and interior designers to ensure the genius loci is translated abroad.
Wu is also staying on board to safeguard the company's values. He speaks fondly of his daughter, complimenting her managerial style, but insists his successor must identify above all else with Eslite's raison d'être. "Eslite puts the promotion of reading before profit-making," says Wu. "The good values that underlie an enterprise are more important than the longevity of the enterprise itself or keeping the business within family control."
Maintaining control over the brand and its values has slowed entry into the Chinese market. "Looking for partners that share our values is not easy but the Suzhou government is determined to build a more liveable city," says Wu, who signed the first contract with the city government in 2009. Eslite's bookshop, designed by Taiwanese architect Kris Yao, is housed in an apartment block co-developed by Eslite and property firm Mitsubishi Estate. It is arguably Wu's most ambitious project but he is adamant that the move into property development is to secure the bookshop's future rather than representing a return to the source of his original wealth.
After decades of hard work in multiple industries, a philosophical Wu believes he has mastered how to live his life in a leisurely manner. He is more casual among his staff, socialising after work as his daughter worries about the operational side of the business. Even so his position brings deference in Taiwan's traditional business hierarchy: he laments that the laughter in meeting rooms soon stops when he enters.
As the bookseller-turned-intellectual ponders his coda, he is taking a more philanthropic interest in making books more accessible. He is also working on a book about his life, which he promises to publish later this year. But from the sounds of the blurb, curious readers and Eslite fans would do well to look in the philosophy section rather than in business or biographies: Wu has been sharing his musings with a writer who has instructions to turn it into "a literary piece". However it ends up, the Eslite chairman is unlikely to be overly concerned with its sales figures.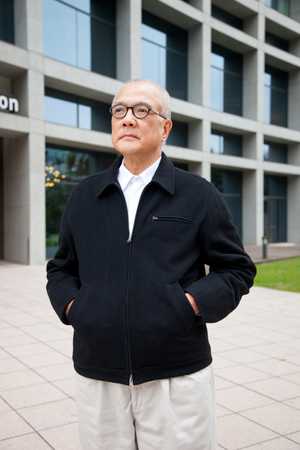 The rules
What time do you like to be at your desk?
When an idea is being formed I usually find myself sat in my study late into the night and early into the next morning.
Where's the best place to prepare for leadership: an MBA school or on the job?
On-the-job training is crucial. However, the best place to prepare for true leadership is in the mind and soul, as well as through an ability to learn and apply.
What's your management style?
Now I mostly play the role of a mentor but I have been told that I am demanding, detail-oriented, supportive and inspirational.
Are tough decisions best taken by one person?
Yes. The buck stops with the chief.
Do you want to be liked or respected?
Both.
What does your support team look like?
Besides my family, I draw support from colleagues in the organisation and friends from various disciplines.
What technology do you carry on a trip?
You may call me old-fashioned: I carry a very basic mobile phone, a book, a pen and a writing pad.
Do you read management books?
I used to read quite a lot of them. One that I think would be worth reading again is 'The Mind of the Strategist' by Kenichi Ohmae.
Do you run in the morning? Wine with lunch? Socialise with your team after work?
I enjoy taking a long walk in the mornings. My daughter, Mercy, is now running the business so I do socialise with my team after work.
What would your key management advice be?
Follow your core values with passion. When you do so there will always be a fire burning at the darkest moments.