Property Prospectus / Santa Fe
Sleeper hit: Railyard
The Santa Fe neighbourhood that's on the right track for families and entrepreneurs.
Famous for folk-art galleries and rippling mountain views, Santa Fe is the highest state capital in the US. Drawn by the city's beautiful berth in the Sangre de Cristo (literally "blood of Christ") foothills, art director Edie Dillman moved her family to the Railyard neighbourhood, just west of downtown Santa Fe, in 2012. "My children can grab a cinnamon roll at the restaurant and the staff know them, the people eating there all know them," says the mother-of-two, who also lets the kids walk the dog unaccompanied. "I feel safe."
The Railyard neighbourhood is a small but fast-changing swathe of land based around a park that runs along an old stretch of railroad track. It's a distant, dustier cousin to Manhattan's High Line, which is planted with lush native flowers and trees and has become the focal point of a budding community. In summer, Dillman explains, the family often packs an evening picnic and lays out blankets under the stars in the park.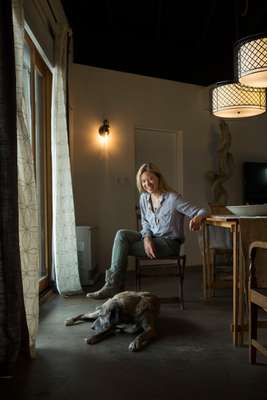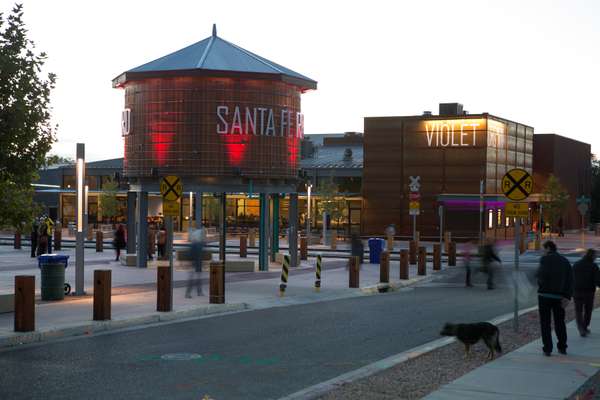 Dillman's husband Jonah Stanford designed their home back in 2009 and the couple credit the Railyard's progressive spirit with allowing them to build the way they wanted to. "Our house couldn't go in any other neighbourhood in Santa Fe," says Stanford. The land is leased from the Santa Fe Railyard Community Corporation, a non-profit urban development firm that has been reclaiming and reworking the area since 2002. "It's exciting," says Dillman. "The street that we're on is still 80 per cent open and undeveloped."
While Santa Fe is small (the population is just 70,000) it's known for its striking adobe architecture, stucco-fronted houses, flat roofs, earthy tones and thick walls. But the Railyard offers a fresher feel, where newer buildings can crop up alongside more conservative designs. Without forfeiting the neighbourhood's working-class history, homeowners have been allowed to carve out their own spaces. But it wasn't always so: before the Railyard Park initiative launched in 2007 the area was unkempt and shabby. Now it's enticing younger residents who had traditionally stuck to the city's hipper, southern side.
"There are opportunities now," says 27-year-old graphic designer and photographer Tim Edecker. In the kitchen of his light-filled duplex off Agua Fria Street he has installed a darkroom that he shares with shutterbug friends. "More and more people are hearing about it and it's a great way to connect with other photographers," says Edecker, who adds that this network has helped his development. "When people know your artistic process they're better at critiquing your work. It's why I'm still in Santa Fe."
Two features make the Railyard attractive to the upwardly mobile and entrepreneurial types. First, the original train station, which still runs through the neighbourhood, provides access to Albuquerque, the region's main airport some 100km away. Second is the proximity to Santa Fe proper. The Railyard is 13km from the city's central plaza and the many new shops, galleries and bars not least Santa Fe Spirits, a micro-distillery with a private tasting room in a small house on Read Street.
The changes in Santa Fe haven't gone unnoticed by long-time residents. "Some people oppose the new developments," says painter Gigi Mills, who moved into a loft in 2015. "I can't imagine why you'd fight that – new people are raising property values and contributing to the diversity of the neighbourhood. To me that's everything."
Property guide
The Railyard doesn't have a specific architectural style. Old adobe homes and warehouses are being readapted for residential use; vacant lots abound and a sluggish market means prices are still low.
One-bed house:
$220,000 (€200,000)
Two-bed house:
$295,000 (€265,000)
Three-bed house:
$395,000 (€360,000)
Barker Realty
11 505 982 9836
santaferealestate.com
---
In and Spa at Louretto: This adobe mansion features a spa and patio restaurant , which serves great lobster tacos and stuffed chillies.
innatlouretto.com
Modern General: This one-time photography studio sells garden tools and speciality foods, and is also a café and bakery.
moderngeneralnm.com
Santa Fe Honey Salon: Owner Gadiel Ramirez stocks 21 types of raw and unfiltered honey, plus honey-based soaps and beeswax candles.
santafehoney.com
Violet Crown Cinema: Opened in 2015, this restaurant, bar and indie cinema has 11 screens and a giant patio on which to enjoy a drink.
violetcrowncinema.com
Santa Fe Farmers Market: Every Saturday this lot draws more than 100 growers and vendors.
santafefarmersmarket.com
Radish & Rye: A champion of farm-to-table dining serving contemporary southwestern cuisine.
radishandrye.com
Santa Fe Spirits: The tasting room creates house-made original cocktails using spirits.
santafespirits.com