Recipe / London
Small wonder: Oldroyd
Tom Oldroyd's small London restaurant is turning out to be a big success – and here's why.
"I didn't know I wanted to be a chef," says Surrey-born restaurateur Tom Oldroyd, with a grin. "When I was 16 I worked in a hotel kitchen, everything was cooked in a microwave and nobody wanted to be there – they'd rather talk about holidays or fishing."
Standing by the window on the sun-dappled first floor of his own restaurant on busy Upper Street in north London, it's clear that Oldroyd has found a more agreeable setting for his art. Sandwiched between a kebab shop and a nail salon, his teeny first venture feels like a fixture despite only opening last year. But don't let the diminutive size throw you: big things are happening in this snug two-storey stop-in.
The restaurant accommodates 35 diners on sunnier days – including the outside tables, that is. Inside is a smattering of low wooden tables, plants and a few tall bar seats. A narrow kitchen under a spiral staircase turns out an array of lip-smacking European dishes, from crisp croquetas to mouthwatering malfatti (ricotta dumplings) and fresh pasta galore. And it's incredible value: no bottle of wine will set you back more than £55 (€70). The clipped menu changes frequently and helpings are unerringly generous.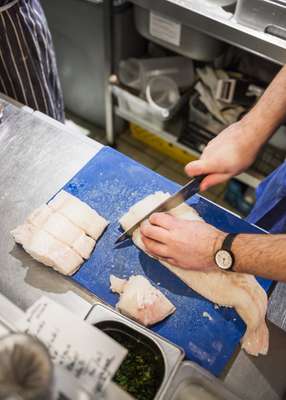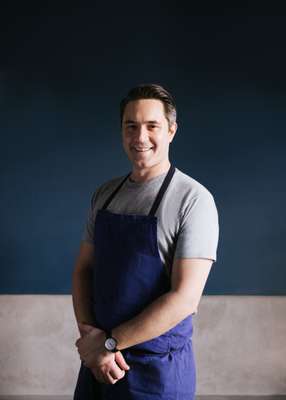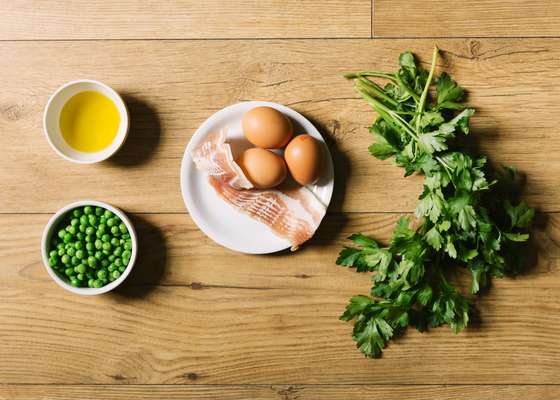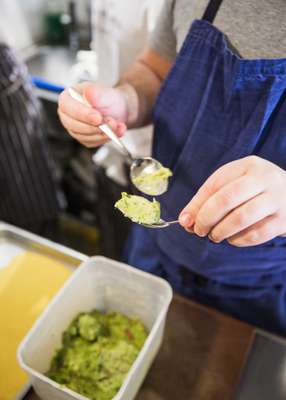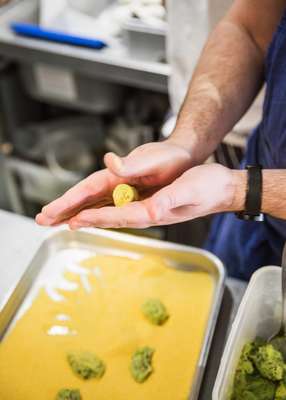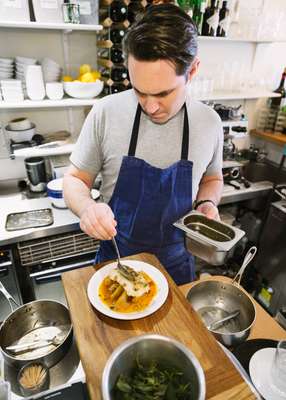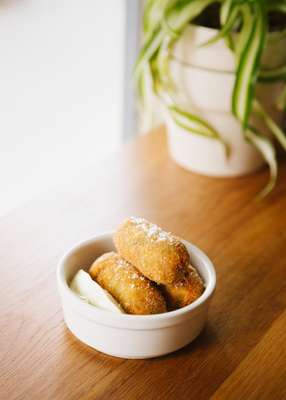 Upstairs a few brass wall lights by Michael Anastassiades for Flos bounce a warm light back from the Stiffkey blue walls that Oldroyd, his fiancée and a few friends painted by hand. Everything about the place feels personal, deliberate and unfussy. But the young chef has taken a roundabout route through London's hospitality industry.
"I left school quite abruptly," he says with a smile, refusing to elaborate. "I actually went for a job as the manager of Pizza Express in Guildford." Having moved to London in 2006, he got a taste for professional kitchens at a since-closed establishment called Alastair Little. "Trying to get your foot into the restaurant scene is a good way to loose weight and save money," he says. "I just didn't stop cooking or thinking about cooking."
Oldroyd quickly graduated from prepping the ingredients to cooking under the tutelage of head chef Juliet Peston. "She was fantastic. I loved her ethos around food: everything had to go together and it was all about the flavours, which fascinated me." After three years Oldroyd was snapped up by restaurateurs Russell Norman and Richard Beatty and went on to launch nine restaurants across London with the Polpo group. He left in 2015 to try his hand with his own place.
"Opening your own restaurant is more enjoyable but more stressful; you've got no one to blame," says Oldroyd, as he tosses a creamy ball of pea-and-ham purée with béchamel sauce into a tray of orange polenta – an early stage in the making of his signature dish (see recipe 2). "We'll always have a croquette on the menu – it's just the best way to start any meal."
So what does Tom Oldroyd, the serial restaurant-opener, say to the prospect of another venture? "We're quite happy with this at the moment," he says coyly. And come to think of it, so are we.
oldroydlondon.com
Roast cod, braised fennel and anchovy
Serves 6
Ingredients
6 x 150g cod
For fennel
4 heads fennel, tops
removed (fronds kept), each cut into 8 wedges
1 tin plum tomatoes
8 cloves garlic, sliced
2 sprigs rosemary
1 large glass white wine
1 tbsp roasted fennel seeds
Olive oil
Salt and pepper
For anchovy sauce
8 brown anchovy fillets, chopped
4 cloves garlic, sliced
1 handful parsley, chopped
Olive oil
The method
1.
Preheat oven to 150C. Heat all anchovy-sauce ingredients except parsley in saucepan. Infuse for 15 minutes, cool and add parsley.
2.
Grill fennel wedges then place in bowl. Sweat garlic and rosemary in oil, add tomatoes, wine and fennel seeds and bring to boil. Remove.
3.
Mix tomato sauce with fennel wedges, place on tray and seal with foil. Cook for 2 hours.
4.
Remove from oven and plate up. Scatter with leftover fennel fronds.
5.
Griddle cod skin-side down for 4 minutes. Flip and cook in oven for 4 more minutes.
6.
Place cod on fennel, add sauce. Season; serve.
---
Pea-and-pancetta croquetas
Serves 8
Ingredients
For bechamel
100g pancetta, chopped
3 tbsps cooking oil
50g butter
75g plain flour
450ml milk
¼ nutmeg, grated
1 bay leaf
3 black peppercorns
Salt and pepper
Handful parsley, chopped
For pea purée
200g peas
1 shallot, sliced
25g butter
1 small clove garlic, sliced
50ml milk
For breadcrumbs
3 eggs
50ml milk
200g polenta flour
300g panko breadcrumbs
The method
1.
Heat milk with bay leaf, nutmeg and peppercorns for 15 minutes, then strain. Keep milk.
2.
Sweat shallot and garlic with butter in pan until soft. Add milk and 150g peas. Bring to boil and simmer for 1 minute. Remove from heat and blitz in food processor. Chop remaining peas.
3.
Fry pancetta with oil, add butter and flour and stir until golden. Add milk and whisk. Pour on tray to cool then stir in parsley with peas and purée. Chill for 2 hours in fridge.
4.
In three separate bowls place polenta, whisked eggs with milk, and breadcrumbs. Shape tablespoon of mixture into a ball then dip in the bowl of polenta, followed by eggs and milk then breadcrumbs until sufficiently coated.
5.
Shallow-fry in pan until golden. Place on kitchen roll to dry and season to taste. Add to bowl with truffle mayonnaise. Serve.