Design / Global
Design
Briefing
Surfboards, bathtubs and house boats – and a special focus on Milan's Salone del Mobile for good measure.
Back to the sea
Sophie Grove
Modern harbourside buildings are turning away from the natural wonder that should be their main attraction.
Early summer stints on the beach can be a little fresh. The trick is to find the right spot, establish a sheltered microclimate and then simply bask. The Turks are experts at this. During my years living in Istanbul I would join tanned residents on the sunny inlets of the Princes Islands from about March onwards. One of my favourite off-season haunts is a sunny terrace on Robert Mallet-Steven's 1928 art deco pergola at Saint-Jean-de-Luz in France. This bold piece of seaside infrastructure was controversial during its time – it sits in between elegant 19th-century villas on the west cost and has all the subtlety of a giant ocean liner – and is a perfect sun trap (and wind break) designed to capture light and make the resort more user-friendly.
It's a sentiment typical of the sea pavilions, piers and lidos that sprung up during this era. They were structures replete with terraces and awnings that turned towards the ocean and promoted exercise. They were also ways of democratising the beach, allowing citizens to dive into the sea and take a swim. They were sometimes feats of clever engineering, a way of taming the coastline for human use: in Australia, early and mid-20th-century architects built about 100 manmade sea pools in New South Wales that were drained and refilled daily by the crashing tides of the Pacific.
In recent years municipalities have ceased to build liner-inspired buildings that access the sea in favour of art galleries that use their dramatic waterside proximity to make a cultural statement. Modern civic landmarks turn a huffy concrete shoulder to the lure of the ocean outside. Buildings such as San Sebastian's Kursaal Congress Centre hardly have a window in them. In the UK the new Jerwood gallery in Hastings is an uncompromising black box that dominates the seafront and blocks the view for nearby fish-and-chip shops, which now struggle to glimpse the shingle. The French city of Marseille now swanks an enormous fleet of modern galleries; all very fine and grandiose but where is the visceral, elemental link with the sea?
This isn't just an aesthetic concern but a social one. Last time I was in Marseille I witnessed scores of young kids being wrestled off the promontories of expensive houses along the urban coastline by uniformed police – they were trying to cool off. I couldn't help thinking that a city beset by so many urban and social challenges would have spent its public funds more wisely on a floating lido or public swimming platform.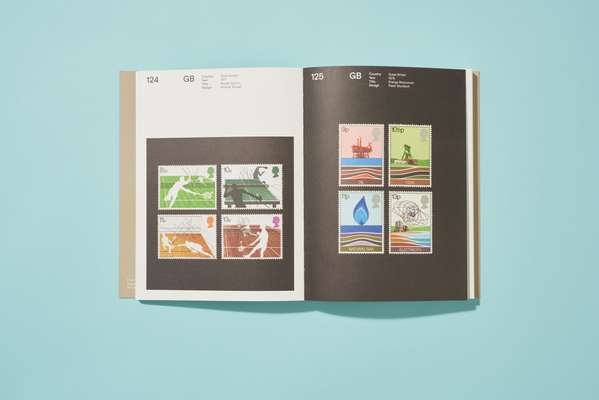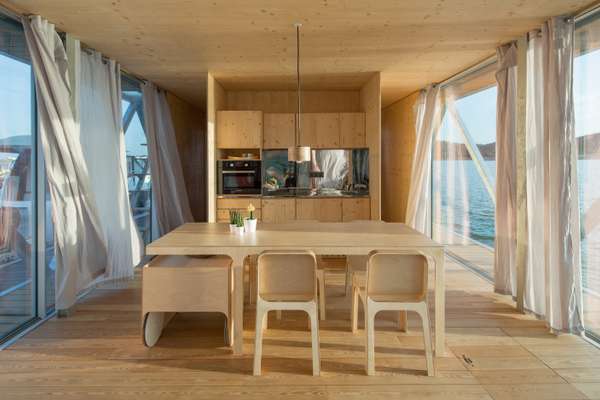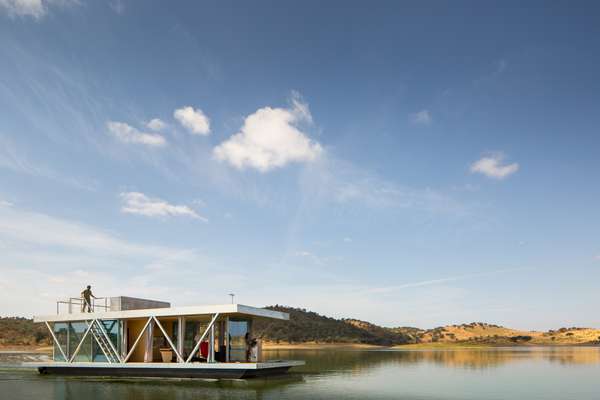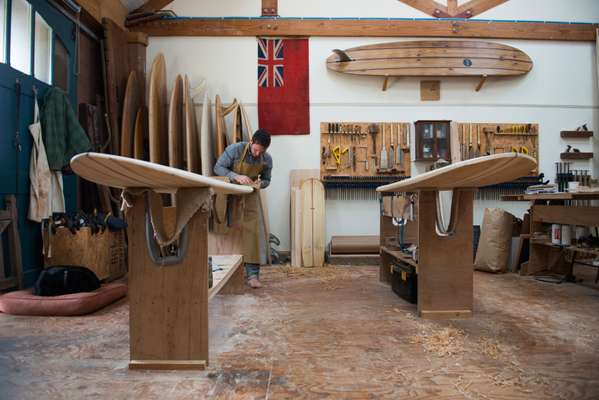 It's time to turn back to the principles of maritime modernism and build harbourside structures that venerate the sea air and facilitate a dip in the ocean rather than a cloistered tour around yet another airless coastal gallery and a trip to the gift shop.
---
Plane sailing
Cornwall —
JAMES OTTER
Since creating his own sustainable wooden surfboard inspired by the 1930s-era construction techniques of legendary waterman and surfboard designer Tom Blake, James Otter has been busy in his Cornish workshop close to the sea. Now keen surfers can retreat for a week to make their own boards or spend a day crafting a wooden hand plane – a handheld body-surfing aid that works like a fin – under Otter's careful eye. "We had 18 apprentices last year. Sharing knowledge is more rewarding than I ever thought possible," he says. "Ideally you'd have this one board for life."
---
Model ships
Norway —
HURTIGRUTEN
Hurtigruten began as a freight line transporting goods from Trondheim to Hammerfest but branched into the cruise business in the late 1920s. Now its 1990s-era fittings (think brass and heavy carpets) are making space for sleek Norwegian design. "Our New Arctic Interior reflects the breathtaking waters we sail on," says CEO Daniel Skjeldam.
Five of the line's 11 ships are getting a makeover this year using natural materials such as wood, slate and leather. "Guests will experience what they would expect to see inside traditional and modern homes along the coasts they sail by," says Skjeldam. Hurtigruten has served Norway's coastal route since 1893 and the ships still carry mail, goods and medicine to remote villages. Starting from 2017, Hurtigruten will expand its operations to the Amazon rainforest and Arctic Canada.
---
Take a dip
Israel —
TAL ENGEL
Israeli designer Tal Engel's elegant Otaku bathtub was conceived as an "inside-out" vessel and inspired by traditional Asian boatbuilding techniques, specifically the Vietnamese basket boat. To create his light yet sturdy water baby Engel weaves together strips of white ash and maple veneer to create a sheet and then steams the mesh to make the wood supple enough to bend into its familiar shape.
The wooden bowl (which weighs less than 15kg) is then coated with resin to make it watertight before being mounted on a steel frame that exposes each overlapping strand.
---
Bright ideas
Nara —
NEW LIGHT POTTERY
Hiroyuki Nagatomi and Chizu Nara established New Light Pottery in Nara in 2015. The parts are made by artisans from around Japan and then assembled by the team. This model, Bridle, is made in grey aluminium and leather.
---
Floating homes
Portugal —
FRIDAY
There's no ducking of heads on Portuguese company Friday's houseboat. Wide and airy, the Floatwing is a modular structure that is available in 200 combinations and can house three bedrooms.
Started in 2012 by a group of researchers and engineers from the University of Coimbra, Friday designs and makes these prefabs from steel, fibreglass, regal pine wood and cork; solar panels ensure a sustainable energy source. Next on the project list is a Zissou-esque personal submarine for those who want a dip into the life aquatic.
---
Reich move
Germany —
IRISGERD
In the late 1930s the fine sands of Prora on the Baltic's Rügen Island were chosen by Adolf Hitler to host holiday apartments for 20,000 people. Between 1936 and 1939 the Nazi regime built what was to become one of the world's longest buildings at 4.5km but they were never used as holiday billets. After 1945, what is known as the Colossus of Prora was turned into Soviet military barracks, then lay empty after German reunification. Now developers are turning four of the five blocks into upscale apartments (the fifth houses a museum). Berlin-based IrisGerd bought Block 1 in 2012 and aims to finish the refurbishment by spring 2017.
---
Stamp your mark
London —
UNIT EDITIONS
Graphic Stamps – the first in Unit Editions' forthcoming Archive Series – exalts the collections of stamp experts Iain Follett and Blair Thomson and the result is a beauty. Graphic designers and philatelists alike will fawn over the boldness of the red-and-white right angles of 1960s Swiss stamps or the brash reds, whites and blues of their US-designed counterparts.