Livestock Tavern / Honolulu
Going native
Hawaiian food is about more than sticking a pineapple on a pizza and calling it fusion. At the Livestock Tavern it means home cooking in every sense.
"This place was called the Hubba Hubba room or the Swingers' Room, or something," says Jesse Cruz, the 39-year-old chef and proprietor of Livestock Tavern, an ambient restaurant in a former brothel in Honolulu. "There are delights of a different variety here today."
Nestled on the corner of Hotel Street in Chinatown – formerly the stomping ground of sailors seeking earthly pleasures in the city's clandestine corners – Livestock Tavern is emblematic of the neighbourhood's recent revival and, more broadly, the renewal of Honolulu's improving restaurant culture. It bills itself as American-inspired, which is a tough sell in a city where drive-in diners and mom-and-pop restaurants have long been firm fixtures.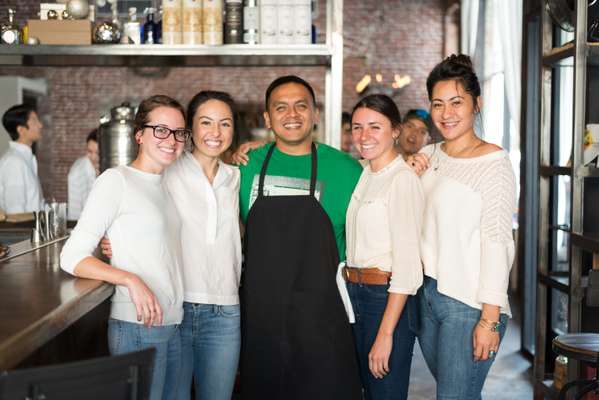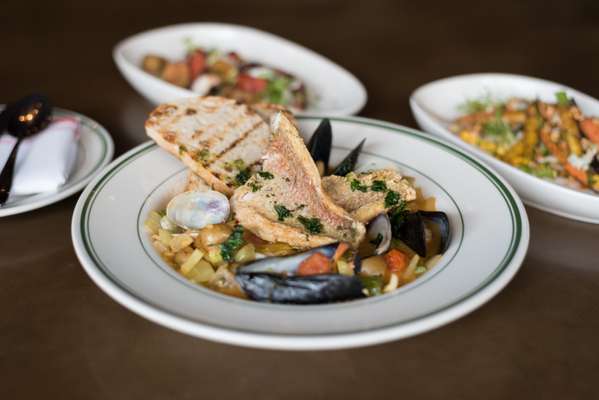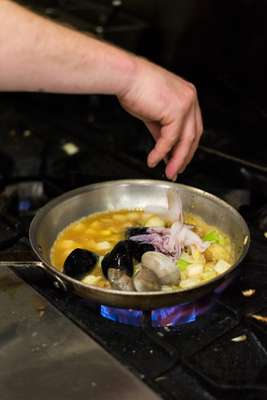 But unlike many chefs here, Cruz's aim is to elevate American comfort food by using ingredients from nearby farms: lobster rolls made with critters netted off the Hawaiian coast and served on home-baked bread, or Hawaiian prime-rib beef smoked for hours in his kitchen's kiln. "We are [about] simplicity; we're not a cutting-edge restaurant," he says. "We really want to make sure these flavours are something that you come back for."
Cruz was born in Honolulu and his first job was as a kitchen-hand at a steakhouse in the city. At the age of 20 he left for San Francisco before moving to the kitchens of the Caesars Palace hotel in Las Vegas, where he worked for a decade before returning home.
Hawaii has long been considered something of a culinary curiosity, even a black hole, and "fusion" was a standard term here before it became a buzzword in kitchens around the world. When migrants arrived at the turn of the 20th century from Asia, the US and continental Europe they brought their national menus with them and appropriated them using Hawaii's scant produce. "As a kid I had neighbours who were Korean, Japanese, Chinese and Filipino," says Cruz. "But the fusion became confusing. When you start adding wasabi mashed potatoes to a red-wine sausage, the food has no root."
Hawaiian produce is hard to farm given the volcanic soil and up-and-down topography, not to mention the turbulent Pacific climate. They are challenges that explain why the food industry here is so dependent on imports; 80 to 90 per cent of the islands' edibles arrive from elsewhere. Cattle ranchers, for example, will often raise their herds on imported grain before selling the stock to be matured on the mainland; then the meat is shipped back to Hawaii for consumption. Despite the food here being vulnerable to the changing weather and many producers being hamstrung by an underdeveloped infrastructure, Livestock Tavern has worked hard to be a boon to locals by filling its menus with ingredients grown on the islands. "Supporting a farm or a food business in Hawaii will only make it more independent in the future," says Cruz. "Our farms are very fragile. A little rain and a little wind will destroy the crops. It's a challenge but when we do get the product, it's amazing."
Crispy snapper
Serves 3
Ingredients
60g butter
250g snapper fillet
30g onion, diced
30g fennel, diced
30g celery, diced
30g leeks, diced
30g fingerling potatoes, diced
60g cherry tomatoes, blistered
3 mussels
3 clams
90g calamari
180ml saffron tomato broth
1 slice grilled sourdough bread
60g cornstarch
1 tsp Old Bay southern seasoning mix
½ tsp dried parsley
The method
1.
Melt butter in pan. Add onions, fennel, leeks, celery, potatoes and cherry tomatoes. Sauté.
2.
Add mussels, clams, calamari and tomato broth and steam gently until shellfish is cooked.
3.
Combine cornstarch, flour and Old Bay seasoning in bowl, coat snapper and deep fry. Once cooked, dab off excess oil and set aside. Pour shellfish broth into bowl. Place fried snapper on top and add parsley. Serve with toasted sourdough.
Grilled octopus
Serves 3
Ingredients
For main
30ml olive oil
30g duck fat
120g octopus
30g fingerling potatoes, parboiled
30g Jerusalem artichokes
15g chorizo sausage
15g baby frisée
For purée
Salt and black pepper
1 white onion
30g sugar
30ml white vinegar
1 tsp smoked paprika
The method
1.
For purée, roast onion whole at 180C for 20 minutes or until soft. Peel, mince in blender with sugar, white vinegar and paprika.
2.
For the main, heat duck fat in pan then fry potatoes and artichokes for 5 minutes.
3.
Coat octopus in half the olive oil then season and grill for 5 minutes. Slice into 1cm coin shapes.
4.
Toss frisée in remaining olive oil. Season.
5.
Spoon purée onto plate, top with octopus, potatoes, artichokes and chorizo. Serve.