Shipping families / Global
Shipping families
The big names of the world's oceans tend to keep it in the family – we meet the generational giants.
For the uninitiated, shipping can seem a complicated, vague and even oddly opaque industry. The companies involved rarely face the public, dealing instead with their counterparts in government and industry. The work they do is also – perhaps surprisingly, considering how vital it is for the global economy – conducted totally out of sight in little-known port towns and in the middle of vast expanses of open ocean. An extra layer of opacity is added by the fact that many of these shipping behemoths are still run by families – they are closed shops that eschew publishing data and soliciting publicity.
As our commentator Nicola Good explains within the following pages, there are myriad reasons why the family structure is still predominant and thriving in the shipping industry. It's partly down to the fact that shipping companies require singularly long-term investment and the precise vision that a dynasty can often provide. Family businesses are good at looking beyond the next earnings report and on to the next year, decade and generation.
In this report we examine six families, including the Grimaldis (with roots going back to the 14th century), Wan Hai Lines (a big player set up by a Taiwanese paper tycoon) and Vafias Group (the new upstart from Greece). Let's meet the global shipping dynasties.
Lucien Arkas, father
Chairman
Diane Arkas, daughter
Executive vice-president
Bernard Arkas, son
Executive vice-president
The flagship brand of Turkey's shipping industry, Arkas Holding is a fourth-generation family-run transport and services company headquartered in Izmir. Third-generation chairman Lucien Arkas took over in 1964 and today runs the business with his two children, Diane and Bernard.
Originally from Marseilles, the Arkas (then Arcas) family settled in Turkey in the 1700s, where they exported goods such as figs and cotton. About a century later the family moved to Izmir. With its sheltered location in a bay on the Aegean, the 1,000-year-old port city was ideal for an import-export company. It was Lucien Gabriel Arcas, who took the helm in 1944, who launched the family's first shipping agency; its first international shipment was a cargo of acorns carried from Turkey to Egypt.
Today, Arkas Holding is the umbrella for 64 companies offering logistics, agency services and ship and port operations around the world. The container-shipping arm, Arkas Line, is operational in 22 countries and owns a fleet of 46 ships, making it the world's 25th-largest player and the biggest in Turkey.
arkas.com.tr
Size of fleet: 46
Number of routes: 24
HQ: Izmir, Turkey
Global employees: 6,500
Longest route: Spain to west Africa (45 days round trip)
Flag that ships sail under: Turkey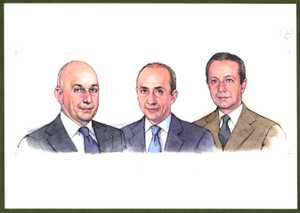 Gianluca Grimaldi, brother
Chairman
Emanuele Grimaldi, brother
Managing director
Diego Pacella, brother-in-law
Managing director
The Grimaldi clan is no stranger to the sea. Based in Naples, the family's seafaring roots stretch back to the 14th century when three brothers secured a charter from the monarch. Moving goods is still in the family's blood and today's business, the Grimaldi Group, which was founded in 1947, operates more than 100 ships.
Led by two brothers, the business specialises in carrying merchandise that moves under its own power once in port – it operates passenger ferries, roll-on/roll-off ships and carriers that move cars and lorries to 130 destinations worldwide. Grimaldi vessels can hold lorries that, on land, would stretch upwards of 10km if driven on highways. The operation's passenger service is split into three: Finnlines covers the Baltic with routes that include a link between Sweden and Finland; Minoan Lines operates in the Adriatic; and Grimaldi Lines focuses on the western Mediterranean, helping travellers from Spain and Italy to reach Sardinian beaches in the summertime as well as shuttling people back and forth between Morocco, Tunisia and Greece.
Containers and four-wheel cargo move between ports as far apart as New York and Luanda, and interest in west African ports has increased of late. Moreover, Grimaldi enjoys a decades-old relationship with carmakers; it penned orders for 10 more auto transports in 2015 as brands such as Fiat Chrysler look to ship models from Europe to North America. The group has even been called in to assist governments with logistics, transporting tanks and other military vehicles for Nato exercises.
Still, its owners haven't overlooked the needs of those sending goods in standard shipping containers. Grimaldi recently took delivery of the first of five new Danish-designed ships that are the world's largest hybrid roll-on/roll-off cargo vessels, able to carry 3,800 containers and 1,300 cars at a time.
grimaldi.napoli.it
Size of fleet: 110
Number of routes: 130
Global employees: 10,000
HQ: Naples, Italy
Longest route: Galveston, Texas, to Monrovia (about 60 days round trip)
Flags that ships sail under: Italy, Greece, Finland, Sweden, Malta, UK
Annual revenue: €2.6bn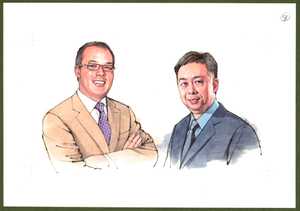 Po-Ting Chen, cousin
Chairman
Randy Chen, cousin
Vice-chairman
For a company founded almost as an afterthought by a Taiwanese paper tycoon, Wan Hai Lines has done rather well. Yung Chen set up the business in 1965 because he needed a regular supply of logs for his paper factories. But containerisation, a boom in global trade and some smart decision-making have helped transform the shipping line into one of the world's most profitable.
Wan Hai opened its first container route – to Japan – in 1976. It is now one of Asia's biggest ocean carriers with a fleet of 92 ships (72 of them owned by Wan Hai and the remainder chartered), and is still controlled by the Chens and their long-time business partners, the Lins. Chen's grandchildren, cousins Po-Ting Chen, Randy Chen and Chih-Chao Chen, lead the senior management team.
"This is not an industry where you live hand-to-mouth on your quarterly financials," says Randy. "It's one that lends itself better to a more stable shareholding that manifests in family structures." Although Wan Hai was listed on the Taiwan Stock Exchange in 1996, the families own two thirds of the shares.That structure, coupled with the company's niche in intra-Asian trade, has helped Wan Hai navigate the uncertain global economy, trimming its schedule, managing charters and focusing on customers.
Randy might describe the founding of Wan Hai as an afterthought but considered management has helped the company survive. "We are fortunate to be stewards of a successful shipping entity and we try to run it as such," he says, "not for delusions of grandeur."
wanhai.com
Size of fleet: 92
Number of routes: 75
Global employees: 4,200
HQ: Taipei, Taiwan
Longest route: Kaohsiung to Valparaiso, Chile (about 30 days)
Flags that ships sail under: Singapore, Hong Kong and Taiwan
Annual revenue: €1.8bn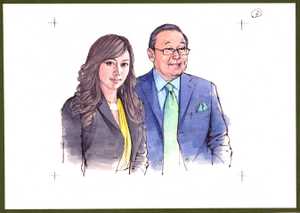 George Chao, father
President
Sabrina Chao, daughter
Chairman
Sabrina Chao cut an unusual figure in the shipping world when she became chairman of Wah Kwong Group in 2013 at the tender age of 38. Representing the third generation of the Chao dynasty, she was two years shy of her grandfather's age when he abandoned his trading career in Shanghai at the outbreak of civil war and fled to Hong Kong on a cargo ship. There, in 1952, TY Chao set up a shipping business.
That leap of faith tied his family's fortunes to the sea. The company that Sabrina now manages owns a fleet of 31 vessels, the largest of which is a 1,082ft (330-metre) oil tanker aptly named Hong Kong Spirit.
Over the past half century, Wah Kwong has found its niche transporting fuels – including iron ore, coal and crude oil – from the Middle East, west Africa and the US to economic powerhouses in Asia. The firm has benefitted not just from Japan's post-war industrialisation but also Hong Kong's positioning as the perfect entrepôt for Asian businesses.
One thing that has anchored the company through economic ebbs and flows is its time-charter arm, which allows charterers to hire underused Wah Kwong vessels. Family ties have helped too. Frank and George, the founder's eldest and youngest sons respectively, joined the company in the 1960s; George now serves as president, while his daughter Sabrina entered the business in 2002.
It's not just the company's chairwoman that gives the business a youthful edge either. The average age of vessels across Wah Kwong's fleet is 5.1 years, compared to an industry average of 10. In 2012 the company launched a training centre in China's northeast port city of Qingdao for sharpening up seasoned staffers' skills. The base also trains more than 100 cadets each year, ensuring the business stays fresh and innovative.
wahkwong.com.hk
Size of fleet: 31
Transit in 2015: 2 million nautical miles
Global employees: 95
HQ: Hong Kong
Longest route: Houston to Ningbo, China (50 days)
Flag that ships sail under: Hong Kong
Crude-oil barrels carried by a tanker per voyage: 2 million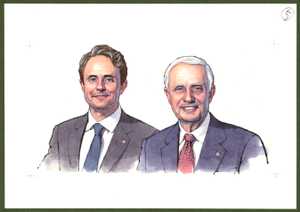 Dan Sten Olsson, father
CEO of Stena AB
William Olsson, son
Deputy director of the board
Most Swedes know Stena Line for the passenger cruises it offers; the cruise-loving Swedes use its ships to travel to Denmark, Poland and Germany, among other destinations. With its comprehensive route network spanning more than 10 countries, it offers a connection to many Swedes but also Norwegians, Danes and Brits traveling to central Europe by car, as its Ro-Pax ferries combine passenger decks with car and cargo decks.
But cruises are just one part of its various operations. The company was founded by Sten A Olsson in Gothenburg in 1938 and initially focused on trading steel, iron and metal products. Soon cargo shipping and ferry cruises were added and over the years, several other branches have appeared within the Stena Group. Today the mother company Stena AB is an international conglomerate dealing in ferry lines, shipping and offshore drilling – but also property, investment and finance. Shipping is still very important though: recently Stena Line announced an order of four new ferries with delivery dates in 2019 and 2020. With these new ferries, all built in China, the company continues to develop its Ro-Pax concept, mixing passengers and freight: the ferries will be 50 per cent larger than today's standard Ro-Pax vessels and run on methanol – a rarity in the shipping industry.
Wholly owned by the Olsson family, the Stena Group is one of Sweden's largest family-owned businesses. The founder passed away at the age of 96 in 2013 and today his son Dan Sten Olsson runs the business as the CEO. Several other family members – including Dan's son William and daughter Selma – serve as board members in different companies within the Stena Group.
stena.com
Size of fleet: 34
Number of routes: 22
Global employees: 5,500
HQ: Gothenburg, Sweden
Longest route: Travemünde, Germany, to Liepaja, Latvia (27 hours)
Flags that ships sail under: Mostly UK or Sweden
Annual revenue: €1.3bn
Nicholas Vafias, father
Founder, Brave Maritime
Harry Vafias, son
Founder, Stealth Gas
The late Haralambos Vafias had very little in common with the shipping industry besides the fact that he hailed from the island of Chios, like most Greek ship owners. At a young age the budding businessman moved to Argentina and established a successful beef-export firm. So it must have been a surprise when his son Nicholas embarked on a career in shipping back in Greece. Today the enterprise Nicholas founded has evolved into Vafias Group, a successful family empire comprising four separate companies, 91 vessels and 1,200 employees.
Harry, Nicholas's son, now represents the second generation of the Vafias shipping dynasty. Straight out of university and still unknown in the industry, he set up a company called Stealth Maritime. Using a loan from his father, Harry bought two 20-year-old single-hull Aframaxes (medium-sized crude tankers) and within just five years he had made enough to pay the loan back tenfold and had already founded a second company, StealthGas, which is listed on the Nasdaq, with Michael Dell – founder of computer company Dell – the second-largest investor.
vafiasgroup.gr
Size of fleet: 91
Number of routes: 400
Global employees: 1,200
HQ: Athens, Greece
Longest route: South America to China (about 60 days)
Flags that ships sail under: Marshall Islands, Bahamas, Liberia, Panama, Malta, Cyprus, Isle of Man
Value of cargo carried per year: €2bn
The expert view
Nicola Good
Who: Prior to joining IHS Fairplay as executive editor, Good worked for Lloyd's List where she edited its annual 'Top 100 Most Influential People in Shipping' and 'Next Generation' publications.
Shipping is a long-term proposition. While the odd fortune is made from short-term asset plays, the cyclical nature of the sector and its expensive hardware mean that investors must have the fortitude to tough it out during bad times and the savvy to plan ahead when times are good.
Shipping is a business built on trust. It is therefore not surprising that the family-owned company thrives when in many other industries it has all but disappeared. Some of the most recognisable names in the business – Livanos, Chandris and Angelicoussis – belong to families and while the Greeks are best known for sticking with that structure, they are not alone.
Family-owned shipping entities exist the world over, from the German port city of Hamburg – and names such as Oetker and Oldendorff – to Denmark, home of the world's biggest shipping company AP Moller-Maersk Group. Hong Kong and Singapore have notable shipping families too, from the Sohmen Pao clan of BW Group to the Tung family behind Orient Overseas Container Line. Fabrikant and Pathy are just a couple of the family names behind US and Canadian firms.
For those involved, shipping becomes a lifestyle, not just a business. Shipping heirs are raised while deals are discussed over dinner and festive occasions are used as opportunities to entertain clients. They hang out at ports, shipyards or on ships, learning the ropes (literally) by doing menial jobs during school holidays, hopefully winning respect from colleagues that they might one day manage.
For some, succession is certain and they are groomed. Diego Aponte of Mediterranean Shipping Company, who recently took over from his father Gianluigi, is a case in point. He may have had to prove himself – shipping parents are said to be notorious taskmasters – but there was little doubt that he would one day take over.
For others, earning a place can be more difficult. Heirs may have to jockey with siblings and cousins – and the rivalry can be intense. The death of Chang Yung-Fa this year, the founder of Taiwanese container line Evergreen, sparked a bitter succession battle among his four sons.
There have been some legendary impasses between siblings but there are also many cases where shipping offspring work in harmony. Brothers Gianluca and Emanuele Grimaldi of Grimaldi Lines happily share an office. Their united approach has seen them expand the business founded by their father Guido back in 1947.