Maritime architecture / London
Shore thing
London is home to the UN's International Maritime Organization 1970s headquarters – and if you chug even further down the Thames you'll find that a whole host of maritime architecture is revealed. Monocle explores the buildings that help keep sailors shipshape.
Though stevedores no longer work the banks of the Thames, London has held fast as a centre for maritime governance. It has been a fulcrum of the shipping business since the late 17th century – when Edward Lloyd's coffee house became the place to take out marine insurance – and has been home to the UN's International Maritime Organization since 1948. The capital boasts architecture that references its naval prominence, both past and present: from modern headquarters to seafarers' churches, hostels and almshouses.
Many of these buildings can be found in Rotherhithe, where Norwegian, Swedish and Finnish sailors once came ashore at the busy docks. The Nordic nations filled the southeast-London neighbourhood with chapels, reading rooms and social clubs (even saunas) to host their countrymen while they were in port. Many of the area's seaborne visitors disappeared when the wharves closed in the late 1970s but the architecture remains.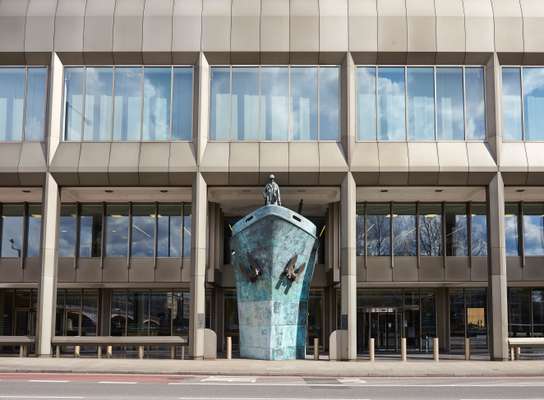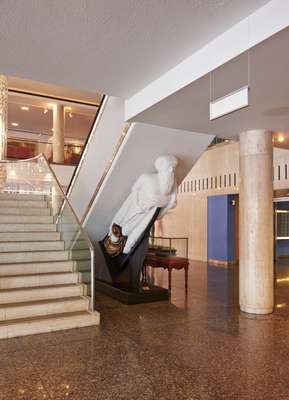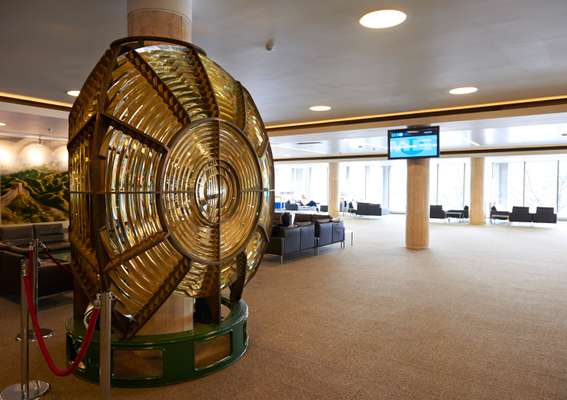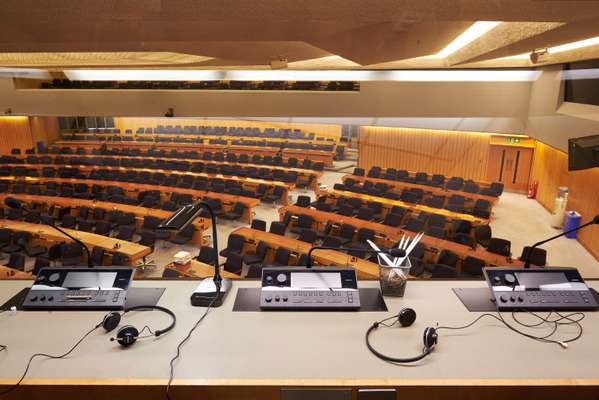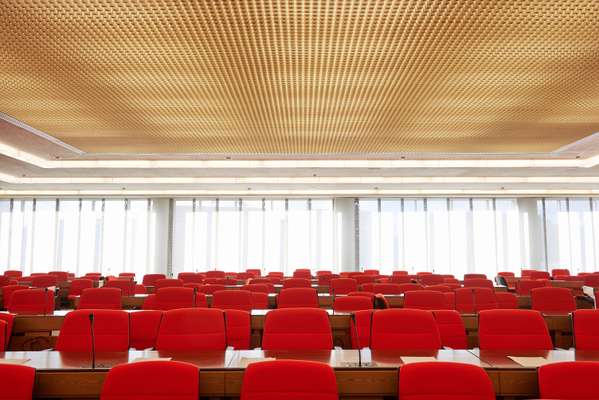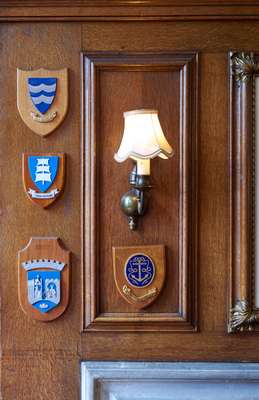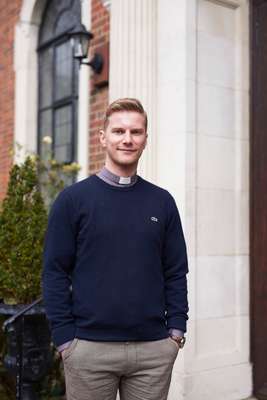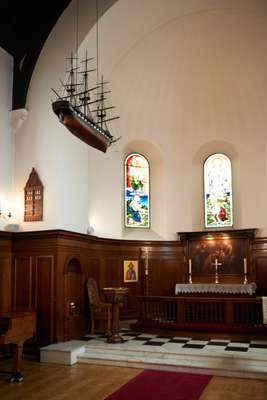 01.
International Maritime Organization
UN legislative body
Every session at the International Maritime Organization (IMO) begins and ends with the loud chime of a ship's bell. From the bronze ringers in the committee rooms to the vast brass instrument – with intricately knotted-chain splice pull – that sits by the chairman's perch in the plenary hall, each one appears at odds with the hushed carpeted interiors and curved Canadian rock elm of the delegates' desks.
As the only UN headquarters based in the UK, the IMO regulates the safety of shipping, maritime security and the prevention of pollution from ships. Designed by UK architecture firm Douglass Marriott, Worby & Robinson (now DMWR) its nine-storey steel-framed concrete forms are the apogee of late 1970s modernism. Polished Baltic granite floors glitter in the lobby and the delegate's lounge is a sea of oatmeal carpet and plump leather sofas. A fittingly nautical sight greets visitors to the building on the Albert Embankment: its boxy façade of and anodised aluminum is punctured by UK sculptor Michael Sandle's bronze of a cargo ship, standing two storeys high. Atop the bow a crewmember peers across the brown Thames to the mi5 headquarters on the opposite bank of the river.
Opened by Queen Elizabeth in 1983, the building was overhauled in 2008 but retains much of its original character, including plenty of seafaring flourishes. A bearded ship's figurehead nestles under the escalator in the lobby; a lunging bronze nude of Poseidon, a gift from Greece, sits behind the security desk; and a ship's wheel – a memento from the Islamic Republic of Iran – is displayed in a gold frame next to the delegates' aluminum pigeonholes. There's even an orange-glass lighthouse optic salvaged from a decommissioned station on England's east coast and installed around a pillar on the first floor.
Model ships in glass cases dominate the lobbies and lounges. From the P50 Let Pobedy, a Russian nuclear icebreaker, to the Disney Fantasy cruiseliner – with its 14 decks, tiny swimming pools and model AquaDuck water coaster – all are gifts from shipbuilders or IMO member states. There are 124 model ships in the collection, each intricately built to scale. "Most of the larger items on display are unique; in some cases they were specially made for IMO," says Aubrey Botsford, deputy director of the office of general services. The latest addition is the huge Al Nefud, which can carry up to 18,000 containers and was built by South Korea's Hyundai Heavy Industries.
For all its administrative and policy function, the IMO building has the feeling of a liner; between sessions in the chamber both delegates and translators bask on the sunny roof terrace. "It is a great spot," says Canadian librarian Sharon Grant after showing monocle around the Maritime Knowledge Centre, where she oversees the IMO archives. Part of her remit is to raise the profile of the organisation and digitise its output. "This building was built for another era," she says as she unfolds the original 1970s plans that include a telephone exchange and a Thomas Cook bureau. She sees more change afoot but is passionate about the function the IMO serves. "My father was a seafarer," she says. "I realise now that it's thanks to the work of this organisation that he came home safely."
02.
St Olav's
The Norwegian Seaman's Mission
When St Olav's was completed in 1927 there would have been between 50 and 100 Norwegian ships berthed in London's docks at any given time. It was the brainchild of John L Seaton Dahl, a Norwegian architect who forged a career in London, and features a slim copper spire mounted with a golden Viking-ship weathervane. You'll have to look hard for other nautical references on the exterior: outwardly the building is reminiscent of a Georgian mansion house, with arched leadlight windows and pretty sandstone quoins.
Inside, the entrance hall opens into a reading room kitted out with a red-brick fireplace, aged-leather lounge chairs and a (dry) bar adorned with paintings of Norwegian ships on rough seas, plaques emblazoned with anchors and portraits of naval captains. An elaborate ship-shaped iron candleholder is perched on an oak table in the middle of the room. "It looks like a gentleman's club room," says Torbjørn Holt, the resident priest of 11 years, chuckling. "It was intended to be a haven where sailors engaged in cultural activities, such as reading newspapers. It is quite unique for a church to have this [open-plan] type of room sandwiched between the entrance hall and the chapel."
In the chapel, with its peaked roof characteristic of a medieval Norwegian church, a model of a cargo ship is suspended above the altar; it points east as a symbol of good luck. Beside it a chandelier in the shape of a ship's wheel lights up the dark space. The essence of the Sunday church service remains the same as 30 years ago, when sailors would attend in droves. "It is and has always been a Lutheran Eucharist service that is typical of the church of Norway, except for the fact that it ends with a prayer for sailors and their safety," says Holt.
As we are in an age when the nearest Norwegian ships are the supertankers berthed in deepwater ports downriver at Thurrock, St Olav's congregation looks very different. The church still performs a social function, serving coffee and heart-shaped waffles to all manner of Norwegians living in London – after all, let's remember that the capital is home to at least a container-full of Norwegian shipping billionaires – but Holt acknowledges that its nautical ties are loosening. "We still have some members with a maritime background – including mechanics and several owners of shipping companies – but our target group is changing."
03.
Merimieskirkko
The Finnish Seamen's Mission
Designed in 1958 by Finnish architect Cyrill Mardall-Sjöström, Merimieskirkko comprises a simple concrete box adjacent to an angular grey bell-tower. The third London outpost of the Finnish Seamen's Mission abroad (but the sole example still in use), it was built when the swelling population of  Finnish sailors in the British capital outgrew existing premises. "There were people who were worried about the sailors; their lifestyle was quite full of alcohol so the priests came here," says the current rector, Marjaana Härkönen.
The exterior's modern aesthetic continues inside, where blond-pine panels clad the ceiling and slabs of grey Scottish marble line the back wall behind the altar. "It is quite typical for a modernist Finnish church," says 80-year-old Helena De Landro, who has been a Merimieskirkko regular since it opened its doors. "It is simple with few decorations and the way that lots of light comes through the windows is similar to Kolmen Ristin kirkko, Alvar Aalto's famous church in Imatra in eastern Finland."
Nautical references set the building apart from its contemporaries in Finland: a model of a 200-year-old trade ship hangs near one pulpit, into which a florid sailboat is carved, while a wooden anchor adorns a second. Meanwhile, the pale wooden furniture dotted throughout the church is similar to what you would find in a modern Finnish house says Härkönen, and includes one narrow, rectangular Aalto table that dominates an upstairs meeting room. When we visit, 86-year-old Lauri Lintunen – a former first-mate on a Finnish tugboat – is sipping coffee before heading upstairs to a seniors' club. "It was seamen from the Finnish navy who came and visited this place 20 or 30 years back," he says. Hundreds of them "would fill the church for the Lutheran service or for the orchestra and the social services. We were meeting [other Finns], which was important because when you come from Finland it's such a different country from Britain, and we had different ideas and different experiences."
Like any good Finn, Lintunen is keen to discuss the merits of the sauna in the building's basement: Merimieskirkko is the only church in the country to have its own Finnish hotbox and as "the best sauna in the whole of the UK", according to Lintunen, it attracts Finns from all over. "Going downstairs is the best treatment," he says, adding that he still uses the sauna regularly. "It is unique in London."
As with its Norwegian counterpart, Merimieskirkko emanates a sense of homeliness. And like St Olav's, it comes from having an interior that was designed to serve a group of people who were looking for companionship and familiar surroundings a long way from home. As Lintunen puts it, "this was always a meeting place".