Cruise entertainers / Global
Water palaver
What happens when monocle's Culture editor goes on a cruise? The conga, that's what.
I have to point out here at the start, in the interests of journalistic integrity, that I was involved in not one but three conga lines on board the MSC Preziosa as it steamed from Genoa back to Genoa via Rome, Marseille and Mallorca. Does taking part in a conga line arrest the critical faculty? Does the party spoil the prose? Do congas rot the brain? You can decide; after all, you've paid £6 to read this magazine. Names have not been changed to protect their identity – but emotions? They can rarely be disguised. There are no pixelated faces in matters of the heart.
The Monday night show in Preziosa's Platinum Theatre is Il Sogno Italiano and at 19.30, curtain-up, the place is still bubbling with arrivals, eager to learn what The Italian Dream might sound like. Grey-haired couples do the apologetic knee-bumping shuffle to clear those punctually settled legs, handbags, folded jackets and walking sticks. "Mi scusi", "Pardon", "Entschuldigung" and the odd "Disculpe" are whispered.
A daring three songs in and younger couples and groups of groomed and pomaded families file in after draining their grappas in the Golden Lobster dining room. As "Volare" segues into "Mambo Italiano" some even younger, almost insubordinately late arrivals are doing away with their seats altogether and doing that thing that Europeans of a certain age still do: they're dancing in the aisles. Who cares? They don't. They're not really filing in at all anymore. There's a dip of the knees and a sway; is that a shimmy? After the overnight ply from Genoese Portofino to Roman Civitavecchia, the falling of dusk, taking of wine and stoking of engines, these people are decisively and robustly on holiday.
The show trips through the hits of the Italian songbook in double time; Mario Lanza's "O Sole Mio" becomes Elvis's "It's Now or Never" by staying the same; Alfredo Imparato's "Funiculi Funicular" is a boring old opera boiled down to two self-consciously goofy minutes; "Tu Vuoi Fa l'Americano", best done by a pratfalling Peter Sellers and a purring Sophia Loren, brings the house down.
The get-up is top hats, frock coats, leotards and stilettos: all white. The choreography is spinning canes, high kicks, open-mouthed winks and slow numbers in which blushing punters are spotlit and duly serenaded. There is just the right amount of titillation: skirts spin ever-upward; big-collared shirts are certified medallion man. And talking of Sophia Loren (the Italian Marilyn), she is the godmother to all of MSC's ships. Now that's entertainment.
"I've been doing this for 25 years and everyone loves it," says Franco Pili, the Preziosa's cruise director. "This stuff is just classic, you know?" After the first of two shows for the evening, Pili is up in the entertainment crow's nest, the gallery and control room overseen by the director, lighting and sound crew. It seems as good a place as any to do a career run-through of Sr Pili, the self-confessed "voice of the cruise". He does everything from announcing the various entertainment offerings to advising guests that they "could win up to €25,000 in tonight's mega bingo game in the Platinum Theatre – are you feeling lucky?" and making sure diners avoid the queue for Deck 6's photo shop: "We take your picture, you take your souvenir gift!" All in "the standard five Mediterranean languages" of cruising: English, Italian, French, German and Spanish.
Pili's most prominent role, though, is as master of ceremonies at the top and tail of each night's shows, during which those five languages stretch to 25 or 30 for "good evenings" and "goodbyes". "On the Preziosa for this cruise we have 65 different nationalities," he says. "Onboard now we have 700 Israelis, 150 Chinese, 80 Russians. Once a Finn told me that I didn't say 'Thank you' so, of course, I then added 'Kiitos' for the next show." Of course.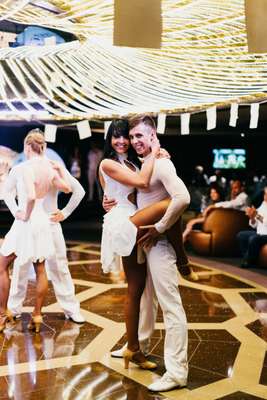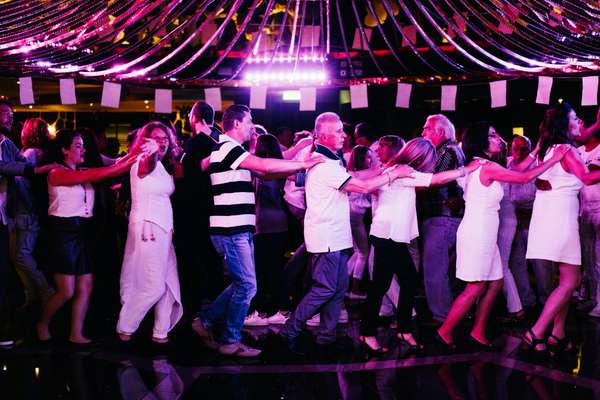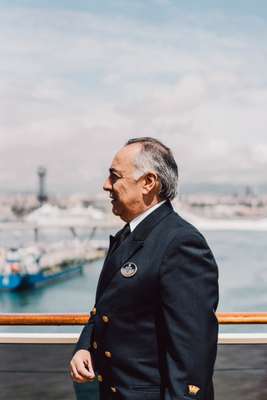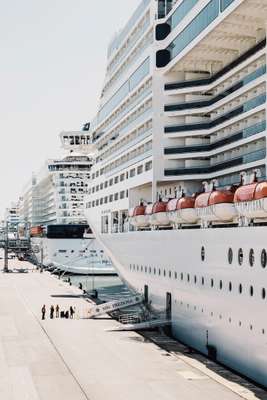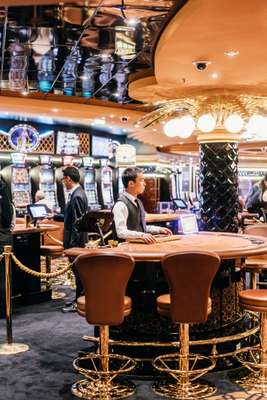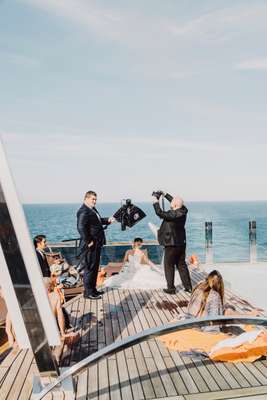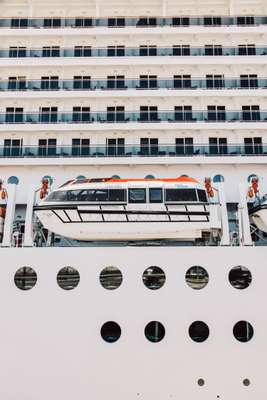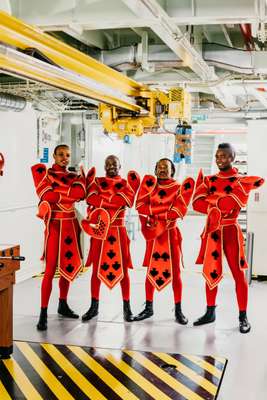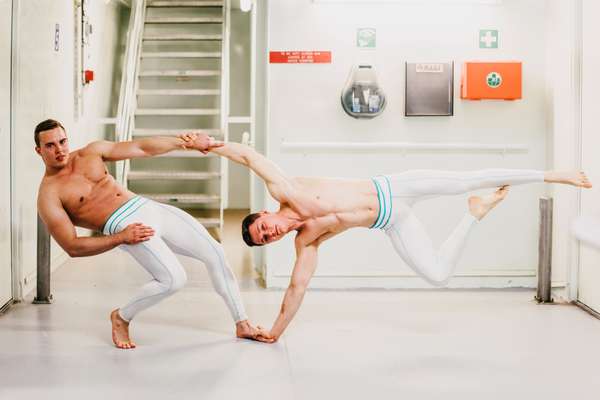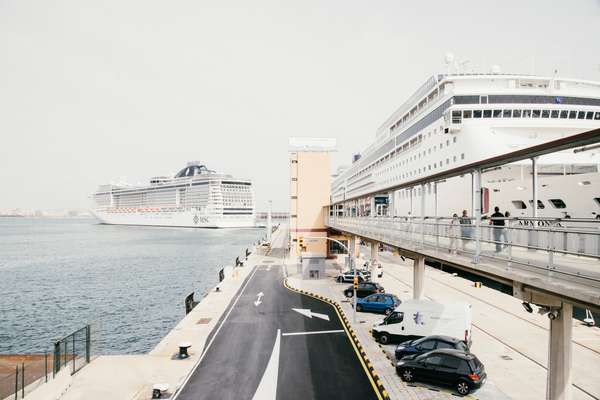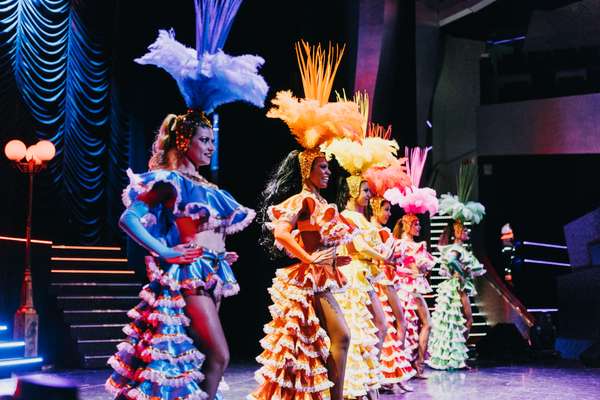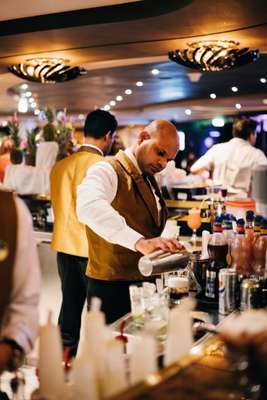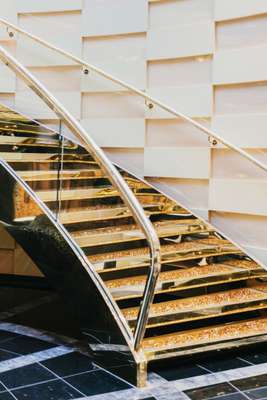 Pili started playing the drums and singing as a boy in Sardinia and toured Germany, Switzerland and Denmark as a young man: "A troubadour, you know, until you might say I was 'discovered' and asked aboard a ship one day." Pili was a deputy cruise director on other lines that were "nice but only spoke and sung in English" and has been with multilingual msc since 2004. What about a uniform? Pili's sober suit and tie aren't so showbiz. "I don't want stripes and a captain's hat – I'm not sure that's quite appropriate," he says with a chuckle. "I would be saluting rather than telling jokes."
Conga 1: It's Monday night, Italian Night; we've heard the songs and we've sashayed to "Bella Ciao". And now, at the end of a tricolore-decorated dinner in the Golden Lobster restaurant – the 21.00 sitting with seven courses all inclusive – the Indonesian waiters have been corralled by the Italian maître d' into coaxing the diners into singing a toast to the tiramisu. Every tradition has to be invented somewhere; this is like the sugary address to the haggis on Burn's Night. Napkins are twirled as if 1,500 people are trying to fan smoke from their kitchens. There is singing and a conga. Suddenly I'm led away, eventually down some stairs, kicking my leg out and chanting. Am I a cruiser now? I look up at the huge decorative lobster that gives this dining room its name and imagine how many people a claw would feed. I am cruising.
Civitavecchia and Palma de Mallorca are 464 nautical miles apart, the passage split by the Straits of Bonifacio, ie the top of Sardinia and the bottom of Corsica. For sea dogs it's a ripple; for a pup like me it's a roll and a stagger against a wall or a blackjack table or the lower reaches of the deck-top water slide or a sun lounger or a beer pump or the masseuse's Balinese uniform or a room-service trolley or a fellow passenger. In bed it's a challenge. What about the entertainment on a swelling sea? Singers are fine but what about the acrobats? Their routines are things of gymnastic precision that require strength, sure, but balance in excelsis, surely.
Knowledge Mandeira is the linchpin of the African Stars, a four-piece acrobatic troupe from Harare that plays a key role in the circus-style performances: Wonderland (Alice-lite) and Pandora (Avatar as mime). Knowledge's gang have been working on the Preziosa for three months. They were accepted by wep (based in non-tidal Lugano and one of the two production companies that MSC uses to stage and staff its shows) after sending in a video of their routine, a dazzling mixture of parcours, flic-flacs and balancing acts. "There's no circus school in Zimbabwe," says Mandeira. "We all learned this on the streets." And the streets of Harare, are they stable? Is it better to be on a ship? "Sometimes the ship is moving but the ground is always stable," he says with a smile and an elegant refusal to talk about home.
Another duo who keenly eye the weather forecast for signs of high seas are He-Men Michael and Zibi from Poland. They've known each other for 10 years, have been performing together for four and held each other up on dry land in the UK and Australia before embarking on the Preziosa. They too made a video, paying for a high-quality Lycra-friendly photoshoot and selling their muscular wares. There can't be many job vacancies in the world for acrobats, surely?
"As soon as you're doing a good job somewhere you can find work anywhere: hotels, ships, gala shows, events," says Zibi. "Sure, people don't want to sit and listen to an hour of boring speeches; they're hungry and want to get to the buffet," says Michael with a laugh that ripples a group of muscles under his tight T-shirt. "With us they get eight minutes of real physical acrobatics; it's a thrill." I can vouch for the deathless expressions of front-row matrons melting at the prospect of eight minutes with these two. And what happens when the ship is tossed? "We have to watch the ship and we have to watch what we eat," says Michael. "I am always on top and Zibi is the base and once you've been dropped you learn."
Conga 2: It's Wednesday night, Latin Night. The Platinum Theatre rings to the sound of Alma Latina, which starts with a "Welcome to Havana" and quickly goes into the territory of "watch those melons bounce" as a babe in a gold bikini gyrates about to Pérez Prado. Then it's White Night in the Safari Lounge, where the White Russians are deceptively strong. I kick my leg out; I am in a conga again. It snakes across the dancefloor like a coiled rope. I kick my leg out again and have maybe three more White Russians. I may be in a conga but I am taking notes.
What is the difference between performing on a cruise ship and performing on terra firma? Bogdan Ristea is the production co-ordinator who left Romania four years ago to hop aboard the freshly christened Preziosa. "It's my job to keep all the performers together," he says. "When I left home everyone said 'Lucky you' but it's a challenge too. It's a closed environment and, when you are sleeping in a cabin without any windows, you don't know if it's day or night."
And what about the audiences? Are they different? "The crowd want to do as much singing as the singers," says Ristea. "On land the audiences are younger. Here it depends on the season but they always react well."
Conga 3: Another day, another Gala Night, another toast to the captain and his crew – the head of food and beverage or a junior purser fêted in five languages – ends up in bacchanal. There is a conga; there are epaulettes. Looking down I see my leg is, subconsciously, kicking itself out. Where did I leave my notebook? Phew, I didn't even bring it.
The cult of the cruise is founded on the touchstone of joining in. The "Today's Activities" section of the daily programme, passed under the door each morning, lists at least 15 things, from Muscular Awakening in the Green Sax bar at 21.15 to Rockstar Night with DJ Antoine in the Safari Lounge at 00.30. The cruise is mercifully free of selfie-sticks because a nice couple will come along and ask if you'd like your photo taken in return for you taking theirs.
Gala Night features "Officers and Gentlemen – ladies, don't miss your chance to dance with our officers!" The crew join in, the entertainers join in, the "animators" are a bright, young group who skip through the ship high-fiving adults of the appropriate age (anyone under 60) and ruffling the hair of children. When a group of guests race to re-embark in Barcelona after what looks like it might have been a liquid lunch, fellow guests whoop and clap them up the plank. Not a slow clap: a cheer.
At 18.00 on Thursday it's time to leave Barcelona, a warm overnight chug of a mere 186 nautical miles through the northwestern armpit of the Med. And now there is something quintessentially cruise; a prime cut of cruisemanship. As we steam out of the port of La Barceloneta – nudging past the MSC Armonia, the Celebrity Reflection and the Costa Fovolosa looking American sedans double-parked on a busy street – the captain lets rip with the Preziosa's foghorn. Everyone, absolutely everyone grins with unalloyed pleasure at the shock of the sound and the strange pleasure of being dwarfed by mammoth craft floating metres apart, some potential of peril on water laughed away and recorded on a smartphone.
A typical tour of duty for one of the 90 entertainment staff – from Franco Pili down to the lighting technicians – is four months. Pili will go home to his English wife and their five-year-old daughter in Weston-super-Mare in southwest England. (Does Franco miss the water? Super mare means "on sea"). Many swing from cruise to cruise, singing, dancing and jumping through hoops before a fortnight in, say, Thailand to dust away the cobwebs and give their smiling muscles a rest.
Because you're always "on" when you work onboard. For quite a lot of the time in the ship's windowless casino, Green Sax bar, Safari Lounge, Golden Lobster restaurant or 1,600-seater Platinum Theatre – or in one of the Jacuzzis, games rooms or bright shops – it's easy to forget that you're on a ship and that you're moving along at a rate of knots from one bustling port to another. But never, not once, can you forget that you are on a cruise.
Ships in the fleet: Currently 12, with 11 on order and option (to be delivered by 2026).
Biggest ship: MSC Preziosa; 139,000 gross tonnes.
Smallest ship: MSC Lirica; 59,000 gross tonnes. The Preziosa can carry a maximum of 3,500 guests and 1,390 crew.
Shortest cruise: One night (Copenhagen to Berlin).
Longest cruise: 24 nights (Venice to Durban).
Aboard the Preziosa: 16,000 meals are served a day, including 8,745 litres of milk, 900kg of ice cream and 1,180 hot chocolates per week.
Nationalities: Among the guests there are typically citizens of 60 to 70 countries; among the staff an average of 58.