After-dark advice / Global
Fly by night
Monocle mascot Monochan is the ultimate night owl. Join him as he flies around the world to bring us wisdoms garnered from a life in the skies, from developing night-time infrastructure to tips on the best bars. It'll be a hoot.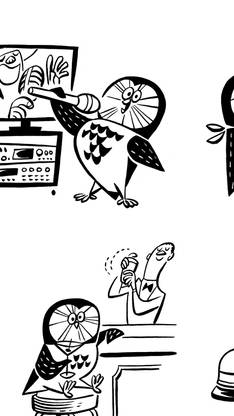 1.
Words on the street
Rio de Janeiro
"Boa noite," as I like to say when I visit my friends in Brazil. One of my favourite things about this city is that after I've had dinner at Sushi Leblon I can fly over to the nearby Argumento bookshop, which keeps its doors open until midnight. How civilised is that? And why is it that other cities seem to forget that it would be wise to let the bookish go shopping after dark? One word of warning: don't let anyone persuade you to go for a midnight wax. I had an unseemly feather-free groin for weeks.
---
This city is good at letting the party continue long after my usual roosting time. When things get a little too exciting the city elders encourage you to head to one of the key entertainment areas in Ginza or Shinjuku Ni-chome, allowing those who need their kip to be left undisturbed. The streets bustle, the tiny bars on every floor are packed and yes, there's a chance to belt out a tune or two at karaoke – something by Owl Jarreau, perhaps?
---
OK, we know that Sydney has got a bit panicked about late-night fun but one thing I like to do when visiting my kookaburra chums is take a dip after sunset. Our senior correspondent Sophie Grove told me about the North Sydney Olympic Pool, which lets you do laps until 21.00. I usually grab a mouse burger on the way home; you shouldn't eat before swimming.
---
As soon as I'm off my MEA flight (sometimes I find flapping all the way is just too much) I head to Gemmayzeh (AKA Gemmayzing), which is jumping no matter what time of night you arrive. This city may have its problems but perhaps that's why it knows how to let its hair down. There's a joie de vivre here that you only see around the Med. I normally end up having a few cocktails at Dragonfly, a great bar that makes a mean martini. But don't drink and fly – I'm ashamed to say that I've fallen off my perch more than once.
---
I can't believe that London never makes it into Monocle's top 25 cities. Disgraceful – I might drop a pellet on a certain editor's head. But like many cities around the globe, London is improving. And one of those changes is the arrival – finally – of a night service on the Underground. This summer will see the first services rumble into action and it will be interesting to see how it pulls people away from car services or even driving themselves into the heart of the city. I am looking forward to a smooth ride home to Tooting Bec.
---
6.
Gainfully employed
New York
An interesting thing about New York is how it's responding to a generation of workers who are not tied to their desks and so can determine their own hours; working nine till five takes on a whole new meaning. Hotels, cafés and shared office spaces are all adapting to cater to this mobile generation – and some with real panache.
---
7.
Midnight snacks
Hong Kong
Don't be confused by the name: the Australian Dairy Company is in Hong Kong and serves up a tasty Cantonese take on western classics. It's one of the places that I swoop in on when I'm in the city. Indeed, Hong Kong has some of my favourite late bars and is home to a trend that I heartily support: restaurants where you can go just to have a pudding. And when I'm hanging out with our Hong Kong bureau chief James Chambers I know second helpings are guaranteed.
---
8.
Alfresco athleticism
Vancouver
Sometimes I like to grab a barbell to get my chest all puffed up; other times I might head out for a run. I like cities where fitness spills out of gyms and becomes more about outdoor workouts, park classes and beachside dashes. In some urban hotspots you just feel the urge to get fit and go for a late-night run. One of my prime spots for a nice jog is Vancouver – running along the water's edge in summer is blissful. Although it's always tricky getting my Nikes on over my talons.
---
9.
Midnight maestros
Madrid
What is it about the Madrileños? They don't seem keen to dive between the sheets – not to sleep, anyway. I was recently hanging out with Shibachan, who's been living in the city for a few months and before we knew it we'd downed several large gin and tonics and hit the dance floor. But here's what I like about this city: the night belongs to everyone. And new mayor Manuela Carmena seems keen to protect this vibrancy. Our man in Madrid, who is almost as nocturnal as me, shows us where he flutters his feathers.
---
10.
Rest assured
Home to roost
The best thing about being a night owl is heading, socially speaking, off piste now and then. There are moments when you just need to let your plumage down – and it's better still if there's no one around to see you. So excuse me while I have my breakfast and cool my dancing feet; I met a hen last night who's in my bird box slipping into something a little more comfortable. Look away now, please. (PS For more jetsetting advice from yours truly, check out our travel guides.)