Blackhorse Lane Ateliers / London
Galloping majors
Two men, disillusioned by the fashion industry's perennial pursuit of cheap production, wanted to create a denim company with an emphasis on craftsmanship and community. Monocle visits the happy outcome: Blackhorse Lane Ateliers.
Toby Clark was on Waiheke Island, off the coast of Auckland, when he received an email from an unknown address. "Would you like to make jeans in London?" asked the enigmatic one-line message, which was simply signed "Han". "I didn't know who Han was but I was intrigued," says Clark. "So many factories have closed over the past 40 or 50 years. To actually open a new factory in Britain was a really exciting prospect."
Back in London, Clark met up with Bilgehan "Han" Ates to learn more about the plan. The former clothing manufacturer (and a friend of a friend, it transpired) was hoping to get back into his old business and so was keen to find a partner. The meeting would eventually lead to the pair founding the first authentic jeans factory that London had seen for at least 50 years: Blackhorse Lane Ateliers, which launched in April. They immediately bonded over their mutual passion for high-quality clothing and a shared sense of disillusionment with the global fashion industry.
For Ates, working on the supply side of the industry for many years had fostered a deep feeling of frustration. He began manufacturing jackets in London for middle-range high-street brands in 1995 but during the next 12 years he was forced to shift production offshore in order to lower costs. First he moved to his native Turkey; then, when the high-street brands he was supplying demanded cheaper production still, he moved further afield to Hong Kong.
"When I wrapped up manufacturing in 2007 I was in Guangzhou in China and they were asking me to move to Vietnam," says Ates. "I had been chasing cheap labour, cheap production, for years; I had lost my connection to London. That's when I decided to stop."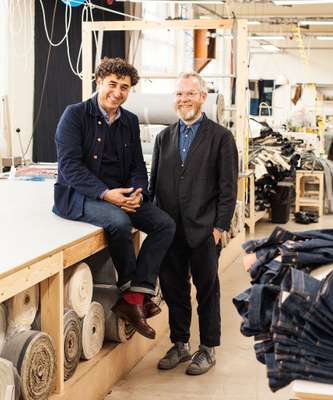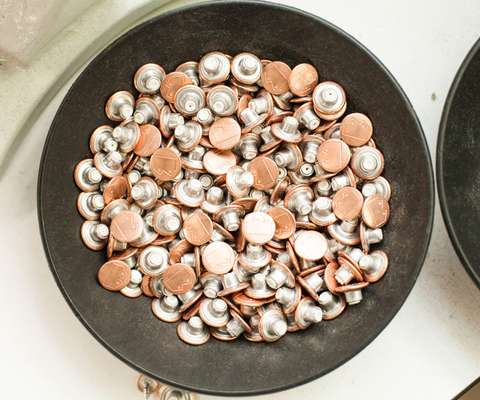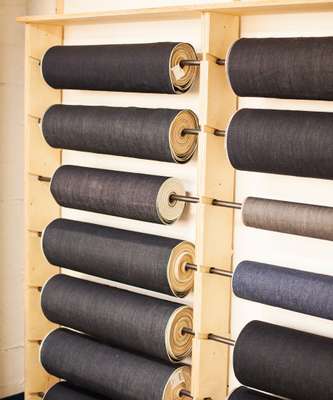 Although Clark's experience of the fashion industry didn't uproot him to China, it did provoke him to question the values at its heart, particularly the growing rift between end consumers and the realities of production. Having worked as a designer for a well-known global brand for 12 years, he took some time out to consider his next move. "I wanted to make sure that the next project I did really connected nature to industry and the makers to the customers," he says. And that's when Ates's offer arrived.
What the two founders have achieved since their first meeting goes a long way to answering Clark's two demands. They have converted the very same factory in Walthamstow, north London, that Ates bought in 1995, turning it into a fully functioning workshop capable of producing about 200 pairs of jeans a week. The open-plan building is accessible to the public and is home to the brand's factory shop as well; people can wander in off the street, see how the jeans are made and buy a pair all in one visit. Maker and customer could not be closer.
As you approach from the street outside, Blackhorse Lane, it's possible to hear the hiss and whir of the secondhand specialised machines made by Japanese company Brother (the older models were produced in Japan before Brother moved production to China and are, according to Ates, better quality). Each of the roughly 40 pairs of jeans produced in this atelier every day goes through nine machines and 22 stages of production. All of them are carried out here in the clear light of day.
When it comes to sourcing materials the founders try to stay as local as possible, all the while refusing to compromise on quality. The text on the jeans' pocket bags are printed by Fifth Column, a company but five minutes away, and all the brand's promotional materials are created by a printer based five metres from the factory's back door. Denim is harder to find so close to home so Clark and Ates source most of theirs from Turkey, where the cotton is picked and woven in the same place. They also use a couple of suppliers in Japan for those purists who will only buy Japanese selvedge denim.
Staying true to their ethos of localism, the founders plan to grow Japanese indigo on their allotment plot, five minutes' walk from the factory, in the hope of running dyeing workshops in the future that use dyes produced by the plants. The factory is also training and employing 12 Londoners as skilled machinists. In order to not replicate what Clark calls the "typical capitalist structure" prevalent in the wider fashion industry, each staff member has been made a shareholder in the nascent company.
These aren't the only ways in which the Blackhorse Lane project benefits the community: a space in the factory building has been handed to chef Pedro Passinhas. During the week he uses the kitchen to prepare food for catering events across the city and on Thursday, Friday and Saturday evenings the team hosts a pop-up restaurant called Denim and Dine. "At first I was a bit sceptical about it," says Clark, admitting that it was Ates's idea. "But now we've got this brilliant restaurant where we can seat 23 people. They walk into a factory making jeans – and there's a really lovely stillness in the factory in the evening – and then they're served this amazing food."
The founders also wanted a charitable element so have offered two small spaces rent-free for a year to artisans in the area. One room is shared by leather craftsman Jonatan Staniec and textile weaver Sophie Reeves; the other is the workshop of dyeing expert Katherine May. "Once they've built up their own businesses the revenue that they make will pay for the rental space," explains Clark. "That money will go back into the charity and will fund other local craftspeople."
We need to encourage this type of light industry in cities around the world. Urban centres are characterised by diversity but too often we are in danger of banishing workshops, factories and ateliers and turning our cities into soulless places where the only buildings are residential apartment blocks and glass office towers. There is nothing wrong with a little bit of noise and dirt, especially when these small factories and ateliers are creating jobs for skilled craftsmen.
We see plenty of examples of this inner-city industriousness, from the ateliers of Vienna's centuries-old crafts companies to the small-scale makers taking over Nashville's Buchanan Street. But too often they thrive in spite of city hall policy, not because of it.
It is worth remembering that over the course of centuries, cities such as London have grown by subsuming smaller rural villages. Once upon a time these villages would have had their own miniature ecosystems, with all sorts of businesses and artisans working there. Our urban neighbourhoods should revive this heritage and turn streets into bustling centres of commerce and palpable productivity.