Top 25 cities: map and rankings / Global
Global gathering
Before you take a closer look at the make-up of our tenth annual Quality of Life Survey, examine the final rankings (and, of course, let us know if you dispute them).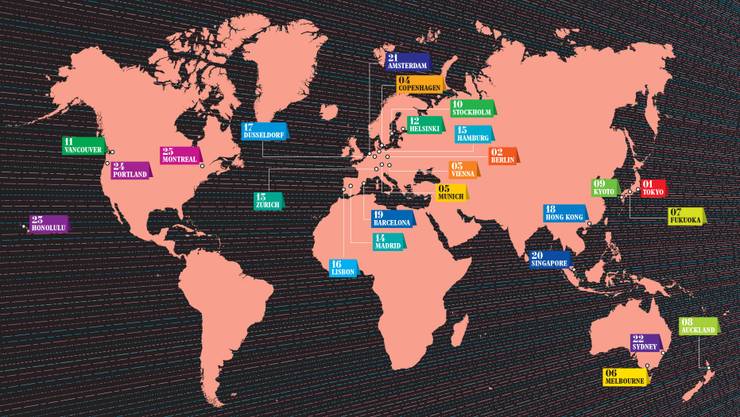 Tokyo: It might be a megalopolis but life in the Japanese capital is a masterclass in low-rise, leafy, pedestrian-friendly living. This city of 13 million nurtures a balance of hi-tech efficiency and slow, traditional neighbourhood values; it's a combination that wins the Japanese capital the top spot for a second year running.
Berlin: Germany's capital has taken some forthright measures to make sure it's not a victim of its own success: a rent cap will safeguard its cultural economy and ensure its lifestyle remains affordable and diverse.
Vienna: The palatial Austrian capital is growing in population and complexity. It's taken the recent influx of refugees in its stride too, with a cool head and compassion.
Copenhagen: Copenhagen's desire to let its citizens cycle and swim (on clear roads and in clean water) has helped it soar back up the rankings. Innovative and inspiring.
Munich: Munich continues to build on its civic offering with bold Bavarian gusto and intelligent city planning. Life in this green, sophisticated, well-read city strikes just the right balance between bucolic and urbane.
Melbourne: Victoria's state capital may not have the natural landscapes of Sydney but it makes up for it with an urban swagger, a buoyant economy and creative class. Clever housing solutions are still needed, however.
Fukuoka: Under the inventive Mayor Takashima this thriving city on the island of Kyushu is becoming ever more green, bike-friendly and business-savvy.
Sydney: With its natural vistas and abundant sunshine it's a wonder this city can do any wrong. That said, its connectivity could benefit from some blue-sky thinking.
Kyoto: Surrounded by greenery and filled with ancient temples, Kyoto attracts plenty of tourists. Yet the city also has plenty to offer its residents and continues to improve infrastructure, which has pushed it up this year.
Stockholm: Though Stockholm has long been a strong Nordic contender, the high cost of living has resulted in the Swedish capital moving down the list this year.
Vancouver: Stunning mountain scenery and a thriving culinary scene helps Vancouver secure a spot on the list each year. Yet rising house prices have seen the Canadian centre fall four places this year.
Helsinki: The Finnish capital has plenty to offer by way of museums and cultural centres and is easy to get around thanks to public transport. But more nightlife offerings and a boost to the suburbs wouldn't hurt.
Zürich: Some great cities have a chaotic edge but Zürich is a city where everything works. It's the perfect example of what sustained public investment can achieve and, perched on the edge of a beautiful lake, it knows how to make the most of its location.
Madrid: A night-time city that has benefited from an extra emphasis on after-dark activities this year. There's no need to cross fingers for a late-night bite: it's positively criminal to get a table before 22.00.
Hamburg: Germany's media capital is still thriving, attracting newcomers and holding its own against the richer Munich and (arguably) cooler Berlin.
Lisbon: Portugal's capital has long enjoyed plenty of sunshine and a thriving cultural scene. Now the low cost of living is also attracting young entrepreneurs; new businesses have provided a nice boost up the list.
Düsseldorf: Relatively small but very well connected, Düsseldorf is a new entry. As the fourth German city on our list, its inclusion also demonstrates the advantages of a federal system where jobs and industries are spread across the country.
Hong Kong: The Chinese city is a winning combination of business and beaches, retail and restaurants – plus a great example for mainland cities to take inspiration from.
Barcelona: At last, Barcelona is having a serious discussion about the type of tourism that it wants to attract. Meanwhile, the city is becoming greener under its newly appointed mayor.
Singapore: Investment in infrastructure, as ever, helps Singapore secure a position in the top 25 – but with new art institutions such as the National Art Gallery, it also has a claim to be a growing cultural capital.
Amsterdam: The Dutch capital has doubled down on its cycling reputation, with 40,000 new bike-parking spaces in the pipeline. It's also managed to modernise its night-time offering with vibrant food and music scenes.
Auckland: New Zealand's largest city is also its most impressive, managing to combine the nation's natural beauty with a vibrant retail and restaurant scene.
Honolulu: You have to travel quite a long way from the mainland to reach America's most liveable city – but it's worth the journey. Much more than just a holiday spot, Honolulu is improving previously run-down neighbourhoods.
Portland: A well-deserved reputation as one of America's most innovative cities, Portland is much mocked outside of Oregon. It shouldn't be: there is plenty here from which others can learn.
Montréal: A brand-new entry with good nightlife and a relatively low cost of living. Only just pips Toronto to the post, which could make things interesting next year.
Take a closer look at our Quality of Life Survey here.