Copenhagen & Tokyo / Global
Mix it up
The merging of retail and residential can have a tremendously positive effect on a community. We visit Denmark and Japan to marvel at the diversity of multitasking buildings that owe their success to their synergy.
19 and 21 Store Strandstraede
Copenhagen
An idealised mixed-use development sees people living, working and playing in harmony in a neighbourhood or block with a vibrant street life and enough amenities to avoid having to leave the postcode. But few would imagine a building where conga lines wind up and down the staircases on Christmas Eve or a community in which residents leave their keys at the downstairs café so that their dinner guests can let themselves in.
But this is exactly the picture of life painted by architect Henrik Kjaer Christiansen at numbers 19 and 21 Store Strandstraede, where he and his partner live in a fourth-floor apartment. The five-storey complex made up of neighbouring buildings is in the centre of Copenhagen, a city known for exemplary urban planning and model mixed-used developments. But this is not some starchitect's dream made real by a visionary property developer. Rather, it's a 108-year-old heritage-listed property owned by a family who admit there was as much luck as there was foresight involved in creating the richness of life that they and their tenants enjoy.
"We didn't have a manifesto," says Marianne Stagetorn Kolos, who oversees the properties with her brother Henrik. The adjacent red-brick buildings together house 11 apartments, 10 offices, two commercial art galleries, an artist's studio and three photographers' studios. At street level there's a café, wine bar, bakery, jeweller's workshop, two clothing shops, a hairdresser and the flagship store of 150-year-old linen brand Geismars.
Although the result has been a small but perfectly formed community, Marianne insists that the melange made financial sense too, explaining that mixed-use leaves owners less exposed to the vicissitudes of a rental market where residential, commercial or retail can be under or oversupplied. And while devotees preach the cost-effective benefits of buildings being used 24/7, she claims that the best aspect of mixing commercial and residential is that because neighbours keep different schedules there is less chance of them annoying each other.
It was Marianne and Henrik's mother, Merethe, a renowned criminal-defence lawyer, who initially bought the property in 1974. After treating 19 and 21 as a bricks-and-mortar investment, the younger Stagetorns became more engaged, moving their law firm Stagetorn Wenzel Lund Poulsen into the first floor of number 21 and progressively taking over three apartments. Marianne lives with her family on the third floor, her mother is on the fourth and Henrik and his family are above.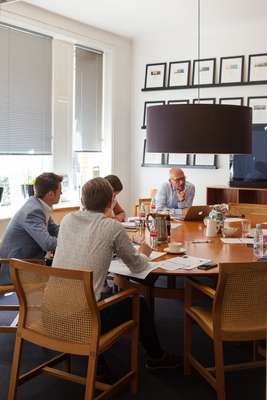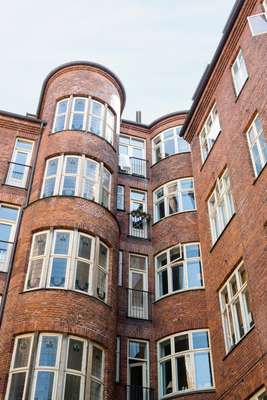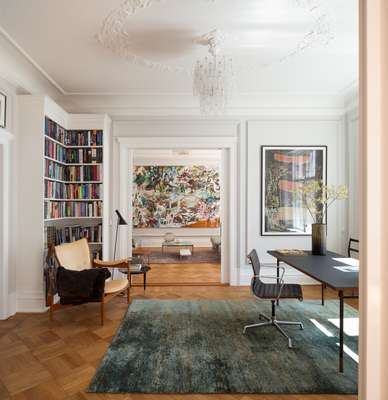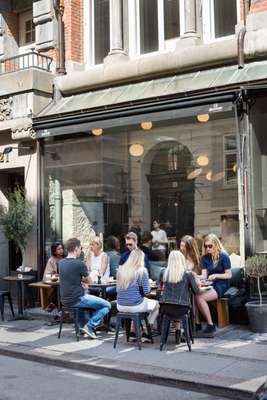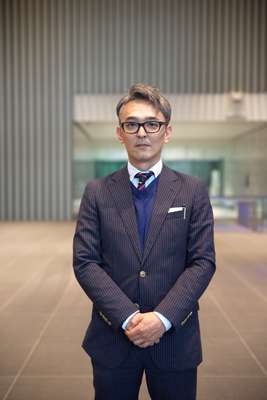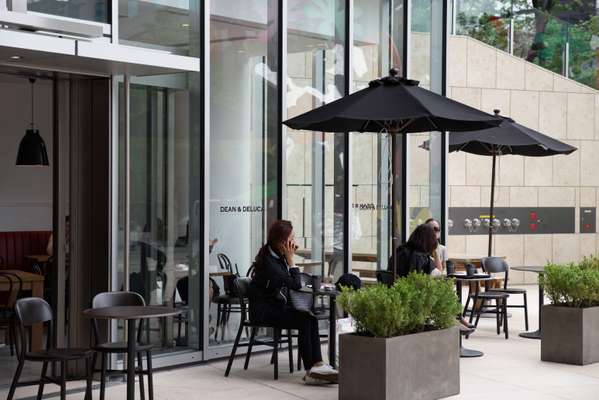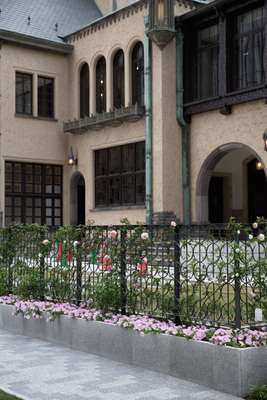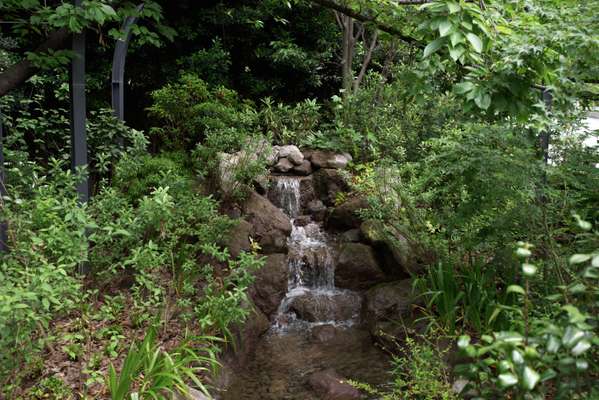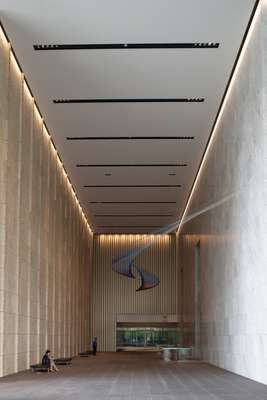 It was the slanting ceilings of the top floor space at number 19 that first attracted Anneli Häkkinen, who set up art gallery Les Gens Heureux with her former partner Sanne Frank. "We love art and when we saw the space it was clear that it would make a great gallery," says Häkkinen.
Occupying one of the commercial spaces below is Lars Thylander, who has run his property firm from the first floor of number 19 for 10 years. It's so special that he has stayed in an office that's sub-optimal for his business. "We came here as a commercial tenant but over time we got to know everyone and fell in love with the building so we decided to stay," he says.
From his office he looks out on a classic Copenhagen row, which his firm Thylander Gruppen is transforming into six specialist shops and 32 apartments (he's clearly caught the mixed-use bug). Some projects have the right combination of retail and residential but lack the sense of community, he says. "When your project is born with a history it enables you to make it more interesting than something new."
In major cities around the world some of the most popular neighbourhoods are older ones in the inner city. These districts were often built on a more human scale and are therefore more walkable and have a stronger sense of community than sprawling suburbs or new business districts. Older areas have also evolved organically and naturally combine residential buildings with work and retail spaces. They are truly mixed-use and younger urbanites flock to them.
But we are not good at creating great mixed-use precincts from scratch.Ambitions have long been stymied by zoning laws, which dominated the thinking behind urban planning in the 20th century and led to residential areas being cut off from zones where you find retail, restaurants and offices.
The financial models that developers and investors use are not conducive to creating great mixed-use precincts. Often financiers need to be paid back within five or 10 years, meaning few developers are able to adopt a long-term view. Some of the best examples of newer mixed-use developments are being built by co-operatives (see panel, below) and older managed estates, such as 19 and 21 Store Strandstraede, have proved enduringly popular.
Tokyo Garden Terrace Kioicho
Tokyo
Mixed-use developments seem to be everywhere in Tokyo – smartly executed offices, residences, restaurants and shops rolled into a single convenient location. The challenge for Japanese developers is finding a big enough site in the centre of the city on which to build something substantial. Seibu Group was lucky in that it already had just such a property: a prime plot between Akasaka and the Imperial Palace moat that, until 2011, was occupied by the company's Akasaka Prince Hotel.
"The location was good but the area wasn't vibrant," says Motohiro Nagashima, deputy manager of building operations, who has been working on the project since its inception. "We started thinking about it 10 years ago; we wanted to revitalise the area and mixed-use seemed like the answer. It was important to find the right balance of sound economics for us and enjoyment for visitors."
Tokyo Garden Terrace Kioicho, the ¥104bn (€840m) development that stands on the former site of the hotel, has just opened. It's a 36-storey tower that houses offices and a 250-room hotel, plus shops, restaurants and a smaller 21-storey residential tower with 135 apartments.
There is also an unusual property at the rear: a 1930s house once occupied by Yi Un, the last crown prince of Korea. "We were thinking of demolishing it," says Nagashima; instead the house was restored but not before being temporarily moved to improve the earthquake proofing.
This was the first foray into mixed-use development for Seibu Group. They turned to the experienced Mori Building (the company responsible for Roppongi Hills, among other large-scale projects), which will keep an operations team on-site for the first five years. Japanese architecture firm Nikken Sekkei handled the design, while the façades were looked after by New York's Kohn Pederson Fox. Fumio Nanjo and his team at the Mori Art Museum consulted on the artwork: large-scale sculptures dotted around the development and in the garden.
The development is connected to the Nagatacho subway station and the office spaces were filled before the building opened. Yahoo has taken 20 of the 24 office floors and there are about 9,000 people working in the building. The retail and F&B tenants were picked with them and the residents in mind and the restaurants are diverse: Korean, Chinese, South Indian and Japanese. There's also a clinic, dentist, florist, pharmacy and a supermarket, and a collaboration between convenience store Family Mart and Streamer Coffee.
"The Akasaka Prince Hotel was a relic of the bubble era," says Nagashima. "But this area has a history and plenty of nature around it, like Benkei Moat and Shimizudani Park. We'd like to pass on that culture to the next generation."
Sitting outside Bebek café inside the Kalkbreite development, it's clear this mixed-use development is doing well. When it opened two years ago it transformed a dilapidated tram depot in a formerly quiet area into a lively hub. Its mix of housing, offices, restaurants, shops and a cinema attracted new residents and visitors, and led to new businesses moving into the surrounding area as a result.
Kalkbreite was built thanks to a genossenschaft (co-operative) whose members banded together to bid for the building rights and fund the construction. The co-op now rents out the 97 apartments and manages the commercial and retail tenancies too.
In most western cities, building places for working, living and leisure has been left predominantly to commercial developers. But over the past 20 years Zürich has seen the revival of this old model of co-operative building, which is now responsible for generating not only community-focused affordable housing but also great mixed-use spaces for the city. Kalkbreite is one example; Hunziker Areal and the Zwicky Areal in the north of the city are two further mixed-use developments built by co-ops.
Co-ops are more viable than many idealistic suggestions for alternative forms of development. They are pragmatic, rejecting a purely profit-driven model and lofty ideals that end in underfunded, under-planned mediocrity. By functioning sensibly in a market-driven contemporary city they can achieve social aims in tandem with operating effectively as financial ventures for themselves – and for residents and entrepreneurs.