July/August 2016 / Global
Nightlife expo
We discover what goes down after sunset in Thessaloniki, Tokyo and Beirut.
To the outside world Greece evokes images of sunny weather and islands but Thessaloniki's claim to fame is strongest when the shadows are at their longest. It's at the end of the long working day when, seemingly, the entire city throngs to Thessaloniki's famous coastal esplanade to take in the crimson-coloured sun setting behind low-lying clouds as seagulls glide over the sea.
"It is the sheer quality of life," says Aggeliki Milioni at the end of an hour-long walk along the pavement of Nikis Avenue, which hugs the Thermaic Gulf. "The sunset is one of the best moments for the city: everyone relaxes, welcomes the arrival of the evening and wears a big smile."
Joggers and cyclists whizz by families sauntering along the seaside, interrupting their exchanges every so often to gaze at the sea.
Across the pavement, on the opposite side of the paraliaki (coastal road), a long line of outdoor cafés comes alive, bubbling with chatter and music. Even after the sun goes down many Greeks will still be indulging in their favourite national pastime: sipping on ice-cold coffee. Freddo or frappé shakes, depending on a preference for espresso or instant coffee, linger on tables well after the day is done.
"Whatever the circumstances Greeks will always go out for a coffee – because it's not about the coffee, it's about seeing friends after work at any hour and on any day of the week," says Vasilis Karipoglou, owner of Blue Cup, a café right behind the seaside avenue. Coffee is served here until 22.00; plenty of time to confide in a friend over a cup or three. The place opened in the midst of the financial crisis and continues to serve fine single-origin coffee alongside cocktails until the wee hours.
Bustling Athens may have world famous temples and boast all the trappings and attributes of a capital city but this, its fierce rival to the north, stands apart. Combining a relaxed pace during the day with a sophisticated night life, Thessaloniki has a more benign standard of living.Unlike Athens, which had fallen into obscurity for centuries, Thessaloniki – named after the sister of the area's most illustrious son, Alexander the Great – has an uninterrupted historic continuity stretching back more than 2,000 years to 315bc.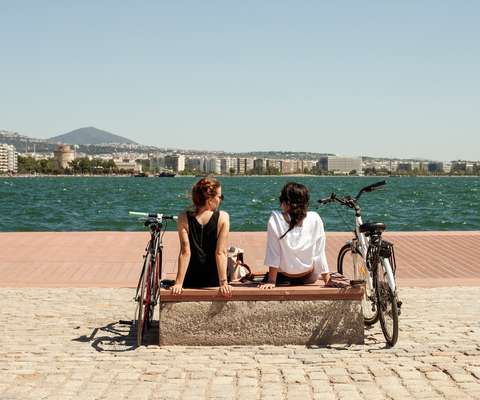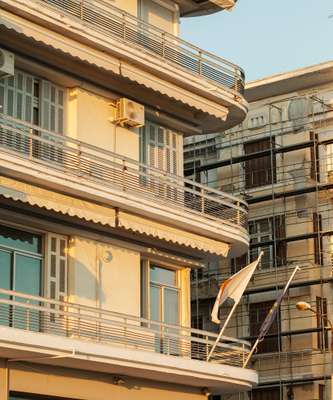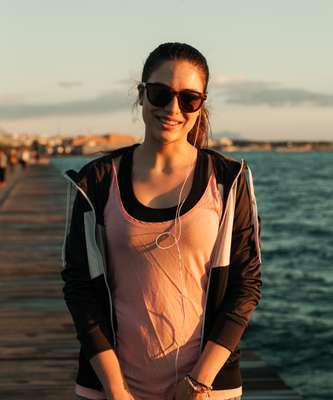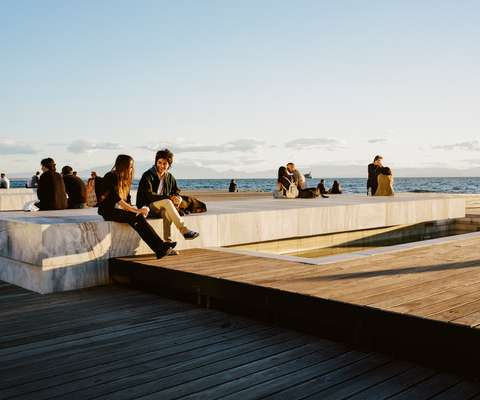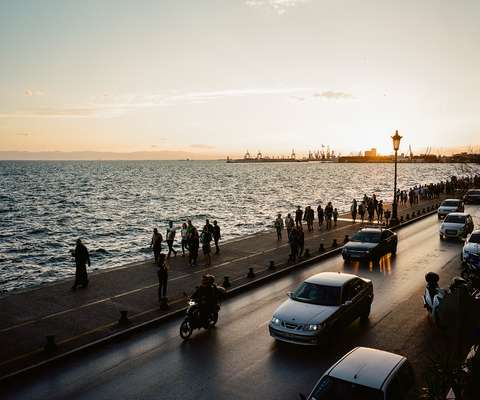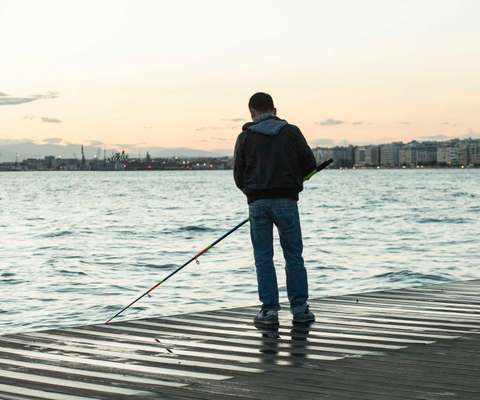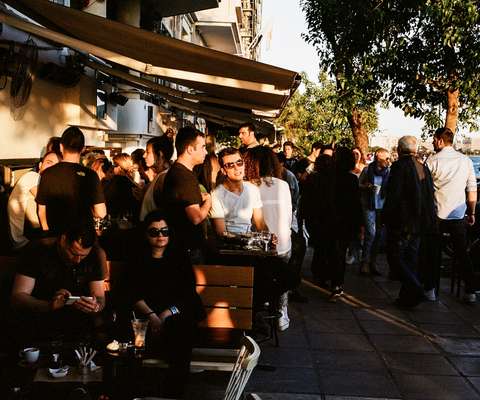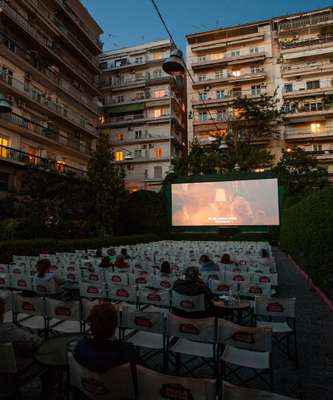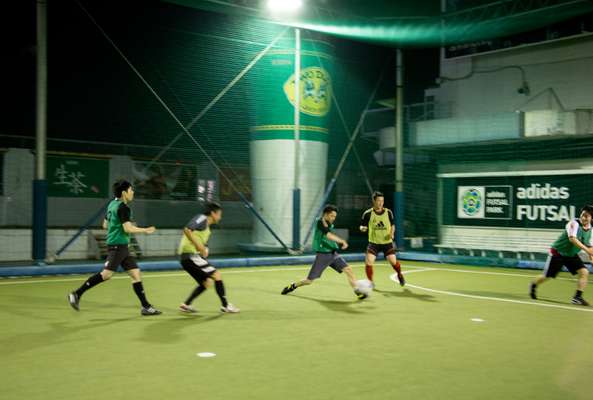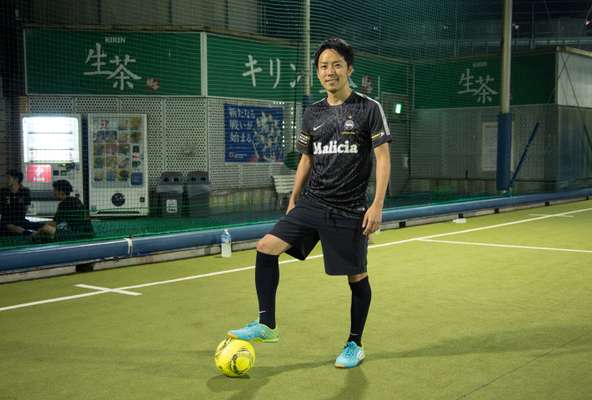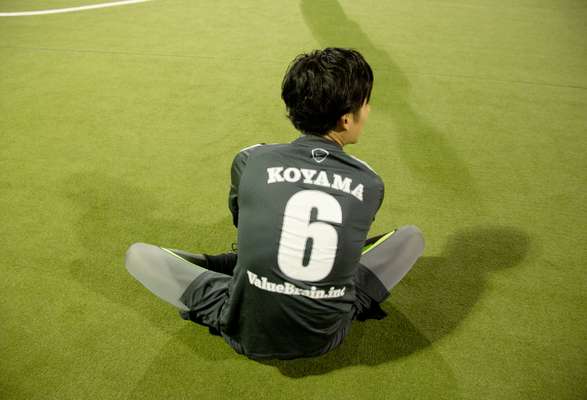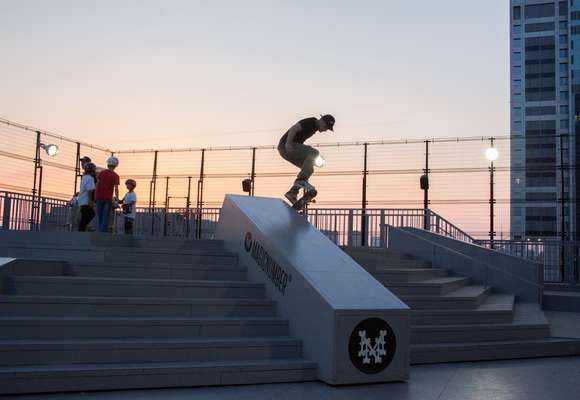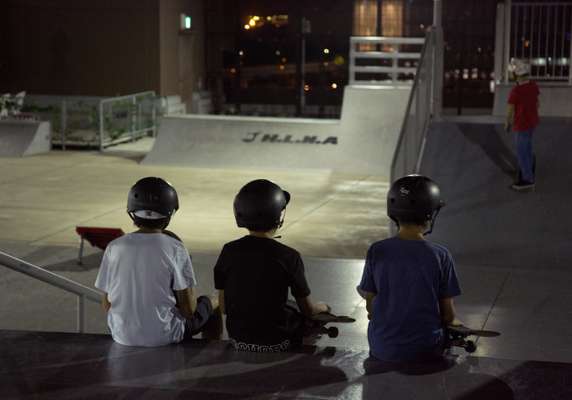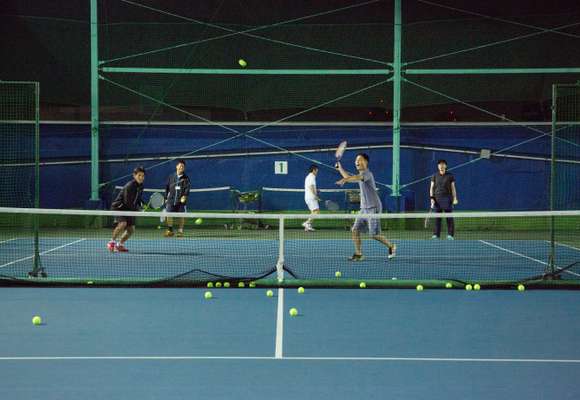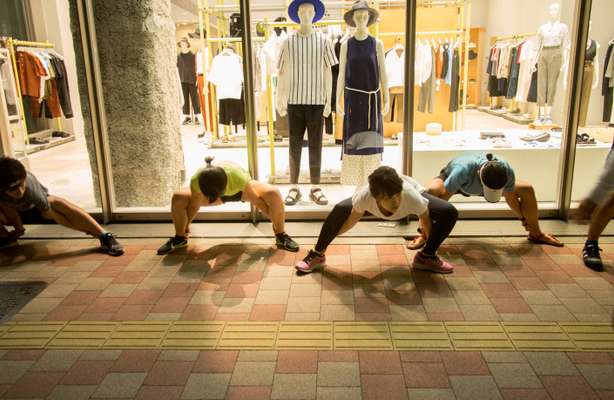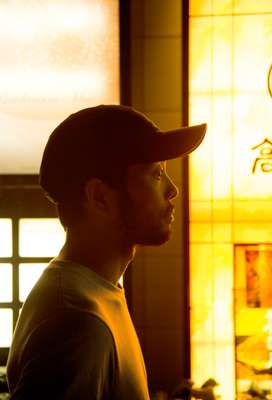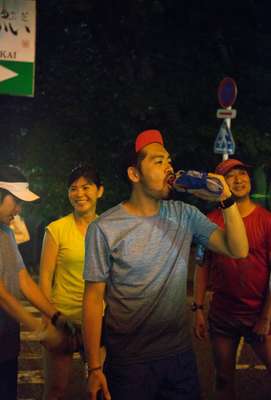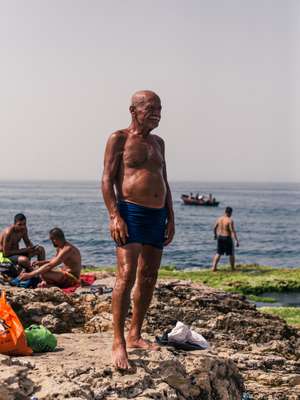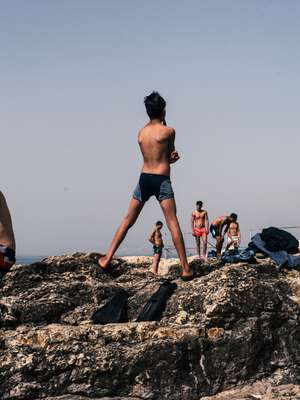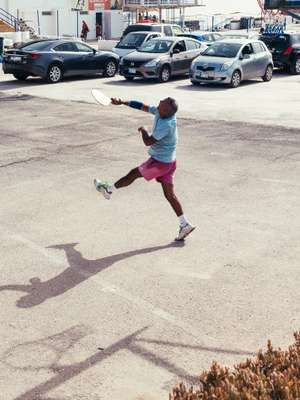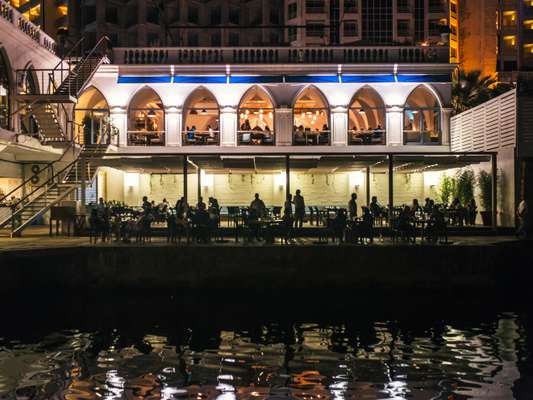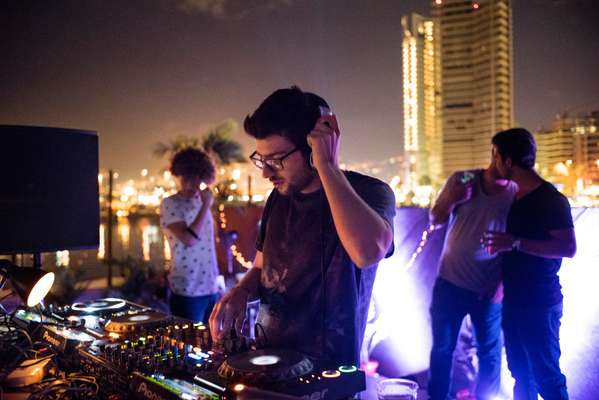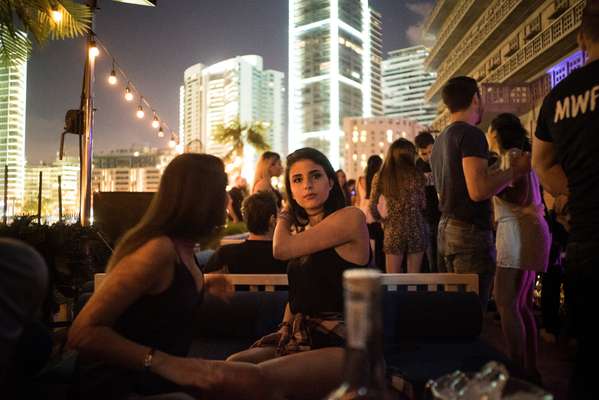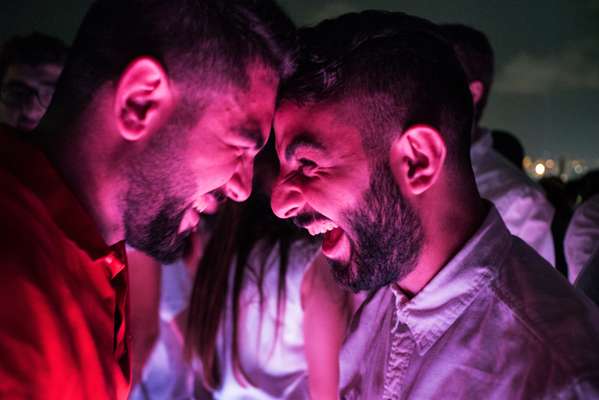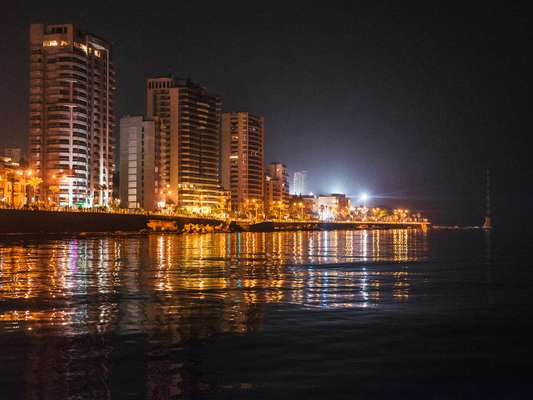 Signs of the cosmopolitan past of this relatively small port city of one million are to be found everywhere, from the beautiful 19th-century mansions sprinkled about the town to Roman arches that cut through major avenues.
Despite the country's ongoing financial crisis and the budget cuts that come with it, Thessaloniki's innate vibrancy has, remarkably, remained intact thanks to the initiatives of volunteers. These altruists organise regular artistic happenings and performances along the promenade, as well as sporting events.
The traffic and a lack of parks and bicycle lanes make Greek cities unfriendly for sports enthusiasts. So the sight of 35 cyclists congregated at 21.00 on a balmy Friday night near the Valaoritou area of downtown Thessaloniki – a popular bar district – comes as an unexpected surprise. The predominantly male group has just concluded a 30km unofficial urban race around town and they will be meeting again in a few Fridays time.
"We like combining our race with grabbing a drink later," says Yannis holding on to his bike, an adrenaline-induced smile still drawn on his face. "We like to use the beauty of the Thessaloniki chaos to our advantage. No lanes but we respect cars, pedestrians and motorcycles while going fast."
The maze of pedestrian streets overrun by straw chairs and metal tables is home to an array of different ground-floor bars and rooftop cafés and terraces, offering everything from specialty Czech beers and pizza to swanky cocktails.
But night entertainment can also be more relaxed. Back on the coast, drinks are resting on the pebble-covered floors and small tables interspersed between the director chairs at Natali open-air cinema.
"It's the ideal solution for grabbing a drink when you don't want to stay in but don't fancy a busy night out," says Eleni Tzilveli during the short break. Films tend to screen here in their original language with Greek subtitles but owner Gabriel Rappos says the place is mainly frequented by locals. "Most foreigners either aren't used to them or just don't know what open-air cinemas are," he says in between issuing €8 tickets.
While they may remain oblivious to this alfresco art option, tourists who visit the city are aware of one particular attraction: the nearby beaches. Like architect Sandra Jankovic, who absconded from Serbia to enjoy their charms for a long weekend break.
Locals have stopped swimming in the city centre over the past few decades and prefer a drive to the city's outskirts. The suburb of Peraia is the nearest; a 20-minute drive from the main square of the city centre. The beach has rows of deck chairs, with the rest of it taken over by a string of fish restaurants. A short drive away is the suburb of Epanomi, which has an air of remoteness and a complete disconnect from the hectic pace of the metropolis. The white wooden decks of Carousel beach bar are the closest feeling to an island in Thessaloniki.
As the dying rays of setting sun are reflected off the sea, beach stalwarts remain behind playing racket ball and beach volleyball or having a drink at the bar.
"I'll stay until late at night as people start congregating at the beach bar for a drink," says Constantina Christou, a trainee lawyer donned in a bikini. "If I could finish work earlier I would come on weekdays and go straight for a swim, watch the sea darken as the sun sets and wish the day would never end. But then the night starts and you realise that it's not that bad either."
Eleven storeys above the crowds, cars and commuter trains in Tokyo's Shibuya fashion district, 15 men and women are in the midst of an intense post-work scrimmage. They're playing futsal, a five-a-side version of football, under floodlights on the rooftop of a department store; their vertiginous choice of venue doesn't seem to be diminishing their enthusiasm for the game.
By day they are merely colleagues at Tokyu Corporation, a railway and resort operator and property developer. But here at the Adidas Futsal Park the rigid office hierarchy and division rivalries melt away; they dash, dribble, shoot and score on the artificial turf for two hours until 22.00. While the pace is fast there's also a rapid-fire back-and-forth of jokes and laughter. Just beyond the net that surrounds the field to keep balls from going over the edge, a giant monitor on the side of a building plays a continuous loop of TV commercials for cosmetics.
Until Tokyu opened the field in 2001, nobody in Japan had ever thought to put a football pitch on top of a tall downtown building. And why not? There's almost never a time now when the field isn't in use.
"Our office is down the street so we can say bye to our colleagues and be here ready to play five minutes later," says Satoshi Segawa, who organises the gathering at least once a month. He's carrying on a tradition at Tokyu that goes back more than two decades. "We have footballers of all levels. It's informal and a good way to get to know colleagues." Afterwards they grab a drink before catching their trains home.
The end of the workday marks the start of a citywide migration to playing fields, practice ranges and running tracks. But with strict rules on activities in Tokyo's public parks and fierce competition to book time on a field or court, the best workout spots are often in the most unlikely places. Rooftops, for instance: baseball batting cages, driving ranges for golfers, skateboarding parks, basketball courts and archery ranges. "It's normal in Tokyo to make use of the limited space there is," says Takao Nishikata.
Normal for Nishikata, who has spent the past two decades teaching tennis at the rooftop Takadanobaba Citizen Plaza Tennis School, on the city's west side. The school offers once-a-week lessons and most evenings the four well-lit courts are packed. Lessons aren't one on one; 13 people share a court, taking turns smacking balls diagonally from all four corners and practising serves and volleys. It's a smart formula for a tennis school and everyone is breathing hard and sweating by the end. "I'm hooked," says Yuki Muraoka, who works at Sony and took up tennis five years ago for exercise. "This is close to where I live and I can come on any weekday once a week."
Even in the city's dense centre, there's room to exercise at street level if you know where to look. In the Higashi-Ginza district, 20 runners limber up in front of fashion retailer United Arrows' sportswear outlet En Route. They're here for the shop's weekly 19.30 run, a 5km to 10km trot that's open to anyone who wants to join. Most participants find out about it from the staff while shopping or from En Route's Instagram feed.
"I get so motivated running with this group," says Kazue Wada, a 35-year-old hair stylist who is a regular. "It's a casual, slow run with fun people." As the runners thread their way past closet-sized bars along a raised section of railway track, a group of onlookers cheers. "That's one of the nice things about running with a group right through the centre of town," says Wada.
From May to October, days in Beirut become long, torturous and sweaty. Only once the working day ends and the evening begins can its residents escape the stifling heat of the car-clogged streets and head to the city's cooling stretches of Mediterranean coastline.
For most this means the Corniche, where the endless tower blocks and snarling traffic give way to a seaside esplanade: uninterrupted, several kilometres long and wide enough to accommodate a cycle lane, benches, palm trees and gaggles of pedestrians (a real rarity in Beirut).
"There's no space like this in Dahiyeh. The kids can really play here," says Maya Shemali, a 30-year-old saleswoman from Beirut's southern suburbs, colloquially known as Dahiyeh among locals. "And I love looking at the sea."
"Beirut is all about buildings," says Nadine Ahmar, a 22-year-old tax consultant strolling with her younger sister and dog at sunset. "Here there is space and we can breathe."
In a city with few large public spaces, children and dogs are not the only ones who flock to the Corniche in the evenings to let loose. Abed Ghazail, a personal trainer, comes to the area every day just before dusk to run, swim and cycle. "This is a place of fitness for me," he says. "I couldn't live without it."
As night falls and the yellow glow of streetlights replaces the sun, the well-dressed joggers, dripping cyclists and gangs of showy male divers are joined by musicians, lovers walking hand in hand and revellers. Arabic music is blasted from parked cars as shisha pipes are set up and people share bench picnics of yellow lupin beans, freshly roasted corn on the cob and trays of lemon-soaked carrot slices bought from nearby food carts. Mohammad al-Njemet, a 20-year-old student, comes to the Corniche to play his distinctive style of Arabic-infused flamenco music on his guitar. "I like to watch the sea while I play," he says. "It inspires me."
Just down the road in the abandoned shell of the fabled St Georges Hotel – a hub for Beirut nightlife until the civil war and now a subject of much controversy – the young and beautiful begin to gather for a weeknight party that will continue into the early hours. Dancing on the hotel's large terrace with its sweeping views of Zaitunay Bay, Jennifer Moubarak, 23, says it is the perfect summer haunt. "I love being able to see the sea as I dance. The other clubs feel like a cage in comparison."