Villaggio Olimpico / Rome
Podium finish
Rome's Olympic Village is now a modernist urban marvel – and a winning place to live.
As you hurtle along Rome's ancient Via Flaminia and veer east there is little to indicate that you are approaching something of a modernist urban marvel, tucked away just south of the Tiber. The first clue to the neighbourhood's illustrious past is the grey concrete dome of engineer Pier Luigi Nervi's Palazzetto dello Sport. Its turtle-shell roof and intricate lattice interior was built to accommodate the basketball tournaments of the Olympics, which Rome hosted in the summer of 1960. Beyond, huge umbrella pines spread a canopy over the Villaggio Olimpico, one of the world's first purpose-built athletes' village.
Overseen by two of Italy's most renowned architects, Luigi Moretti and Adalberto Libera, it was designed to house 6,500 competitors and provide decent homes for state employees when the games were over. The once notoriously insalubrious and often malarial northern fringe of Rome would become a showcase for a radical Italian vernacular.
Arriving at the Villaggio certainly lacks the fanfare that greeted the world's athletes over half a century ago when the gleaming new structures were flanked by flags and polished sculptures (and a fleet of shiny Lambretta mopeds was provided for the competitors' convenience). Today the Olympic infrastructure is a little scruffy around the edges but well used by the diverse mix of Romans that now call the area home.
Nervi's Palazzetto dello Sport provides the villagers with a workout facility; the hexagonal building that was once the athletes' canteen and lounge serves the community in the form of Carrefour supermarket. "Here I think good architecture makes good residents," says architectural conservationist Simona Salvo. She's one of a growing class of creatives in the area, drawn by the green surroundings and modernist housing stock.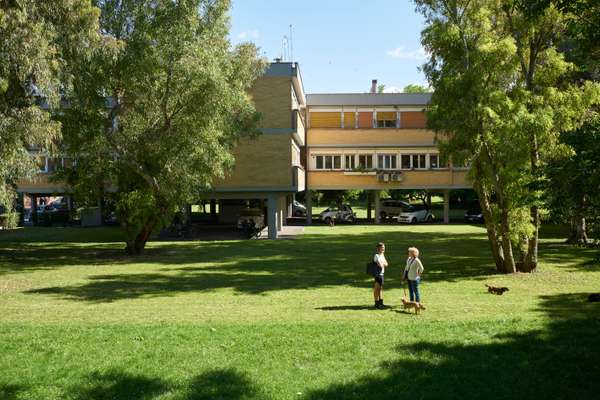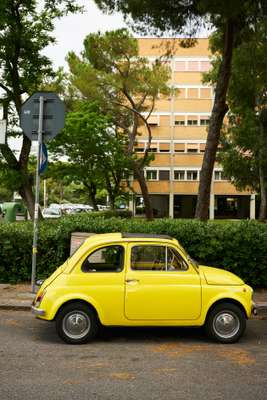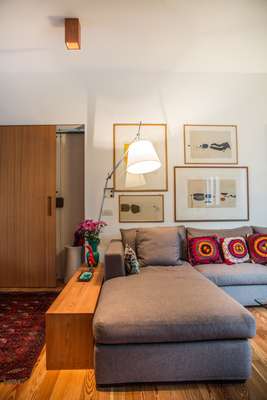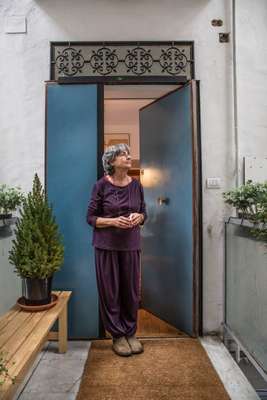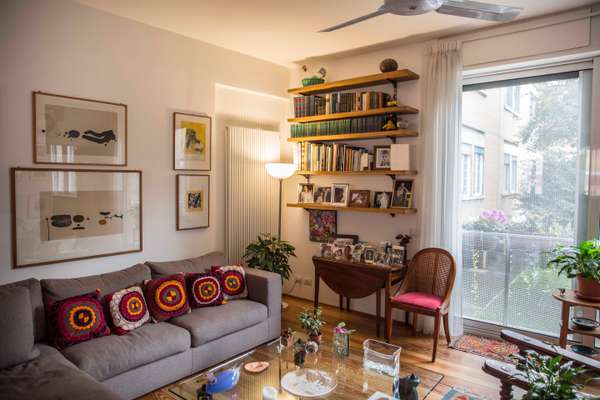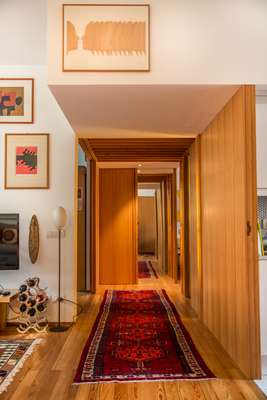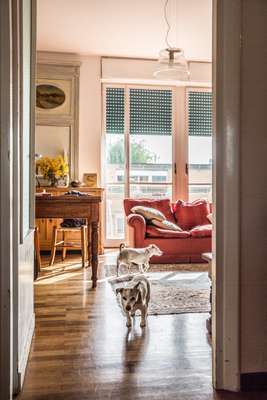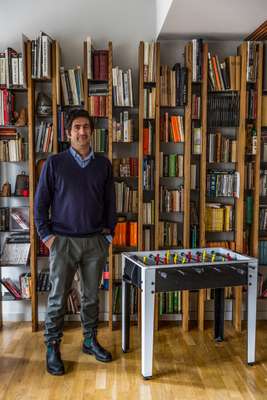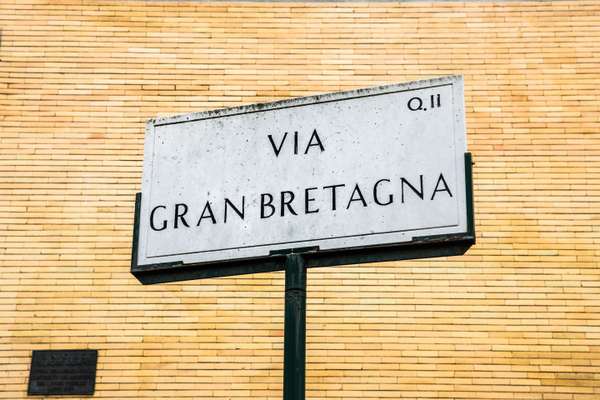 There is also a good handful of long-time residents going about their business in the mature piazzas and courtyards. "Bello, bello, bello, bello!" says Maria Ulaneo, an octogenarian who moved to the Villaggio in 1962, swaying as she reminisces. "The place was full of flowers and there were porters for every building," she says with an operatic tone of nostalgia. She gestures to what is now a parking lot where charming but empty porters' cabins made of cast iron and glass remain. "It was like an Eden."
The utopian spirit of the early years didn't last. By the 1970s the National State Employees Housing Association, which had built and maintained the village, disbanded and pulled out. Urban neglect and malaise ensued, and by the end of the 20th century the Villaggio had become synonymous with crime. "If you'd asked a taxi driver to bring you here back in the 1990s, I think they would have refused," says Rai TV's Simonetta Guidotti, who moved here in 2008.
The area's recent regeneration – and influx of upmarket residents – is partly down to the arrival of some high-calibre neighbours. 2002 saw the opening of Renzo Piano's intriguing cluster of auditoriums, the Parco della Musica, at the Villaggio's southern flank. And after a decade of construction and scarcely 100 metres away, Zaha Hadid's Maxxi National Museum of 21st Century Arts opened in 2009.
Architect Marco Lanzetta bought two properties (one an office and another a residence) in 2007 at Viale xvii Olimpiade in a three-storey block attributed to Adalberto Libera. "You can see the five main principles of Le Corbusier all around us," says the busy family man. He's standing in the Villaggio's Piazza Grecia (Greece Square), pointing to the open-plan buildings around him that have a piloti level (concrete supporting pillars) and ribbon windows above. "Le Corbusier even visited the village during construction and was apparently very impressed."
It's easy to see why an architect might be drawn to the site. Take Luigi Moretti's penchant for the ever-so-subtle angle that appears on the golden-brick façades of flats and reinforced concrete pillars, providing those gently geometric convexes and concaves so synonymous with postwar Italian modernism. At Piazza Grecia, Moretti's angular curves open up, creating a shape like a ship's hull and providing a comforting embrace.
Elsewhere, such as in the blocks between Via India and Via Turchia, the work of Adalberto Libera (architect of Capri's semi-mystical Casa Malaparte) bears the metaphysical, rationalist and ultimately rather fascist tendencies for which he was famous. Though they are now in need of a lick of paint, there is a surrealist air to his streets and squares.
In the 1960s this project was a departure from much of the postwar urban dogma found in Italy. "So much of the village is quintessentially un-Italian," says Salvo as she passes through the so-called crocette (little crosses) area of this varied village complex to the apartment she shares with her two children on Via Danimarca (Denmark Street). Here courtyards lush with citrus trees and bougainvilleas are flooded with light and, at regular intervals, stairwells rise to allow access to eight apartments above. "This way of dealing with public space hadn't been seen before in an Italian context."
Indeed, much of Italian construction in the postwar period focused on the more insular palazzo or apartment-block unit; these were often gated blocks and dingy lobbies where the electric intercom provided the only social interaction at street level. In Salvo's part of the complex you can see straight across the village at both ground and apartment levels; aside from slender piloti and the occasional lemon tree or parked Fiat Panda, the view is unimpaired. "We can always see our children playing," says Salvo. "We have a wonderful balance of privacy and comfort."
Such is her enthusiasm for life in the Villaggio that a few months ago Salvo persuaded her parents to move in. The elegant couple of Elena and Ernesto, originally from Sicily, now occupy a penthouse on the top floor of the Quadrilatero (super-quadrant) on Via Gran Bretagna. As Elena looks out to the lush hills of northern Rome it is clear to see why this new resident seems so content with the change of scene. "I feel like I fit right in here and we only moved in three months ago," she says, smiling.
Five-and-a-half decades have weathered and aged the once shiny utopian Villaggio Olimpico but today a palpable sense of community is created not only by the diverse residents but also by the thoughtful nature of its architecture and urban design. The Villaggio has had its share of bumps and bruises but at its core it retains the spirit of optimism forged during its athletic heyday.
At Via Jugoslavia, architect team Marco Lanzetta and Francesca Capitani created a beautiful home for Gabriella Piga. Although she only moved in four years ago the 76-year-old, who is the retired manager of a high-end printshop, had her eyes on the Villaggio a lot earlier.
"I've never liked living in a normal apartment," says Piga, who values the green space and feeling of suburban charm. "I'm a music lover so when Renzo Piano's Auditorium opened I thought, That's it, I'm going there.'"
Most of the design choices were left to the architects, she adds; "I'm a believer in freedom and I love giving freedom to those I trust." Piga now has an apartment that, thanks to an extensive substructure of wood panelling (in matured Italian larch), is unique in the Villaggio. Doors slide to create and divide a bedroom, study and in-built wardrobes. It's a masterclass in Roman cosiness.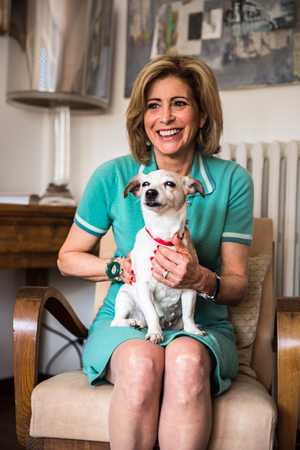 Resident 2 
Simonetta Guidotti
The perfect balance of privacy and community found at the Villaggio Olimpico seems to suit Simonetta Guidotti, a regular on Rai 2's 10 o'clock news. "I love the mix here; we don't live in a VIP ghetto," says the glamorous mother of two as she castigates her pair of Jack Russells that are running around the apartment. "It would drive me mad."
Guidotti's light-filled apartment within the crocette blocks retains much from the original Olympic Village days. A key asset of her second-floor three-bedroom apartment is its linear layout, meaning that on either side views are dominated by the Villaggio's flora and fauna. Mimosa trees in full bloom can be seen from the living room and add to the kaleidoscope of colours.
"Sometimes I see hedgehogs or fox cubs," says Guidotti as she drifts into her spacious kitchen. "Then there are the plants. I forage in the gardens below for my arrosto [classic roast meat with mixed herbs]; there are even violets at this time of year."
Guidotti likes to keep an air of discretion about her but does point out that many of her Rai colleagues live in the Villaggio. "My friend who does the 11 o'clock news every night also lives next door," she says. Indeed, many high-profile media types have chosen the Villaggio over the swanky Parioli district that looms over the modernist village below.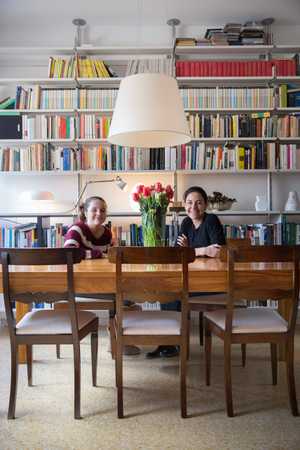 Simona Salvo and her two teenage children, Elena and Rocco, share a Luigi Moretti-designed apartment on Via Danimarca, surrounded by citrus trees and bougainvilleas. Aside from the benefits that the Villaggio's ample green spaces provide, it is clear that it was the bricks-and-mortar offering here that attracted the conservation professional to buy 10 years ago.
Salvo's home is an homage to the apartment block's heyday. "In a way I didn't renovate as much as I tried to conserve," she says in the generous sitting room of her home, where white Vitsoe bookshelves create a dense but not oppressive wall of books next to the dining table. "I had alcoves dug into the walls in places to create space for my library."
While Salvo has a loving appreciation for the apartment's original modernist features (retaining all the Terrazzo-type marble composite floor tiles, for instance) she also owns several antique mahogany pieces from Sicily. "I wanted to tell something about my life and my origins, as well as the story of the Villaggio."
Marco Lanzetta, an architect, both lives and works in the Villaggio, and he has refitted and reconfigured several apartments here. His own house has been masterfully adapted to accommodate a hectic family life. This includes his wife, seven-year-old daughter, four-year-old twins and pooch. (He's also created a mini studio to host the family's Australian nanny.)
Lanzetta's apartment shows the true flexibility of setting up home in the Villaggio. A cast-concrete kitchen workstation, plus bookshelves made from reclaimed wood by a carpenter friend, ensure everything is as sturdy as an Olympic weightlifter. "We opted for simple materials that are strong and easy to maintain: wood, slate and round mosaic surfacing," says Lanzetta, making himself an espresso in the open-plan kitchen and living room. "Above all we wanted to create depth and open up the spaces as much as we could."