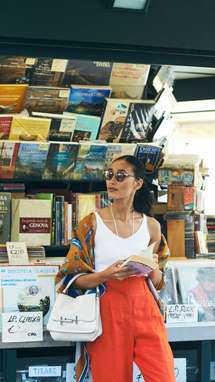 Set smack in the middle of the Italian Riviera, Genoa's enviable location allows quick access to the sea when temperatures warm up. Inhabitants have made the most of its rugged coastline, erecting bagni (beach clubs) right on the rocks in neighbourhoods such as Boccadasse and Nervi.
Its city centre, a mishmash of medieval architecture, stately renaissance and baroque palazzi, is a gritty maze-like network of pedestrian-only streets home to thriving independent retailers that still market themselves to shoppers with old-fashioned signage in original fonts. Be it coffee-roasters, centuries-old confectioners, shirt-makers or soap suppliers, residents can choose from a rich selection of city-based brands when they run errands.
And when it comes to satisfying one's hunger? There's both seafood and land-based Ligurian fare, as well as Italy's top-rated gelateria and a pizzeria with sweeping city views.
Stylists: Shun Katakai (Men's), Kyoko Tamoto (Women's)
Producer: Massimo Auteri (Map+)
Hair and make-up: Alice Fayre
Models:Mauro Viana, Trang Khieu & Ugo the dog
Locations: Bagni Roma, Bagni San Nazaro, Marina Genovese & Bagni Nuovo Lido
T-shirt by Auralee
Trousers by Tomorrowland
Trainers by Nike Sportswear
Glasses by Persol
Bag by Naughtiam
Dress by Hermès
Necklace by Dina Kamal
Bag by Zeus + Dione
Vest by Lemaire from Mouki Mou
Trousers by Margaret Howell
Sandals by Closed
Sunglasses by Persol
Scarf by Rumisu
Necklace by Salvatore Ferragamo
Bag by Tod's
Shirt by Tomorrowland
Shorts by 417 Édifice
Sandals by Salvi for Urban Research
Watch by Beauty&Youth United Arrows
Top by Fileuse d'Arvor
Shorts by La Perla
Shoes by Salvi for Gianvito Rossi
Bag by Zeus + Dione
Shirt by Oliver Spencer
Trousers by Ermenegildo Zegna
Trainers by Salvi for Startas
Dress by Roberto Collina
Trainers by Doek
Bag by Mansur Gavriel
Jumper by Folk from Roots to Branches
Shorts by Emporio Armani
Sandals by Island Slipper
Glasses by Oliver Peoples
Scarf by Scotch & Soda
Bag by Tools
Jacket by La Paz
T-shirt by Saint James
Shorts by Orlebar Brown
Trainers by Adidas Originals
Top by Molli
Shorts by APC
Hat by Borsalino
Bag by Bottega Veneta
Sunglasses by Parajumpers
Loafers by JM Weston
Bag by Whitehouse Cox
Swimshorts by Orlebar Brown
Watch by Omega
Towel by Louis Vuitton
Hat by Borsalino
Sunglasses by Etro
Towel by Jac + Jack
Slip-ons by Orlebar Brown (top)
Shoes by Tod's
Sunglasses by Ray-Ban (top)
Sunglasses by Persol
Towel by Imabari Towel
T-shirt by Belvest
Shorts by Evin
Backpack by Piquadro
Scarf by Caruso
Polo Shirt by Tracksmith
Swimshorts by Timo
T-shirt by Tracksmith
Swimshorts by Timo
Sandals by Island Slipper ✕ Ships
Top by Salvatore Ferragamo
Shorts by Roy Roger's
Slip-ons by Ludwig Reiter
Sunglasses by Sunday Somewhere
Watch by Shinola
Bag by Giorgio Armani
Jumper by Urban Research
Hat by Kijima Takayuki from 417 Édifice
Watch by Grand Seiko
Bikini top by Hermès
Shorts by Barrie
Trainers by Spring Court from Toast
Hat by Maison Michel
Sleeveless top and trousers by Norse Projects
Sunglasses by Ray-Ban
Earring and ring by Goossens
Bag by Les Want Essentiels
Top by Ethos
Shorts by Incotex
Sandals by Want Les Essentiels
Shirt by Comoli
Shorts by La Paz
Sunglasses by Still by Hand ✕ Moonstar
Hat by Comesandgoes
Swimsuit by Petit Bateau
Sunglasses by Lindberg
Bag by Ichizawa Shinzaburo Hanpu from Trunk Labs