Bretagne Building / São Paulo
The high life
The 1958-built Bretagne Building, once the tallest in São Paulo's upmarket Higienópolis neighbourhood, has aged gracefully. It is loved for its design but, arguably, its biggest success is the sense of community enjoyed by residents.
The Bretagne Building in São Paulo's tree-lined neighbourhood of Higienópolis was conceived not by an architect but by an ambitious businessman, Artacho Jurado, with an eye for the idiosyncratic. Set in an area that's home to architectural gems by modernists such as Rino Levi, Franz Hepp and Vilanova Artigas, at the time of building in 1958 the Bretagne had a clutch of firsts to its name: it was the tallest structure in the area and the first development in the city to have a pool and a playground. Add to that a games room, fitness centre and sauna and it begins to sound more like a club. Throw in a mezzanine for parties, a tearoom, an elegant bar serving drinks day and night, and a residents' deck on the 19th floor and it begins to resemble an exercise in residential largesse.
The Bretagne's organic concrete façade is a lesson in Corbusian modernism yet look closer and you'll see some indulgent decorative quirks courtesy of Jurado. Columns wrapped in red tiles sit next to walls of semi-transparent cogobó brick diffusing the bright light. The marble floor features a wine-red velour carpet, which runs the full length of the halls.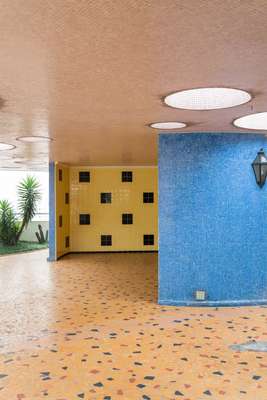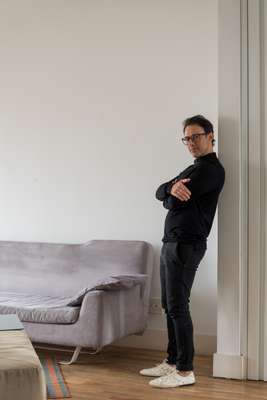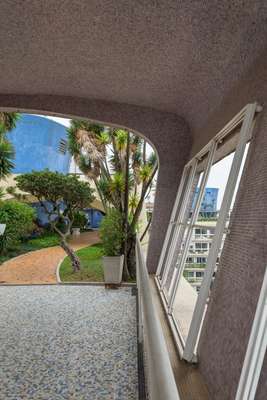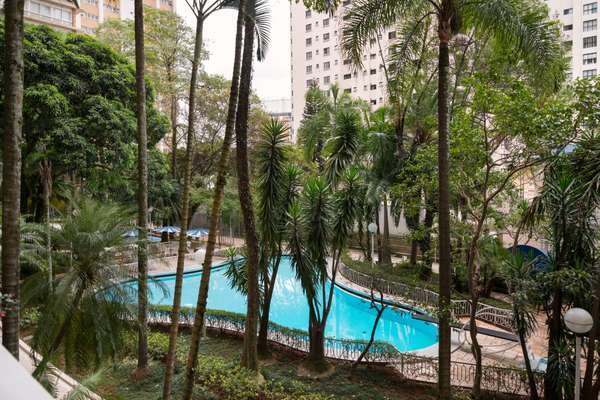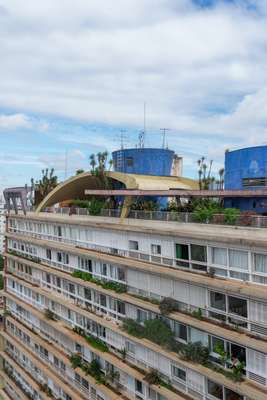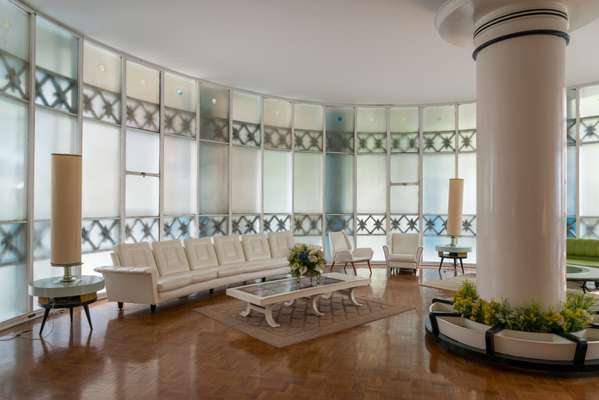 "The Bretagne was once considered tacky and overdone," says designer Caroline Baum, who moved here in 2012 and later met her boyfriend, Lúcio Ribeiro, in one of the many communal courtyards. (The pair began to speak on the intercom to arrange meetings to stroll with their cats, Yves, Chet and Negroni, on the rooftop.) "Today it is a cult building, where everyone dreams of getting an apartment," she adds.
For all its glitz, Jurado's scheme has nurtured an incomparable sense of community. From the elderly groups that gather around the bar to play cards and watch football to the mothers who take care of each other's children, the building is always a hive of activity. "Living here is part of a lifestyle," says Nelson Camargo, marketing director of the clothes brand Osklen, who bought an apartment in 1999. "The new resident of Bretagne is a younger guy who appreciates art, design and fashion, and this is directly reflected in the way we interact with the building and its public spaces. The kids use the music room to learn classical piano and their parents picnic on the rooftop's garden on the weekends. [We] respect and relate to the architecture here."
Fashion journalist Regina Guerreiro has been coming to the Bretagne for half a century but only moved in this April. "In the early 1960s the building was the setting for one of the country's first fashion shows, from designer Dener Pamplona de Abreu," she says. "And I was there." As a perfectionist to the extreme, Guerreiro moved into a three-bedroom flat on the seventh floor and refurbished it completely. She ordered 11 different shades of green to paint the walls. "I divided the apartment into three feelings," she says, standing in between photos by Guy Bourdin and a Salvador Dalí Bocca sofa. "My bedroom has a romantic mood, the other rooms are modern and the kitchen, with brown tiles and furniture, is the farm moment."
Not all residents are design aficionados. "I must confess I had never heard of Artacho and it wasn't a dream of mine to live here or anything but today I don't see myself anywhere else," says actress Mariana Eva, who lives in an apartment with her husband and two children: Gael, 10, and Martin, 4. Eva has organised a group of mothers who have already renovated the music room, the children's games room, the sauna and the pool's heating. "We are very united and we help each other a lot on a daily basis," she says. "The children have a privileged life here. They gained new families."