Marou / Ho Chi Minh City
Bean around the world
They say life is like a box of chocolates – and so it proved for Samuel Maruta. When the French native relocated to Vietnam he was as surprised as anyone else to find himself packing in a finance career to go in search of the finest highland cocoa beans.
When French expat and Marou co-founder Samuel Maruta ditched a job in finance in 2010 to ride into the Vietnamese highlands in search of cocoa beans, his friends exchanged a few concerned mutters. But Maruta and his compatriot (and business partner) Vincent Mourou were intent on telling a different kind of "Made in Vietnam" story to the world.
"We saw an opportunity because nothing was being done with cocoa here," says Maruta of a bean formerly reserved for export. "We could see the appeal of something being made out of cacao in a very grassroots way," he adds, eyeing a shiny metallic vat in which a warm gooey chocolate paste is being tempered (heated and then cooled in shape) at his shop, Maison Marou. "The only question was, could we make good chocolate out of Vietnamese cocoa beans?"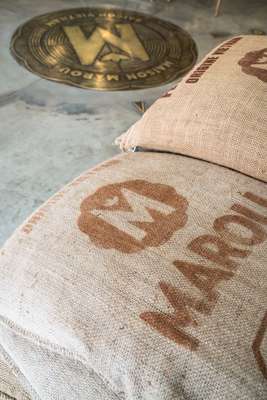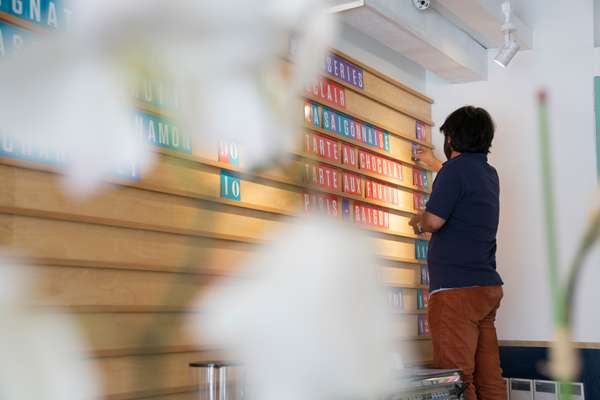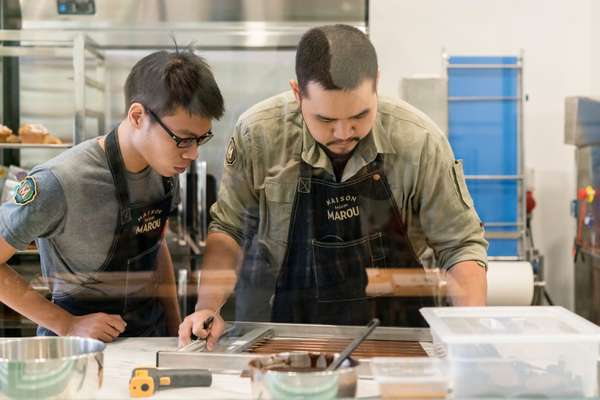 Maison Marou, the brand's factory-cum-chocolatier in Ho Chi Minh City, is the proof in the pudding. Opened in May, it features a miniature replica of Marou's production facility, which has sat on the outskirts of town since 2011. The shop's aim is to show off the complex chocolate-making process to customers.
"People come in and have a chance to learn and see how the chocolate is made – we expose everything here," says Mourou, filling up a 1930s black iron roaster with aromatic beans. "Maison Marou is a sublimation of what we have done before: we offer chocolate drinks and pastries but adhering to the original principles of the brand."
While Marou has diversified its offering through this bricks-and-mortar setting, the six original bars it exports form the core of its revenue. Differently coloured packaging represents the unique points of origin of the beans and their varying richness in cocoa. The company dispatches 450,000 hand-wrapped bars a year across the globe and has garnered fans from Stockholm to Sydney in the process. Maruta's preference is the Treasure Island bar, a 75 per cent dark-cocoa number with little-to-no acidity and a rich kick. "It's intensely satisfying," he says, snapping off a block.
The beans enlivening this particular product come from Tan Phu Dong district in the Mekong Delta, the historic heart of the Vietnamese cocoa-farming business. Other bars harness beans from more unusual locations, such as the Ba Ria-Vung Tau coastal province, where Marou's very first bag of cacao arrived from. "The cornerstone of our buying policy is paying more for quality cocoa – and we pay significantly more," he says.
"We're picky but the stuff we don't use the farmers tend to sell at market price so it's a win-win for them," says Maruta. He notes that much work has gone into elevating the farming practices with partners during the crucial fermentation and drying stages. Five years of refining their internal processes and recipes has led to the creation of a product that Maruta and Mourou both admit exceeds their initial expectations. But the pair's end goal is yet to be realised: to change international perceptions of their adopted homeland.
"People are not used to buying high quality foodstuff that is made in Vietnam; the label is not something that stands for quality," says Mourou, adding that the nation is an agricultural powerhouse that needs to be better recognised. "We're not Vietnamese but we're proud that the Vietnamese are telling us that we're doing so much to put them on the map. But it's really thanks to them – the Vietnamese people and ingredients that we've brought together to shape our success."
Fermented and dried cocoa beans are poured into a coffee roaster; toasting happens at 120C (lower than coffee).
2.
Deshelling and winnowing
Marou's founders commissioned Vietnamese makers to custom-build the contraption that cracks the beans' shells and blows away excess residue.
The remaining cocoa nibs are squished into a gooey paste using granite grinders, removing volatile chemicals and leaving an earthy-smelling viscous liquid.
From its amorphous state the chocolate is cooled to just above its freezing point (about 30C) and then poured into moulds to cool and solidify before being sliced.