Café Altro Paradiso / New York
It takes two
The co-owners of Café Altro Paradiso bring different things to the table and it all comes together in this Italian oasis on bustling Spring Street.
Being competitive is vital if you're opening a restaurant in well-fed Manhattan and that's certainly the case when it comes to restaurateur Thomas Carter and chef Ignacio Mattos (pictured above, Mattos on left). "Sometimes one of us is more logical and sometimes one of us thinks more from the heart – but it flips frequently," says Chicago-born Carter from behind the bar of his new Italian joint: Café Altro Paradiso in Soho.
The pair opened this "other paradise" on the ground floor of an art deco building on Spring Street in February but as the restaurant's name implies, it's not their only venture. Before Café Altro Paradiso came Estela, an intimate affair on Houston Street in nearby Nolita that launched in 2013. Serving small plates of Mediterranean-inspired food, Estela quickly became the place to eat for New Yorkers and subsequently visitors to the Big Apple. Even the Obamas, in town for the UN Assembly in 2014, popped by for a taste of Mattos's creamy burrata and salt-cod croquettes. Naturally, expectations were high for the follow-up.
According to Carter, the hardest part is getting people to understand that Estela and Café Altro Paradiso are different concepts. Though these neighbourhood restaurants have starkly different menus and looks, they do share the same easygoing feel. Whether you plump for the mussels escabeche (a spicy vinegar marinade) on toast at Estela or gnocchi with peas, pancetta and pecorino romano at Café Altro Paradiso, the service will be sublimely attentive – and there won't be a fussy white tablecloth in sight.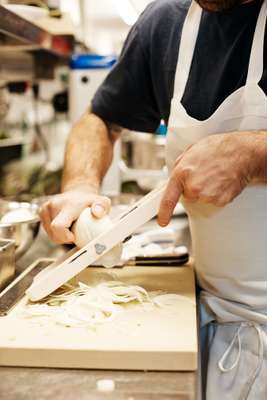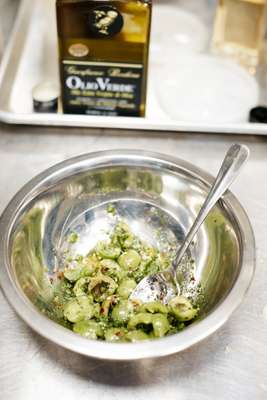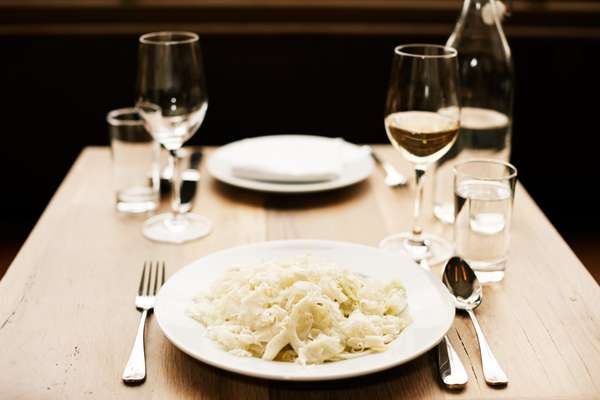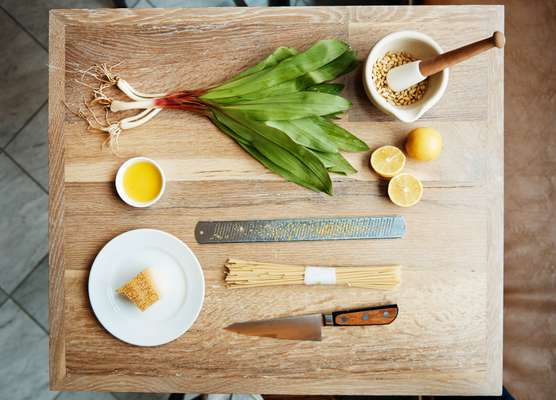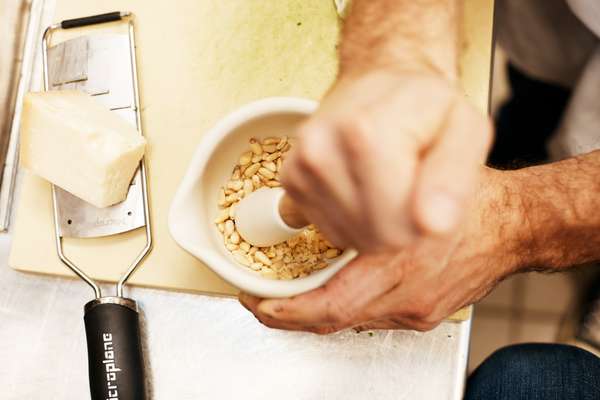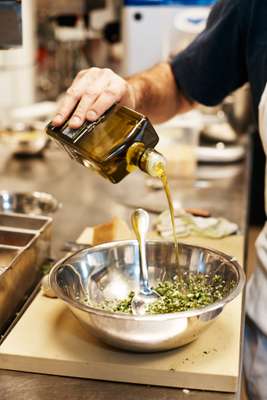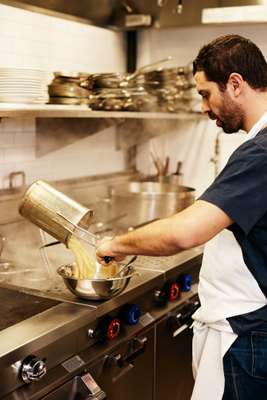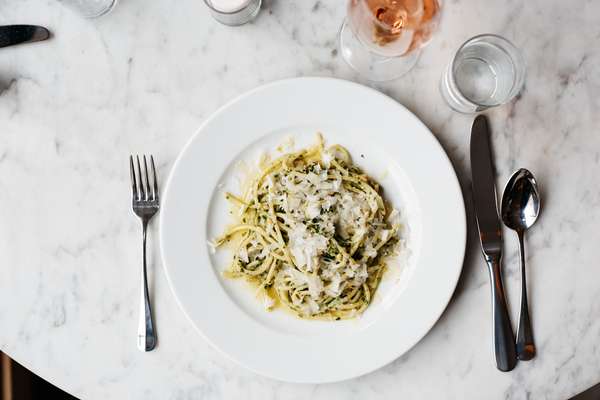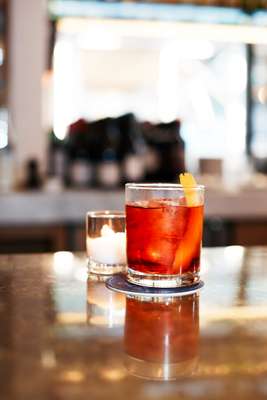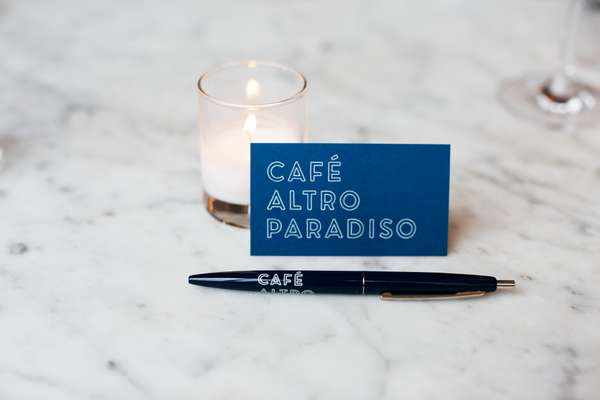 "The food at Café Altro Paradiso is rooted in the Italian tradition," says Mattos, apron tied loosely around his waist. The Uruguayan's previous posts include a stint as chef of beloved Noho institution Il Buco and the opening chef at now-closed Isa in Williamsburg. His menu is an homage to the bel paese, with starters including seared octopus with salsa verde and chickpeas, and a changing roster of five daily pasta dishes. Mains range from grilled swordfish with fennel, pine nuts, golden raisins and capers to fegato alla Veneziana (calf's liver with onions and polenta). And who can resist a scoop of figgy ice cream for pudding?
Café Altro Paradiso's menu more obviously reflects the seasons than its sister space; at Estela, Mattos focuses on ingredients that he can source throughout the year. Here he takes a more piecemeal approach by searching out goodies from nearby farms, Union Square Greenmarket, stalls in Chinatown, speciality shops in Little Italy – or "that small shop in Canada that is the only place to get really great caperberries". It's being up to the minute with the seasons that allows Mattos to manipulate familiar flavours; his ramp pesto is a prime example, made with the leaves of wild onions grown in New York State.
"Originally we wanted to open a simple counter serving pasta," says Carter. But the concept blossomed when he and Mattos saw the vaulted ceilings and big windows of the airy space they'd acquired. Now it's a shrine to white oak, brass and glossy marble: a brass-covered oak bar greets guests as they arrive, Carrara marble floors escort you to your table and brass handrails curve around the backs of leather banquettes, forming handy stash spots for bottles of wine if your tables are loaded with plates of fritto misto. Architect David M Sullivan designed the 80-seat, split-level space to reflect the old-meets-new philosophy of the food. Dimly lit, low-slung light fixtures are inspired by those in the central post office in Palermo, Sicily, a 1930s beauty best known for its murals by Italian painter Benedetta Cappa.
Vast and bright Café Altro Paradiso and quainter Estela are almost as different as the duo that founded them. Despite not always agreeing, the entrepreneurial pair "tend to make the right decisions" according to Carter. Looking around the space – and peeking into Mattos's kitchen through a slender window carved beneath a wall of wine bottles (chosen by Carter) – it's clear that there's a common thread: everything is simple and carefully conceived. "Simple," says Mattos, smiling, "but with a punch."
---
Ingredients
2 large fennel bulbs, fronds and stems
3 tbsps Castelvetrano olives, roughly chopped
1½ lemons
2 tbsps olive oil
½ tbsp chardonnay vinegar
Provolone cheese
Pinch of chilli flakes
Cracked black pepper
The method

Arrange four plates to make individual portions.
Chop off fennel fronds and stems then slice, wash and rinse. Add to small bowl with chopped olives then add vinegar, olive oil, chilli and pepper, and mix.
Pile olive mixture in centre of each plate.
Shave fennel bulbs finely at roughly 100g per portion. Season with zest and juice of one lemon, adding juice from another half if necessary. Mix.
Cover each serving plate with shaved pieces of fennel.
Grate provolone cheese on top to taste. Serve.
---
Recipe 2
Spaghetti with ramp pesto
Ingredients
½ bunch ramp leaves
3 tbsps pine nuts
35g parmesan, shaved
1 lemon
3 tbsps Sicilian olive oil
100g dry spaghetti alla chitarra
The method

Wash, dry and finely chop ramp leaves, then place in mixing bowl.
Pound pine nuts with pestle and mortar.
Add parmesan, pine nuts, lemon zest and olive oil to ramps. Mix.
Cook pasta, strain and then add to mixing bowl. Finish with lemon juice, olive oil and more parmesan. Serve.
altroparadiso.com