Uzupis / Vilnius
People's republic
This creative corner of Vilnius is more than just a neighbourhood – it's a state.
A 10-minute stroll from Vilnius's baroque Old Town hangs a plaque alerting visitors that they are about to enter Uzupis Republic, an artsy neighbourhood that proclaimed its semi-serious independence from the rest of Lithuania's capital in 1997. Uzupis means "the other side of the river" in the local tongue and has always been something of an outlier.
Encircled by a bend in the Vilnia River to its west and by verdant Bernardinai Park to the north, the old neighbourhood was once staunchly working class, the domain of fur traders and leather manufacturers. Under communism it fell into decline and became a seedy red-light district, where its low-rise stone houses, courtyards and cobbled lanes offered shelter to the city's down-and-outs. But when Lithuania gained independence in 1990 a troupe of artists – many of whom had trained at the nearby Vilnius Academy of Arts – found creative freedom and cheap rents here.
Uzupis quickly transformed into a free-spirited and vibrant quarter. So much so that a group of artists came up with the idea of founding a republic here, even going as far as writing a constitution, composing an anthem and designing a flag, which depicts an open hand (signifying friendship). Although it was all done in jest, the constitution now hangs on a wall as you enter the district and has been translated into a score of languages. The edict suggests such tongue-in-cheek tenets as "a dog has the right to be a dog" and insists that "everyone has the right to make mistakes". Fittingly enough, the republic came into being on April Fool's Day.
"Luckily the city left us to our own devices," says Tomas Cepaitis, one of the republic's founders and its self-appointed foreign minister. A steady stream of new residents who had been priced out of the Unesco-protected Old Town were followed by architecture firms, cafés and retailers.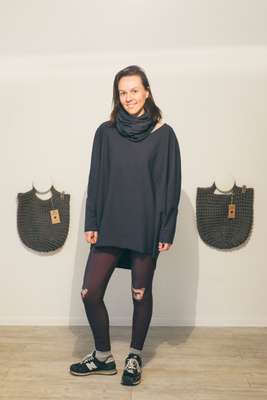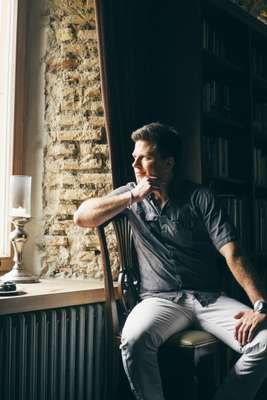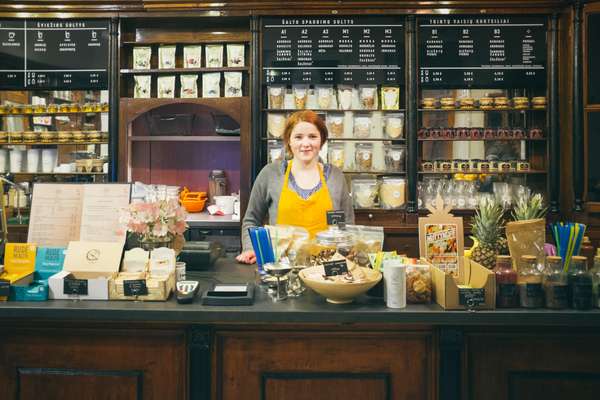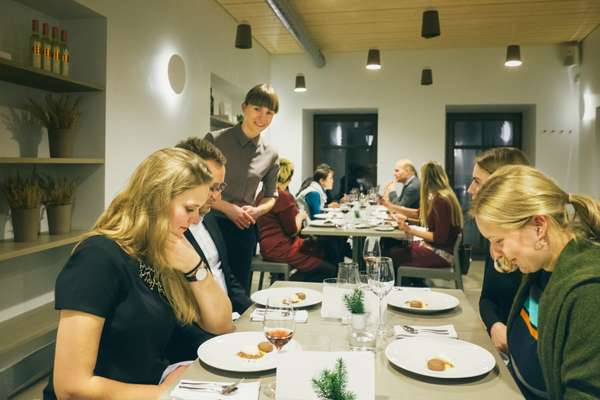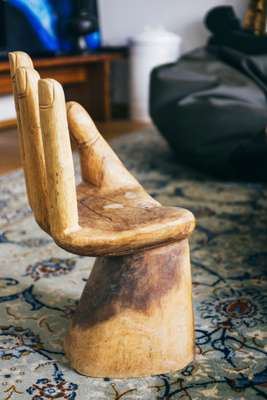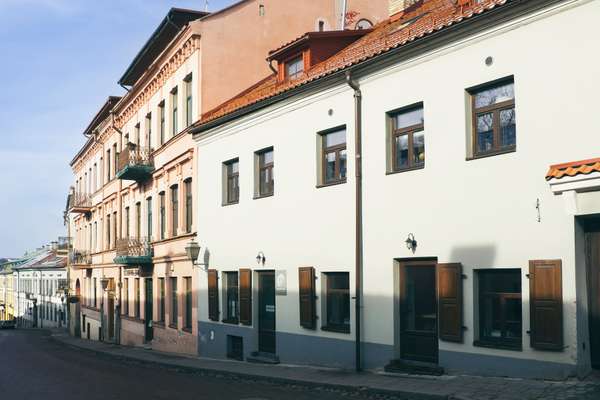 "We love how the area is developing; there is always something new happening," says Sasha Pletnev, who opened his Herr Katt barbershop in Uzupis in 2015 and considers himself lucky to have found a spot here. When monocle visits, Egor Chizhikov is manning his white-walled boutique Vejas Gluosniuose (meaning Wind in the Willows), which he has run with his wife for two years. Having spotted a gap in the shoe market in Vilnius, Chizhikov stocks sturdy leather boots and shoes from Portugal as well as Lithuanian-produced linen scarves and books from German publisher Gestalten.
"We're all friends here," he says. "It's a very cosy place to live and work. We feel that we are part of a community; we can participate actively and make a difference. It feels like a new frontier."
Chizhikov is in the process of creating a map that visitors will be able to pick up as they enter Uzupis. Its purpose is to encourage them to look through open doorways and wander into courtyards, where they'll be rewarded with a discovery such as a pop-up art gallery or a newly painted mural. "There is a great buzz in Uzupis," says painter Kristina Norvilaite, who has had a studio and gallery here for the past five years. "It feels very free and this feeling feeds into my work."
Newcomers are welcome here too. "It hasn't gentrified to the point where only rich professionals live in Uzupis," says Darius Udrys, a branding consultant whose open-plan apartment doubles as his office. "I enjoy cocktail bars but if you open one here you will affect the area's character and make it bland."
Despite its urban renewal, Uzupis has retained its quirky charm. It is popular with students who come to while away afternoons by the banks of the river, an unfiltered beer in hand, as well as with residents and businesses putting down roots and tourists looking for somewhere with an independent edge.
New to the neighbourhood is Sweet Root, an uncluttered restaurant that offers seasonal Lithuanian cuisine; many of the ingredients come from the owners' garden or are foraged in the forest outside the city. Proprietors Sigitas and Agne live a few doors down, having moved here in 2014. "More families are coming here," says Sigitas, pointing out a new residential development that will slot in place of an old beer factory on the periphery of Uzupis. "It's becoming a neighbourhood that's not just good for art galleries but that's good for living in too."
Property guide
Uzupis is an increasingly attractive area and investment in residential property is booming. Due to the variety of buildings, prices range from €1,300 to €2,800 per square metre. It's also an affordable place to rent office space.
Prices
One-bed house:
€60,000 to €120,000
Two-bed house:
€100,000 to €180,000
Three-bed house:
€150,000 to €280,000
Estate agent
Centro Kubas
+370 5 212 7090
centrokubas.lt
Shakespeare Hotel
Uzupis needs to invest in an independent hotel but for now we can recommend this place in the Old Town.
8 Bernardinu Gatve
shakespeare.lt
---
Sweet Root
Upmarket seasonal Lithuanian cuisine reimagined for the 21st century.
22 Uzupio Gatve
sweetroot.lt
Kmynine
Head here for freshly baked Lithuanian bread and pastries, as well as a good cup of coffee.
38 Uzupio Gatve
Uzupio Kavine
Rambling café by the river with plentiful outdoor seating that is popular for its unfiltered beer and traditional Lithuanian dishes.
2 Uzupio Galera
uzupiokavine.lt
---
Smart Art
Pick up handwoven bags and rugs by designer Justina Skurdelyte.
1 Malunu Gatve
smartart.lt
Vaisine
Pick up Lithuanian-made chocolate and dried fruit, as well as freshly squeezed juice, in this former apothecary.
20 Uzupio Gatve
---
Art Incubator
Discover installations and illustrations by artists in this homely gallery on the banks of the river.
2 Uzupio Gatve
umi.lt