Design / Global
Design
Briefing
The sunny outlook for London's design scene and Johanna Agerman Ross on her new role at the V&A.
Initial success
Finland
[TRE]
Ever since crafts promoter Design Forum Shop shut its doors in 2014, Helsinki's design-retail offering has been split between the boutiques of the Punavuori design district and the brand outposts along the tourist trail. New shop TRE – launched in August by designer Tanja Sipilä, industrial designer Lasse Laine and branding expert Teemu Suviala – bridges the gap in between. It draws from all ranks of Finnish talent, be it up-and-comers or established masters. From heritage classics such as willow baskets to contemporary furniture, textiles and jewellery, each product shares the same concern for sustainability. With interiors designed by Helsinki-based Protosdemos and furnishings thought up by Choice (both of which are co-founder Laine's side-projects), the shop makes for a cosy shopping stop-off.
worldoftre.com
---
Looking glass
Estonia
[ESTONIAN NATIONAL MUSEUM]
For a country long controlled by the Soviet Union, designing a national museum is a symbolic act. That's especially true of the Estonian National Museum, set to open this October, in a brand new building on a site that was once a Soviet airfield. The structure, bearing triple-glazed external glass walls, was thought up by Parisian architecture firm Dorell Ghotmeh Tane and sits atop cement that used to form part of a Soviet runway. Set 4km northeast of the country's second city Tartu, the museum will host exhibitions in its gallery spaces and includes a conference hall, library and auditorium.
erm.ee
---
On the money
Scotland
[PAGEPARK]
Glasgow architecture firm PagePark's work at the Dollar Academy in rural Clackmannanshire, Scotland, is a lesson in fine design. Building started in 2012 and the now-open Modern Languages and Economics Building is one of several contemporary extensions that sit alongside listed 19th-century buildings by William Henry Playfair, all in a pretty valley beneath the Ochil Hills. The two-level structure is built into the terraced hillside overlooking a sports field but its success lies in the warmth of the chosen materials: brick and timber, plus a few capacious windows that make the low-slung pavilion feel open and welcoming.
pagepark.co.uk
---
Street view
UK
[ELEANOR HERRING]
Glitzy commissions erected by lauded architects scoop up most of the column inches when it comes to design coverage but what about the everyday objects that surround us? Eleanor Herring's book Street Furniture Design unpacks the UK's streetside fixtures and the shifting role of design in public discourse. The five-chapter affair reveals why updating bike racks, bollards, bins and the humdrum minutiae of civic life has been contentious. It also takes in the work of Jock Kinneir and Margaret Calvert – who established the look of the UK's street signs in the 1950s and 1960s – and David Mellor, better known for designing cutlery but also the man behind the look of UK traffic lights. The book's a worthy, wordy meditation on an often invisible (but oddly enlightening) aspect of the built environment.
bloomsbury.com
---
Back in black
Denmark
[FREDERICIA]
With its lacquered-oak skeleton and plump cushioning, Fredericia's Spine Daybed offers respite for the sorest joints and optimal lazing through long afternoons. Its sliding cushion serves as a neck- or arm-rest, letting you stretch out or simply sit snuggly.
fredericia.com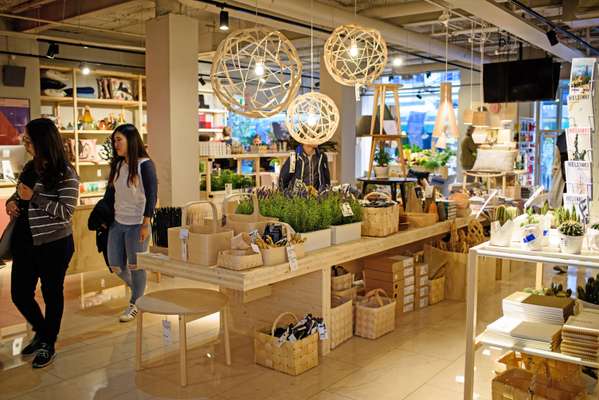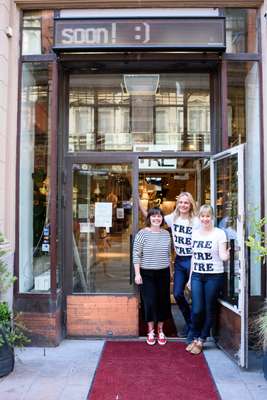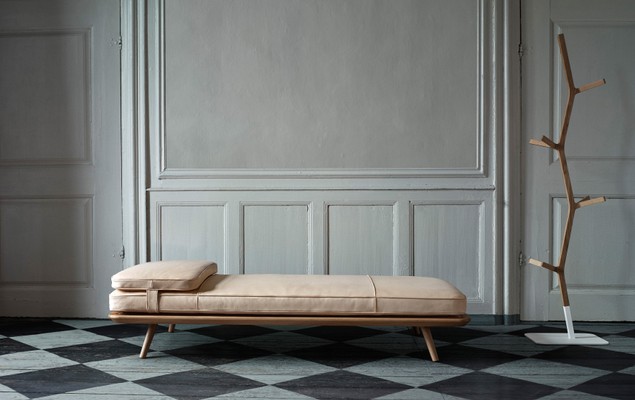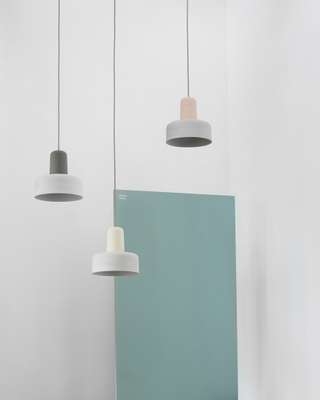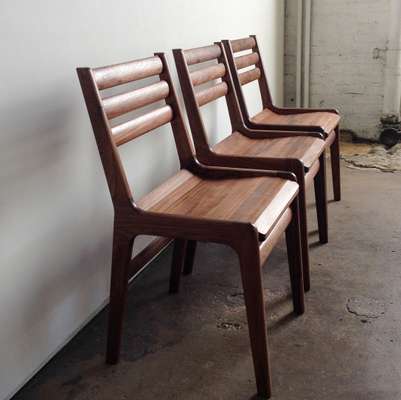 Made of stone
Norway
[NOIDOI]
Norway-based newcomer Noidoi is making a name for itself in the crowded and sometimes hard-to-crack Nordic design market with elegant work by partners in life and business Cosmin Cioroiu and Kathrine Lønstad. For their Meld pendant the duo opted for two interlocking cylinders made from cast stoneware (a material used more often for architectural projects than lighting) in place of a conventional shade. The understated result produces a downward light and is anything but hefty. In fact, it's rather easy on the eye.
noidoi.no
---
Smooth sailing
USA
[ASA PINGREE]
Furniture designer Asa Pingree learnt his craft while working on his father's boatyard off the coast of Maine but it was only after moving to Brooklyn that he launched his own brand. A year on, his furniture harks back to his experience in the shipyard: "The aesthetics of my furniture are influenced by my work in boatbuilding but not because my designs are nautically themed," says Pingree. "Building a new boat is a balance between referencing classic lines while embracing forward-looking concepts. This is how I've approached furniture design too." Working with American walnut, oak and ash, Pingree designs functional pieces for frequent use: his Fenelon chair works just as well at the kitchen table as pulled under a writing desk. "The aim was to launch a collection that works both in a 100-year-old farmhouse and a contemporary home."
asapingree.com
Q&A
Johanna Agerman Ross
Founder, Disegno
Ross is the founder and editor in chief of Disegno and incoming curator of 20th-century and contemporary furniture design and 20th-century product design at the Victoria & Albert Museum, London. We met the Swedish-born writer to discuss the future of print and her new appointment.
How has Disegno weathered these tough times for print publishing?
It's easier to deliver considered journalism if you narrow your reach and don't try to appeal to too broad a market. It creates better content and makes for a more interested reader.
How has the metabolism of design journalism been affected by technology?
Technology has affected the speed at which we see and share things. It has also empowered designers to communicate their projects to a wider net of news platforms and to promote their projects through their own sites. Sadly it has also led to a homogenisation of design content as none of these platforms tend to pursue their own stories.
Tell us about your new role.
Considering I set up Disegno by myself, it was a difficult decision to take but still an exciting step. The V&A is undergoing a huge expansion with the Amanda Levete Architects' extension to the South Kensington site opening next year and the V&A East opening in five years' time. It's a very interesting time to join the museum.
disegnodaily.com; vam.ac.uk
Eye of the storm
London's new structures demonstrate everything that's good about sticking together.
Josh Fehnert
Dark clouds of uncertainty are massing over Westminster in the wake of Britain's decision to leave the EU. Even now – months after the nod was given – the forecast for the UK remains foggy. But there is a silver lining. While the politicians flounder, the London design scene is rallying around a few new attractions that are telling a sunnier story about the British capital's place in the world.
Not two miles east of Parliament sits a twisting brick-built obelisk by architecture firm Herzog and de Meuron: the Switch House extension to the Tate Modern, which opened in June. The perforated skin of the 65-metre-high structure apes Giles Gilbert Scott's original power station (finished in 1963) and beautifully boosts the gallery's exhibition space by about 60 per cent.
It's a smart-looking building but, more importantly, it's a 10-storey monument to the capital's cultural clout – one that couldn't have been more fittingly British had it been knocked up by a Cockney bricklayer whistling "Knees up Mother Brown" (it wasn't, they're Swiss). What's more, it's one British job that people should be happy went to a few talented Europeans.
Cross Blackfriars Bridge and a 20-minute walk will bring you to Somerset House, a neoclassical pile that in September hosts the inaugural London Biennale. Themed on the notion of utopia, the show hosts pavilions from 37 nations, each of which riffs on the world we live in and how design might improve it. It's an optimistic and cross-cultural peek at a utopian world of international co-operation, the very existence of which seems farfetched in light of Britain's isolationist turn. Different nations working together? Without squabbling or hoarding their skills? It'll never catch on.
A few miles west the finishing touches are being added to London's Design Museum. Slated to reopen in November, the John Pawson renovation has transformed the former Commonwealth Institute and is anticipating the custom of about 400,000 visitors a year. Despite delays the £83m (€97m) build will delight the design industry and public with changing collections and talks. It may even attract talent from abroad or inspire visiting children forced to attend on school trips.
On the horizon there's the Museum of London's move to West Smithfield. Stanton Williams and Asif Khan have been announced as the lead architects of this ambitious project. All of these openings and projects stress the capacity of design and architecture to unite people and create engaging public spaces. They show London at its gritty-but-great, grin-and-bear-it best in tough and uncertain times. They tell a positive story.
The UK may have voted narrowly to leave the EU but it's heartening to see that London (which voted less narrowly to stay) is weathering the storm with a worldly outlook. Tomorrow's forecast for Britain? Keep a brolly handy.