Dubai design / Dubai
Designer plans
Dubai wants to be known for more than its artificial islands and 'megatall' skyscrapers. We visit the city's design district and meet the makers trying to turn it into a bastion of Middle Eastern craft and creativity.
If underwater hotels and desert ski slopes were how Dubai once sought to grab the world's attention, design is the new catchword among the leadership. The Dubai Design District – or D3 – has been erected on a patch of out-of-the-way wasteland and the Emirates' ever-ambitious ruler, Sheikh Mohammed bin Rashid Al Maktoum, has decreed the founding of a Design and Fashion Council that lobbies government in the name of the industry.
"Design and fashion haven't had an authoritative voice with commercial focus here before," says Nez Gebreel, the CEO of the council, which posits a 6 per cent growth in the design sector across the Middle East and North Africa by 2019, with the need for 30,000 graduates in architecture, fashion and other disciplines. Dubai wants to position itself as the platform for the region: "A lot of focus is on education," says Gebreel. "We're also incubating a design school."
When the city set out to build D3, the international response was incredulous. Manufacturing a creative community is a contradiction in terms, especially so for design, with the world's great centres rooted in time-honed craft, serendipity and the allure of cheap rent. But a year after businesses started settling in, how is Dubai's project fairing?
The drive out of town to D3 is a carousel of dusty roads, flanked by billboards that show hands shaping metal and sewing garments. It's the sort of hands-on work not found in abundance here yet: so far D3 is a triangular wedge of studios, offices and furniture showrooms in glass buildings that emerge from the desert. On one of its sleek grey streets there's a rustic Italian restaurant that has just opened; on another a ribcage-like bicycle rack that doesn't look like it gets much use.
The district may so far lack the bustle of London's Shoreditch, an inspiration, but there is the will to build community and when D3 shifts into its second phase by 2019, smaller ateliers and retailers will move in. Until then there are advantages to setting up shop here: Dubai remains tax free and a stroll through D3's offices shows off its international workforce. The city is also a well-connected business hub and a beacon of stability in the tumultuous Middle East.
Many say D3 has given shape to a nascent design scene. Architects here include Viktor Udzenija, who came to Dubai with Foster + Partners before setting up his studio and moving to D3; he now has landscapers and interiors companies on his doorstep ready to be called upon when a job demands. "When clients see the address it adds a certain seriousness," says the Croatian architect. "I saw something in it that would develop our brand." His studio is one of about 270 firms registered at D3, which are fairly evenly split between fashion and other design businesses.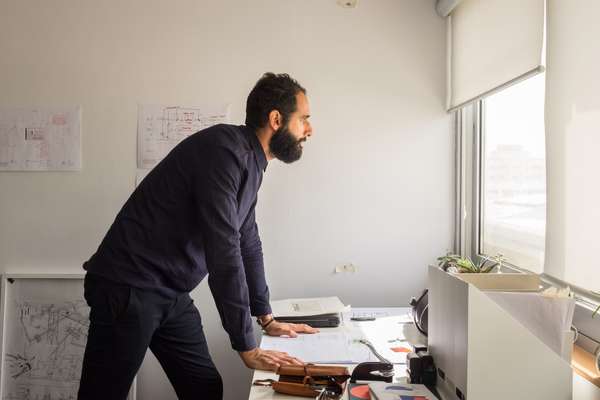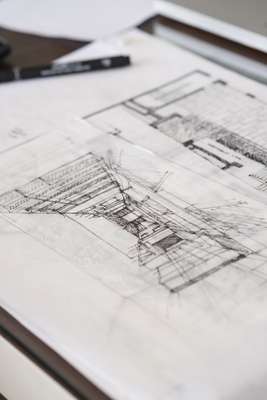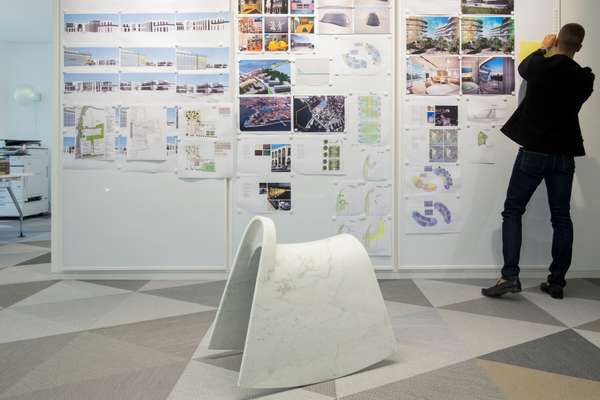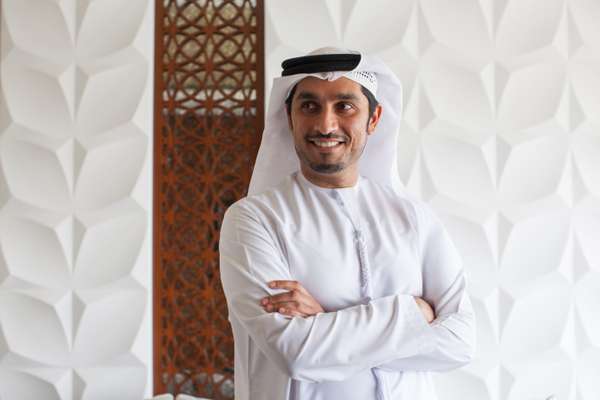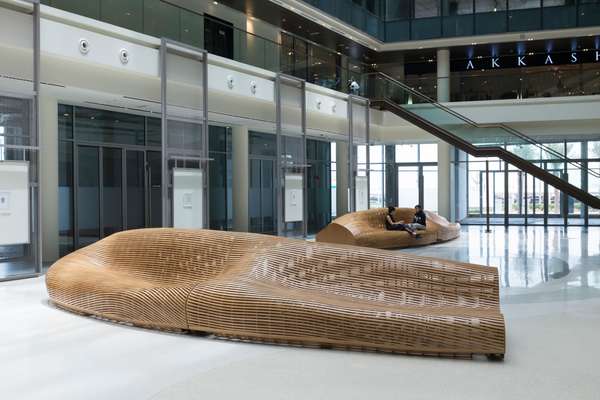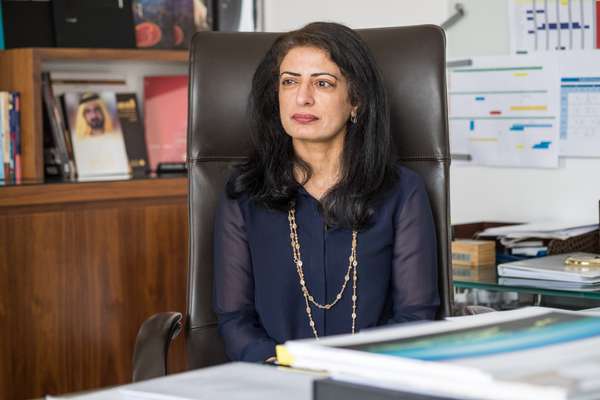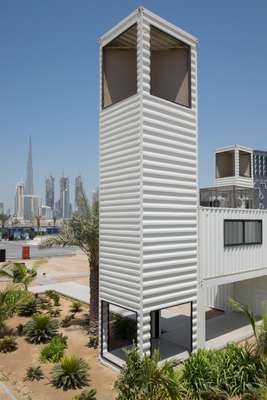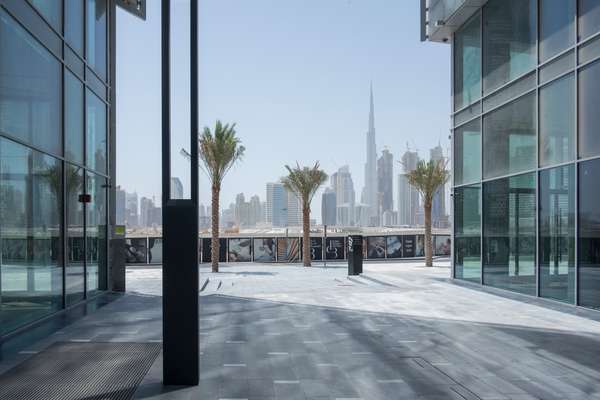 Things are being made locally too. From one D3 atrium corridor we peer into the studio-showroom of Ayah Al Bitar, a Saudi product designer and Parsons graduate who crafts ergonomically tuned supports for sitting on the floor out of leather from the Emirates. Elsewhere, multinational architecture firms such as rmjm have taken vast studios, while Chanel and other big labels have also moved offices into the district.
Some smaller operations say the cost of setting up in D3 is prohibitive; anyone wanting to rent an office must fund the fit-out themselves. Nonetheless, some see it as a way in: Lebanese design firm PenguinCube creates wayfinding systems across the Gulf and opted for a licence in D3 to give them a second foothold in the region. Studios such as Wanders Wagner Architects built a niche by refitting Dubai's once-canned developments and creating new infrastructure before moving into the area. "Having D3 in place is a challenge to everyone," says German co-founder Richard Wagner. "It lifts the design community to a more professional level."
Many in D3 rely on the Gulf for work yet as the price of oil continues to slump, budgets are being severed. Memories of 2009, when dreams of creative quarters and grand designs fell by the wayside during the financial crisis and billboards were left to bleach and flap in the desert, are not easy to forget. Dr Amina Al Rustamani, ceo of Tecom, the government-owned developer behind D3, is confident that the industry can weather the storm. "Look at how crazy this city is in terms of real estate," she says. "It's a continuous engine of development. There are commitments, such as Dubai hosting Expo2020, that will not go away. It's just a matter of how big and how much." The government, she insists, is committed to design long-term.
The fact remains that a living design centre is not engineered – and certainly not in a year. In Dubai, however, interesting things happen beyond the state's purview: a coral-built community space by the founders of Brownbook magazine; the Alserkal Avenue gallery hub in the warehouse quarter; and some smart private residences.
On the border between Dubai and neighbouring Sharjah, Tarik Al Zaharna heads up T Zed Architects, which shares an office with Emirati-owned graphics firm Fikra."Interesting design cities are those where you find architectural practices, design firms and furniture designers in the most unexpected places and within walking distance of one another," says Al Zaharna. "Here it's more like LA: you have to drive to reach them."
While Al Zaharna considered opening up in D3, in the end he opted for a slight remove. "It's great to know those other architects and designers are there," he says. "But it's good to disconnect and have your own clarity of thought."
The UAE has pitched itself on grand designs before but in neighbouring Abu Dhabi, Jean Nouvel's Louvre is still yet to open a decade later. Recently Dubai's Sheikh Mohammed declared that 25 per cent of all new construction in the city will be 3D printed by 2030. Proof of concept has become intoxicating stuff in this city and it's realising its design dreams in concrete and glass at record speed.
Yet the future may be altogether simpler: D3 is issuing the city's first freelancer trade licences, which is a step in the right direction. Starting a design business should be cheaper and a manufacturing base should be an integral part of any design centre. Flexible zoning would also better integrate the city's creative pockets. Create the conditions that allow a healthy design district to grow and let the designers do the rest.
---
Dubai Design District is a work in progress but the area is readying itself to host the city's second Design Week, 24 to 29 October. The core of the six-day show is a focus on upcycled design in Cairo since the revolution. Another feature is a showcase of contemporary design from six countries in the broader region that has caught the eyes of curators. "Many participants this year are working to boost their country's craft traditions," says its creative director Rawan Kashkoush. Downtown Design, a design fair that runs concurrently, is a more functional offering, with 100 booths from the likes of Sancal, Kettal and local seller Purity.
dubaidesignweek.ae
---
Suppress the urge to smirk at the notion of lumping coders together in Dubai Internet City and surgeons in Healthcare City because Dubai's creative clusters have been the linchpin of its private sector.
The free zones weathered the financial crisis and allowed start-ups to sidestep the labyrinthine laws that come with setting up shop in the UAE, offering full foreign ownership. The challenge for such clusters is building a community (Media City, while busy, isn't quite the hotbed of intrigue and foreign correspondence) and the clusters merely mask a need for flexible zoning. Still, there are no signs that these parks are going away; Dubai Wholesale City – dedicated to the rag trade – will open soon.
While the city has a long way to go before it can match the hustle and swagger of Italy's fashion and design capital, Dubai has a lot going for it. Here are 10 things D3 can do to help establish itself and its city as one of the world's top design destinations. 
Go green: More trees would soften up the streets and make D3 a more inviting place to work.

Raise the roof: Make better use of the roofs with affixed solar panels and a public roof garden or two.

Throw some shade: A canopy would offer shade in summer and make the place feel less like a ghost town.

Open up: A co-working space is coming but there should be affordable offices dedicated to start-ups.

Set the bar high: Make sure retailers are good and incentivise businesses that make sense for the district.

Stay put: A gym and a place to get a glass of wine would give people a reason to stick around after work.

Think small: Right now there's nowhere to buy a pencil; D3 needs stationery and magazine kiosks.

Make friends: Create opportunities for people to meet in the street, such as markets and food trucks.

Tool up: A workshop with cutters, tools and access to materials would let studios create simple mock-ups.

Get connected: Getting D3 on the metro map should be a priority to make it feel less like an island.