Good Neighbours Jamboree / Kagoshima
Into the woods
A spirit of unruly fun presides over the Good Neighbors Jamboree. Now in its seventh year, the open-air celebration of retail, food and music has attracted thousands of visitors from across Japan to this remote region.
In a clearing deep in the forested mountains of southern Japan, two soon-to-be newlyweds lead a ragtag oompah band of amateurs and children through a crowd. They weave past tables serving a curry, shochu soda and shaved ice with hojicha (roasted green tea) syrup; tents where artisans teach ceramics, woodworking and traditional cloth-dyeing; and a treehouse that's swarming with children. The day is hot and muggy and the piercing screech of cicadas threatens to drown out the band. But it's not an actual wedding so who cares? This is the sort of unscripted fun that the Good Neighbors Jamboree is known for.
Started in Kagoshima in 2010, it is an open-air event like no other in Japan: a craft fair, garden party, music festival and destination hangout lasting from morning until late evening on the grounds of Kawanabe Mori no Gakko, an abandoned wooden primary school that closed more than a quarter of a century ago. Over the years the jamboree has gone from 10 shops and a few hundred young people to 60 shops and 2,000 attendees.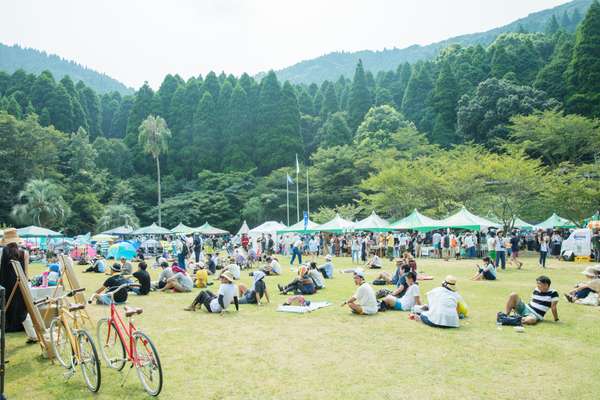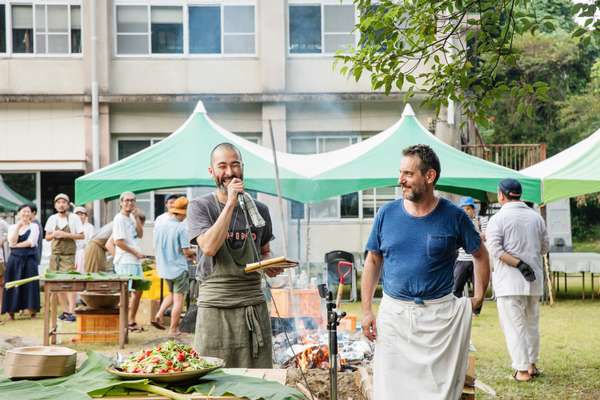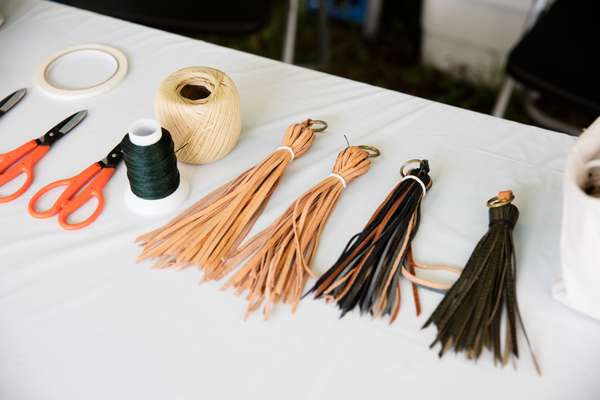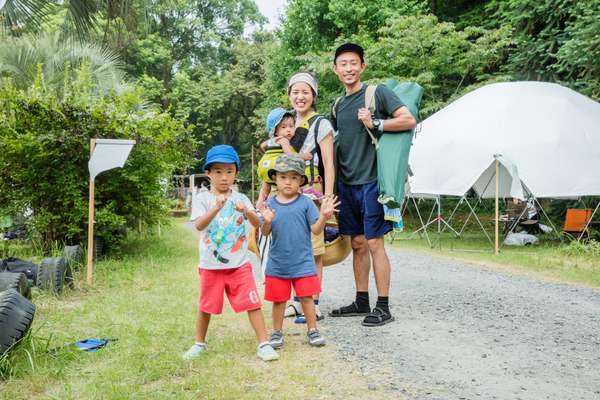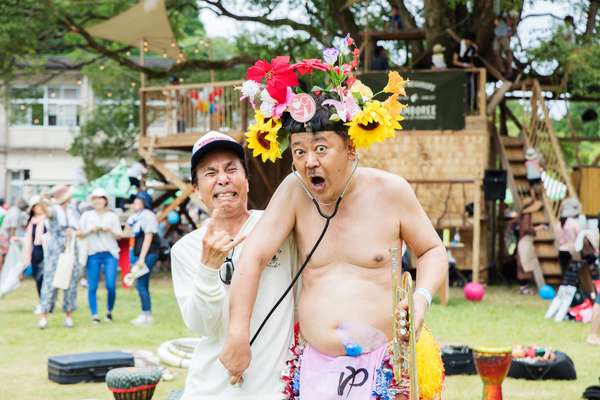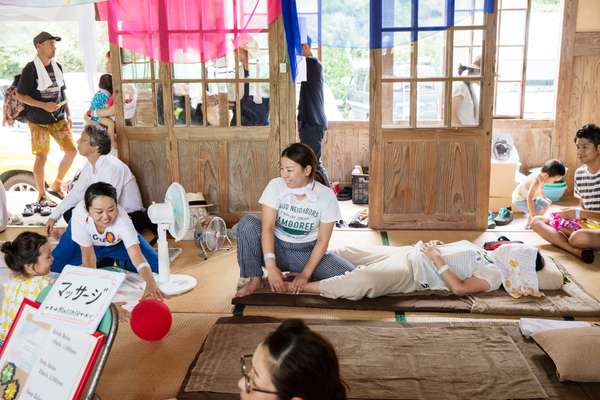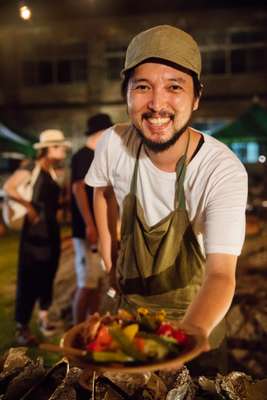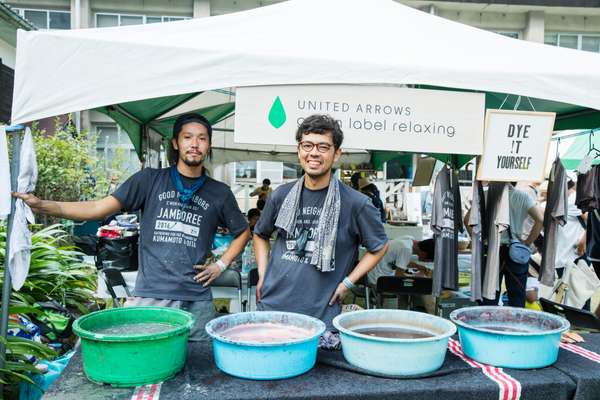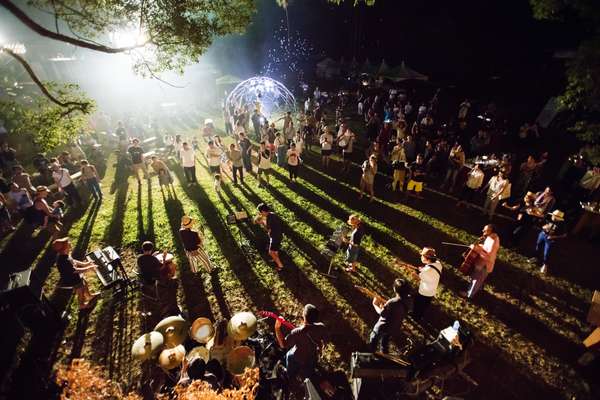 For some it's a homecoming. For others – who fly in from Tokyo, Kyoto or Sapporo, or drive through the night – it's a chance to be a part of an extended community. The wedding procession was a last-minute addition. "The couple recently asked if they could use the treehouse after the jamboree for a wedding photo shoot. We have to take it down tomorrow so I suggested they lead the marching band," says Shuichiro Sakaguchi, the event's founder.
A professional musician and Kagoshima native, Sakaguchi works for Tokyo-based design firm Landscape Products. He created the jamboree to bring together Kagoshima's small community of musicians, designers and shopkeepers, and their families. He ended up connecting entrepreneurs, musicians and artisans from all over the country.
At the food tents, a cattle farmer from Hokkaido, the country's northernmost island, is grilling meat from one of his 20-month-old Holsteins. Inside the old wooden schoolhouse a fireworks-factory owner from Fukuoka is teaching a group how to make handheld senko-hanabi sparklers from washi paper and aged gunpowder, while a guitarist leads a sing-along in the tatami-mat room next door.
Outside, a bookseller from Tokyo has set up a reading area and a Kagoshima vegetable seller is whipping up tomato-and-pineapple smoothies; there's also a queue for the hair stylists and masseur. Fashion retailers Margaret Howell and United Arrows have a presence here too. "A third of the people are from out of town but the rest are from Kagoshima," says Sakaguchi. "In Japan, Tokyo is the centre of everything and the remote regions occupy a lower tier. I wanted to change that. I thought that if we could get outsiders to appreciate Kagoshima, locals would think of their hometown differently. I just never imagined so many people would come from so far away."
As night falls a DJ spins records from the treehouse before the featured band, UA, takes the stage to frenzied applause. The jamboree is now so big that a few years ago Sakaguchi began holding a dinner for 250 on the night before as a social event mainly for the musicians, food vendors and sponsors. His organising committee of five has grown to 20, with an army of volunteers as back-up.
It's a model that many remote regions want to copy so Sakaguchi is helping communities in Okayama, Gunma and Fukuoka prefectures put on their own festivals. But the future of the Good Neighbors Jamboree's venue is in doubt. The municipality that manages the school grounds is struggling financially and there are rumours that the buildings could be razed. "We don't use any taxpayer money now but I think we can work with municipal officials to host other events during the year to bring in money that would save the property," says Sakaguchi. Fingers crossed.