Retail safari / Buenos Aires
Secrets of the city
In the second outing of our Retail Safari we look beyond the big-brand-but-boring retailers to some of the Argentine capital's finest independents. From designers turning out appealing Angora jumpers to a rethought makers' market, we share a few trade secrets that the Porteños like to keep private.
Buenos Aires is often seen as Latin America's most European city. But unlike its counterparts on the other side of the Atlantic, retail in the Argentine capital can feel staid to the uninitiated. That said, there are shops here you won't find anywhere else: the city's older buildings often conceal appointment-only boutiques and closed-door ateliers that yield a vibrant range of products. Here are a few of our favourites.
Starting in the Palermo Hollywood neighbourhood, visit Hermanos Estebecorena (menswear). Started in 2001 by brothers Javier and Alejo Estebecorena, this menswear brand focuses squarely on essentials. The space resembles an old tailor's shop, with wooden shelving and antique furniture. "We intentionally decided to keep it small," says Javier. Nearly half of its clients visit from abroad. And while soft cotton shirts and smart leather shoes are popular, the real hit is the comfy underwear.
A 10-minute stroll south will bring you to Monochrome Bikes (bikes). Once a recycler of old frames, this independent brand now gives clients the chance to customise its minimal models in different hues. A premium line with higher-quality components such as steel spokes is also available. The bikes – assembled in a workshop at the back of the showroom – come with grips and saddles made from Argentine leather. "We offer competitive prices, great quality, a comfortable ride, and always have boxes ready for transport," says founder Natan Burta.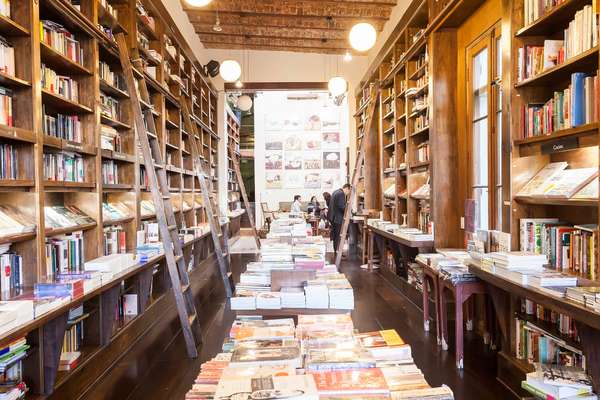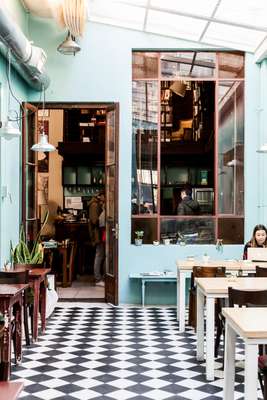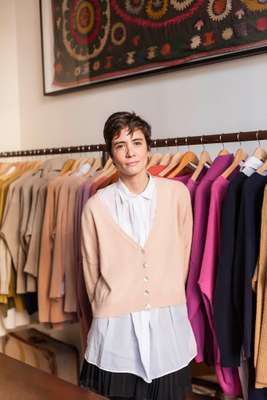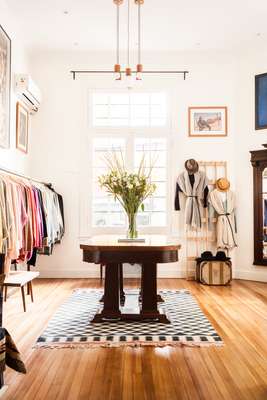 Five minutes by taxi will bring you to Libros del Pasaje (books). Located in a busy part of trendy Palermo, this independent bookshop includes titles in English – plus the requisite selection from Argentina's own Jorge Luís Borges. Spanish-language literature is, of course, its forte, with bookcases reaching up to the ceiling and helpful assistants to track down the right title. The shop and its café blend into each other, with some tables set in between bookshelves.
Continue your journey south and a 10-minute walk brings you to Paul French Gallery (homeware). Once a wine and olive-oil warehouse, this space was also a repair shop for antique cars before being transformed into one of Buenos Aires' smartest homeware spots. At the end of an open-air corridor you'll find some 15,000 products: furniture, paintings, wine, clothes and textiles. Owner Pablo Chiappori designs most of the products on sale, while the rest are carefully sourced from other suppliers. Service is also a star here. Visitors can get free consultations with the architects and interior designers who staff the space; they can also sip the brews from Tealosophy or enjoy the pastries from Decata.
Blue Sheep (woollen-wear) is tucked away on a tree-lined street 15-minutes by taxi northeast. This closed-door boutique can be seen through a window in a corner of a French-style building. Inside you'll find cardigans, jumpers and ponchos made from local Angora and sheep wool. The brand was founded by designer Cata Chavanne, who worked in the US with Roberta Freymann. Chavanne's client base has grown rapidly but she opted for a private showroom filled with personal touches. The coats cut from Uruguayan blankets are made by her mother.
Visiting the flagship shop of renowned perfumer Fueguia 1833 (perfumes) is a sensory experience in itself, just 10 minutes east of Blue Sheep. The dark velvet drapes block out the light and hubbub outside while the fragrances, displayed atop wooden boxes, are well worth the visit. Candles and fragrances are developed from 1,200 organic South American plants and herbs. The alchemist behind the Patagonia-inspired shop is Julián Bedel, whose background includes stints in luthiery (fixing stringed instruments) and is as complex and compelling as Fueguia 1833's fragrances.
Our final stop Galería Patio del Liceo (clothing) was built in an abandoned school and is now a centre for designers and artists to host events and display their works. The laidback space is rough around the edges but houses an array of little-known design brands. Clothing label Greens offers classics such as rustic winter knitwear, while Callis makes delicate jewellery. "There is a variety of singular products in a small, interesting space," says owner Hernán Taramán.
Ministro Pistarini International Airport flies to: 40 international cities
Best time to visit: Spring (September to November)
Cup of coffee: Less than €2
Glass of wine: €3
Slap-up lunch: €18
breakfast: Ninina: Excellent pastries, proper coffee and numerous brunch options.
lunch: Hierbabuena: Tasty, large and healthy portions, with plenty of veggie options.
dinner: Aramburu Bis: A relaxed version of chef Gonzalo Aramburu's modern Argentine kitchen. Great wine.
---
Restaurants:  Ninina
4738 Gorriti, Palermo Soho
Aramburu Bis
1207 Humberto Primo, Constitución
Hierbabuena
454 Avenida Caseros, San Telmo
Post-dinner drinks:  Gran Bar Danzón
1161 Libertad
---
Home
5860 Honduras
---
Hermanos Estebecorena
5960 El Salvador, Palermo Hollywood
Monochrome Bikes
5656 Gorriti, Palermo Hollywood
Libros del Pasaje
1762 Thames, Palermo Soho
Paul French Gallery
4865 Gorriti, Palermo Soho
Blue Sheep
3306 PB2 Ugarteche, Palermo
Fueguia 1833
1680 Avenida Alvear, Recoleta
Galería Patio del Liceo
2729 Avenida Santa Fe, Recoleta