Design Directory / Saitama
Close to home
The house that Japanese architect Tsutomu Abe built for himself 42 years ago says as much about his thoughtful design process as it does about his humble character. He takes us on a tour and discusses the vital relationship between inhabitant and home.
Tsutomu Abe's house started with a door; not just any door but a hunk of elaborately carved teak that he had brought back from Thailand and propped against a wall. Every time an earthquake struck the heavy door fell over. Eventually Abe decided that it was time to build a house that could put the decorative piece – now his front door – to proper use.
Abe, a spritely 80-year-old, is a distinguished architect who spent a decade working with Junzo Sakakura, a protégé of Le Corbusier and one of Japan's great modernists. Abe built his house in 1974 on a compact plot of land in Tokorozawa, in an area just outside Tokyo that was being developed as a new town.
Abe's house stands out from its neighbours and is easily identified by the Keyaki tree out front and the weathered white Land Rover that he has had for two decades. The house was built cheaply using mostly concrete and wood, a combination that has served tropical climates well. Pointing to the thin concrete walls, Abe laughs that he had to go easy on the materials. "I didn't have much money."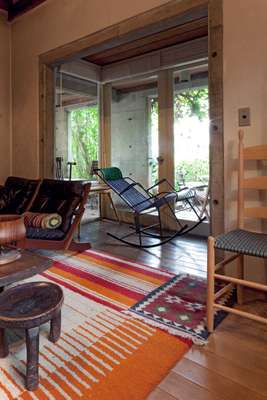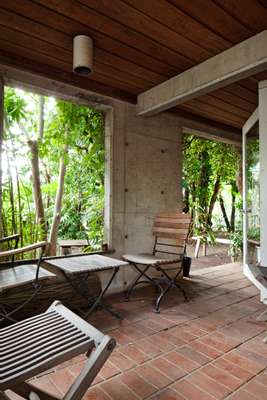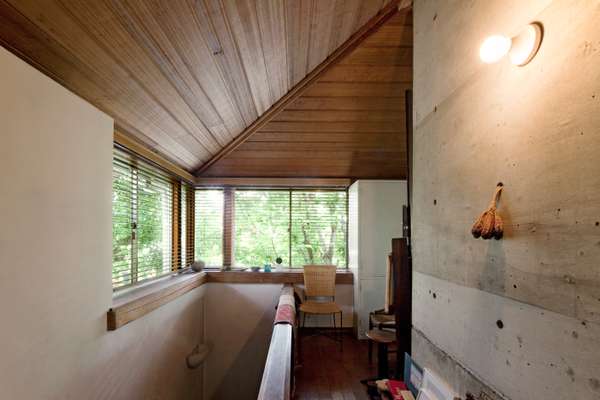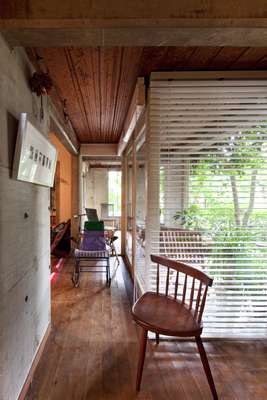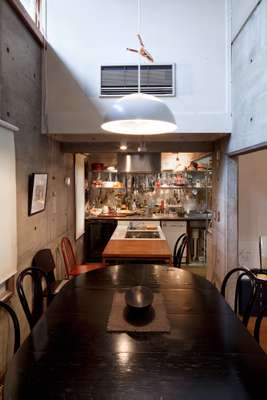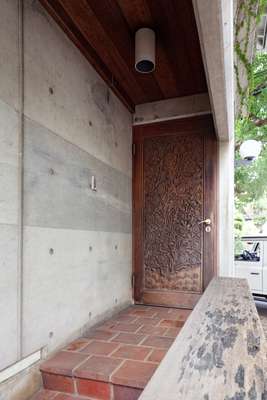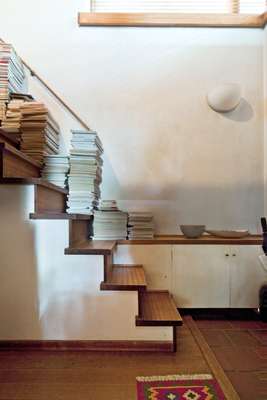 There was no need to compromise on the design though. The footprint may be small but the house has lots of different viewpoints. "There are no fixed partitions but many spaces," he says. It's true: the internal walls and floors can be moved and bolted in at different locations.
"I'm interested in contrasts," says Abe. "Dark and light, hard [concrete] and soft [wood], open and closed. Japanese houses traditionally had a gradual transition from outside to inside – with corridors and paper screens – but now there is usually just one wall. It's a much more abrupt demarcation and we've lost those 'in between' spaces that houses used to have."
Abe refused to give up on the old ideas and built his own semi-outdoor space where he likes to drink coffee while looking at the garden. There are day beds all over the house and Abe is surrounded by furniture and objects that he has acquired over the years. There is a huge painting in the living room – a copy of a work by the French symbolist Eugène Carrière – by his late father-in-law, as well as a vibrant Mexican rug. "If you are with your favourite people you feel comfortable. It's the same with objects: these are the things that I like to be surrounded by."
There are chairs everywhere, many distinguished but all in use: a three-legged Mira chair by George Nakashima, a well-worn Jean Prouvé Standard chair and Thonet chairs around the dining table. "I don't collect chairs as such, I just buy what I like," says Abe. Upstairs he has a fine pair of Junzo Sakakura side chairs that he was given as a wedding present.
Abe's workspace on the upper floor has the quality of a tree house: a room shaded by foliage with a bird's eye view of the street below. "People feel good in spaces where they can see out but can't be seen themselves," he says.
The man who has built dozens of much-admired houses says that the process of designing a home should be a joint effort. "It's important for clients to feel that they are making the house. They need to decide what they want and it's the architect's job to help them," he says. "I feel the key relationship is between the house and the people who live in it."
Abe's house has become a quiet architectural celebrity. Students come to study its design and it was recently used as the backdrop for a film. The warmth Abe exudes as a person shines through in his work. He has been given numerous awards in Japan for long-life house design, a real achievement in a country where a scrap-and-build attitude has been so dominant. He still keeps to a five-day working week. With a busy studio in Tokyo and a long line of projects in hand, he has no intention of retiring either. "Architecture isn't work for me – it's my life."
Tsutomu Abe
1936 Born in Tokyo
1960 Graduates from Waseda University's Faculty of Engineering with a degree in architecture; joins Sakakura Associates
1971 Leaves Sakakura Associates and founds Archivision Architects with Jiro Murofushi and Tadahiro Toh
1974 Builds his house
1984 Founds Artec Architects & Associates
1981 to 2012 Lectures in architecture part-time
Today Continues to work from a studio in Gohongi; projects include a house and a golf club renovation