Diplomacy / Global
Diplomacy
Briefing
James Baumgartner, Canada's man in Portland, on building business ties.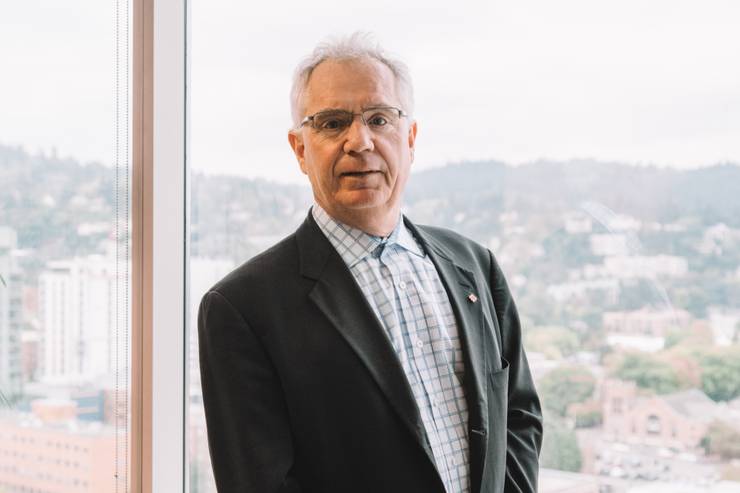 James Baumgartner
Portland, Oregon
Canadian honorary consul in Oregon
Canada's diplomatic presence in Portland, Oregon, is hidden down a corridor of a city-centre legal office: a single beige-walled room adorned with a maple leaf flag and a century-old map of that vast nation to the north that many Americans (Portlanders included) often take for granted. It is here that James Baumgartner, a long-time Portland attorney, operates in his guise as Canada's honorary consul in Oregon, a role he's held for 11 years. In its own humble way, this room serves a long-term Canadian strategy to boost its soft power in the US.
"I've come to see how deep the relationship between the two countries really is in ways people don't always appreciate," says Baumgartner, a 58-year-old with an amiably professorial bearing. "My role is to bring that to the fore."
A typical honorary consul is a far-flung expatriate, drafted in to help wandering nationals with passport and visa issues. Baumgartner, a US citizen, leaves all of that to Canada's consulate general in Seattle. Instead his job is to build business and political ties within Oregon that can be useful to Canada's priorities for the American northwest, a region intertwined with cross-border interests. "I'm a matchmaker," he says. "Who are the contacts here of value to the consular mission, whether that's in trade and investment or policy?"
The relevant issues range from the arcane – Portland is a major export hub for Canadian potash, for example – to the epic. The Columbia River, a 2,000km-long artery crucial to navigation, hydropower and agriculture, begins in Canada and meets the Pacific in Oregon; the 1964 bilateral treaty governing the river is now under lengthy review. Lumber exports and fisheries can prove ticklish subjects in a region reliant on the natural-resource industry. "The Albacore Tuna Treaty, who knew there was one?" says Baumgartner. "But I'll get a call from Ottawa asking who in Oregon handles albacore and I'll find out."
This our-man-in-Portland position originates in the Enhanced Representation Initiative, an early 2000s project that boosted the number of Canadian honorary consuls in the US. "Canada decided it needed to raise its profile without opening more consulates," says Baumgartner. (Canada maintains 12 consulates and its prominent embassy in Washington.)
"I've had this amazing opportunity to look at Oregon and the US from another perspective," Baumgartner says. "We're partners in peace and prosperity and everyone I work with takes that very seriously."
The consulate
A simple room with a 1913 relief map of Canada.
The staff
"There's me, my legal secretary and a voicemail box in French and English," says Baumgartner.
Challenges
Generating excitement about US-Canadian affairs. "If a trade delegation from a small European country comes to town people get excited as it sounds glamorous," says Baumgartner. "Yet trade with Canada is larger than trade with the whole of the EU."
Embassy design no. 03
---
Building ties
Tokyo
Canadian embassy
Year built: 1991
Architects: Raymond Moriyama and Ted Teshima

The son of Japanese immigrants to British Columbia (the family were interned in a pow camp during the Second World War), Raymond Moriyama grew up to become a grandee of Canadian architecture. This made Moriyama's firm, Moriyama & Teshima, a fitting choice to deliver Canada's embassy in Tokyo, a subtle masterpiece in architectural diplomacy.
Ingenuity and thoughtfulness are apparent throughout this building, which has become one of Tokyo's most visited embassies. It is split in two, leaving the bottom half for leasable office space. The glass-enclosed structure on top opens up as ample public space that in the words of the architects "is a symbol of the spaciousness and diversity of Canada".
Monocle comment: With its Japanese roots, this Canadian firm had a clear advantage in delivering the most appropriate of designs. The architects' considered approach and flair for scale and striking volume personify a very Canadian rationale.