McNallys / Winnipeg and New York
Family business
Whether in Winnipeg or New York, McNally bookshops are the essence of their communities. We find out how the founders' daughter is furthering the family line and how the new owner of the original shop is keeping up with the McNallys.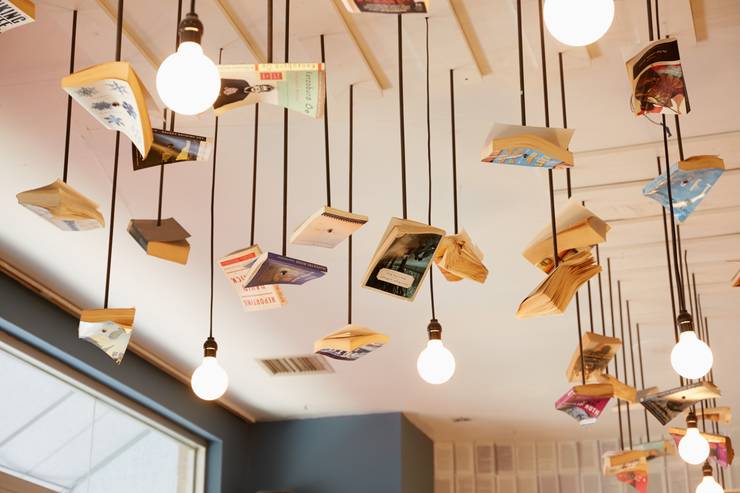 Thirty-five years ago Canadian Prairie city Winnipeg got its first large-scale bookshop, an independent outfit called McNally Robinson, opened by husband and wife Paul and Holly McNally. That beloved shop is still thriving today and 2,600km southeast in bustling New York sits its pretty little sister McNally Jackson. A seperate entity founded in 2004 by Sarah McNally, daughter to Paul and Holly, the newer iteration and original version may appear to be on opposite poles of the Earth but their principles are completely in sync: to act as an anchor in their respective neighbourhoods and expertly select the titles they stock.
Slender and spirited, Sarah took her first job in Winnipeg's receiving department at the age of 13. When she moved to New York it was for a stint in publishing but that was before she realised that she had far more access to a dynamic reading list as a bookseller. When she opened her own bookshop on Nolita's Prince Street at 29 her father Paul, also a woodworker on the side, built her bookshelves – identical to those in the Canadian shop – as well as a cash desk. About 12 years on her shop prides itself on being refined and trusted in all things, from its title range to its immaculate selection of paper goods.
"Stationery is important for us because it's a way to visually remind people that we have extremely discerning taste, which translates to books as well," says Sarah. Ever the entrepreneur, she decided to launch standalone stationery shop Goods for the Study in 2013 and print shop Picture Room in 2014; both are around the corner on Mulberry Street. "I wanted to test my competence – it makes me feel like this 
bookshop wasn't just a fluke." But her eye for design and literary judgement, and ability to choose passionate staff, have made McNally Jackson stand out in the retail monster that is Manhattan.
Despite her success, Sarah is aware that maintaining a sharp operation remains hugely important. "With retail you're always public," she says. "For 12 hours a day every mistake you make is on display." She reminisces about the impeccable quality of her mother Holly's housekeeping in the Winnipeg shop. "She had a gift," says Sarah.
Back in that immaculate Winnipeg shop her parents' legacy is continued by long-time employee Chris Hall after a lengthy three-year handover. "It says an awful lot about what they intended this place to be," says Hall, perched in the lofted children's section of McNally Robinson. "They could have sold the shop to someone else just for the money but they really wanted this place to continue as it was. That's something I take very seriously."
Hall has been stocking the shelves in Winnipeg since its grand opening – the day Margaret Atwood delivered a reading at the top of the central steps and the queue to get in the door was winding across the front car park. "The McNallys really got ahead of things," says Hall, overlooking the grand ground floor. "When this place opened the people of Winnipeg had never seen such a big bookshop." The draw isn't just about size though. Original owners Paul and Holly fostered community engagement through readings, events, on-site classes and even a dedicated section for Prairie authors – a priority from the get-go.
A shop in Saskatoon, which is still successful today, followed a few years later and by the time big-box retailers moved in, McNally Robinson had established itself as a buyer of great titles by lesser-known authors. It wasn't always plain sailing: other shops opened, didn't stick and eventually closed. "Winnipeg rose to our support," says Hall. "We couldn't afford to restock after Christmas one year and I swear people were buying books they didn't want because they wanted this place to stay." Perhaps Winnipeg is possessed of that small-town friendliness for a reason. "I refer to Winnipeg as the last exotic place in the world," says Hall with a laugh. "It's the last place nobody has even been to."
McNally Jackson
Founded: 2004
Number of staff: 52
Why it works: Set in downtown Manhattan, McNally Jackson has buyers who are on-point across departments. Even with a strong reputation, McNally doesn't rest – and same-day delivery by bicycle or hand within the borough doesn't hurt either.
mcnallyjacksonstore.com