National flavours / Canada
Food
Briefing
This issue we check out a Haitian hostelry in Montréal and sample Argentinian food in Toronto that's been perfected over generations. We also visit a surfing community that's become a culinary hotspot and taste a whole world's worth of tea. Join us for a tour of Canada's food frontiers.
Bows & Arrows Coffee Roasters
Vancouver
Victoria's Bows & Arrows Coffee Roasters recently opened its first bricks-and-mortar café on Vancouver's Fraser Street. While the priority for co-owners Drew Johnson and Nate Sabine is still top-notch coffee, they also serve small-batch beer, Canadian wines, cocktails and a west coast-themed small-plate menu.
Drinks and ingredients are sourced locally and the bread is baked in-house, where they also cure and smoke their own meat. Coffee beans are sourced from select regions around the world and roasted at the original location in Victoria. Despite the changes, the company is still committed to forming relationships with the people involved in every step of creating its products.
bowsandarrowscoffee.com
---
British Columbia's surfers seem drawn to Tofino in Vancouver Island's west – and some find it hard to leave. Recently it's those who stayed to start restaurants that have marked out the town as a food destination in its own right.
Tacofino's food truck rolled out in 2009, offering simple but tasty tacos. "I wanted to move to a place where I could surf after work and also support my family," says Jason Sussman, co-owner along with his wife Kaeli Robinsong.
Bryan O'Malley, Chris Neufeld and Dave McConnell began craft-beer outfit Tofino Brewing Company two years later. The trio brought in David Woodward, previously a brewmaster at Whistler, to develop a range of beer; its Tuff Session Ale pairs with just about anything.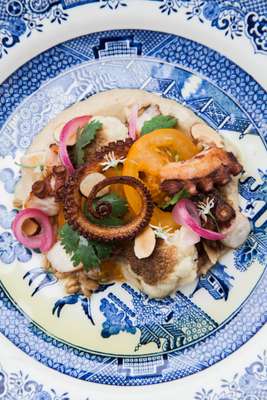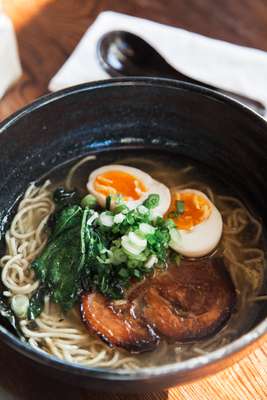 At Wolf in the Fog, Nick Nutting creates dishes from seafood caught at the nearby docks. Air Canada's Enroute magazine called it the best new restaurant in Canada in 2014. Then there's Mitsumi Kawai, set up last year by Kuma Tofino with her husband Rob Leadley. The noodle spot is usually packed with customers, who once included Justin Trudeau. "We're in a remote area but we have amazing ingredients and suppliers," says Kawai.
Four Tofino standouts:
Tacofino This bright-orange food truck serves tasty meat, fish or bean tacos.
tacofino.com

Tofino Brewing The slightly savoury kelp stout is made with seaweed from nearby waters.
tofinobrewingco.com

Wolf in the Fog As well as fresh seafood, this restaurant uses ingredients such as chanterelle mushrooms.
wolfinthefog.com

Kuma Tofino Signature dishes include okonomiyaki (a savoury pancake).
kumatofino.com
Canada's largest pork producer, HyLife Foods, sends 700 tonnes of meat to Japan each week. To raise its brand profile in its largest export market the Manitoba-based company opened HyLife Pork Table in Tokyo's Daikanyama district in September.
---
When Canadian band Arcade Fire's Win Butler and Régine Chassagne dined at Jen Agg's Rhum Corner in Toronto, they were impressed enough to invite her to collaborate on something in their hometown of Montréal. The result is Agrikol, a Haitian restaurant on Amherst Street.
The austere-looking building belies the festivities inside, where bartenders mix ti punch (a sugar-cane-syrup and juice punch) and sharing plates of lambi (conch) ceviche and griot (pork shoulder marinated in bitter orange) are turned out in quick succession. It's a bit chaotic but there's method in the madness. "It's a love letter to Haiti," says Agg. "It's basically a Caribbean stay-cation: steamy, loud music, dangerously delicious drinks and great food."
agrikol.ca
---
Chef Anthony Walsh's South American spot Leña is an ode to his mother-in-law's cooking. "It's about me being adopted into an Argentinian family through marriage," he says, adding that many of the recipes come from the family matriarch.
Housed within Saks Fifth Avenue's Toronto flagship, Leña is divided into three spaces as conceived by local practice Design Agency. The street-level area is art deco, the basement smacks of a 1930s speakeasy and the upper-level pavilion is a more discreet affair. Despite the separate spaces, it's chatty and cheerful throughout. Opt for the slow-cooked rabbit with escargot rice or any of the mariscos (seafood); snackers will be sated by the ample sharing plates.
lenarestaurante.com
---
Chef and restaurateur Daniel Costa has already improved Edmonton's food offering with Corsa 32 and Bar Bricco. His newest venture is more informal and with 80 seats (half of which are reserved for walk-ins) has more room too. The menu sticks to the formula that's made Costa a force in the city: unfussy but exceptional Italian fare made with ingredients sourced nearby. It's a simple but effective recipe that we hope he sticks to.
uccellino.ca
---
Westholme Teafarm
Vancouver Island
Located in the verdant hills of Cowichan Valley, British Columbia, Westholme Teafarm stocks and grows tea plants from around the world. The farm's respect for nature means that everything is handled from start to finish with the utmost care and without pesticides or artificial fertilisers. "It's our humble way of connecting people to nature and improving their lives," says Victor Vesely, who started the idyllic firm with Margit Nellemann in 2003.
The 1950s barn is home to a tea shop and tasting room where patrons can sample more than 100 in-house blends paired with tea-flavoured treats. Plus, there's a studio where Margit crafts clay kitchenware that is used for the tastings.
teafarm.ca
---
A decade ago property developer Mel Pearl joined forces with wine-maker François Morissette to cultivate a modest vineyard. Morissette employs an old-fashioned philosophy of picking grapes based on the look and feel of their skin – and it pays off. Today Pearl Morissette's bounty, including a lively riesling and oaky chardonnay, graces wine lists at the likes of Montréal's Nora Gray and Bar Raval in Toronto. Its flagship cabernet franc, an elegant and full-bodied red, can be found from France to Hong Kong.
Next year the winery's farmhouse is to be converted into a restaurant. Diners will be able to admire the view, enjoy produce from the farm and, of course, quaff the unrivalled Canadian wine.
pearlmorissette.com