Media / Global
Media
Briefing
This month's audio and visual highlights.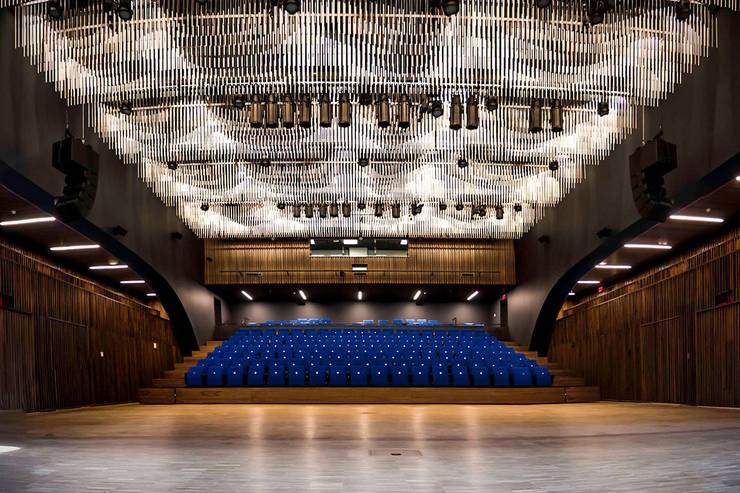 Vancouver has doubled up as the thick forests of Maine in fantasy drama Once Upon A Time and a zombie-filled Los Angeles in Fear The Walking Dead, while Toronto is often the location for TV series set in New York.
Although Canada has long been used to film glossy US dramas, its own TV sector is scaling up its ambition to produce its own edgy thrillers to compete on a global level. Commercial broadcasters CTV and Global lead in the ratings and although both acquire and simulcast a slew of US series, the battle for Canadian eyeballs is increasingly focused around original content.
The influence of Scandinavian dramas such as Forbrydelsen (The Killing) and Bron (The Bridge) is rubbing off on CTV: one of the network's priorities for next year is The Disappearance, a dark drama centred around a 10-year- old who vanishes on his birthday during a treasure hunt. The series, filmed in Montréal, is the first English-language series produced by Productions Casablanca. Meanwhile Global, owned by Corus Entertainment, is banking on Ransom (see below) and Mary Kills People, following Dr Mary Harris, an angel of death to terminally ill patients.
Public broadcaster CBC, which airs over 90 per cent local content compared to about 40 per cent for the commercial networks, also has a number of edgy titles on its slate. The Council is a Fortitude-meets-Trapped-style Arctic crime drama that tracks the ritualistic murder of an environmentalist near the Canadian hamlet of Resolute, while Caught, an adaptation of Lisa Moore's novel, is a six-part drug-smuggling drama set in Nova Scotia and Latin America.
However, it's not all edgy up north. The public broadcaster has also committed to two more instalments of family period drama Anne of Green Gables starring Martin Sheen.
---
Alias Grace: Netflix has partnered with CBC for this adaptation of Margaret Atwood's novel. The six-part series stars 11.22.63's Sarah Gadon as a domestic servant convicted of murdering her employers in 1843.

Ransom: Global is developing this drama based on the life of renowned crisis negotiator Laurent Combalbert. Game of Thrones' Luke Roberts leads a team, including a hacker, a therapist and a black belt, handling international crises.
Venue
Ring the changes
Calgary
Studio Bell, the new home of the National Music Centre, functions as a museum, education centre and concert venue and is dedicated to telling Canada's music story. "We hope to not only preserve and celebrate music in Canada but also instigate its future," says president and CEO Andrew Mosker. The complex consists of nine interlocking towers and has five levels housing studios, broadcast facilities and a 300-seat concert hall. The building has open spaces and lookouts throughout and was inspired by the shape of instruments.
studiobell.ca
Technology
Almighty sound
Canada
From stage-left enters an unusual piece of Canadian engineering, dreamt up and developed by none other than the sometime digital refusenik, full-time genius Neil Young. The PonoPlayer is a high-resolution, distortion-free digital-music device shaped, tantalisingly, like a miniature bar of Toblerone. Plus, according to Young, "It's the same as the iPod but sounds like God."
In our own test at Monocle headquarters it made Muddy Waters sound like he was alive and well and playing live between our ears, allowed Jenny Hval to sound even more ghostly beautiful than usual and Young himself sound like, well, his own surname. It comes with all the usual inputs and gear for the future and also, beautifully, buttons. And did we mention that it sounds like God?
ponomusic.com
---
Q&A
Paddy Harrington
Founder of Frontier
Toronto
Based in Toronto, Frontier magazine is a celebration of the fearless bravado that every entrepreneur must possess. Founder Paddy Harrington also runs a design studio that helps nascent companies establish their brand identity.
Why the focus on entrepreneurial risk-taking?
We believe that the world needs more creative risk-takers. We've all had the experience of believing passionately in something but being put off by the fear that comes from job insecurity and financial worries. But it's often more risky not to take a risk. We want to share the stories of people who have taken this step and then hopefully inspire others to take a risk of their own.
You have a design studio and a ventures group supporting start-ups. Why the need to start your own magazine?
The magazine is how we explore the world of design and creativity and learn more about people and projects we admire. It's also us putting our money where our mouth is: starting a magazine from scratch is no easy business. We believe in it enough to keep making it better.
How do you choose which stories to feature?
It can get tricky because sometimes our clients have stories that excite us but there's a risk of crossing the line between editorial integrity and advertising. But we work with people that we admire and if they happen to have a story worth sharing, we tell it. And since we're all designers, strategists and writers we have an inside track on many great stories because we're passionate about our subject.
frontier.is