Kissa Tanto / Vancouver
Mixing it up
We tuck into some top Japanese-Italian specialities in a converted Chinatown shophouse that doesn't miss a beat.
"We imagined Kissa Tanto as a little secret hideaway," says Tannis Ling about the restaurant she started with Ottawa-born chef Joël Watanabe and sous chef Alain Chow. Since opening this spring, it has lured a steady stream of Vancouverites to the upper floor of a shophouse in gritty Chinatown. Visitors can sample strange-sounding Japanese-Italian plates such as tortellini in a parmesan-dashi broth and millefoglio tonkatsu (a deep-fried cutlet of thin layers of squid and pork).
Kissa Tanto follows the success of Ling and Watanabe's Chinese joint Bao Bei, which kick-started Vancouver's line-up of busy restaurants dedicated to sharing dishes. The menu of their second venture is an altogether more honed affair. "Our interior designers wanted a more defined food concept to start with," says Watanabe, who is half Japanese and half French. "So I just threw out Japanese-Italian as an idea. Everybody liked it and it stuck." Kissa is an old-fashioned Japanese word for "café" and tanto means "a lot" in Italian; the name reflects the ethos of the establishment.
Taking cues from the (sadly now defunct) modernist elements of the Hotel Okura in Tokyo, Japanese folklore and the works of the Italian architect and designer Gio Ponti, interior design firm Ste Marie masterminded the creation of this modern-day jazu-kissa.
"The first thing you'll notice is that the ceiling is curved and we painted it with a high-gloss," says Ling of the technique that was ubiquitous in Tokyo cafés during the 1960s. As she speaks, mellifluous jazz melodies can be heard playing softly in the dimly lit dining room behind her. Salmon-coloured banquettes line the walls and banker's lamps mark pockets of privacy in the booths and along the 14-seat bar. "We want to take you away from your everyday life and transport you to somewhere romantic, moody and dark, where you can meet somebody and fall in love," says Ling.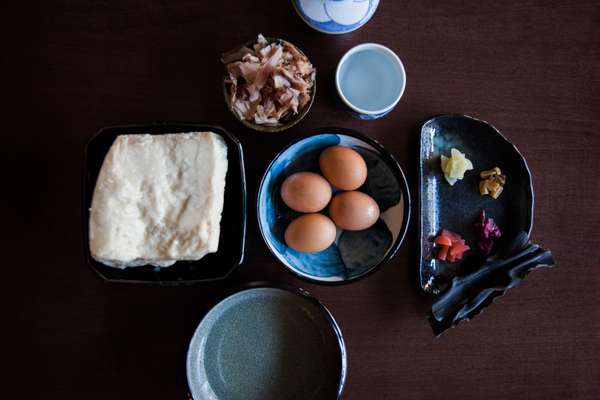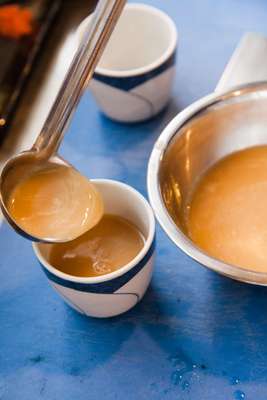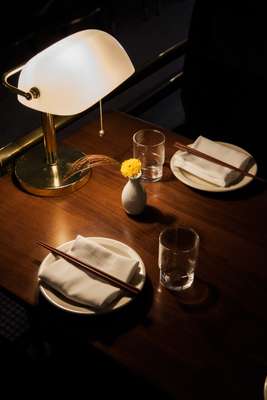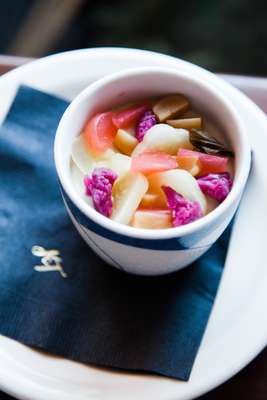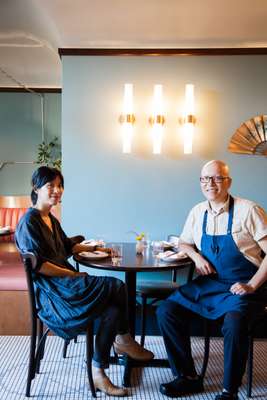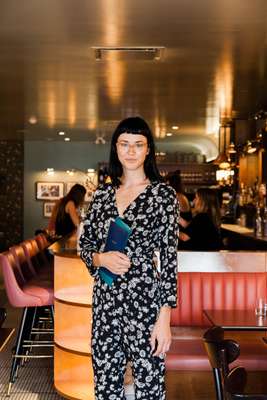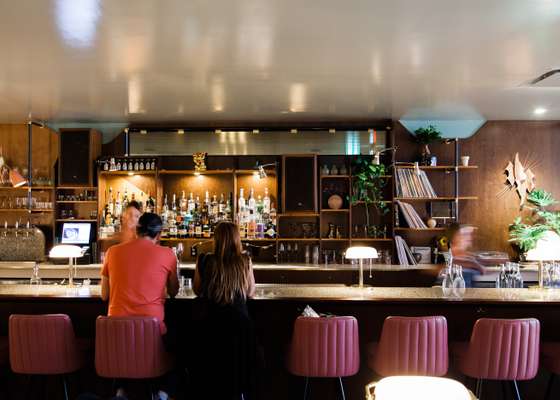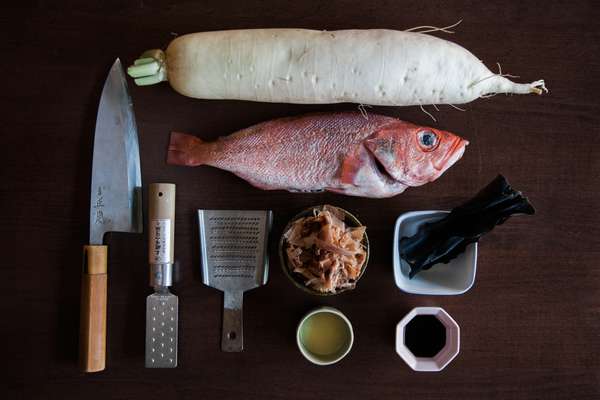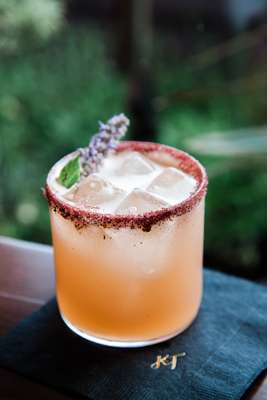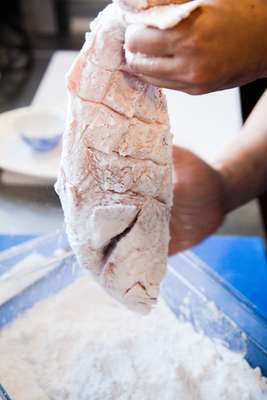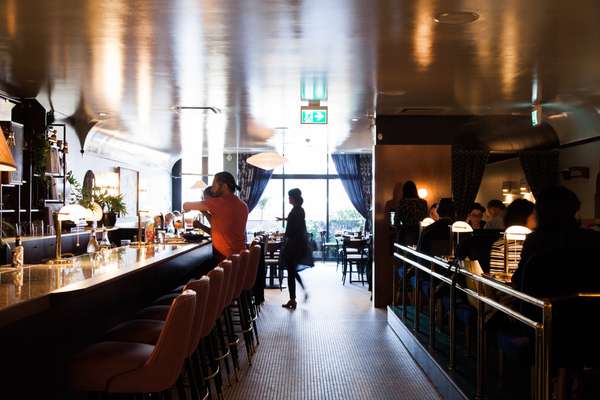 It's also easy to fall in love with the food here. Watanabe's 25-year career in the culinary world – including a decade as a sushi chef and years in Italian and French restaurants – is evident. "Some of it comes from my personal life and my family but after this long it's hard to tell what's being influenced by your childhood and what's being influenced by your professional cooking experience," he says.
The produce is sourced within British Columbia and the dressings, pickles and garnishes prepared in-house. Items such as ricotta and parmesan comfortably share space on the ingredients list with wakame and a shiso vinaigrette.
It's testament to Watanabe's finesse that ingredients and techniques from two different cultures can come together seamlessly and, indeed, enhance the best aspects of each other. The sourdough bread benefits from the savoury umami of the nori butter while the light dashi broth brings out the natural flavour of the potato in the tortellini; meanwhile the tartness of the ponzu sauce in the rocket side salad cuts through the saltiness of the grilled hangar steak.
While every aspect of the menu and interiors seems to be painstakingly thought out, the secret – according to Watanabe – is to not overthink things. "There's a tendency, especially among young chefs, to get influenced by what's going on and to intellectualise food way too much," he says. "But as soon as you start removing your heart and natural instinct, you'll go askew."
kissatanto.com
---
Recipe 1: Parmesan chawanmushi
Serves 4

Ingredients

For custard:
4 eggs
½ tbsp salt
1 tbsp mirin
1 tbsp Japanese soy sauce
20g grated parmesan
For dashi:
500ml water
20g bonito flakes
15cm piece of konbu (kelp) seasoned with white or regular soy sauce
Japanese pickles to taste
The method
To make dashi, boil water and then turn off heat. Add bonito flakes and konbu. Leave to rest for at least 45 minutes, then strain broth.
Preheat oven to 220C. Blend ingredients for custard, add dashi and strain through a fine strainer.
Pour 120ml of mixture into four heat-proof ramekins and cover tightly with cling film and then tin foil.
Put them in a bigger oven-proof pan of boiling water. Cook in water bath in oven for 30 minutes or until just set.
Garnish with pickles and serve.
---
Recipe 2: Fried fish
Serves 2


Ingredients
For fried fish:
1kg fresh whole white fish, gutted and patted dry
500g Japanese
potato starch
4ltrs vegetable oil for frying
Pinch of salt
For tosa joyu
dipping sauce: 180ml soy sauce
60ml water
60ml saké
60ml mirin
8cm konbu (kelp)
40g bonito flakes
240ml citrus juice (yuzu, lemon, lime or a mix)
240ml dashi (see recipe above)
30g daikon (winter radish)
The method
For tosa joyu sauce, combine soy sauce, water, mirin and saké. Bring to boil, then simmer on very low heat with konbu for 30 minutes. Turn off heat, remove konbu and add bonito flakes. Leave to rest overnight. Strain.
Mix two parts dashi (from the chawanmushi recipe) with five parts tosa joyu and three parts citrus juice.
On a Japanese grater, pulp daikon, then strain it and keep pulp.
Heat oil to 180C in a deep pan with plenty of extra room.
Score fish with 2cm diamonds, cutting flesh to bone. Completely coat fish in potato starch.
Deep-fry fish until just cooked. Check by piercing thickest part of fish near bone. Flesh should be opaque and come away from bone easily.
Drain off excess oil and season with a little salt.
In a dipping bowl form a small mountain of daikon and surround with tosa joyu. Serve fish and sauce together.