AML / Stockholm
Practice makes perfect
Upgrading premises to cater for growth can be painful but one Swedish architect has moulded a 1930s apartment into the ideal replacement for his firm's much-loved former home.
On Stockholm's 3.9 sq km Kungsholmen Island is a healthy collection of early and mid 20th-century office and apartment blocks, nice cafés and an ever-increasing number of young people and entrepreneurs. One, name-marked by simple chrome lettering on its floor-to-ceiling ground-floor windows, is AML, the busy architecture practice of 39-year-old Andreas Martin-Löf.
It's not where AML got its start, however. Some might have said Martin-Löf used to have the ideal office: a warren of cosy rooms set on a leafy courtyard in the city's trendy Södermalm. In the summertime, the handful of employees at his eponymous firm would bask in the sunshine, eating lunch at outdoor tables while catching up with Martin-Löf's aunt, who kept a glassworks studio in the same building.
Yet the idyllic Södermalm dream wasn't to last. Andreas Martin-Löf Arkitektur (AML), founded in 2008, has been very successful and its team has expanded accordingly. This latest stage of its story was kicked off by two key projects: an innovative prefab student-housing project and a summer home 30 minutes outside of Stockholm, which Martin-Löf built for himself. Each garnered the architecture practice praise and press coverage. As more work rolled in, a property hunt began.
"In Sweden there's basically zero per cent unemployment for architects – right now, anyone who wants a job has one," says Martin-Löf. "As an employer, it's so competitive."
A good place of work, in the physical sense, can help make the difference in attracting or keeping the right talent. In fact, it's an expectation of employees.
Martin-Löf decided to buy his next office and was close to a deal but moments before signing the contract he received a call: an office space in a waterside, modernist building near Stockholm's city hall was up for rent. "As soon as they opened the door to it, I said 'Yes."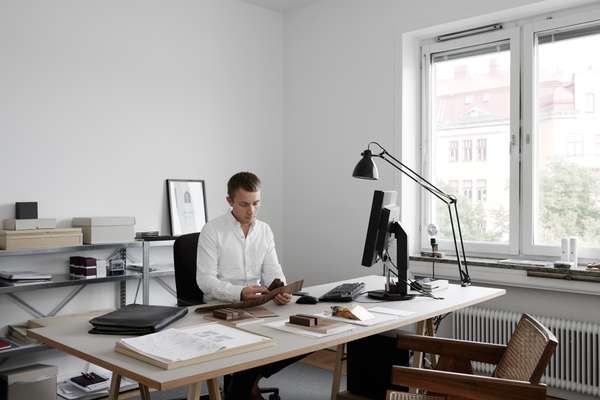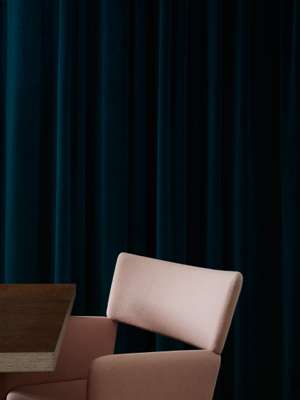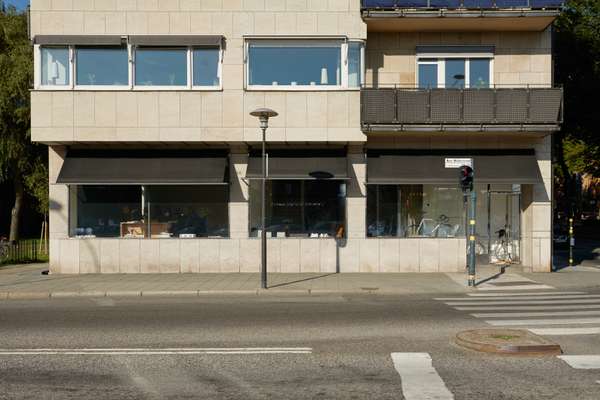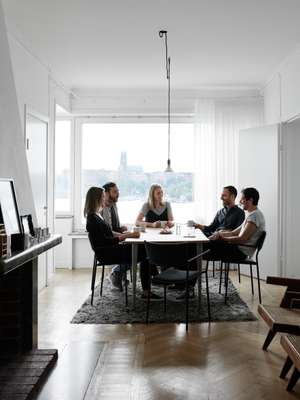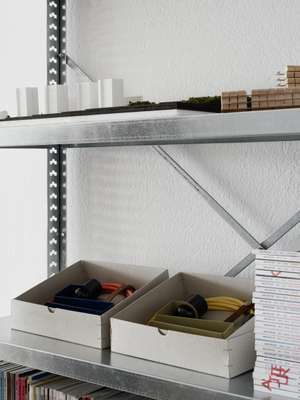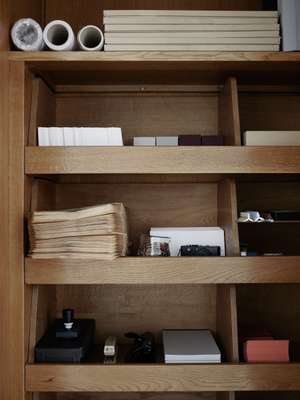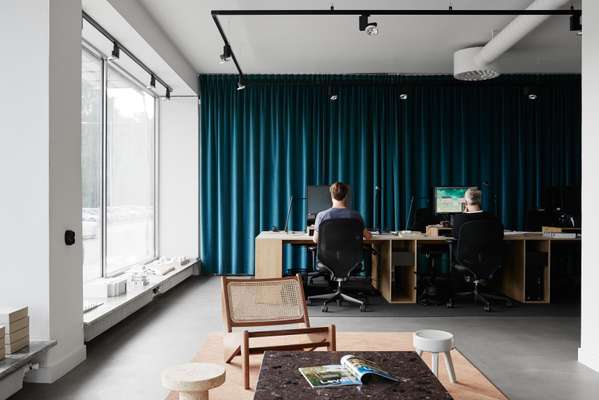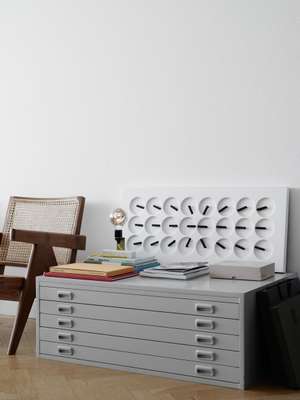 The reason was its views: an impressive panorama over the bay and towards AML's old haunt of Södermalm. The building, too, has an interesting past, a plus for Martin-Löf who is a history lover. Completed in 1936, it was designed by Ture Ryberg as the headquarters of AB Aerotransport (a Swedish airline, later part of the SAS Group). The space AML occupies was a ground-floor ticket office and more recently a bridal shop.
To navigate between these two separate parts you have to cross a communal corridor and ride a lift up four floors. This is a minor inconvenience but it's made enjoyable by the building's dignified design: the corridor is almost entirely clad in green Kolmården marble and the doors are warm oak, as is the panelling inside its old-style lift. "It's a journey," says Martin-Löf, with a smile. "Plus, telling the story of the building makes for good small talk when first meeting clients."
There are other things, besides elevation, that differentiate the two office spaces. The ground floor is open-plan, combining two banks of desks, reception-area seating, a kitchen and a glass-walled boardroom as part of one physically and visually unbroken space.
Upstairs, as you'd expect from a former residence, the layout is home-like. The furniture is much the same but somehow here it comes across as a little less sleek, a bit more casual and nearly slapdash – but to charming effect.
A small balcony off Martin-Löf's corner office has become a popular communal space: "Everyone takes their coffee breaks here."
The result of its upstairs/downstairs dichotomy is something that new creative offices often try to accomplish but usually make a mockery of: different types of working spaces for people who prefer either the buzz of open-plan or the calm of separation. Without effort, AML manages to avoid the clichés of contemporary office-planning. Breakout spaces? No sir, rather a variety of comfortable spaces for ad hoc meetings. Even the boss's balcony? Certainly.
A key to AML's next-level success was when it began to mix its high-end projects with low-end ones, notably the student-housing project. Its office, too, mixes high and low. "Opposites attract," says Martin-Löf.
At AML you'll find a collection of chairs by Pierre Jeanneret (cousin of Le Corbusier) as well as Vitra task chairs, a cork stool by Jasper Morrison and, in the boardroom, pink upholstered easy chairs by Massproductions. But, side by side with these, are Ikea pieces and no-name vintage finds salvaged from job sites.
Everywhere this story is told: bespoke grey or brown linoleum-covered tabletops sit on "cheapest you can buy" trestles; a basic black shelving system by Elfa is customised by placing matt-black boards between the rails (unifying it with some custom-built cupboards); and, working away, sharply dressed young architects pin up drawings onto string by means of basic butterfly clips.
Martin-Löf defines AML's brand as "understated elegance" but it's also unstuffy and even has a hint of irreverence. Tucked away in the model-making room, for now, is a 1.5 metre concrete replica of Michelangelo's "David", left over from a lounge design for this year's Stockholm Furniture Fair. In the reception area is what, in some other context, might seem tacky: a rug printed to look like wood parquet. Here it's playful.
There's a good mix of textures and materials too, also something of an AML trademark. They have preserved or restored the chrome and marble that was original to the building and added natural and painted wood, wool, steel, concrete, velvet and linoleum.
Meanwhile, Martin-Löf manages to avoid simply stitching together design classics, as is too often the tendency elsewhere; AML's offices strike a balance. Just as with its own architecture, which seems rooted here in Stockholm but still transcends "Scandinavian", the practice's office is both familiar and entirely of its own.