Rural retreats / Canada
Raw materials
Canada's architects know all too well that its wilds cannot be conquered; instead they're working with the wilderness to create a new kind of structural language. We go cross-country to visit three rural retreats and meet the people who collaborated with nature to build them.
Canada's dramatic coastlines, diving valleys and wood-lined lakes have long attracted adventurous settlers. Over time the dwellings that have sprung up in these remote locations have formed a unique architectural language for the Canadian countryside. It's a nuanced style in which resourcefulness, patience and local materiality prevail and one we feel is worth admiring.
With this in mind we laced up our hiking boots and trekked from coast to coast to survey the nation's best country retreats. What quickly became apparent is that working (and living) within those picturesque rolling hills and rugged shores is not always easy. In places prone to howling storms, scorching sun and the occasional avalanche it's practicality that prevails.
It's for this reason that the architects we have highlighted are those who choose to work with this unforgiving terrain rather than master it – and in the process form homes that perfectly frame Canada's remarkable and varied great outdoors.
---
01.
MacKay-Lyons Sweetapple
Nova Scotia
Nova Scotia's settler communities didn't care much for flourishes; pragmatism was the keyword for the coast's farmers and fishermen. Architect Brian MacKay-Lyons says that the houses were built with "whatever they could get their mitts on" to withstand the temper tantrums of the Atlantic. MacKay-Lyons and his firm MacKay-Lyons Sweetapple have spent decades exploring the mythology and potential of this austere starting point, building a contemporary style from that traditional form in the eastern province.
Point House is the latest of his firm's projects in the town of Upper Kingsburg, the site where Samuel de Champlain first made landfall in Canada in 1604. It sits apart from those on his own property Shobac (named after the high cliffs that stand next to it), which has grown from a forest dotted with settler foundations into an architectural laboratory and "off-road alternative architecture school". Now it functions as a working farm and satellite office for the firm.
Point House is a private residence just down a dirt road from here, on land that was traditionally a fishing port. It comprises two cedar-shingle structures – a cottage and a boathouse – whose clean lines are exaggerated by their lack of eaves. The minimal aesthetic mirrors that of the earliest settlers' houses, which needed to hold up against the coast's freezing-and-thawing cycles.
"What makes it look modern is the use of 400-year-old building practices," he says. "The more stripped down and pragmatic, the more minimalist and modernist. What makes it timeless is what makes it contemporary."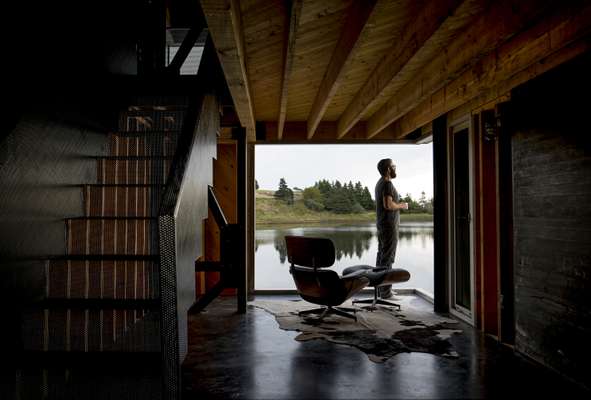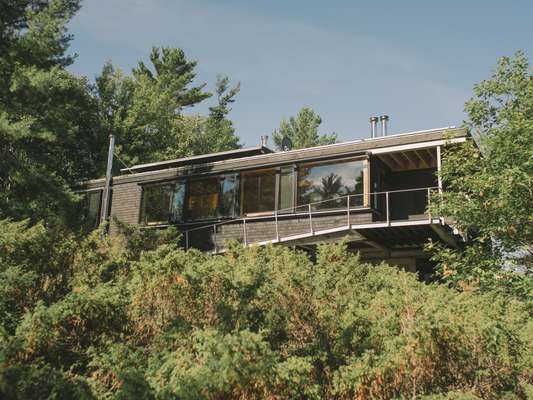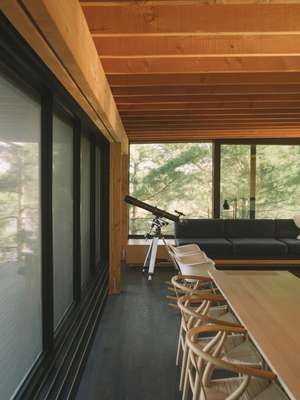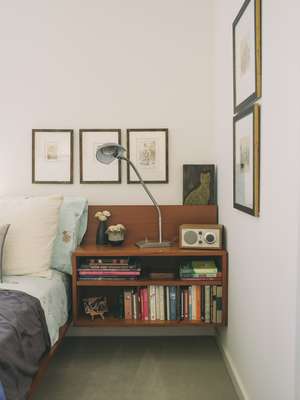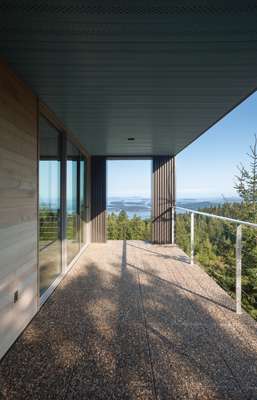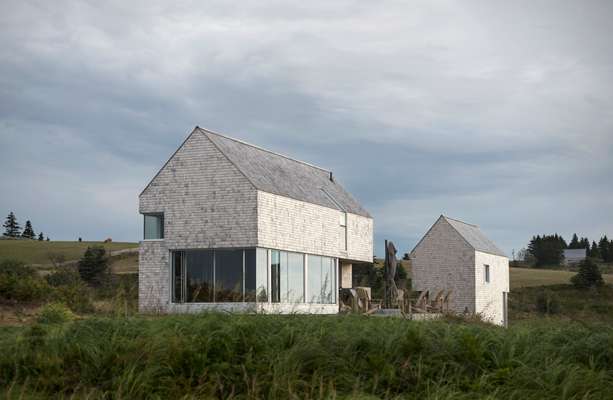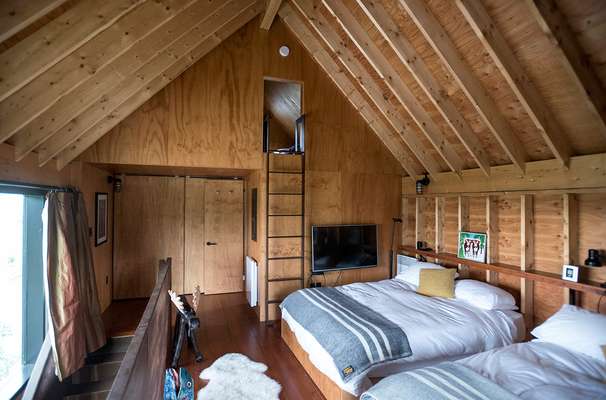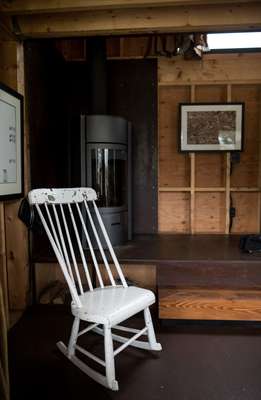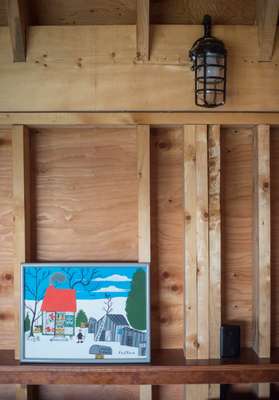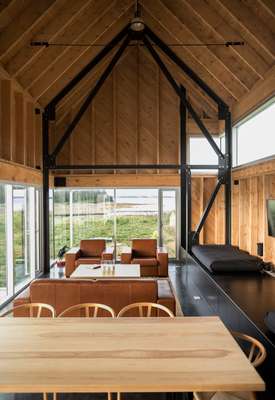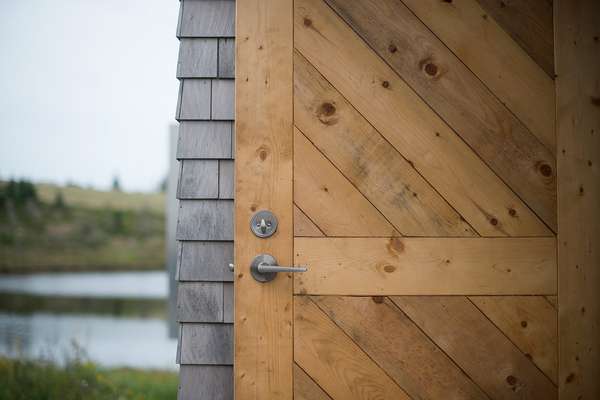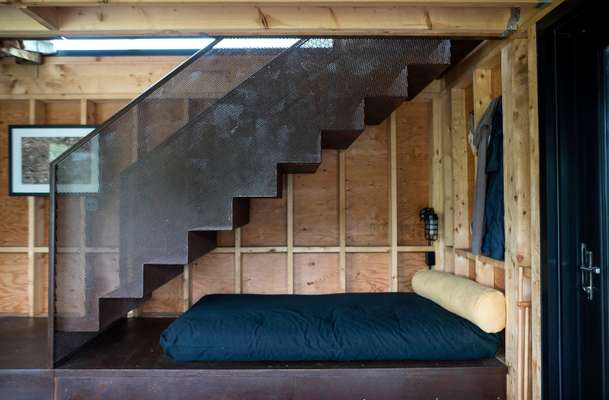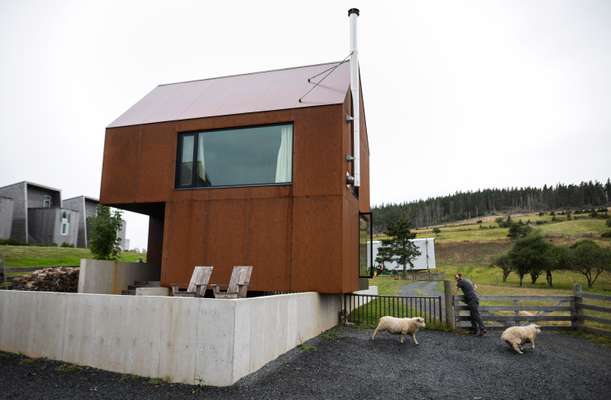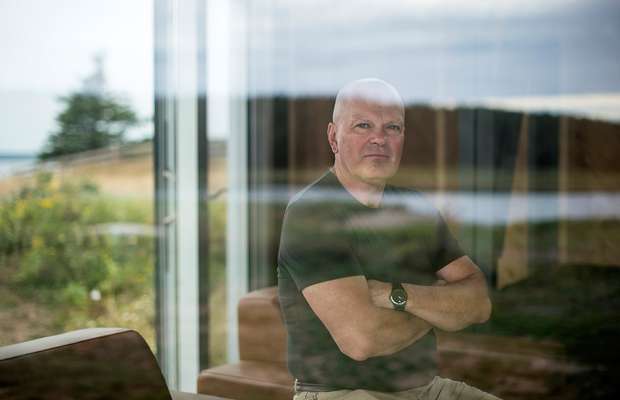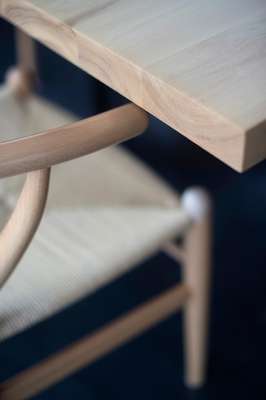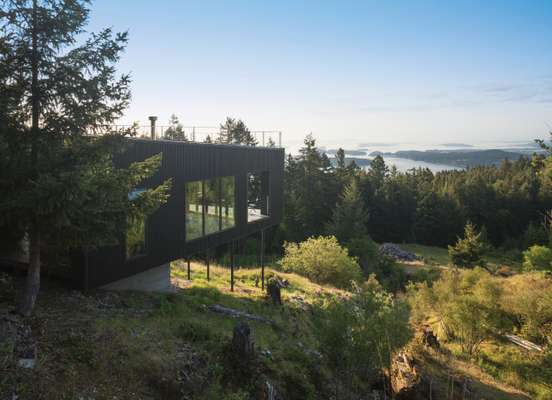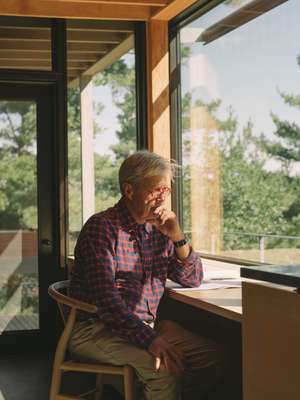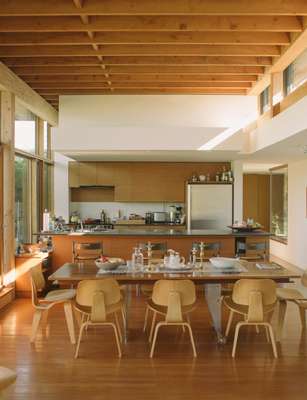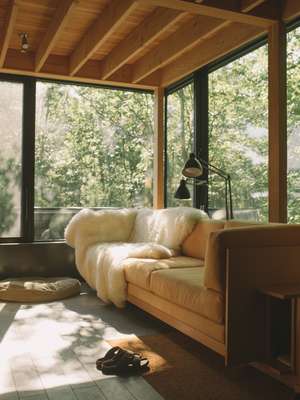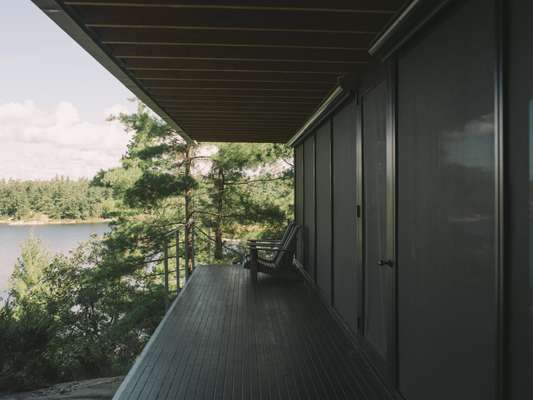 The house sits in a tidal zone, raised on structural concrete fins that channel the wind loads and tidal rips beneath. According to MacKay-Lyons the waves, presented through a glass-wall pavilion not visible to those encountering it from the shore, are simply the end point of the experience. The real architecture, he says, is in the journey between the buildings, up the stairs into a structure defined by an exposed black steel truss and a traditional central hearth, where meaning shifts as you move through the space. "The real content is the procession," he says. "You make a very banal little house into a big journey."
When starting with a style informed by hardship there is a risk of romanticising a genuinely difficult past. But for MacKay-Lyons there is something more universal to be found in his constant inquiry into the Canadian landscape.
"Usually the thing that gets fetishished is craft," he says. "We think you can take ordinary things and combine them in an interesting way for almost nothing, simply by watching which way the wind blows, where the sun comes up; by looking at how to make a protected place in the landscape."
---
02.
Todd Saunders
British Columbia
"Every Canadian has memories of a rural childhood," says architect Todd Saunders, whose summers spent running barefoot around his family's rural property deeply informed his work. "I grew up with my material palette."
Today he works between his homeland and Norway, where his firm is based. He describes Norway as Canada's "twin country", sharing "the same bears, meats and fish". There's also a shared love of the simple practicality and durability of sturdy timber structures, particularly in the coastal realm. Saunders is celebrated for his architectural work in rural Newfoundland, where his boxy wood-clad hotel and artists' studios appear to clamber over rocky outcrops on stilts. Striking but not showy, they reveal the unpretentious nature of his practice.
"There is an enormous respect here for nature and that is the parallel between Canada and Scandinavia," he says. "For our projects we won't cut down a tree, we will build a house around it; our aim is to make sure it looks like the building has always been there."
This approach is highlighted by the Salt Spring Island House in British Columbia, where the client, landscape architect Nancy Krieg, looked for a getaway home in the deep outdoors. A feature of the sloping site was a small waterfall, which as Saunders puts it could either be "destroyed or framed". He chose the latter, dividing a workspace and a home between two buildings connected by a walkway. "It's like a lumberjack's cabin in the woods," he says. "It's very utilitarian." Saunder used corrugated metal plates in combination with cedar to bring a touch of warmth to the property, a big tradition in the area.
Overlooking serene Puget Sound, owner Krieg enjoys sunsets from a quiet garden set on the property's rooftop. "As an architect I'm always thinking about what's happening outside the house," says Saunders. "To Canadians it's more important than what is happening inside."
---
Compared to some of the cottages on the shoreline, the single-storey cabin belonging to Toronto architect Ian MacDonald seems bashful. From across the lake on a tiny inlet called Go Home Bay, you can only just see the outline of his modest black cabin perched atop a rocky scarp, partially hidden amid the foliage.
With a façade composed of black cedar shingles, the structure's discreet posture is deliberate; a green roof makes it blend in with the surrounding trees even more. Many Canadians now have holiday residences in cottage country, resulting in a tendency to build carbon copies of their city or suburban homes. "Look at that cottage," says MacDonald, pointing at a white two-storey edifice towering above the treeline. "Why come all the way up here to build a generic house that could be in the suburbs?"
MacDonald considered the natural attributes of the site when he created his family cabin two years ago. The outcome embodies how nature is a force to be admired, respected and leveraged (but not overcome) when one lives in rural Canada. The building comprises three bedrooms, a kitchen and a living room. However, you won't notice the small size thanks to clever design interventions. Customised sliding screen doors convert the living room into an airy porch that steps out onto the large rock upon which the entire structure sits.
While some other cottages are biased towards lake views and neglect the surrounding forests inland, MacDonald fenestrated his cabin to give it a 360-degree view, allowing him to appreciate the seasonal character of the bay.
The lasting qualities of many of these architectural principles are evident in another country home that MacDonald designed, a three-hour drive away in Erin township. Restaurateur Carl Korte and his wife Judy Stein-Korte tapped the architect 15 years ago to build their dream home on an undulating meadow with a pond at the base. Here MacDonald has demonstrated his expertise in creating homes in which residents experience nature in a sensitive manner.
While some architects may be tempted to level the ground or position their home on the highest vantage point, MacDonald convinced the couple to situate their residence in a dip in the terrain, cradling the pond at the front and hiding the house from view from the main road. "As much as you can't 'own' nature, this is a view that we very much do own," says Stein-Korte.