The Leader / Global
Time to shine?
In recent years Canada has become the envy of liberal nations the world over but the country still has work to do if it is to truly cement its position as a global leader. In this issue we outline all that's great about the Great White North and suggest a few ways that it can make its new-found dominance last.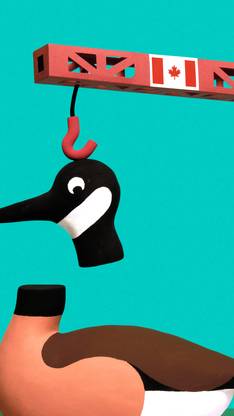 Several years ago I sat down with a senior Canadian diplomat in Singapore. What was meant to be a meet-and-greet breakfast quickly turned into a therapy session for a man frustrated with his post and the general state of the nation. "We're a shadow of our former selves," he said. "All across Asia the Kiwis and Aussies run circles around us from trade and cultural perspectives. They have extraordinary networks that Canadians can't compete with." In less than 10 minutes I had been offered a detailed overview of all that was wrong with not just Canada's diplomatic efforts globally but also the fundamentals of why we were no longer pulling our weight internationally.
It was a familiar story. I'd had similar conversations with fellow countrymen in various corners of the world, across a variety of sectors, including retail, media, finance, technology and design. "It's simple: we're too comfortable," said the diplomat. "Young Canadians don't get out and travel like they used to, they don't live abroad to gain experience and that has an impact on business and our economic development. It's very simple: we need to get out there and we need a better story."
Fast-forward to this time last year and the picture had shifted dramatically. My country had elected a new prime minister – someone with the right pedigree and the youth and looks to land him on front pages and somewhere close to the top of international newscasts. After a decade of colourless leadership under Stephen Harper and miserly management by his foreign minister, Canada looked like it might just have the opportunity to stride back onto the world stage. Would the new government seize the opportunity? What would the cabinet look like? Most importantly, would anyone care if Canada came knocking again?
One year later and it's safe to say that Canada is having something of a moment: the world knows who's leading the country (a welcome change for sure), the diplomatic message has shifted (more funding for soft-power essentials such as culture), there's spending on infrastructure, the cabinet's full of fresh ministers and the door is wide open for those with the skills and talent to make a solid contribution. Next year will also mark the nation's 150th birthday so there's also an excuse for a few big bashes over the coming months.
However, in a world of ever-shrinking attention spans Canada needs to move swiftly to capitalise on the heightened awareness and interest. Justin Trudeau might be enjoying a longer honeymoon than most newly elected leaders can expect but he needs to buckle down and start coming good on his election promises and demonstrate that he can lead effectively at home and abroad. For a start he could put in place some policies that incentivise young Canadians to travel and live overseas for extended periods for study and work. Who wouldn't want an apartment full of smiling, well-mannered students from Saskatchewan and New Brunswick next to them in Lyon or Berlin? He could also give a jolt to the emaciated news division of the CBC and become an alternative voice from the North American continent and beyond.
Canada has a strong history of turning out solid correspondents and editors but it needs to ensure that it has the outlets to foster a new generation of columnists, cub reporters and newsreaders. On the infrastructure front there's a need for projects that not only create jobs but also ignite excitement internationally. Why not build the world's first fast-rail corridor linking up Montréal, Toronto, Detroit and Chicago? How about turning Vancouver International Airport into the most important hub in western North America? What about rethinking Canada's second and third-tier cities so that they became the most attractive communities in the world for retirees?
Canada's greatest challenge as it moves towards its bicentennial is that it needs to step out of its comfortable attire and sharpen its appearance, marketing and communications. With so many great things on offer – how many people know that the country has a summer culture to rival that of the Nordics or such a stellar line-up of musical talent? – the culture needs to shift from one of "good enough" to one of global excellence. Fortunately, as our correspondents and editors found while criss-crossing the world's second biggest nation, there's a desire to make it happen.
---
Population: 36 million
Land mass: 9.9 million sq km
Space per person: 275,000 sq m (that's about 173 ice-hockey rinks)
Population that live within 161km of the US border: 75 per cent
Average income: CA$33,000 (€22,000)
Unemployment: 7 per cent
Daily newspapers: 103
Countries that Canadians can visit visa-free: 172
Canadians born elsewhere: 20 per cent
Maple syrup and sugar exported a year: 38,400 tonnes