Best global design / Global
Worldy goods
From chairs, lights and blinds to shops and office fit-outs there's a wealth of exciting designers out there. Here's our sampler of our favourite finds.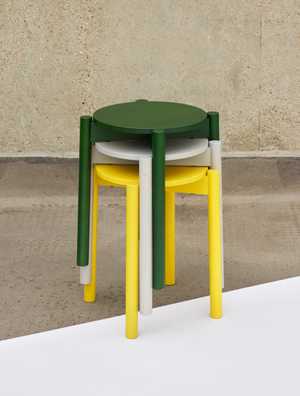 01.
Best stackables
Karimoku
Japan
Facing high labour costs at home and cheap imports from elsewhere in Asia, the future looked worrying for furniture-maker Karimoku. But the company tackled the problem head-on with its 2009 line of homeware, Karimoku New Standard. The idea was to bring something new to the market by focusing on fresh designs and working with sustainably sourced Japanese woods, often from small trees destined to be pulped. Among the new releases for 2016, we like the Castor Stool Plus. Designed by Lausanne-based studio Big-Game, the handy stacking stool is made from oak and comes in green, yellow, grey, black or natural.
karimoku-newstandard.jp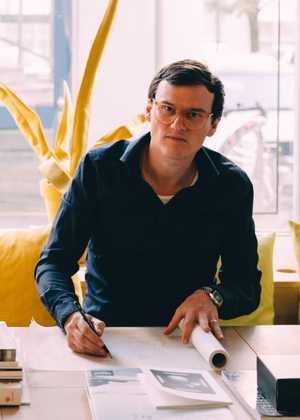 02.
Q&A
Chris Middleton
Co-founder at Kinzo
Berlin Germany
As German companies discover the value of attractive offices as recruitment tools, Kinzo has made a niche of designing for this domain, with a client list including SoundCloud and energy company 50Hertz. We talk to co-founder Chris Middleton.
What do you educate your clients about?
One, acoustics. You have to be able to lower your voice and still be heard, no matter how big the office. Two, lighting. Some spaces have to be very bright, others need only a low light to promote a different kind of communication. Three, the sequence of rooms; especially in open-plan offices, we have to avoid fragmentation. Standard office furniture is made for small rooms and that's why we try to design our own furniture or group them in larger formations. And four, materials and plants. We make some areas more attractive than others to promote movement.
If workspace design is about the wellbeing of staff, what are they asking for? Communal lunch and leisure activities. People don't want playgrounds but spaces that can be used in a variety of ways. At SoundCloud we built a huge community area that's open to guests and it feels like a market square. It works because the space can breathe with 10 people as well as with 250.
kinzo-berlin.de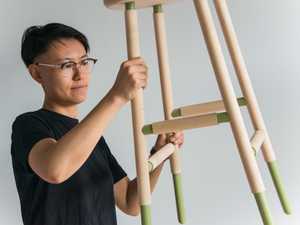 03.
Q&A
Bowen Liu
Furniture designer
Beijing-born Bowen Liu came to upstate New York in 2013 to study furniture design. Though the 25-year-old wunderkind is only just at the end of her programme, her bentwood designs are both sophisticated and honed. She's a newcomer to watch.
What defines your furniture pieces and the materials you use?
I'm focused on making works that enhance the dining and living experience. The first idea was to make a serving trolley. I think it is a unique and better way to serve my guests. I like to divide gentle curves, linear lines and symmetrical shapes to provide peaceful and harmonious feelings. That's how I imagine contemporary residential life to be. With regard to materials, I like the nature of wood so it became the primary material I use.
What inspired you to feature bentwood so much in your work?
Bending wood is a traditional technique and Alvar Aalto is also a huge inspiration to me. I want to provide some gentle feelings with my pieces of work, which is why I decided to bend wood. The technique really helps me to pursue this goal. I like both the effect and the texture of the material.
bowenliudesign.com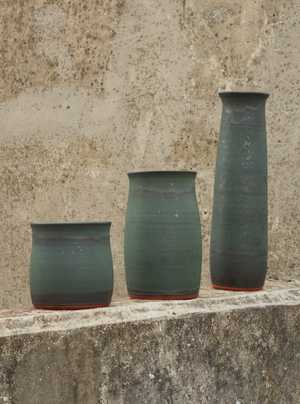 04.
Best vessels
Reiko Kaneko
UK
British-Japanese designer Reiko Kaneko took 18 months to perfect the glaze for these hand-thrown terracotta vessels. A respected name in the recent British pottery revival, she sourced talent from Suffolk's terracotta industry to refine the pieces.
reikokaneko.co.uk
05.
Best boards
Normann
Copenhagen, Denmark
Each of the solid oak boards in the Part series, which was designed by Simon Legald for Danish design staple Normann Copenhagen, was thought up with food in mind. Grooves in the meat and bread boards retain juices and crumbs, while little indents in the vegetable and sandwich boards prevent ingredients from sliding off.
normann-copenhagen.com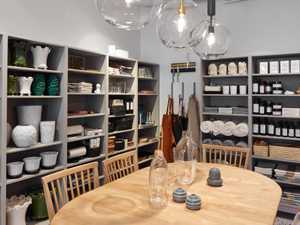 06.
Best Swedish shop
Carl Malmsten
Sweden
Malmstenbutiken, the shop in Stockholm housing the collection by furniture-maker Carl Malmsten, has been transformed by Swedish interior architect Mikael Bergquist. The new space is airy with whitewashed walls, marble tiles, wooden details, an attractive skylight and gorgeous carpets by Dutch designer Hella Jongerius. Malmsten's designs and the refurb capture a Swedish spirit that's elegant yet still humble.
malmsten.se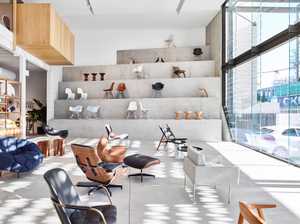 07.
Best design down under
Living Edge
Australia
The pieces inside furniture supplier Living Edge's Brisbane showroom bathe in sunshine filtered through a patterned exterior screen. The façade attracts shoppers, one of many clever touches by architecture firm Richards & Spence. From a precast glass-fibre reinforced-concrete counter to a stepped display system, a sense of scale has also been masterfully handled.
richardsandspence.com; livingedge.com.au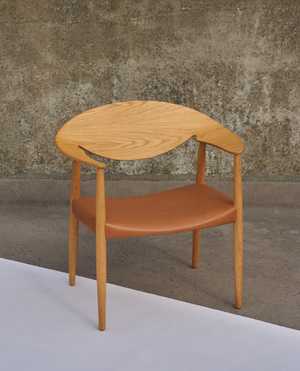 08.
Our favourite reissue
Carl Hansen
Denmark
Ejner Larsen and Aksel Bender Madsen honed their functionalist style under the guidance of Kaare Klint to create the Metropolitan chair in 1949; it was re-released by Carl Hansen in 2014 and recently updated with this elegant cognac leather cover. The oak frame has been built with sockets rather than screws, while the seat and backrest carry a slight tilt and curvature for natural comfort.
carlhansen.com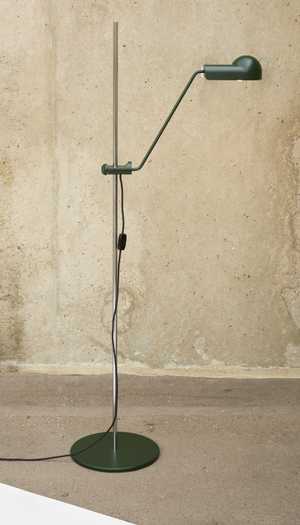 09.
Most functional lamp
Karakter Copenhagen
Denmark
With his original Domo floor lamp, the late Cesare "Joe" Colombo showed his aversion to rigid shapes; its bends grant a softness to its austerity. Designer Christian Elving launched Karakter Copenhagen last year to revive such functionalist design; in reinterpreting Colombo's works Karakter has made wall-mounted and table versions that expand upon but retain the lamp's character.
karakter-copenhagen.com
10.
Best for blinds
Persiana Barcelona
Spain
For years residents of Barcelona's Raval district had been replacing their traditional wooden shutters with sheets of multicoloured plastic and frayed shower curtains as more impermeable protectors. Architects Pau Sarquella and Diana Usón came up with a tidier solution: made from waterproofed wood and designed to allow ventilation, their blinds have a more suitable palette.
persiana-barcelona.com
11.
Best for a perch
Studioilse
UK
Studioilse, the London-based firm of Ilse Crawford and Oscar Peña, has dreamt up a trio of charming perching stools for Artifort, the 126-year-old Dutch furniture factory. Each model keeps things fuss-free. A gently curving, powder-steel-coated frame is topped with a wide seat that is hand-stitched from saddle leather and accented with a thick leather cord. The perches come in shades of cream, rust-orange and charcoal but we're taken with the chocolate-brown number.
studioilse.com; artifort.com
12.
Best for Aussie wood
Lex Stobie
Australia
When Lex Stobie started his furniture design practice in 2002, he had a clear vision. "I didn't want to be a flash in the pan or someone who followed trends," he says. "I wanted to make quality furniture that people appreciated." Today the Adelaide-based craftsman has a reputation for producing hardy and timeless objects. His work combines the clean lines of Danish design with the warmth of Aussie timbers. Everything he makes is designed to be functional. In fact, he goes as far as to say that he relishes the thought of his pieces becoming worn with use. "I love the idea that the marks of someone's life end up being left on my furniture."
lexstobie.com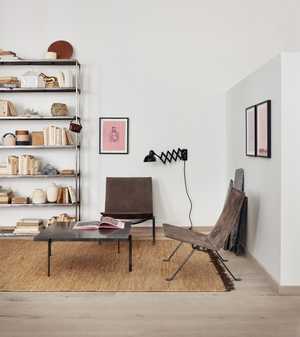 13.
Best design update
Fritz Hansen
Denmark
For its first shop in Copenhagen, Fritz Hansen chose a more than 200 year old building that was once a post office. The flagship is a step in the 144-year-old brand's move to turn the furniture company (whose classics include Arne Jacobsen's Egg chair) into a global force in design retail.
The space posed challenges "but we embraced the heritage elements," says Ulrik Thaysen, head of global retail. With iron pillars, wide heart-oak floorboards and glass partitions, a balance between homeliness and aspiration has been well struck. "It takes the core DNA of Fritz Hansen – Nordic atmosphere, simplicity and craftsmanship – and creates an umbrella for a beautiful product with our collection of classics."
fritzhansen.com
14.
Favourite stool
Maruni
Japan
Ever since its reinvention under president Takeshi Yamanaka, Japanese furniture-maker Maruni has shown contemporary design and traditional craftsmanship make perfect partners. This year's new releases included the O1 Stool, the simplest of seats by the British designer Jasper Morrison. The quality of the material – solid maple with a clear urethane finish – shines through, and this stool, which is cut with 3D machines, is a quality product.
maruni.com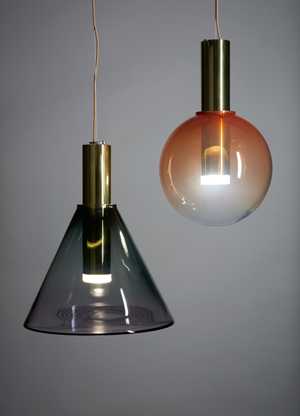 15.
Most fetching lights
Bomma
Czech Republic
Prague studio Dechem, founded by Michaela Tomiskova and Jakub Jandourek in 2012, has contributed to the debut lighting release from Czech glassmaker Bomma. The Phenomena collection uses simple shapes such as a triangle in smoke grey, a circle in Ferrari red and an oval in flamingo pink. The glass is hand-blown and the colours added manually.
bomma.cz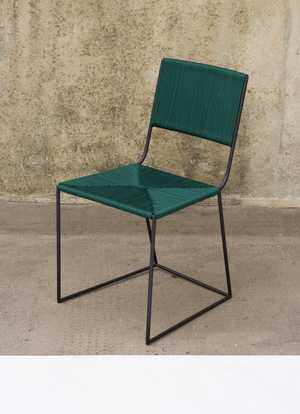 16.
Best chair
Machimbre
Argentina
Art director Julieta Barrionuevo and architects Zelmira Frers and Michelle Parisier form interdisciplinary studio Machimbre. Its M5 chair celebrates Latin America's craft heritage: the frame is made by a blacksmith in Cordoba, while the nautical cord seat is woven in the Argentinian capital.
machimbre.com
17.
Best design for audiophiles
The Music Room
Hong Kong
Arriving at the Music Room, part of Hong Kong's Potato Head restaurant, is reminiscent of the famous Copacabana tracking shot in Goodfellas. "The mood is that of a secret music basement from the 1970s," says Daniel Mitchell, creative director of Indonesia's PTT Family, which oversaw the interior design for the joint venture with Hong Kong's Jia Group. Tokyo's Ginza Music Bar and Hotel Okura's old lobby provided reference points, although the listening space owes its finish to the Bali-based hospitality group's signature blend of mid-century Scandinavian design and a warm colour palette.
Creating an optimum listening experience drove the overall design concept and materials: sound absorbing suede covers the ceiling and insulating oak panels line the walls.
ptthead.com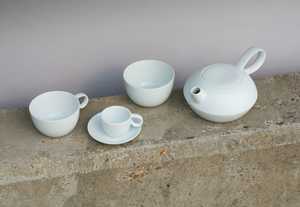 18.
Top crockery
Kawazoe Seizan
Japan
This unfussy collection from Stefan Diez, produced by potter Kawazoe Seizan in Arita, is a favourite when it comes to ceramics. A snow-white palette features playfully bulbous handles and curved edges for a smooth, polished look.
2016arita.com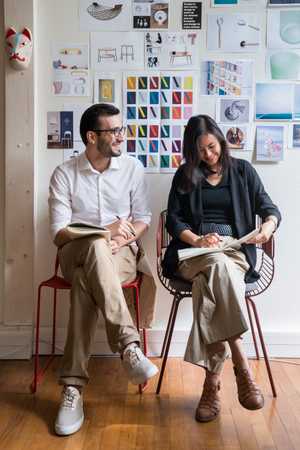 19.
Q&A
Amandine Chhor and Aïssa Logerot AC/AL
Paris
The husband-and-wife team behind AC/AL meticulously plan their range of minimal chairs and side tables.
How do you design as a couple?
We work hand in hand on all the projects; we both draw, as well as making models and mock-ups. Both of us work with lean lines and have a specific eye for detail. Inspiration comes when we look at the machines used for the making process – that's the departure point.
You have worked on humanitarian projects in Cameroon, Cambodia and Morocco, creating designs in collaboration with artisans there. How has that influenced you?
It was inspiring to see how things can be created with low-cost materials and tools in a developing country. We try to find the most efficient production methods possible. Going abroad let us take a step back: when we returned we had fresh eyes to look at our projects.
ac-al.com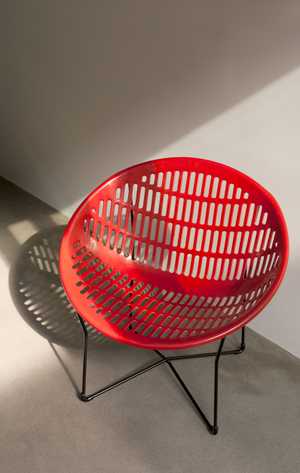 20.
Best summer seat
Solair Chair
Canada
A Canadian design classic, the plastic-and-steel Solair Chair has been brightening up balconies from Montréal to Miami since it appeared on the North American market in 1972. This comfortable piece, which can sit indoors when winter sets in, was designed by Montréalers Fabio Fabiano and Michelange Panzini. The pair rose to prominence in the creative explosion that was ignited after the city's memorable 1967 Expo. The Solair chair comes in a range of fruity colours, from this eye-catching red, to lime green, to tasty orange, as well as more democratic black and white.