Diplomats and Christmas parties / Global
Consuls and carols
Being a diplomat requires you to be proficient at wining and dining guests – and at no time will you be more inundated than the Christmas period. We visit three festive residences – that of the Czech ambassador to the UK, the Danish ambassador to the US and the Italian ambassador to Japan – to discover the importance of time-old traditions and a talented and patriotic chef.
Nation: Czech Republic
Food and drink: They fast on Christmas Eve. Once the first star comes out, they eat carp
Typical present: Poinsettias
Decorations: Gold, silver and white; lots of glass and crystal
Libor Secka
Czech ambassador to the UK
For Libor Secka, the Czech Republic's ambassador to the UK, the Christmas season offers a unique opportunity to promote his nation. "Crystal, glass and music are Czechs' big soft-power strengths," he says in the smoking room of Villa Magnolia, his London residence on the edge of Hampstead Heath. Secka gestures to the crystal chandelier and a nearby Bechstein piano as if to make his point. "These also feature in our Christmas celebrations."
Carols, glass ornaments by Liberec-based firm Glassor and Moravian rulandske bile (pinot blanc) served in crystal glasses: the embassy's events over the holiday season will be subtly infused with soft power. The holiday allows for a festive backdrop to the more nitty-gritty work of diplomacy surrounding trade and the European country's relationship with the UK post-Brexit.
This Christmas will mark Secka's first as ambassador to the UK, a post he took up in January 2016 after six years representing his country in Beijing. "Christmas events were different in China as we promoted more intercultural dialogue," he says. Now back on European soil – Secka has also served as ambassador to Italy and the EU – he and his wife Sabrina Seckova are revelling in their nation's holiday rituals, many of which are still charmingly traditional.
The Czech Republic has resisted the infiltration of what Seckova calls "more American" holiday traditions such as Santa Claus. Instead focus is very much on religious customs: children are told it is baby Jesus who brings gifts on Christmas Eve. "I'm very surprised we haven't lost the traditions," says Secka, singling out the practice of attending church at midnight on Christmas Eve. "Only a small percentage of Czechs consider themselves believers but there is interest in the church at Christmas."
In a way some of the festive customs are at odds with how the ambassador aims to present the Czech Republic to the world today: a modern nation that has moved on from its turbulent past politically, economically and socially. But closely held traditions can be some of the most effective soft-power tools.
What's more, indulging in Czech Christmas celebrations abroad can help foster a sense of national pride for Czechs away from home. That was something Secka saw firsthand in Beijing during one of the few holiday events that the embassy held for Czechs there. "It leaves them feeling more connected to their country."
---
Inside the bright kitchen of the Czech Republic ambassador's residence, Radek Kludka is weaving dough with impressive speed. As he plaits a layer of vanocka – a cake traditionally eaten at Christmas – sunlight filters through the windows and reflects off the steel countertops.
This is the space that the 40-year-old chef, who hails from Ostrava, has called his own for the past year – ever since Secka stepped into the role as ambassador to the UK. Kludka will remain in London for three more years until his next placement (in Washington he hopes).
The job can be demanding: in September, Kludka prepared food for 250 guests when the ambassador hosted a party for a Czech national holiday. But working abroad, says Kludka, has given him the chance to learn new dishes.
However, it's the times when he's called upon to share Czech cuisine that he's able to not only put his 20 years of experience to use but also teach people about his nation. Case in point: after a long day of fasting, the main meal served on Christmas Eve in the Czech Republic is traditionally carp; barrels of live fish can be found around Prague's Christmas markets. For the ambassador's pre-Christmas lunch with monocle in attendance, Kludka puts his culinary skills to good use serving a creamy fish soup followed by crispy fish schnitzel.
Domaci vanocka
(Christmas cake)
Ingredients
295ml warm milk
3 tsps dry yeast
95g sugar
515g all-purpose flour
1⁄2 tsp salt
1 whole nutmeg, finely grated
1 star anise, finely grated
2 tsps vanilla essence
1 lemon, zested
2 egg yolks
115g butter, melted
115g raisins
1 egg, whisked
85g flaked almonds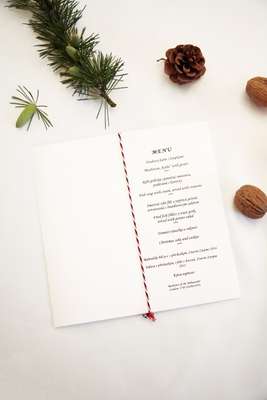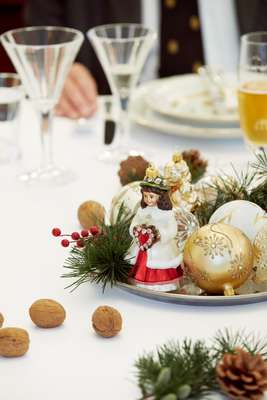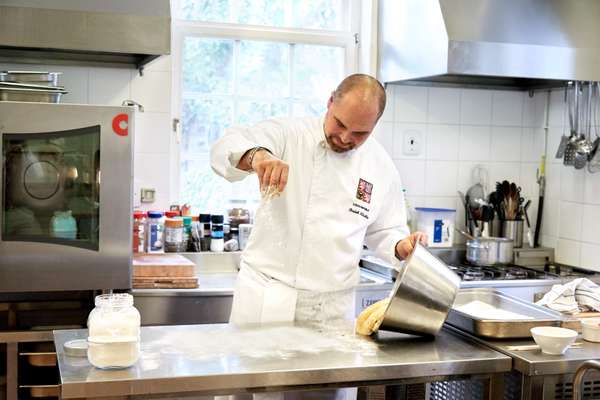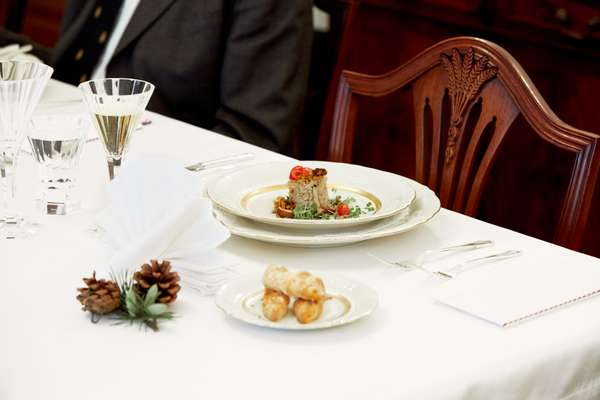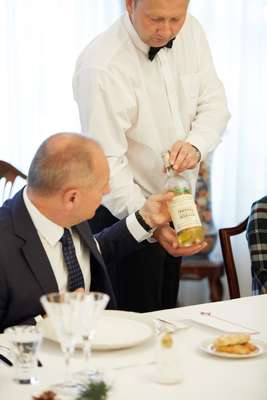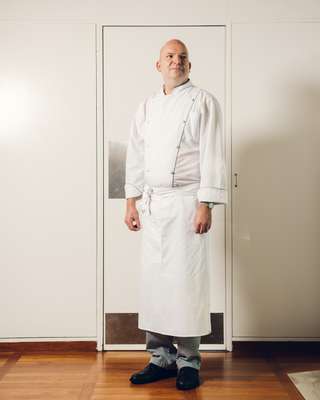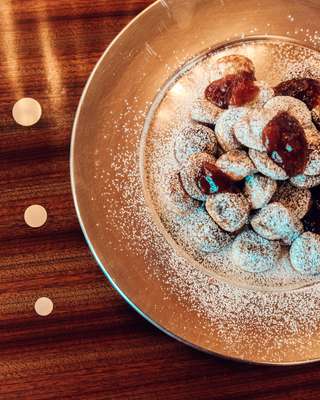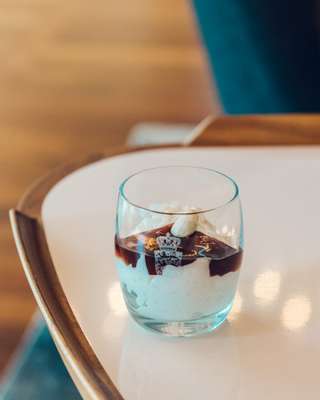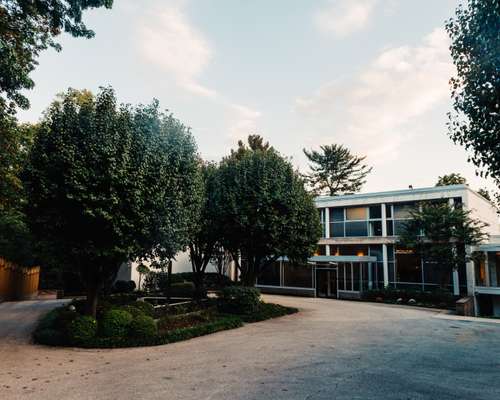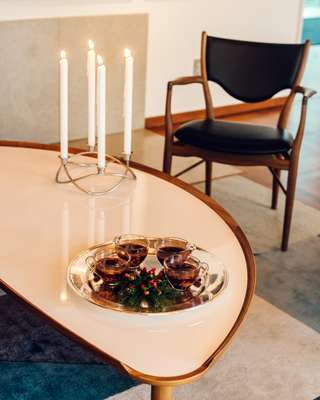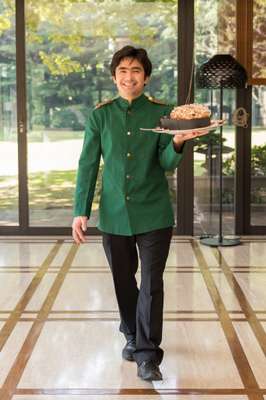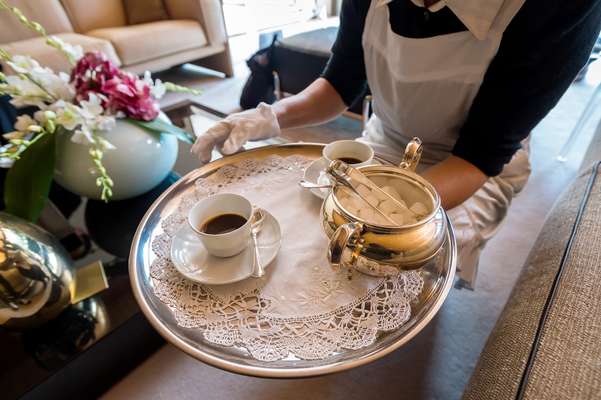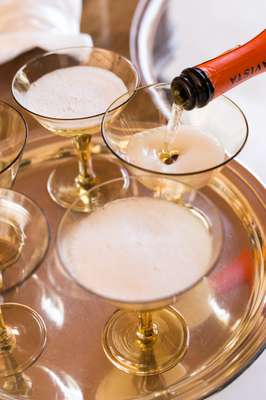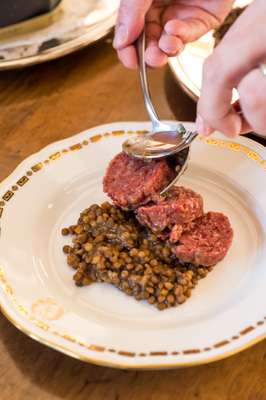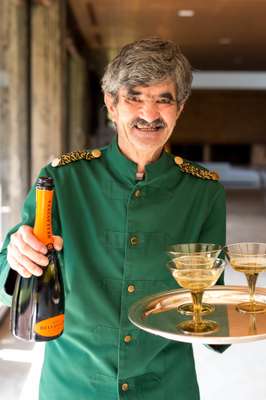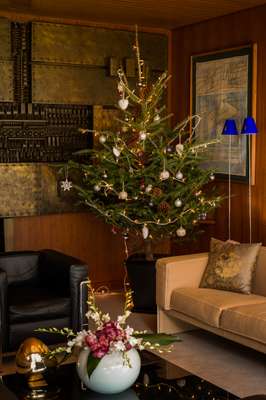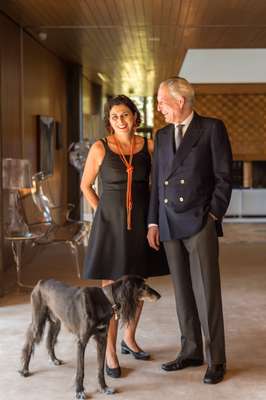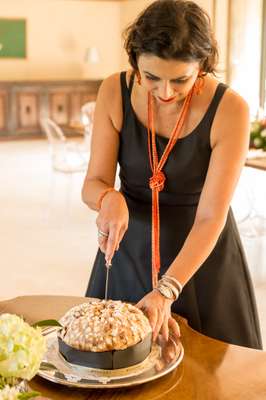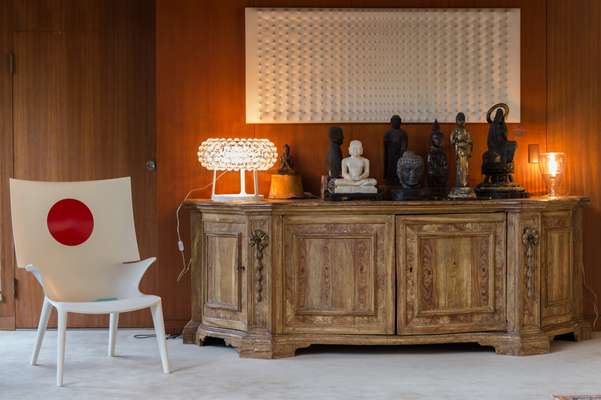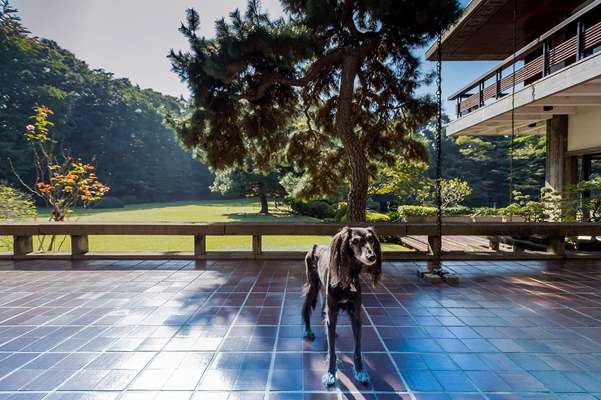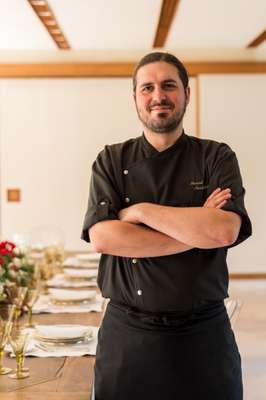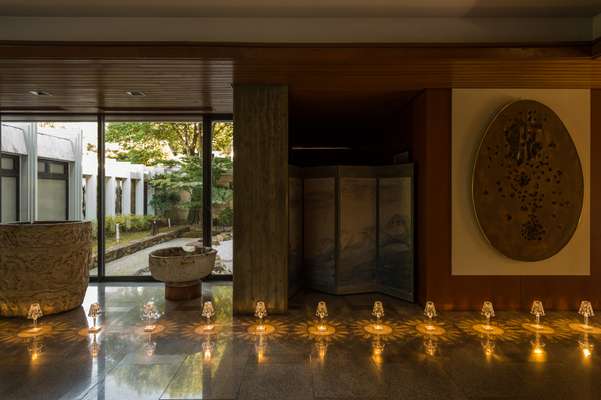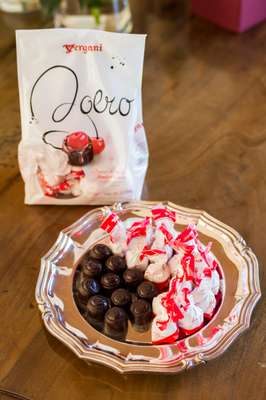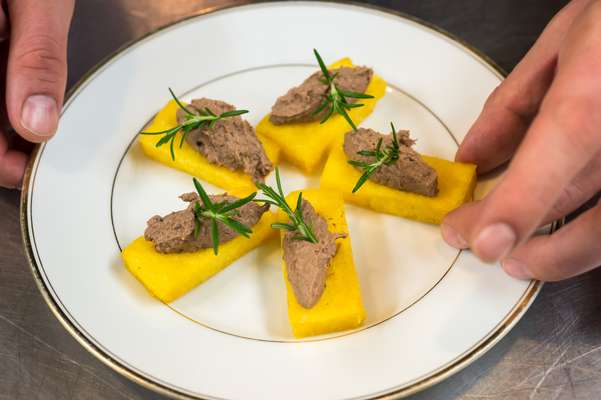 The method
Place milk, yeast and 1 teaspoon of sugar in bowl and stir well. Set aside for 10 minutes to activate.
Mix flour, sugar, salt, nutmeg, star anise, vanilla essence and lemon zest in bowl. Add egg yolks and stir. Add butter and stir again.
Add yeast mixture to flour and, using your hands, mix until dough forms. Add raisins and knead.
Sprinkle a little flour into bowl and over dough. Cover with tea towel and set aside for 2 hours to rise.
Line tray with baking paper. Turn out dough onto floured surface and divide into 9 equal portions. Roll each piece into a tube approximately 30cm long.
To make base, connect 4 pieces by pinching ends together, then braid by folding outside pieces into centre. When finished, pinch ends and press down along centre of braid. Place base on tray and brush with egg.
Create second layer by braiding 3 more pieces. Press along centre of braid before placing it on top of base piece. Brush with egg.
Twist final 2 pieces together and pinch ends to secure. Place tube on top and fold each end under loaf.
Cover loaf with tea towel and set aside to rise for 1 hour.
Preheat oven to 180c. Brush loaf with egg and sprinkle with almonds. Pierce in four places with skewer to prevent warping. Cover with foil and place in oven. After 45 minutes, remove foil and cook for 5 more minutes. To test if cooked, insert skewer – if it comes out clean it is ready. Serve.
---
Sweden proves that Christmas-time soft power is possible abroad even without an embassy. Helena Storm, the nation's consul-general in Hong Kong, has been organising Scandi events in the city, including a huge Lucia choral concert in the city's historic St John's Cathedral. "Lucia is one of our trademarks," says Storm of the annual celebration that takes place all over Sweden on the darkest day in December. It tends to grab international attention every year thanks to that candlelit procession featured in the Nobel celebrations in Stockholm. "It's very typically Swedish as it shows how we celebrate light in a dark country in the winter."
Two amateur choirs of adults and children drawn from the Swedish-speaking community will open and close the service with the traditional Sankta Lucia hymn. After the service a glogg reception will be held, where Sweden's sweet-and-spicy blend of mulled wine will be served alongside pepparkakor (gingerbread cookies) and lussebulle (saffron buns) – all supplied by Ikea.
The Lucia concert isn't the only Swedish holiday event taking place in Hong Kong. The Swedish Chamber of Commerce is organising a Christmas luncheon with a buffet-style smorgasbord of salmon, pickled herring and a cooked-ham centrepiece. Swedes are the biggest Nordic community in Hong Kong but still only number a few thousand. Yet links between Sweden and Hong Kong are strengthening following three ministerial visits and the first direct flight from Stockholm, which was added in 2015.
---
Nation: Denmark
Food and drink: Mulled wine, seafood canapés, pork or duck, butter biscuits, aebleskiver (apple puffed pancakes)
Typical present: Marzipan pig
Decorations: Adventkrans – an Advent wreath featuring four candles – and a mischievous nisse gnome
Cheesy Christmas hit: "Jul Det' Cool", MC Einer
Lars Gert Lose
Danish ambassador to the US
Before visitors even reach the gated compound of Denmark's Washington embassy and residence, the Nordic nation's soft-power assets quietly announce themselves. A large shelter is crammed with a row of vertically hung bikes belonging to staff. And then there is the building itself, a modernist pile with lots of large windows to accommodate natural light, designed by leading functionalist Vilhelm Lauritzen and inaugurated in 1960. It's quite devoid of the pomp and circumstance often associated with ambassadorial mansions – and all that before you've had time to step through the door and reach for your first canapé.
Inside the building, Lars is on hand to meet monocle alongside his wife, Ulla Rønberg. In more traditional circles he tends to be known as his excellency Lars Gert Lose, Danish ambassador to the US – but he prefers just Lars. "I try as ambassador to be very, very informal," he says. "And I think Christmas and hygge is kind of the concept around that."
Hygge – that untranslatable Danish concept of informal cosiness, normally involving lit candles – is an integral part of the Danish annual Christmas party, which Lose says is the biggest event of the year. Some 700 guests congregate in three adjoining rooms, with nibbles laid out on a wooden table in the dining room next to the kitchen and the party often flowing onto the outside terrace. The event, as one might expect, is a prime opportunity to showcase Denmark's creative prowess in the field of design. Wandering around the rooms is a veritable masterclass in mid-century furniture collecting, from Finn Juhl's Baker sofa and cocktail table next to the roaring fire in the large living room to the pk54 dining table by Poul Kjaerholm in the music room, not far from the ambassador's electric guitar hanging on the wall. It's all there to help promote Danish concepts of openness, unpretentiousness and practicality.
A former curator, the ambassador's wife has been keen to bring the creative conversation into the 21st century and instrumental in inaugurating an "Art in Embassy" project inside the residence, inspired by a similar US programme initiated in the 1950s. Hanging from the walls are more than 30 contemporary works of art – by artists such as Henrik Frederiksen and Mette Vangsgaard – that "take everyday objects and twist them around". "We should use the embassy in this way," says Ulla. "We have between 5,000 and 6,000 people coming through this residence every year."
The food at the Christmas party is a major draw and arguably Denmark's fastest-growing soft-power attribute in a country where the concept of New Nordic cuisine isn't as established as in Europe. "Healthy living is a big brand for us here," says Lose. In 2015, Noma's Claus Meyer – who recently opened a restaurant in New York's Grand Central Station – provided the catering. This year the smoked halibut from Greenland and traditional rice pudding won't be hanging around too long.
---
Jens Top Fisker takes it in his stride; he has to. When you're cooking for the crown prince one moment and top US business leaders the next, you need to be able to deal with the associated pressures of the job. "There is no normal week," he says with a slightly world-weary smile.
Fisker has been the ambassador's chef for a year in a residence that hosts between five to seven events a week, from cocktails to sit-down dinners for up to 30 people. "In the diplomatic world the unwritten rule is that dinner guests come at 19.00 and leave by 21.00."
When it comes to preparing food – whether for the Christmas party or another event – Fisker sees his role as giving people "a chance to have a little taste of Denmark in Washington". For Christmas it's all about showcasing the best of Nordic cuisine – and indirectly pushing them on the US market – from prawns and halibut courtesy of Greenland to pork and duck, two meats normally eaten over the holiday period. Fisker serves nine different types of canapés, at least half of them Nordic, as well as providing traditional drinks such as glogg and fermented apple juice with cranberries, alongside US sparkling wine. "We don't do Caesar salad or barbecue chicken," he says. "People don't come here for that."
Risalamande
(Rice pudding)
Ingredients
1.4 ltrs full-fat milk
3 vanilla beans, 2 split lengthwise
200g short-grain rice
1 tsp salt
2 tbsps caster sugar
145g blanched almonds, coarsely chopped
90g whipping cream
570g pitted cherries
200g caster sugar
3 tbsps cornflour
The method
To make pudding, add 1.3 litres of milk to saucepan and place over low heat. Before it starts to boil add rice and one vanilla bean. Gently cook for 30 minutes, stirring often to ensure milk doesn't burn.
Remove saucepan from heat and add salt. Cover with lid and set aside to stand for 10 minutes. Then remove lid, gently stir in sugar and leave to cool.
Use electric beater to beat cream until softly whipped. Scrape seeds from second vanilla bean and add to cream.
Add remaining milk to rice mixture to loosen it before gently folding it into one-third of whipped cream. When mixture is combined add rest of whipped cream and almonds. Place in serving bowl, cover and place in fridge.
To make sauce, place cherries, sugar, vanilla bean and 470ml water in saucepan over high heat. Bring to boil then reduce heat to low; simmer for 15 minutes.
In small saucepan dissolve cornflour in enough water to make thin paste. Slowly add cherry sauce, stirring constantly. Bring to boil.
Carefully taste sauce and add more sugar if needed (it should be tart).
Place pudding in individual bowls and drizzle with sauce. Serve.
---
Nation: Italy
Food and drink: Bollito misto, tortellini and, for New Year's, zampone e lenticche (stuffed pig's trotter and lentils)
Typical present: Panettone
Decorations: Neapolitan nativity-scene figurines; table centrepiece of candles, pine sprigs, flowers and red berries
Cheesy Christmas hit: "Tu Scendi dalle Stelle", Andrea Bocelli
Domenico Giorgi
Italian ambassador to Japan
Growing up in Emilia-Romagna, northern Italy, Domenico Giorgi remembers Christmas as a three-day affair of family, church, film and opera lasting from Christmas Eve to St Stephen's Day. But, perhaps most importantly of all, it was about grand meals. "There was the antipasto of ham and salami with pickles and handmade butter. Then came soup with tortellini; roasted poultry, usually stuffed; an entremet; and a bollito misto of boiled beef, pork and chicken," says Giorgi, who is now 62.
Such feasts are less common in Italy these days and nearly impossible to replicate in Tokyo, where Giorgi has been the Italian ambassador since 2012. But Giorgi and his wife, Rita Mannella, who is also a career diplomat, do their best to spread Christmas cheer, Italian-style, with parties at their residence for 80 guests, ambassadors among them, with traditional holiday food and drink. Judging by the spread they put on for monocle, they seem to be doing an excellent job.
Over platters of artisanal hams, handmade tortellini, panettone cake and generous amounts of sparkling Franciacorta, Bolgheri wine and Piedmontese grappa, Giorgi says, "It's an opportunity to enjoy the company of our Japanese friends and those in the diplomatic community who haven't left for the holidays."
During the celebrations Giorgi and Mannella don't feel the need to talk up Italian art and design. Their residence does it for them, from Lucio Fontana's iconic work Concetto Spaziale on the wall in the entrance hall and the Arnaldo Pomodoro-designed fireplace to the Frette table linens and the Kartell polycarbonate chairs and rechargeable lamps. There is a mix of ancient and contemporary, with some objects dating to the Renaissance and a few that have been around since the Roman empire.
Mannella is in charge of the Christmas decorations and she likes to keep things simple. There's a decorated tree, table centrepieces of pine and flowers and small gifts for the guests. You won't find Christmas carols playing on a loop though. Giorgi has a traditional view of the holiday. "Christmas is a religious day, a day to spend with family. It's not for singing – maybe classical or opera are alright."
His wife, however, enjoys singing and they compromise for their annual party: after the feast is finished, guests gather around a karaoke machine to belt out pop songs. (Mannella favours Mina's 1960 tune Tintarella di Luna while Giorgi prefers Girl from Ipanema.) For Giorgi and Mannella it's about adding an Italian twist to what most Japanese consider nothing more than one of many commercial holidays.
---
Preparations for the Christmas buffet at the Italian embassy in Tokyo start three days ahead of the festivities. Having whittled down a menu from dozens of options, Manuel Montalbetti and his team spend every waking hour preparing everything from canapés to cakes. There's typically a lasagna, tortellini and a risotto with porcini mushrooms or truffles. There might be a bollito misto of boiled meat and a panettone covered with a zabaglione custard. "We make almost everything from scratch," says Montalbetti.
But preparing a traditional Italian feast this far from home isn't the same as doing it when you're surrounded by neighbourhood butchers, pasta makers and pasticcerie who can help out. In northern Italy, Montalbetti could easily find fresh zampone, stuffed pig's trotters; here he has to have one shipped from Italy (vacuum-packed). "It's always tricky because using the best seasonal ingredients is very important in Italian cooking."
Crostini of fried polenta with chicken-liver pâté
Ingredients
500g instant polenta
2 tbsps extra-virgin olive oil
1 sprig fresh rosemary, leaves picked
1 sprig fresh sage, leaves picked
1 garlic clove, crushed
500g chicken liver
400ml brandy or whiskey
250ml vegetable consommé
1 tsp nutmeg
100g flour
1ltr sunflower oil, for frying
Fresh rosemary, to serve
Salt
The method
Add 2 litres of water and a pinch of salt to saucepan and place on low heat. Gradually add polenta in a thin steady stream, stirring constantly with a wooden spoon. Simmer for 10 minutes, stirring frequently (the polenta is ready when it has thickened). Pour polenta into rectangular baking pan (about 3cm deep) and place in fridge for 4 hours, or until firm.
Place olive oil, rosemary, sage and garlic in heavy saucepan over low heat. When the garlic is golden brown add liver and fry for 2 minutes. Add alcohol and simmer until you can't smell it. Pour in consommé and cook for 40 minutes. Add a pinch of salt and remove from heat. Set aside for 10 minutes to cool.
Pour liver mixture into blender or food processor, add nutmeg and pulse until smooth (if texture is too thick add more consommé to loosen). If necessary, add a pinch of salt. Spoon into bowl and place in fridge.
Remove polenta from tray and cut into small rectangles. Place flour in tray and add polenta, gently turning so the squares are coated on all sides.
Heat oil in a deep, heavy-based frying pan until very hot (180c). Add polenta and fry until golden brown, turning once.
To serve place warm polenta on plate, spoon liver on top and garnish with rosemary.