Business ideas / Global
One step ahead
The new year brings new opportunities – if you know where to look. With our tips and foresight and a little forward planning you'll be in prime position to ring in the business changes.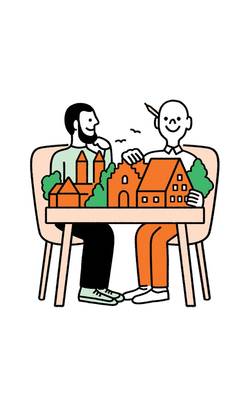 Another year draws to a close and the holiday period beckons. Irrespective of whether 2016 was a good or bad year for your business, you'll likely be doing exactly the same thing over the next few weeks: popping the cork on a bottle of champagne and draining the contents, either in celebration or self-commiseration. But as you settle in for a week or two of hard-earned rest we recommend you ruminate on ways you might tweak, tinker and tighten up your business in 2017. Because there is no better time to conjure up an epiphany than when you're lying half-comatose with your weary brow resting gently on a mince pie.
So with that in mind we've compiled a list of business ideas for the year ahead to both inspire and instruct you. From the best way to reinvent the food truck to the return of the trade guild via the smartest eyewear start-up in Europe (definitely one to watch), these tips will ensure that when you spring back into action in January you'll have a notebook of doodles outlining a slick new logo, a diary full of must-hit travel destinations, a thought for where you'll set up your next factory and a few big ambitions to make your mark in 2017.
---
1.


Have we reached peak craft?
Could 2017 see a backlash against all things "craft"? It's certainly possible. We've long championed those entrepreneurs who have struck out on their own and started a brand committed to quality; whether that be a gin distillery in Hamburg or a leather-goods maker on Hokkaido, these craftspeople must still be cheered. But consumers are also beginning to tire of brands that use the language and visual cues associated with craft without the real credentials to back it all up – like a new café in a glitzy shopping mall that employs the exposed bricks and Edison light bulbs lifted from gritty post-industrial city districts. At the same time, is a "craft" brewery still a craft brewery when it's owned by a multinational beer conglomerate? We need to correct the balance. Real craftsmanship will always be praiseworthy but it takes more than simply donning an apron.
---
2.


In praise of side hustles
Follow entrepreneur Alain Sylvain's lead. Having set up New York-based brand consultancy Sylvain Labs, he and his team found they "wanted to explore something we could really own". So when businessman Jonathan Levine approached him with the idea for a premium line of headphones, Sylvain not only leapt at the chance but also helped finance the fledgling company. A few months later Master & Dynamic was born, a brand that's today sold in high-end retailers worldwide. Working on the project did more than make money: it kept team members motivated and demonstrated the company's creativity.
---
In its heyday the guild, a trade union-cum-social club, protected the common interests of artisans. In today's cities, where sky-high rents and predatory landlords are often the norm, such trade guilds are desperately needed again. Krissie Nicolson co-founded the East End Trades Guild in London in 2012 to represent her community's small-scale makers. We'd like to see the concept rolled out to other towns and cities.
---
A trend to watch – and one to potentially invest in – is the surge in co-living spaces. Zoku in Amsterdam calls itself a home-office hybrid designed for mobile professionals as a place to work, share a meal and meet kindred spirits. In New York, co-working pioneer WeWork opened the doors of its co-living concept WeLive earlier this year. We'll be sticking to hotels for now but keeping an eye on this booming sector.
---
One of the bravest small businesses we've seen this year is Blackhorse Lane Ateliers, a jeans manufacturer based in London. With no marketing budget, founders Toby Clark and Han Ates have been smart about getting word out, starting with their local community. Setting up Denim & Dine, a pop-up restaurant inside the factory after hours, has ensured a constant flow of new faces coming into contact with the brand.
---
6.


The retail model that works
Viu is an eyewear brand that started in Zürich in 2013 and has now spread across German-speaking Europe by cutting out middlemen (distributors and retailers) and connecting directly to customers. Today it has 17 shops across the continent with at least four more on the way in 2017. The founders began with a bricks-and-mortar shop as well as e-commerce and grew the two in tandem. "Building a brand online is expensive and you miss the tactile element," says co-founder and CEO Kilian Wagner. Online players are now rushing to build a physical presence just as offline players are migrating online. Be like Viu and give customers the choice from the start.
---
Everyone likes a nice second-tier city (see our report on Utrecht on page 95) but for setting up a business, why not seek out a micro-city? With a population of 80,000, our pick would be Lund in Sweden: it has the fastest internet speeds in Europe; a prestigious university, meaning a surplus of graduates; and top-notch quality of life. Being a few hours from Copenhagen doesn't hurt either.
---
For a niche market, the mattress sector has seen surprisingly bouncy growth in recent years with start-ups around the world selling high-end versions directly to consumers: see Eve and Simba in the UK, Grafenfels in Germany and Casper in the US. Along with the trend to clean the air in your home (check out Luxembourg-based Foobot) it's a sign that companies are waking up to the fact that a good sleep can be big business.
---
One of the biggest issues with e-commerce is that you pay a heavy price in customer service for purported convenience – but even that convenience dividend vanishes when your package gets sent to a depot because you weren't home at 10.00. Not for the first time we're looking to Japan for the solution: large retailers such as Uniqlo will now deliver to your nearest grocery shop, which is likely to be mere metres from your front door.
---
The word "incubator" usually refers to a support system for technology start-ups. But entrepreneurs Frank Lampen and Shilen Patel adapted the idea, launching one in 2013 for the drinks sector. They founded Distill Ventures because "the need for funding and working capital is very different from digital start-ups and there isn't the same ecosystem of finance and support available", says Lampen. We'd like this for other sectors too.
---
For luxury brands 2016 was a year to forget; luckily most predict a better market for 2017 before a resurgence the year after. So now is the time to be working on a new project and contacting suppliers. In the short term, before their waiting lists swell once more, they'll be hungry for fresh orders and will be able to accommodate smaller product runs. Get organised so you're ready when the market picks up.
---
While we've always been sceptical of the term "disruptor" (see panel, below), certain industries are ripe for an overhaul. Top of the list is the global food chain: it's complicated, environmentally harmful and often illogical and will come under increasing scrutiny as we reassess the cost of supermarkets stocking every perishable good under the sun (literally) no matter what the season. New technology players such as Farmdrop, which provides a direct link between producers and residents keen on fresh food, are therefore welcome. We'd also love to see more ventures like Komsukoy, the Istanbul-based start-up that allows urban folk to work on partner farms outside the city.
---
13.


Close-to-market manufacturing
German sportswear brand Adidas set a precedent for global manufacturing when it flung open the doors of its incredibly hi-tech Speedfactory in Ansbach, near the company's Herzogenaurach headquarters, earlier this year. More manufacturing companies are sure to follow its lead. The term "new-shoring" – essentially the process of starting a brand with production close to your design headquarters and market – gained currency this year and its benefits are obvious. Firstly you can get your products out the door and to your customer in double-quick time (hence the "speed" in Speedfactory). Secondly you can control the entire process more closely and make sure your product isn't copied or compromised somewhere along the way. This is just as important for new brands as larger, more established players; making high-quality prototypes close to your HQ, for instance, has the twin benefits of convenience and control.
---
14.


Skip the fee, take equity
The Toronto-based design studio Frontier has rethought the agency model in a smart way. While it maintains its client work, the company also has a department (its Ventures team) that provides branding services to small businesses and start-ups at a discounted rate in exchange for equity. It's a clever play: even if it doesn't initially pay for itself, the extra benefits of this model are significant. Not only do you have potentially valuable stakes in lots of start-ups but your team will also work harder on a project over which they have some sense of ownership. At the same time, just like Frontier, you'll be providing support for your local start-up community.
---
We've long extolled the virtues of the food truck as a great, cheap way for F&B entrepreneurs to trial a new concept. Now people are increasingly adapting the model for other creative uses. We're fond of Truck-à-Porter, a pink van bought, driven and curated by Daniela Bode. The truck hit the road earlier this year and now trundles around Germany selling fashionable threads and accessories in all corners of the country.
---
The word "disruptor" is bandied around a lot nowadays. The term – coined by American scholar Clayton M Christensen in 1995 – originally referred to how whole industries can be overturned by entrepreneurial applications of technology. These days it's the aspiration of every start-up founder and the most overused word in pitches around the world.
On the other side of the equation, for an entrenched player in an established industry the prospect of a precocious entrant can be daunting. The mistake would be to confuse "disruption" with "destruction". With foresight and steady nerves new players can be held off and may even provide fresh opportunities for growth and consolidation.
Unlike newcomers, established businesses possess tried-and-tested channels to their consumers and have brand recognition and values associated with those brands. These companies with more traditional models can fine-tune customer experience by controlling every stage of it. For example, due to online competition, Canada's biggest book chain Indigo refreshed its bookshop layouts with a revamp. The decision paid off and is reflected in the company's financial report card.
This is how the upstarts represent an opportunity rather than a crisis. By forcing companies to reassess their strengths and realise the potential of their position in the market, the disruptors can make established players up their game – which is good for them and consumers.
Three ways to tackle new competition
Bookshops
The e-book didn't kill the paperback; readers still like to walk into a shop and talk with a knowledgeable bookworm. With Amazon setting up bookshops it's time to rally around what makes their indie counterparts great.
Banks
The banking sector is trembling as "fintech" players seek to overhaul its centuries-old model. Time to get back to what banking once was: a neighbourhood's friendly, helpful financier.
Taxis
Ride-share apps have shaken up the taxi market but many of these services depend on unreliable maps and impersonal service. Taxi drivers should spend less time complaining and more time trumpeting what makes them better.
---
Looking back on 2016 it's fair to say that in the realm of politics, small-mindedness has been centre stage: from the Austrian presidential elections via Brexit to the rise of Trumpism. High walls have been proposed, borders have been barricaded and outsiders – from fruit-pickers to highly skilled students – have been threatened with expulsion. It would be all too easy to fall into a spiral of despair. Yet our spirits have been buoyed by a clutch of entrepreneurs who still believe in the benefits of travel, open-mindedness and countries welcoming a mobile workforce. While they can't change the policies of their politicians, their businesses stand for a world that's freer, internationalist and more inviting.
In September, Oui Open, the European leader in short-term retail-space rental, merged with US rival Storefront to become the first truly international online marketplace for pop-up spaces. Already available in cities from London to Hong Kong, in 2017 it's hoping to launch in Berlin, Shanghai, Tokyo, Sydney and Melbourne; the website will be translated into the various languages.
The upshot is that an entrepreneur with a retail concept they want to trial in a foreign city can book a temporary space there and for a fraction of the cost of a permanent boutique. "What we're passionate about is opening up economic barriers between countries," says Matthew Greenwell, Storefront's director. "Our network of spaces allows brands and their ideas to travel around the world."
Three more global businesses
Startup
Everywhere
Founded by Sissel Hansen in Copenhagen, Startup Everywhere is a publishing company creating handy guides to starting a business in various cities around Europe, from Trondheim to Lisbon. With advice, how-to's and case studies, they aim to give a newly arrived aspiring entrepreneur a helping hand.
startupeverywhere.com

Roam
US
Roam is a club giving its jet-setting members access to multiple upmarket co-living spaces around the world, from Madrid to Miami – from prices starting at a cool $500 (€455) a week.
roam.co

DropUrPin
Germany
Britta Reinarz founded DropUrPin in 2015 as an online platform that pairs professionals eager to combine work and travel with project-based jobs at top companies. One year on it has more than 1,000 members.
---
Is this a convenient time?
A huge chunk of the services sector today is taken up by companies that claim to give stressed and harried city-dwellers more of that thing they crave most of all: time. From apps that set you up with a handyman so you don't have to lift a finger around the house to a website that helps you book a table at a restaurant ahead of time, these businesses all claim to take menial, time-consuming tasks off your hands.The promise? That you'll then have more free time to commit to the things you really want to do.
The advertisements depict families baking together on a Sunday afternoon or friends sharing a meal without a care in the world. The reality is that these technological services rarely deliver on that promise; few would say that their lives have been made simpler or calmer now that they have them at their fingertips all hours of the day. Partly this is down to the innumerable push notifications that then distract us all day long; partly because the speed with which tasks are completed gives us an overall sense that life is in fastforward mode.
So with a new year on the horizon it's time to recalibrate our relationship with time and how we manage it. Here are a few pointers for business owners and budding entrepreneurs alike, to help us appreciate the here and now.
Try a menial, time-consuming task
There's a reason more and more people are taking up hobbies, from baking to candlestick-making (we haven't met any amateur butchers yet). Our brains are hardwired to crave simple tasks that involve using our hands.
Redefine productivity
It might feel productive to check your emails at all times of the day but in the long run you'll burn out or miss eureka moments that require you to be fresh. That conversation? It can wait until morning.
Go on holiday
Didn't quite manage to get away last summer? Just grabbed a long weekend? This year be sure to block out a few weeks for a proper break – and go somewhere that you won't feel the urge to check up on business matters back home.