Christmas Shopping / Ljulbjana
Whole lotta Ljub
The Slovenian capital is a treasure trove of smart, creative and unusual gifts – and boasts a winning mix of stirring surroundings and polished pit-stops to make it an ideal festive foray.
Ljubljana, that central European dark horse and beating heart of Slovenia, is our pick for Christmas sorties this festive season. Bisected by the sleepy Ljubljanica River, the leafy capital is home to 280,000 souls and an intriguing medley of architecture: Joze Plecnik's Classically inspired monuments, the baroque old town and Edvard Ravnikar's brutalist behemoths. Its retail scene is also suitably alluring: wander its centuries-old cobbled lanes and discover toy shops, letterpress studios, florists and galleries stocking presents by the stockingful.
---
When you enter this charming toy shop on the banks of the Ljubljanica you're likely to find animated owner Lucija Sasek talking to an excitable tot about puppets or boardgames. Sasek has filled every inch of the compact space, which opened in 2002 and caters to young children, with delights from around the world: colourful "Made in Ljubljana" marionettes hang from the ceiling; fairytale-themed French and Spanish games sit by the door; and a shelf dedicated to Slovenian brands is lined with cheery handmade figurines. "We want to encourage children to use their imagination – to make stories in their heads," says Sasek.
ristanc.si
---
2.
TipoRenesansa
Letterpress studio
The first thing that strikes you in this rustic letterpress studio is the intoxicating smell of fresh ink. The second is the array of old-fashioned machines – a green proof-press from 1962, a hefty black paper-cutter from the 1850s – dotted across its two rooms. "We probably have more historic printing equipment than the Technical Museum of Slovenia," says Marko Drpic, who set up the practice in 2010 and has scoured Slovenia's abandoned print studios in search of hardware. He uses it all to design, print and cut everything from notebooks to bread bags and gift tags.
tiporenesansa.si
---
Andrej Gerzelj is a sourdough fanatic. In 2013, after years of baking at home, he opened a beautiful hole-in-the-wall bread shop in the old town. "I borrowed money from my parents, my sister – anyone who had €5 to spare," he says. It was money well spent. The bakery turns out baguettes, golden loaves of sourdough – some studded with polenta seeds or hazelnuts and coffee – and cinnamon rolls dipped in caramel. "We start baking at 04.00 and stop at noon, so you can buy hot bread all morning," says Gerzelj. The bakery closes when the last loaf is sold, which can be as early as 15.00.
pekarnaosem.com
---
4.
Almira Sadar
Fashion boutique
Sadar is a much-needed mover in the slowish world of Slovenian fashion. The designer launched her womenswear label in 2003 and moved into this well-lit two-storey space 10 years later. Upstairs in her studio she dreams up brightly coloured dresses, sweaters and scarves; downstairs in a checkered-floor showroom she sells them to locals and visitors from Paris, London and Zagreb. "I like to use humour in my fashion: to make clothes that are funny and not too serious," she says.
almirasadar.com
---
5.
Cvetlicarna Emporia
Florist
Tomaz Smrtnik and Jure Zalokar's florists is a colourful presence in the city. Perched on a corner, the space is marked not by a sign but a mass of lush ivy and ferns cascading from the balcony above the entrance. The balcony belongs to Smrtnik, who lives upstairs. The capacious interior is equally impressive: tiered concrete countertops overflow with tropical trees, flowers and succulents, housed in shiny ceramic pots. "We sell the best the world can offer," says Smrtnik, as he leads Monocle past magenta orchids from Thailand, spiky Californian yuccas, flaming-red South African proteas and pink Kenyan roses.
emporia.si
---
6.
Vinoteka Storija
Wine shop
Sommelier David Sinigoj founded this temple to small-scale Slovenian wine in 2016. Set on Trubarjeva, away from the touristy old town, it's a homely nook that eschews all frills – Sinigoj built a minimalist wine rack so the focus is firmly on the bottles. "I knew a lot of small Slovenian wine producers and I wanted people to discover something new," he says. His reds, whites and sweet rosés come from vineyards in the Vipava Valley that turn out about 10,000 bottles every year.
17 Trubarjeva cesta
---
Pici Bici peddles the finest bikes in Ljubljana from a modest showroom on the outskirts of the city. Launched in 2013 by four friends who wanted to turn their online business into a bricks-and-mortar outfit, the shop's wares run the gamut. "We sell everything needed for building a bicycle from the ground up," says Marko Sajn. Elegant Japanese frames by Fuji lean against sturdy Surly mountain bikes, and shelves are laden with sleek Giro helmets, Brooks and BLB Mosquito saddles, and colourful wheel protectors by Slovenia's own Musguard.
---
Husband and wife Luka Novak and Valentina Smej Novak are behind this cosy new culinary bookshop. English-language titles sit alongide Slovenian cookery books, including the Novaks' own works. The oak coffee table, vintage armchairs and paintings hail from the couple's living room.
---
Dusk to dawn, Slovenians of all ages sip espressos and enjoy a chinwag at Cafetino. Opened in 2006 by Robert Les and Matej Zajc, the Italian-style café is split over two low-lit floors in the heart of the old town. In the back corner 28 different types of coffee beans from South America and Africa are for sale, displayed in a row of glittering gold dispensers. "Slovenians don't like dark-roasted or acidic coffee so we sell slightly sweet medium-to-light roasts," says Les, who grinds the beans to order and packs them in a natty gold paper bag.
5 Stari trg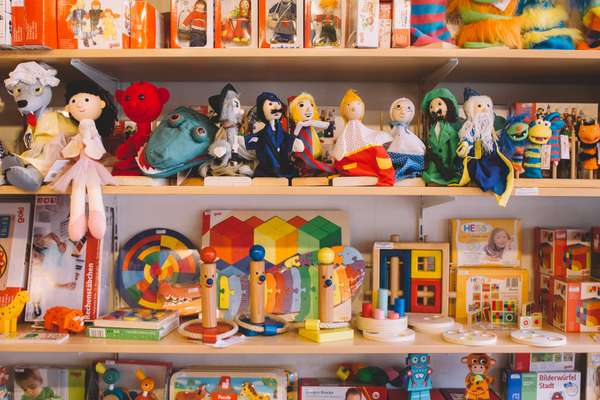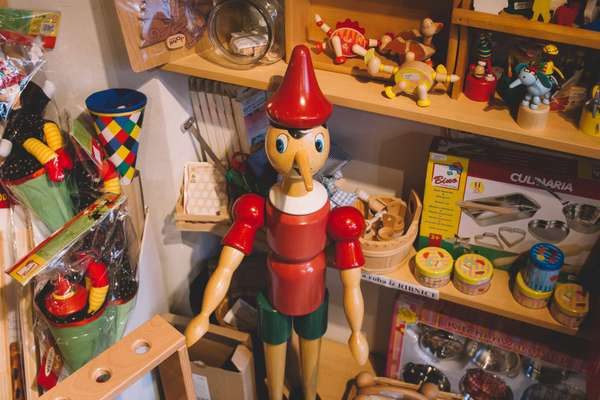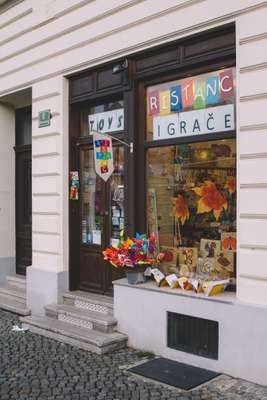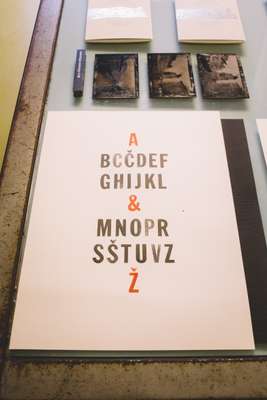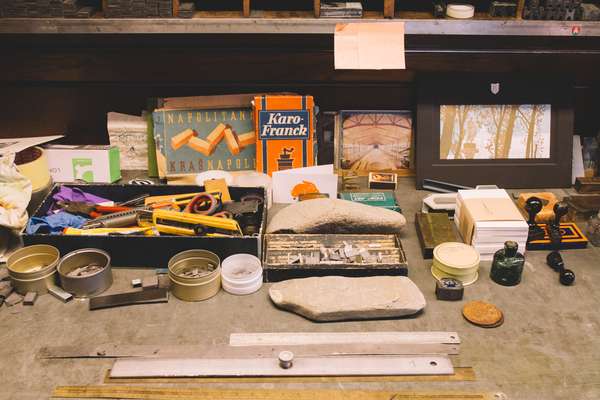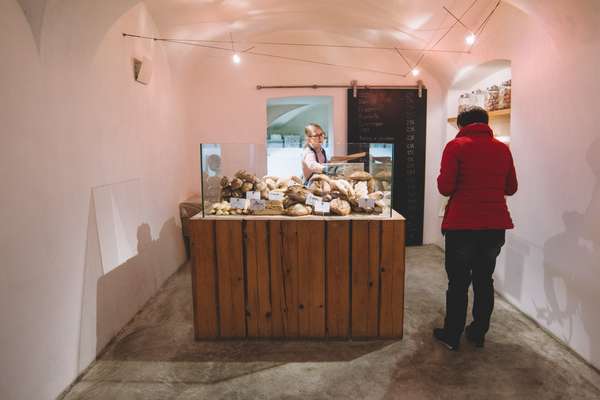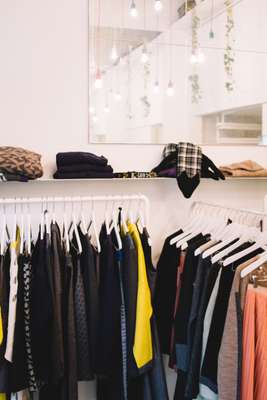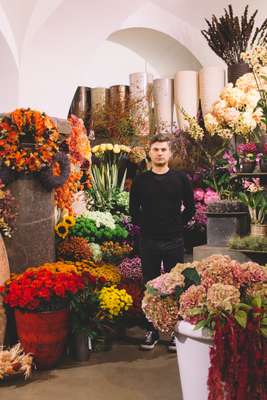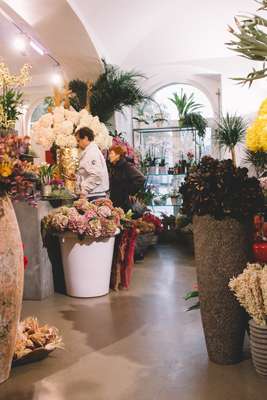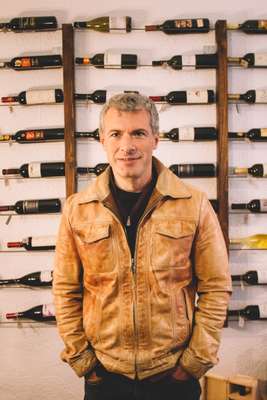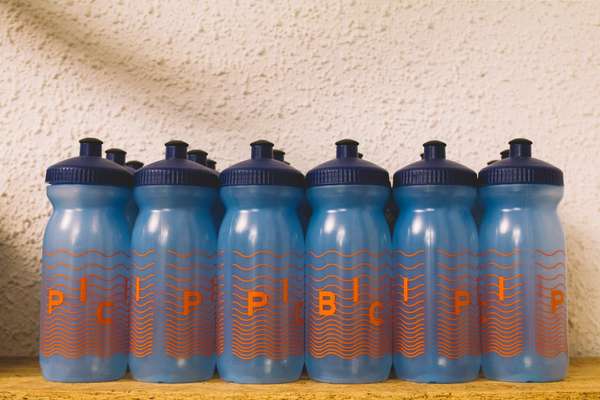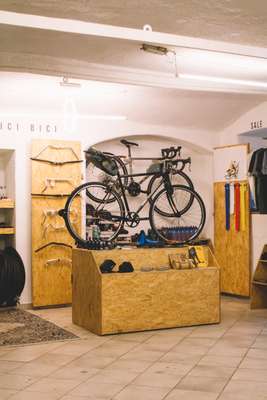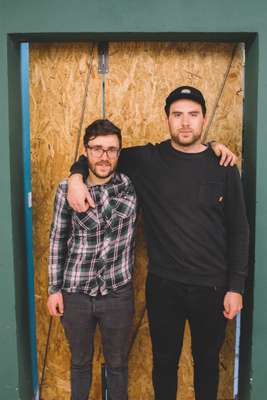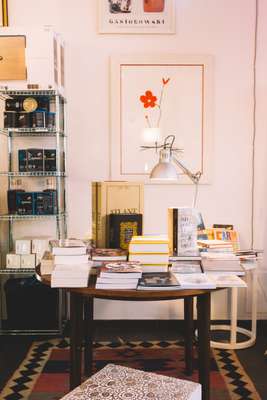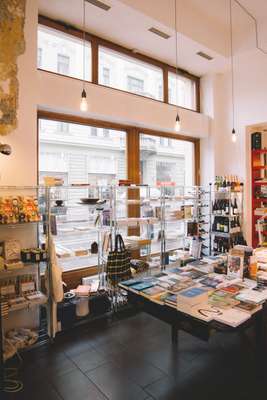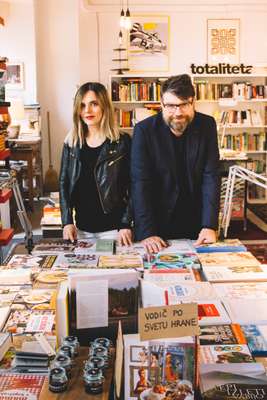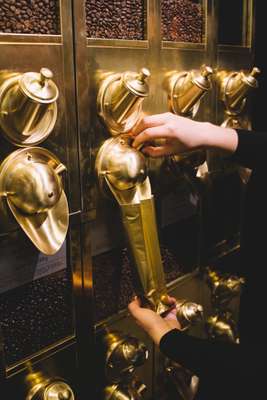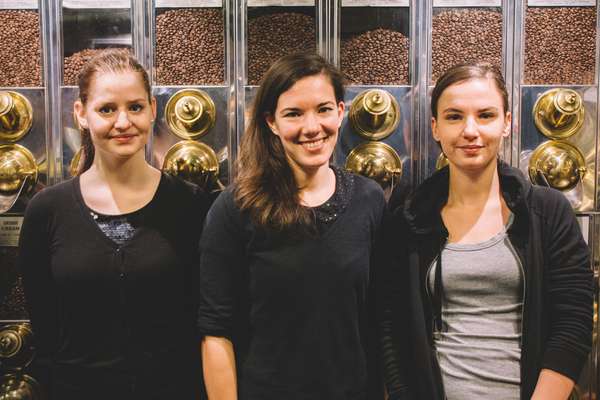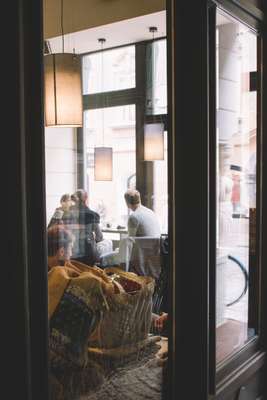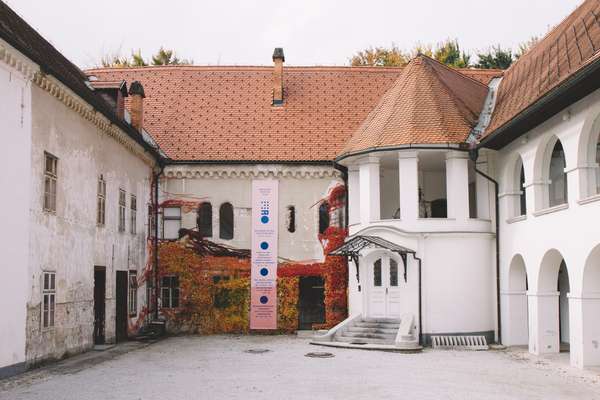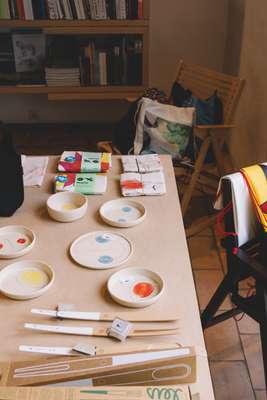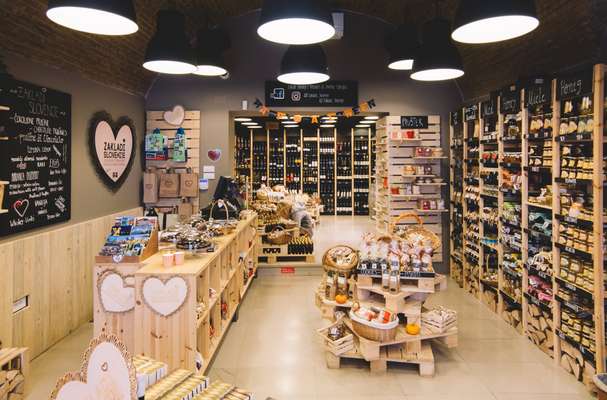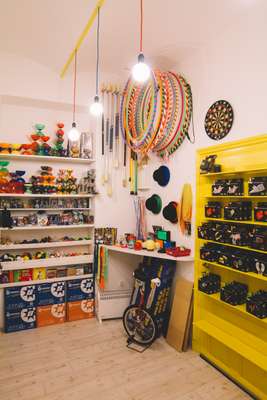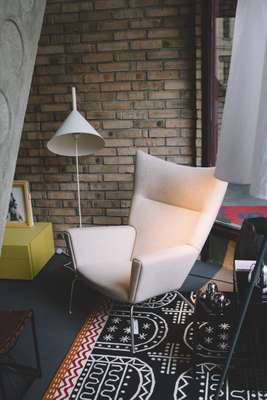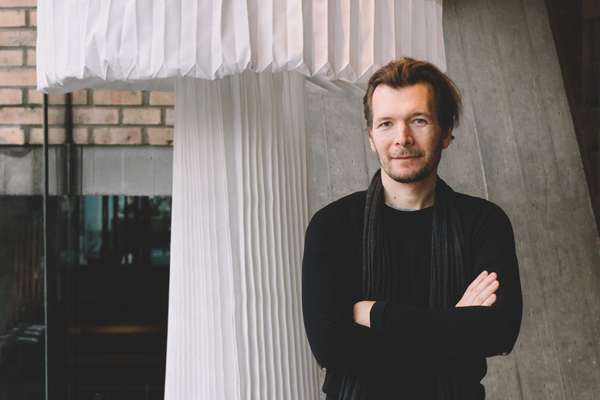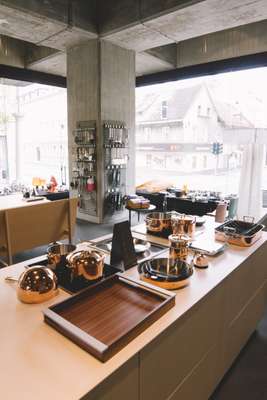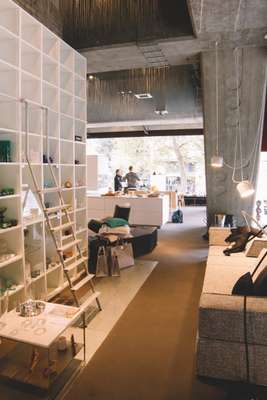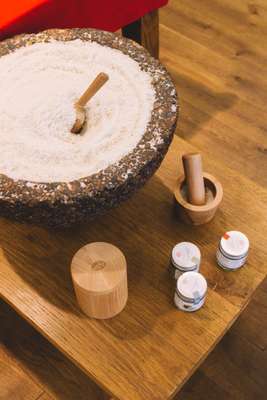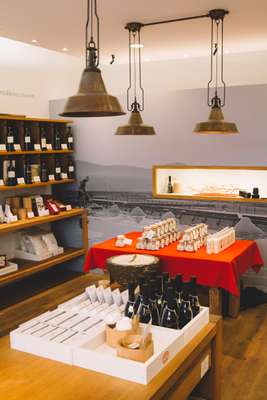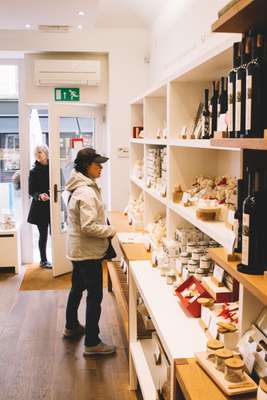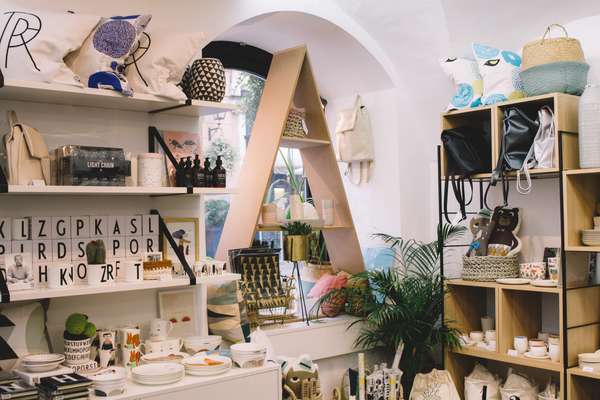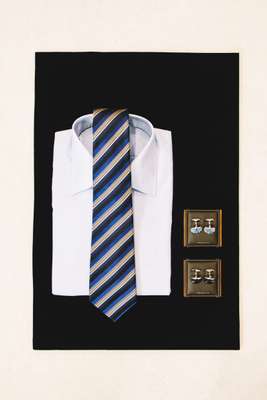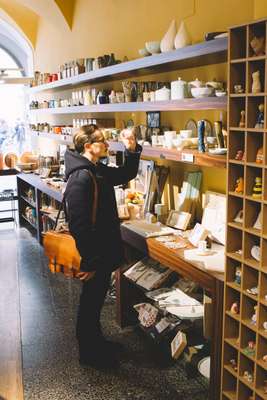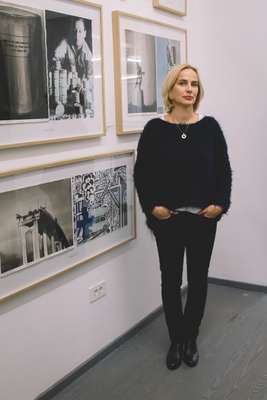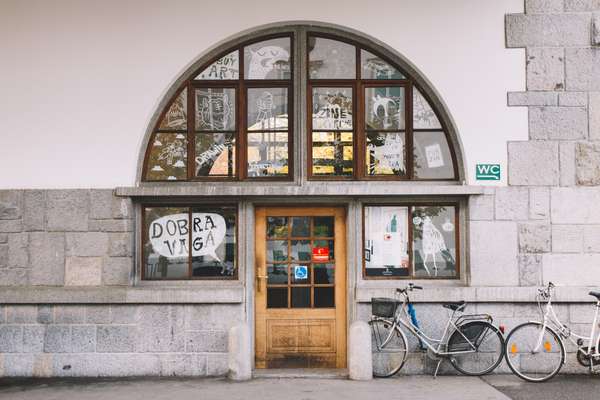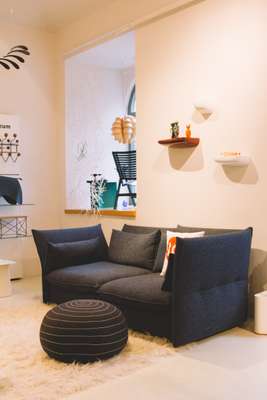 ---
The shop at the Museum of Architecture and Design (MAO) flips the dull, souvenir-laden stereotype of museum shops on its head. Located in the 16th-century Fuzine Castle, the shop overlooks a cloistered courtyard and is packed with gems from Slovenia's brightest design talents. "We opened the shop in 2013 because we wanted to give young Slovenian designers exposure," says museum guide Katarina Metelko. Quirky woollen soap-holders by Oloop, playful ceramics by Nina Urh and Kaaita felt bags sit atop elegant wooden tables by Matic Vrabic. And there are slivers of Slovenian graphic-design history up for grabs beside the concrete staircase: an assortment of original film and exhibition posters from throughout the 20th century.
mao.si
---
11.
Zakladi Slovenije
Delicatessen
This deli – a red-brick alcove stacked with oil, chocolate and wine – has become an old town favourite since opening in 2015. "Everything comes from Slovenia and you can sample it all before buying," says manager Amra Hadzic. She hands Monocle three Slovenian delicacies that would make great stocking fillers: a thimble of roasted-pumpkin-seed oil, a spoonful of chestnut honey and a shot of plum brandy. "The oil is best served on top of vanilla ice-cream," adds Hadzic.
10 Ciril-Metodov trg
---
Tojeto is the big brother of the superb Ristanc toy shop, located a stone's throw from its counterpart but targeting older children as well as adults. Like Ristanc, the shop was founded by Lucija Sasek but has been run by Ivo Luksa and Gregor Wedan since 2012. Yellow walls and a clock decorated with dominoes form a playful backdrop for shelves stacked with model-making kits, boardgames and pogo sticks. One room has more than 700 jigsaws. "Everything here is analogue and many products involve doing something active," says Luksa.
tojeto.info
---
"We started the shop on a whim," says architect Iztok Prosen, who co-founded sprawling furniture emporium ID: Doma with Andrej Kovacic in 2002. "One day we walked past a Bulthaup shop that had closed and said, 'Why don't we open something similar?'" They contacted the German kitchen juggernaut and everything "snowballed" from there. The result is a multibrand shop that occupies one corner of a remarkable modernist pile by Edvard Ravnikar. Sloping concrete columns offset Bulthaup cabinets, Molteni&C beds and works by Slovenian designers old (Niko Kralj chairs) and new (Bevk Perovic lamps). "We sell things we want to have in our own home: classics from the past and contemporary pieces we think will become classics," says Prosen.
iddoma.si
---
14.
Piranske Soline
Salt shop
Piranske Soline specialises in salt and does it exceptionally well. It's one of seven Piranske Soline outposts in Slovenia and the only Ljubljana branch. This seasoned pro sells bags, jars and cans of salt harvested in Portoroz, on the shores of the Adriatic, using 700-year-old methods. "It's still collected the same way – by hand," says manager Mateja Gasperin. She gestures to a pair of wooden sandals and a straw hat, traditional items still worn by salt-pan workers today. But the standouts are the sacks of fleur de sel: melt-in-your-mouth crystals scraped from the salt pan's top layer.
soline.si
---
Since 2008, husband and wife Smiljan and Slava Sosic have worked with farmers, beekeepers and winemakers across Slovenia to bring the country's best produce into their cosy shop in the old town. "We respect Slovenia's food producers and want to collect the most traditional products in a single place," says Slava. That means garlicky kranjska sausages, fir-tree honey (a less-sweet alternative) and salt from the Adriatic. "A lot of our suppliers are so small that they don't even have brand names," she says. "But what they make is very good quality."
krasevka.si
---
When you walk through the arched doorway of this classy design shrine you won't know where to look. On one table there are delicate wooden earrings by Slovenian jeweller Sui; on another a medley of hand-painted ceramic jugs. Look up to find Lille Rosa's comely leather bags slung from ladders; glance down to see rustic woven baskets and shelves laden with bright notebooks. Since opening the shop two years ago, Julija Nac and Matej and Nusa Gruden have amassed an assortment of goodies from 30 of Slovenia's most talented makers. "There are some really good designers in Slovenia making understated, geometric pieces," says Matej. "But most of the products are handmade in small batches so they're hard to find." Now that you know where to find them there's no excuse not to visit.
gud-shop.com
---
17.
Wolfova 5
Fashion boutique
"We love fashion; we are not commercial," is the mantra Wolfova 5 founder Judita Treppo lives by. The bespectacled style maven has been flying the haute couture flag for Slovenia since opening her elegant multibrand shop on the shores of the Ljubljanica in 1998. Over that time she has amassed a loyal clientele: men and women who come to peruse her latest finds from international houses including Balenciaga, Maison Margiela, Neil Barrett and Kiton. Treppo is the exclusive Slovenian stockist for all of these labels and has thrived in a city not known for its fashion thanks to a razor-sharp eye and steadfast commitment to her cause. "I would rather die than sell basic clothes," she says.
wolfova5.com
---
Every spoon, candlestick, basket and dress in Ika is made in Slovenia. The original Ika flagship opened in 1992 in the city of Skofja Loka; this spot in the old town followed in 2008. Inside the honey-coloured room there's a smorgasbord of Slovenian homeware. The shelves by the door are adorned with stocking fillers such as engraved chopping boards by LesnaVesna and porcelain teacups by Nika Stupica. Up a flight of stairs, in a wooden cupboard, is a small but superb sartorial spread, with Mila Vert's geometric-patterned dresses a highlight.
trgovinaika.si
---
19.
Galerija Fotografija
Gallery and bookshop
"I wanted to open a space where photographs and photographers would be stars," says Barbara Ceferin, a former photojournalist who recently opened this gallery-cum-bookshop. The muted décor of light-grey walls and dark-grey floors allows framed snaps from Slovenian maestros such as Boris Gaberscik and Matic Zorman to shine. There's an equally strong emphasis on the books. "I wanted to also sell photography books because they're more affordable than buying a photo: they're a good way to introduce people to the art," says Ceferin.
galerijafotografija.si
---
This playful new studio-cum-gallery in Ljubljana's Central Market champions budding Slovenian artists with a wink and a smile. The long, narrow room, formerly a fish market, is set on the water, with enormous arched windows framing the river as it wends its way past.
Curator Piera Ravnikar has done a sterling job providing a platform for young talent (the oldest artist is 38) in a space that cleverly riffs on its history. Marble sinks that once displayed the catch of the day are now filled with works by the likes of Ivana Bajec, Nummok and Marko Lekic – and original brass scales are used to weigh not perches but prints, which are priced per kilo.
dobravaga.si
---
When visiting London in the early 1990s, architect Ula Vehovar would look at furniture showrooms such as the Conran Shop and wonder why her hometown couldn't have one of its own. "I decided it was high time we got a shop like that," says Vehovar, who opened Kubus in 1996 with fellow architect (and now husband) Arne Vehovar, and consultant Mojca Mihailovic. In a heritage building with vaulted ceilings, veneer lamps designed by the Kubus team throw light on international and Slovenian pieces, including Ropot footrests.
kubus-interier.si
---
Breakfast: Bazilika Bistro: Bazilika has four vegetarian branches across Ljubljana but Bistro is the best. Try the buttery "pies" (quiches) that come with savoury fillings such as leek and porcini mushroom, or in sweet versions with fruit. Wash one down with a banana-and-pineapple smoothie.
bazilika.si

Lunch: Brodo: This beautifully kitted-out shop has the tastiest bagels in town. Chewy and golden, they come with fillings such as fried aubergine, mozzarella and tomato jam, or pork shoulder, capers and roasted peppers.

Dinner: Na Gradu: Svetozar Raspopovic-Pope, the chef at the lauded As restaurant, is behind this intimate outpost inside Ljubljana Castle. It serves first- rate traditional fare: think pork stuffed with almonds or kranjska sausage with horseradish.

---
Where to stay
Low-key or high style
For laidback lodgings look to Vander Urbani Resort, a four-year-old boutique hotel set over four townhouses in the old town. Run by Slovenian architect Aleksander Vujadinovic and his Australian wife Amanda, it boasts cheery interiors and an excellent restaurant. If it's old-world splendour you're after head to the Grand Hotel Union. Josip Vancas' art nouveau giant was Ljubljana's first modern hotel and tallest building when completed in 1905. More than a century on it still rules the roost from its prime central location. vanderhotel.com; union-hotels.eu
Hailed as Slovenia's most influential architect, Joze Plecnik (1872-1957) brought his Vienna secessionist style to a host of buildings across his native Ljubljana. Plecnik looked to the grandeur of ancient Athens for inspiration and his landmarks include the Triple Bridge, the patchwork-brick National and University Library, and the white- columned Zale Cemetery.
Slovenia's fashion scene is lagging behind its food and furniture industries but a clutch of womenswear designers are doing their best to remedy this. Monocle was particularly taken with the pastel-coloured dresses by Mila Vert, slouchy coats by Janja Videc and felt bags and slippers by Kaaita. All three brands are proudly "Made in Slovenia" and their designs can be picked up at Ika (Mila Vert and Kaaita), MAO (Kaaita) and Zoofa (Janja Videc). That said, it would be nice to see a dedicated menswear shop that stocks a great mix of international and Slovenian brands.
---
Café culture
Three spots to reflect on your purchases.
Stow Coffee
This slick new café and boutique roastery opens onto a courtyard and is housed in the City Museum.
15 Gosposka

Cajna Hisa
An old town fixture for the past two decades, this tea shop stocks more than 80 varieties of green, black, oolong and herbal teas from across Asia; enjoy a brew in the adjoining tea room.
cha.si

Dvorni Bar
Located a few steps from the Ljubljanica, this bar serves first-rate Slovenian wine by labels such as Kristancic and Rodica; pick up your favourite from Dvor, the wine shop next door.
dvornibar.net
---
Top of the shops
More festive favourites
Hamburg
Mutterland: Packaged food from all corners of the region.
mutterland.de
Apropos: Fornasetti plates, Gabriele Pasini ties and Givenchy shirts share the space at this refined concept store.
apropos-store.com
Cohen + Dobernigg: A must for bookworms.
codobuch.de
Lokaldesign: The best clothing from up-and-coming designers.
lokaldesign.de
Spielwerkstatt Hamburg: A heartland for well- made toys.
Thomas i Punkt: A piled-high shop for fine fashion.
thomasipunkt.de
Stilwerk: Design goodies displayed in a former factory on the Elbe River.
stilwerk.de
San Francisco
Acrimony: A multibrand valley stalwart for fashion.
shopacrimony.com
Gravel & Gold: Women's clothing in quirky cuts and prime-coloured patterns.
gravelandgold.com
Taylor & Stitch: Classic outdoorsy clothes.
taylorstitch.com
Unionmade: The Bay area's best for international but independent brands.
Wingtip: Grooming, accessories and menswear.
wingtip.com
Heath Ceramics: Top timeless tableware.
heathceramics.com
Innsbruck
Feinheiten: Fashion, furnishings and jewellery.
feinheiten-innsbruck.at
Held: Tyrolean headwear.
held-innsbruck.at
Der Kinderladen: Sweet city-centre toy specialist.
Carolines Spielart: Toys and boardgames galore.
spiel-art.com
One: Accessories, men's and womenswear.
Anichstrasse 9
Uhren Schmollgruber: Old-school watch seller and fixer.
uhrenschmollgruber.at
Resort: Roomy concept store selling everything from books to bags.
resort-innsbruck.eu