Report / Utrecht
Work flow
The Netherlands' fourth-largest city is attracting young entrepreneurs in droves. They come for a slower pace of life and to work in one of Europe's friendliest and best-connected mini hubs.
When Monocle visits landscape architect Gerwin de Vries in his Utrecht office early on a crisp autumn morning, the studio is already in full swing. Working from this airy industrial space with its dramatic sloping concrete roof, his practice Landscape Interventions (Lint) is at the forefront of some of the city's most ambitious regeneration projects. On the table are maquettes of developments such as the revitalisation of the vast Werkspoorkathedraal, Utrecht's former rail yard, and the masterplan for the densification of the Merwede area.
"Utrecht was my first choice as a student for its social life and I returned here after graduating because I wanted to live and work in an urban environment without the hectic feel of a big city," says De Vries, who set up Lint in 2011. "It's compact so everything is reachable within 15 to 20 minutes by bike. The city offers you the possibility to choose your pace of life."
This is a sentiment you hear a lot in Utrecht. The Netherlands' fourth-largest city flies under the radar, often overlooked in favour of its bigger brothers Amsterdam, Rotterdam and the Hague, which grab attention internationally when it comes to both economic and political activity. But Utrecht is finally getting the recognition it deserves, thanks largely to a new generation of entrepreneurs who are either staying put after their studies or moving here to set up businesses and take advantage of the high quality of life.
One of the city's biggest draws is its location. Along with the three other main metropolises in the Netherlands, Utrecht makes up the Randstad, one of the densest economic zones in northwestern Europe. As a small but well-connected city in the centre of the country, it naturally looks outwards. The rail station is the country's largest and busiest, sitting at the crossroads of the entire nation. "With the centrality of Utrecht it's very easy to have your company here," says De Vries. "One day I'm in Amsterdam, the next day I can be in Rotterdam."
It's not only national travel that makes Utrecht a desirable business location though. Amsterdam's Schiphol Airport, one of the world's busiest hubs, is right on the city's doorstep. This connectivity has helped companies such as Clever Franke, an acclaimed studio specialising in interactive data visualisation, expand overseas from its base in Utrecht. Operating out of a converted 17th-century coach house (with old stone troughs intact), the company works with clients such as Google and the Chicago Metropolitan Agency for Planning, and recently opened an office in the Windy City.
Like many entrepreneurs here, founders Gert Franke and Thomas Clever studied at the hku University of the Arts Utrecht. After graduation they decided not to move to a bigger city. "We liked the relaxed vibe and thought we shouldn't go where everyone else was going if we wanted to break new ground with our work," says Franke, who lives just a two-minute walk from his office. "The city has become more alive in the past 10 years with nicer shops, restaurants and more culture. Utrecht is better at retaining creative people now and that's partly thanks to the new workspaces popping up."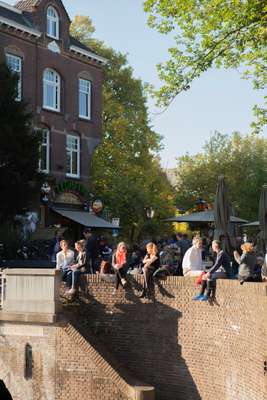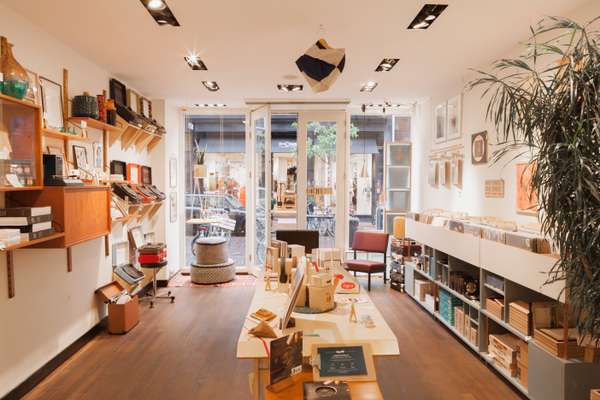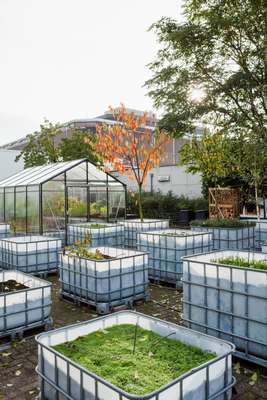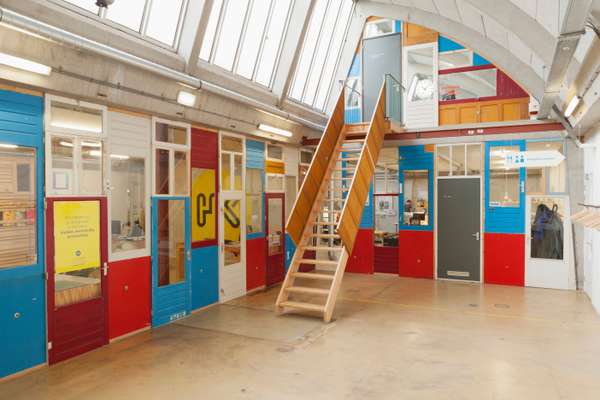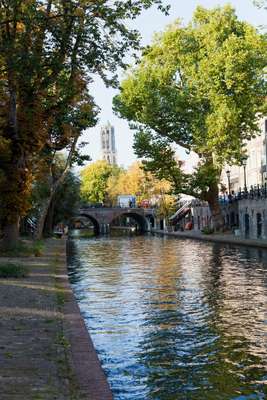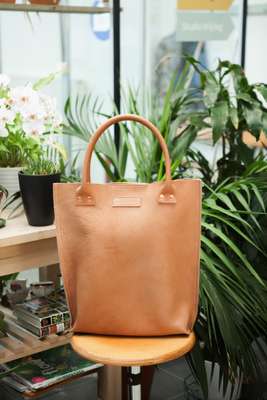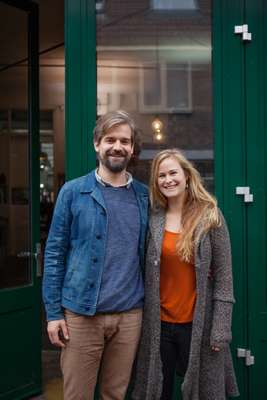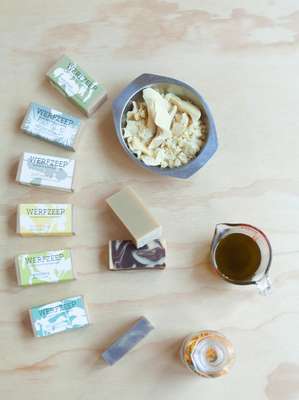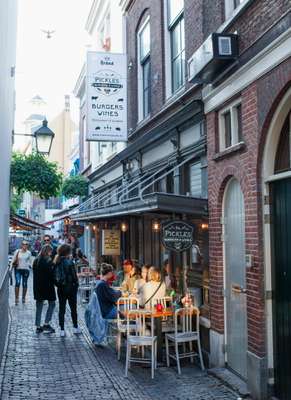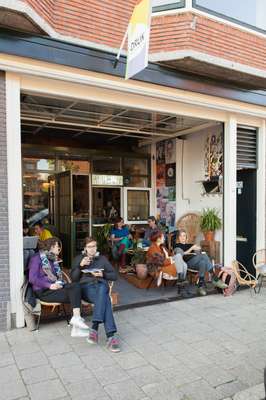 In recent years such shared workspaces have reactivated vacant industrial sites, creating spaces for small businesses and start-ups and enlivening once-deserted districts. Gerwin de Vries's Lint is based at Vechtclub XL, a new creative space a short cycle from Utrecht central station. The former pharmaceutical factory has become a destination in its own right by hosting a restaurant, farmers' market and brewery, and a diverse programme of events and festivals.
Just a 10-minute cycle east of Vechtclub XL is Druk, another shared workspace overlooking the Westerkade Canal. The smell of freshly brewed coffee wafts out from the open shopfront of the on-site café, run by roaster Koffie Leute. The workspace is home to about 15 small businesses. One of these is Labour of Art, a leather-goods maker founded by German-born Katia Plewnia. In her small atelier she moulds hides sourced from a small tannery in her native Bavaria into elegant bags and holdalls. It was the city's size and vibrancy that drew her in. "Utrecht is like a crowded village with a hint of the big city," she says. "It's a comfortable environment to set up your business, especially if you have a family."
Plewnia shares the open-plan space with Evelien van Zonneveld, founder of organic soap brand Werfzeep. The brand's name came from the word werf-kelder, which refers to the "wharf cellars" along the city's Oudegracht canal where she first started making soap in 2009 before moving to Druk. According to Van Zonneveld, these cellars capture something unique to Utrecht. "It might be crowded on the street above but it's very quiet down by the water," she says. "It's like a different world in the centre of the city."
Utrechters are generally known for their modesty but one thing they aren't shy about is proclaiming the beauty of their historic city, not least its double-storey streetscape and canals. The former werfkelders that line the city's waterways have been converted into busy and picturesque restaurants, bars and galleries. Even in late autumn there are crowds sitting outside to soak up some Sunday sun. Utrecht's liveability is enhanced by the way the city is planned, with small-scale buildings in the centre and high-rises on the periphery, while tree-lined streets and quaint squares make for a relaxed vibe. Yet even though Utrecht is small, with just 334,000 inhabitants, it is the country's fastest-growing city, which means maintaining that level of liveability is going to be tough. As De Vries puts it: "The challenge will be housing 100,000 inhabitants who are expected to arrive by 2035. How do we offer them good living and working environments?"
Luckily many key projects are already completed or underway. The recent redevelopment of the central station saw an eyesore transformed into a gleaming development incorporating a new town hall. The project, run by Benthem Crouwel (the practice behind new stations in Amsterdam and Rotterdam), will also include the world's biggest bicycle parking station, which will open in 2018 and house 12,500 bikes.
"We see the station area as an icon for sustainable urban development," says Jaap Breugem, director of international affairs at Utrecht's Economic Board. "The idea is that if it works here and the changes are big then the solutions can be exported."
Breugem is not the only person to see Utrecht as a proving ground for new ideas. Thanks to its manageable size and youthful population (there are 70,000 students here, making it the youngest city in the Netherlands) it is a perfect place to try out an idea. This is exactly what car-sharing platform Snappcar did when it launched here five years ago. "Utrecht's small size makes it easier to oversee than a big city," says co-founder Pascal Ontijd, whose business has now spread from the Netherlands to Sweden and Denmark. "With an audience of young, highly educated thinkers, Utrecht is a good place to test innovation."
It is this combination of connectivity, a youthful and mobile population and a high quality of life that have led to Utrecht being recognised twice as the EU's most competitive region. But it's the evolution of the city that makes it so ripe for discovery right now. Restaurateur Joris Visser, whose gastro-burger chain Firma Pickles started in Utrecht before spreading to three other Dutch cities, sums up the gradual transformation. "The city has grown and become more international. Locals, especially young people, are eating out more and are also willing to spend more on good food." And although his concept has worked well in both Rotterdam and the Hague, Visser remains an Utrechter at heart. "We're immensely proud of our city, a place with rich history, a fantastic centre and down-to-earth Utrechters who never stop evolving."
Setting up: €50 to register a business with the Chamber of Commerce
Time to register a business: 1 day
Office space: €1,300 to €1,800 per month per 100 sq m
Start-up visa: A special maximum two-year residence permit tailored to international entrepreneurs who want to set up a business in the Netherlands
Average net wage per month: €2,000
Time to Schiphol: 45 minutes by car
Schools: There is an international school in the Transwijk area
---
Other business-friendly cities
Santiago has moved up the ranks of promising business outposts, particularly for its relatively stable government. Venture capital investment saw a 110 per cent rise from 2009 to 2014 and momentum has continued to build. Touted as a promising start-up hub, Chile's capital has a clutch of good incubators, such as Start-up Chile, which have helped earn the city the moniker "Chilecon Valley".
Facing the stunning Seto Inland Sea, Onomichi has attracted great writers and film-makers over the years. Today the friendly city provides subsidies for people to move into and refurbish beautiful old houses. An entrepreneurial scene is also growing, with Discoverlink Setouchi, a community-development company, leading the charge with a new hotel and a denim project that taps into the city's manufacturing heritage.
3.
Raleigh, North Carolina, USA
Known as one corner of the so-called Research Triangle (along with Durham and Chapel Hill), today Raleigh is undergoing a transformation. Its once-drab downtown is being spruced up and mayor Nancy McFarlane has encouraged young people to move into the city centre and set up businesses. Bigger industries are also thriving, particularly in the renewable-energy sector: Duke Energy's Raleigh centre is piloting the US's first offshore wind farm.