Retail / Global
Follow suit
In many offices dress codes have become relaxed. But whether they're sporting casual kit or are suited up, guys still want to look sharp for their jobs. These brands are doing fine business by catering to working men.
1.
Casely-Hayford
London
For architects, gallerists and entrepreneurs after a hit of cool
Some of London's best-dressed men determine what their work look will be in a yellow-walled room in Marylebone that's populated with armchairs, plants and photos of luminaries such as Jean-Michel Basquiat. The downstairs floor of Casely-Hayford's central London shop was designed "to feel like your coolest friend's apartment", says Charlie Casely-Hayford, grinning. "When people are in this room they're very open. And if they're comfortable then they explain their job to us. It allows us to really think about what they need to do each day and what will work for them."

Casely-Hayford co-founded the brand in 2009 with his late father, the esteemed designer Joe Casely-Hayford. It has a cool, refreshing take on tailoring: suits come roomy and coats in crunchy Japanese fabric, while crisp T-shirts are tucked into wide pleated trousers. Its ready-to-wear lines for men and women are popular, representing about 50 per cent of business. But the bespoke side, in which customers can have pieces tweaked in a choice of about 3,000 fabrics (from the UK, Italy and Japan), is growing. Many customers, especially men, are using this service when building their work wardrobe.

"We've carved out a niche for ourselves; we've attracted people from the arts and creative industries, and young entrepreneurs," says Casely-Hayford. The 33-year-old cuts an enviable figure in a double-breasted suit in a brown checked wool. "The common thread among our clients is people who are seeking something different," he says. One architect, for example, asked him to make an "ill-fitting" suit in a Holland & Sherry fabric that would create an insouciant look; another client, the founder of music-broadcasting firm Boiler Room, pairs a Casely-Hayford suit with Reebok Classics and a chain.
Others have a less clear idea of what they're after. "We've had people say, 'I want a uniform but I don't know what it is. Can you help me?' That's such an exciting brief," says Casely-Hayford. "For work, a lot of guys like to have a uniform, even if it's casual. If you're getting up at 6am and going to the gym, you don't want to give a huge amount of thought to your outfit. Knowing that something works, and that you can have it in several fabrics and colours, is ideal."

Given the relaxation of workplace dress codes, can any item now be considered office clothing or is there a certain ingredient that makes something suited to work? "There is definitely something specific," says Casely-Hayford. "A lot of people say, 'I want something to make me feel confident.' You don't necessarily seek that from your weekend clothes."
What is it, then, that gives confidence? All Casely-Hayford's suits have an easy nonchalance about them and the brand "is known for cutting its suits to be worn with T-shirts", says the designer. The Hendricks double-breasted model is popular as the brand has moved one of the jacket buttons so that it sits half-open, creating a relaxed look. A more low-key bestseller is the shirt-jacket, which comes in everything from Italian suede to corduroy. Customers are advised to pair this with a navy T-shirt and tailored trousers. "Where people get confused is when they think, 'If I want to feel important, then I need to wear a suit,'" says Casely-Hayford. "It doesn't have to be as black and white as that. We're trying to think outside traditional suiting. That's where we've found a sweet spot."
casely-hayford.com
The white-trainer worker
It's time we give this new employee uniform the recognition it deserves.
For decades we've classified people according to the clothes they wear. We've had white and blue-collar workers, of course, but also striped-collar workers for the IT crowd that emerged in the 1990s (deemed somewhere between blue and white) and black-collar workers for the creative class that rose up in that same decade wearing Gucci or Prada in an palette of ebony, coal and ink.
Well it's high time we cast our eyes downwards and added a new classification: the white-trainer worker. In the past decade, few wardrobe items have come to signpost a male member of the creative class like a pair of white trainers. We have Common Projects (and perhaps Adidas Stan Smiths) to thank for this. New York brand Common Projects – founded in 2004 by former magazine art director Peter Poopat and brand consultant Flavio Girolami – was one of the first to offer trainers for "grown-ups". Its sleek designs with fine gold lettering looked good with a blazer and enabled men to feel comfortable and sophisticated at the same time; they catered to our more active lifestyles and, unlike most options, did away with the dread of feeling like we were trying to dress like the kids.

Common Projects' domination is all the more remarkable given the brand's business strategy. It doesn't have any of its own shops, choosing instead to sell solely via a prolific wholesale network; according to its website it has 164 stockists in the US alone. (That said, this lack of self-promotion has arguably served to heighten the brand's mystique.)

As the athleisure movement has raged on, the sophisticated-trainer market has mushroomed with specialist brands such as CQP, Axel Arigato, Oliver Cabell and Fateeva – plus seemingly every luxury house – getting in on the action. Tell us you know an art director over 30 who isn't wearing a pair of white Nappa trainers and we'll call you a fibber. It's about time our sartorial taxonomy reflected that.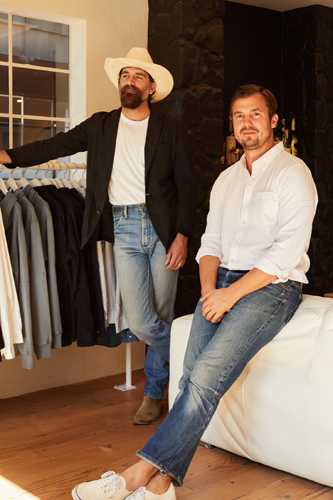 2.
Buck Mason
Los Angeles
For men in the tech and creative industries after well-made basics
In the offices adjoining their shop in Hancock Park in central LA, Buck Mason founders Erik Allen and Sasha Koehn (both pictured, Allen on left) discuss the finer points of one of their signature pieces: the hoodie. "Our guy shops with his hands as much as his eyes," says Koehn, running his fingers across the French terry. "He can feel that it's thick but soft and already kind of broken in."
Allen points to the twill tape along the side seams. "They might not see this nuance until they get home but that's where people know that this is modern and not [the 100-year-old clothing brand] Eddie Bauer." This is pure Buck Mason: taking a familiar item – a hoodie, an Oxford shirt, raw-denim jeans – and giving it a youthful injection.
Today's work spaces – especially on the West Coast – are filled with those riffing on the tech entrepreneur's outfit sported by the likes of Jobs and Zuckerberg. Buck Mason elevates the basics and is a favourite among men in the creative and tech industries. Since its inception six years ago, the brand now has nine shops across LA, San Francisco, New York and Plano, Texas.
Although Buck Mason has been sported by the likes of Snapchat CEO Evan Spiegel, Allen says its association with the tech wardrobe is a mere postscript. "We never thought, 'Oh, we're going to do this pared-down casual thing because the zeitgeist is shifting.' Our lens has always been California."
Nonetheless it makes sense that these sorts of folk took to Buck Mason; there is something distinctly uniform-like about its wares. The company began as an online start-up and, on its immaculate website, goods are divided into 11 neat item categories, from tees to polos and sweaters. Every product is available in an array of neutral tones so that customers can buy, say, five of each thing for work, play or both. "Erik jokes about this more than I do but you could walk into our shop blindfolded and pick up five items and chances are that they'll all go together," says Koehn.
In LA especially, work happens anywhere you're not choked by gridlock. Luckily Buck Mason's casual wardrobe can easily carry the busy worker from a café meeting to an off-site shoot to dinner in Silver Lake.
buckmason.com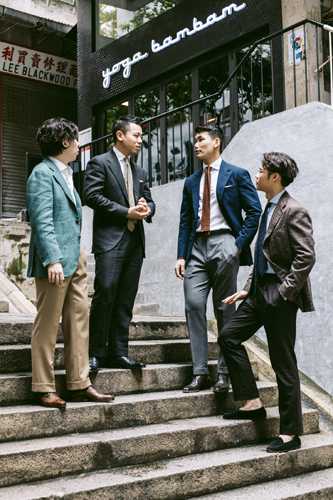 3.
Prologue
Hong Kong
For dapper finance guys who are after a suit refresh
Chris Tang (pictured, second from right) is running late for a customer fitting at Prologue, a menswear shop in Hong Kong's Sheung Wan district specialising in dapper made-to-order suits. He co-owns the shop, along with fellow suit enthusiasts Jerry Tong, Chi Wang Tang and Gareth Li. Although it's 30C outside, Tang arrives not having broken a sweat. He's pristinely dressed in a white shirt, burnt-orange knit tie, navy blazer, grey pleated trousers and mahogany Oxfords.
"Our perfect customer is someone who's looking for separates," says Tang, who attributes the brand's success to its wide customer base from Hong Kong to Stockholm. "Seventy per cent of our customers would start with a pure wool navy or grey suit but otherwise we see a lot of people mix and match different patterns, colour and fabrics."
While young professionals in other cities may be quick to embrace a new wave of casual dress in the workplace, Hong Kongers wear their suits with pride. Much of the tradition of formal work attire is kept alive by the city's prevalent corporate culture. "It's a suit environment but I tend to keep it business-casual," says Pierre-Jean Françon, partner at the firm DHR International and a long-time Prologue customer.
While taking Françon's inseam measurements, Tang warns him that suits made of light fabrics are prone to wrinkling. "We encourage customers to get something heavyweight but breathable – about 280 to 370 grams," he says. "It helps that the air-conditioning is so strong in most offices."
Hong Kong's long history of tailoring has helped keep suits alive. "Tailoring is a very bread-and-butter thing in Hong Kong," says Mark Cho, owner of menswear retailer The Armoury, which has branches in Hong Kong and New York. "People are willing to splurge on bespoke tailoring here."
Prologue's Jerry Tong (pictured, second from left) attributes his love of made-to-measure to photographs of his grandfather suited up for work in the 1940s. "You see 30 to 40-year-olds opening shops like ours in Hong Kong – people who want to modernise the traditional suit," he says. "But we're maintaining that classic touch that a lot of people are willing to forego."
prologuehk.com