Set up here / Global
Get a move on
From a cosy town in eastern France to easygoing Hiroshima, we've visited three compact cities with nature on their doorsteps that offer big business potential and quality of life.
"There's room for everything here," says Julien Latil, sitting on the terrace of his coffee shop Brumes. Whether he is referring to the dozens of small-batch coffees on sale at his café or to the many shops lining the streets of Annecy is unclear – but he probably means both.
Business in this French alpine town is thriving, with traditional Savoyard restaurants and ski-wear shops rubbing up against smart brunch spots and design-focused concept stores. "People in Annecy have a certain buying power," says Latil, a reference to the many commuters living on Swiss salaries. "When I started out three years ago there was already a growing demand for niche products."
Annecy is now home to a crop of handsome businesses that wouldn't look out of place in much larger European cities – often because they are run by ex-Parisian or Lyonnais owners who moved here to find a better life at a lower cost and slower pace. "We came to Annecy for a weekend because we were looking to relocate and start a restaurant," says Jérôme Bigot, a Parisian-born painter-turned-chef who runs restaurant Kamouraska with his Québécoise wife Marie-Hélène. "My wife was drawn to the lake, the mountains and the climate, which reminded her of Canada. And when we saw an artist's studio for sale behind the cathedral, we knew that if we didn't do it, someone else would move here and do what we always wanted to do."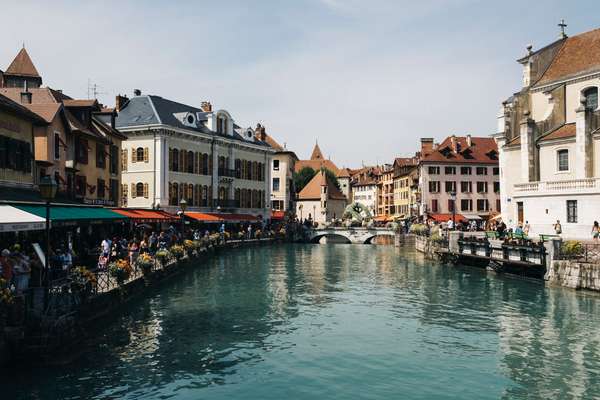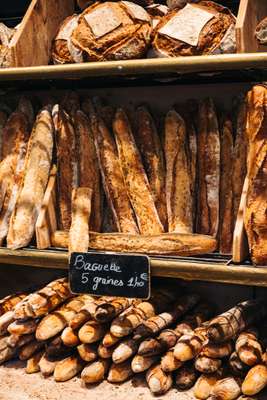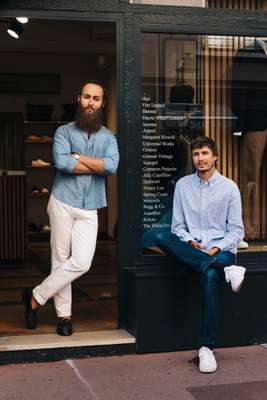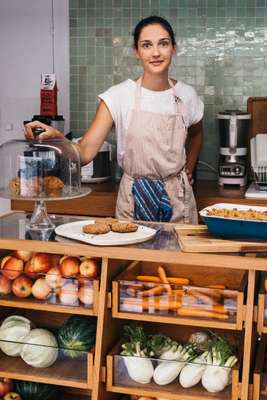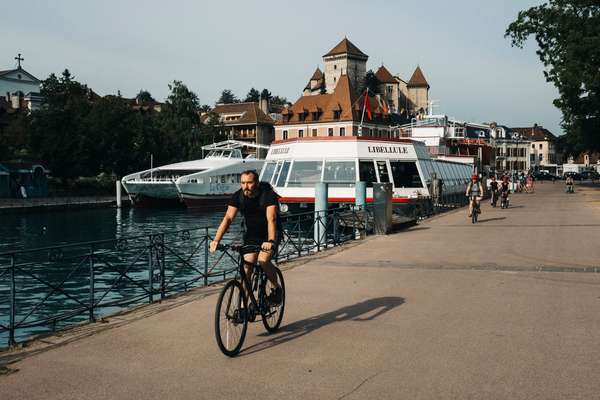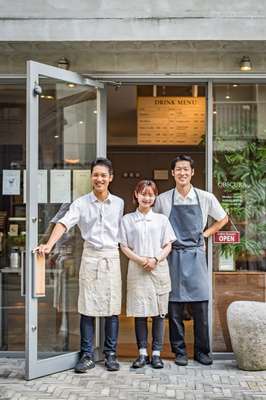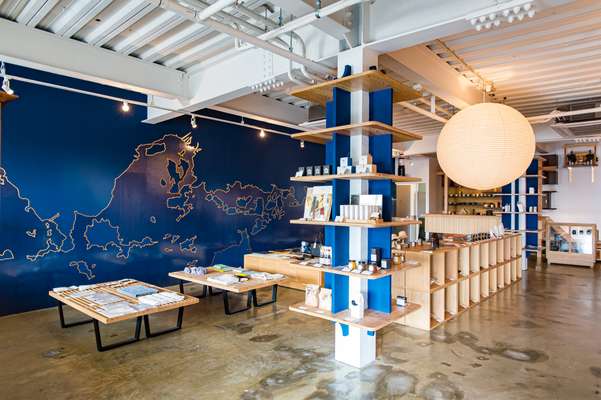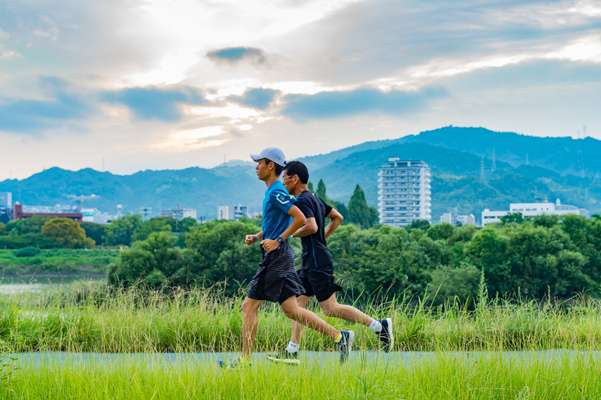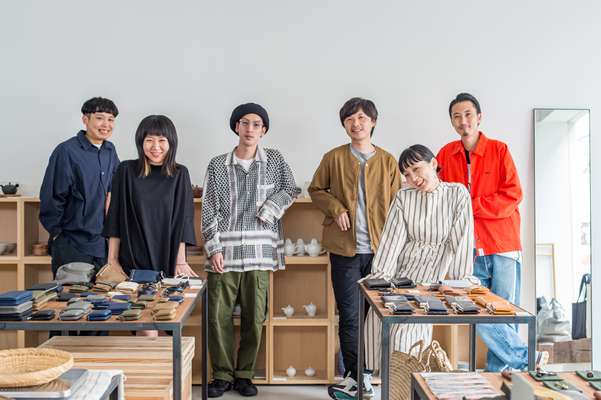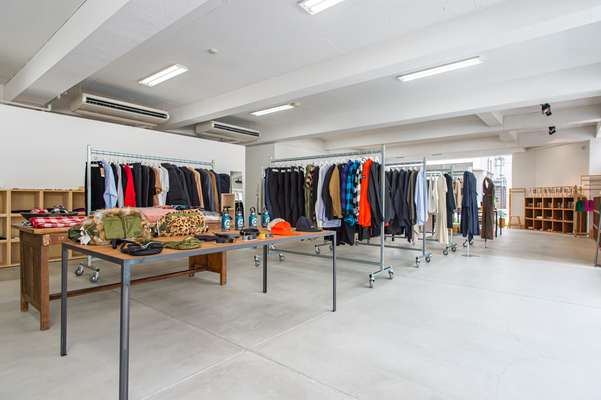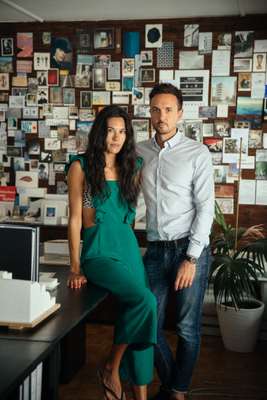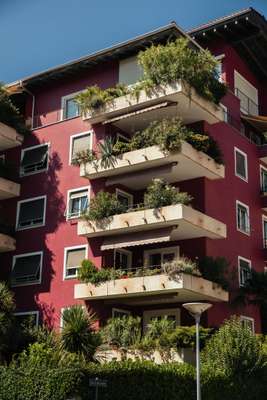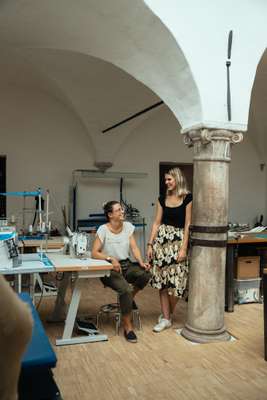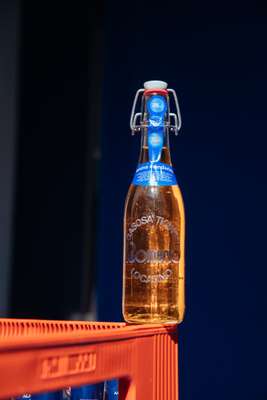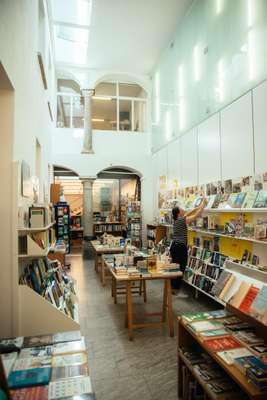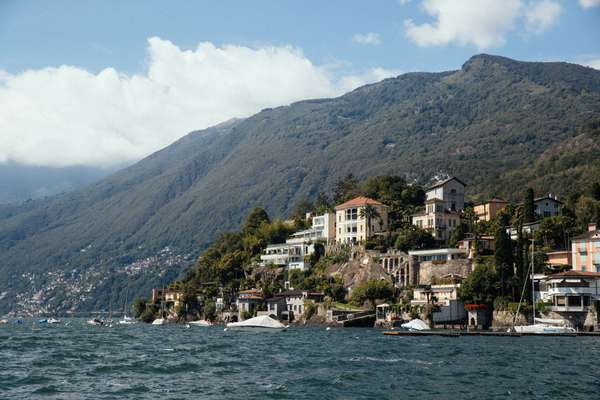 Three years ago the tiny alley that Kamouraska sits on had no other shops. These days its neighbours include a good florist and a zero-waste lunch canteen, also owned by Bigot. Luckily, being just off the main tourist drag has helped commercial rents remain well below the monthly city-wide average of €3,750 per 100 sq m. Similarly, residential rental prices generally drop by a quarter just a 10-minute cycle ride from the Alpine-style houses of the pretty Old Town.
Then there's the option for business owners to enjoy the great outdoors during working hours, such as a lunchtime picnic by the town's lake. Commuting to Switzerland for higher pay is still popular but more and more often, residents are choosing to work in Annecy instead of spending hours in traffic on the motorway to and from Geneva every day.
"I can take my bike and go cycling in the mountains before starting work," says Germain Reinier, an Annecy native and the owner of menswear shop St Germain. "Annecy is a good compromise between city and nature."
The wood-and-metal shelves in Reinier's well-appointed shop are filled with Margaret Howell workwear jackets, Common Projects trainers and Ally Capellino backpacks, reflecting this mix of city and country living that the town embodies.
Annecy also boasts a decent cultural calendar, fuelled by an annual animated-film festival. Alice de Montalivet came here from Paris this spring to work for the festival. "Considering the size of the city there are so many cultural activities," she says, gesturing to the nearby Haras building, a space for temporary exhibitions that will undergo extensive renovations from 2020 to house a film centre, galleries and a food hall.
"A lot of people are moving to Annecy after stints in Paris or abroad, realising that life here is sweet. Besides, Geneva airport is not far away," she adds with a smile. "If you want you can be on a plane to see something different in almost no time."
---
Why it works
With strong links to Switzerland and Geneva, this overlooked corner of France has a more buoyant economy than might be expected. That, paired with reasonable rents and a small city centre, has created the perfect storm for a growth in independent shops and new businesses. Thanks to a booming cultural sector and the Alps being on their doorstep, residents are never bored.
Starting out
Population: 130,250
Average residential rent: €850/month for a 50 sq m flat in the Old Town
Average salary: €3,500 per month
Nearest airport: Geneva serves 49 international destinations
Time needed to register a new business: About 4 working days
From the window of his second-floor office in downtown Hiroshima, Kengo Nakamoto has a view of the spot that put his city's fashion-retail sector on the map. Six years ago in Fukuromachi Park, Nakamoto organised a two-day open-air market called Trunk that brought together fashion and stationery brands, chefs, coffee roasters, architects and record shops. It was a pivotal moment for an area that had previously been best known for its multilevel carparks.
"A decade ago nobody wanted to touch this neighbourhood," says Nakamoto, who moved Ref, the first of seven clothing and lifestyle shops, to this low-rise area of overhead power lines and narrow streets in 2008. "People from this region used to travel to other cities to shop. We changed that by building a street-level retail culture here."
The Trunk Market is now a biannual event with 60 stalls that attract crowds of more than 20,000. Its success helped Nakamoto persuade APC, Undefeated, Atmos, The North Face, Patagonia and others to open shops near the park.
Hiroshima is an outlier. It's far from Tokyo – four hours on the Shinkansen – and the nearest major international airport (Kansai, near Osaka) is a three-hour train ride away. Perched on a delta that empties into the Seto Inland Sea, the city has a population just shy of 1.2 million. Its lack of density makes it manageable and everything moves slowly: the old-fashioned trams, the traffic, the pedestrians. The buildings could use a spruce up, the riverbanks are a little overgrown and even the okonomiyaki (Japanese pancakes) – Hiroshima's soul food – are a messy hodgepodge. Yet these qualities lend charm to a place that sees no need for breakneck development. This – and its history (it's one of two cities on which the US dropped an atomic bomb) – is what 13 million visitors come for each year. Entrepreneurs looking to get a start in the hospitality business couldn't ask for a better set-up.
Two such people are Toshiyuki Ochi and his business partner Keiichi Moto, who set up shop and restaurant Engawa a year ago in a former warehouse in the city's busy industrial port. Ochi, who has a construction business, and Moto, a professional photographer, have done wonders with just ¥2m (€17,000) in low-interest public loans and funding from banks, creating an elegant space of private tatami-mat rooms and wooden furniture. "We are targeting people who are looking to discover something new," says Moto. To fill the shop they scoured the region for little-known artists and brands and picked their favourites: knitted scarves, sun-dried soba noodles, ceramic bowls, green tea and honey. "We wanted everything to fit the lifestyle, terrain and climate of the islands and the towns bordering the Seto Inland Sea," says Moto. "People from all over the world come to Hiroshima. Its port is the gateway to the inland sea region. We are trying to connect the two."
Elsewhere, in the city's northern foothills, live Masafumi and Sumire Shimatani, the founders of Hankura Design. They got together at university but only decided to launch their own business in 2013 after a decade of working for others. Their four-person operation has produced many handsome shops and restaurants, coffee kiosks and homes around the region.
The Shimatanis are about as rooted here as anyone you'll find. Masafumi, from nearby Onomichi, has never been abroad and doesn't have a passport, while Sumire is a Hiroshima native. For them this is a dream location. "It's convenient to work on projects almost anywhere in Japan's western region," says Sumire. It's also a great place to be an architect thanks to 560,000 hectares of cypress, cedar and red-pine forests and some of the country's most skilled carpenters, woodworkers and furniture makers.
The Shimatanis laud Hiroshima's efforts to support entrepreneurs with subsidies and a downtown office with a library, workspace and printing machines, plus a backroom for seminars. But what they really want is somewhere to meet other young creatives and urban thinkers. They've created a proposal for a private lounge that will be part of a downtown hospital-cum-hotel renovation project opening before the end of the year. "There isn't anywhere like this in the city at the moment," says Masafumi.
For some it's the proximity to nature that makes Hiroshima such an attractive place to live and work. Coastal diving spots, pristine fishing holes and forest hiking trails are all within an hour's drive. Farms and orchards blanket the northern mountains and neighbouring islands, while the coastline is Japan's top oyster-producing region.
At what might be the city's most hidden breakfast spot, Home Run Shokudo (you get to it by climbing the stairs at the back of a garage on a residential side street), Kana Akutagawa is busy serving pescatarian meals with okayu, a rice dish.
She opened in 2017 and uses ingredients mostly from farms and producers around Hiroshima; her shelves are crammed with jars of pickled plums and peppercorns, homemade miso and preserved fruits from past years' harvests. "I rely on a small vegetable dealer near where I live. The elderly couple who run it get their produce from farms just north of here. I love going there because they have taught me a lot about how to prepare and preserve vegetables."
It's the kind of story that you're likely to hear in small towns and villages around here. "What I love about Hiroshima is that it's a city but with just enough of a countryside streak running through it," says Kana.
---
Why it works
The slower pace of life is a gift to anyone looking to do business slightly differently, with plenty of gaps waiting to be filled by savvy entrepreneurs. A reliably high visitor count means that there are always new customers to win; housing stock is slightly neglected but has plenty of potential. The ease of access to nearby coastline, forests and farms is hard to beat and provides plenty of chances for work and play.
Starting out
Population: 1.2 million
Average rental price: ¥61,200 (€520)
Average salary: ¥4.6m (€39,000)
Nearest airport: Hiroshima Airport serves 5 domestic and 7 international destinations
Time it takes to register a business: 1 week
When you picture a Swiss city, images of trams gliding through an urban landscape punctuated by prim and proper façades will likely come to mind. Then you visit Locarno, a sun-kissed lakeside settlement of palms and piazzas where winding streets lead to pastel-coloured palazzi filled with old-world charm.
For Canadian Marc Brosselard it wasn't difficult to decide where in Switzerland to settle once he caught sight of the place. Unspoilt valleys, mountain peaks and the deep-blue waters of Lake Maggiore frame this corner of Canton Ticino, the lone state in the Helvetic confederation where the language of Dante is the dominant tongue.
"Buongiorno," says Brosselard in a booming voice as patrons enter his tea shop, La Casa del Tè, which is nestled on a pedestrian lane in the heart of Locarno's old town. Customers reply by calling Brosselard by his first name and long chats ensue. "It's what makes this place great," he says. "It's a small tight-knit community where you know the other merchants and you have a regular following of clients. Being from Ottawa, I also don't miss out on the snow – but here there's the advantage that it stays on the mountaintop."
Locarno's microclimate is a big draw, helping to bring in a healthy number of tourists from Swiss-German cantons. The mild winters and 2,300 hours of sunshine a year mean it is frequented by a steady stream of second-home buyers and retirees with disposable income to spend in shops.
Fashion designer Lisa Pomari runs her slow-fashion label LP4 Studio out of an atelier on a quiet side street. "We have seasonal tourism but still have a good number of residents coming in to buy," she says. "And being a small community, word of mouth gets out quickly when new things pop up."
A Locarno native, Pomari studied fashion in Milan but chose to return to her hometown after graduating. "It's the perfect base," she says, pointing to the fact that Zürich is less than three hours away by train and Milan less than two. "You are right in between these two different worlds yet you can come back to your laidback life on the lake the same day."
The living is good here. The waterfront provides plenty of space for cyclists and pedestrians to roam, while bright-red benches are strategically placed throughout the town for those wanting to take a breather and watch the world go by. Those eager to get wet have beach access on their doorstep. There's also the sprawling Lido Locarno complex, which has a collection of indoor and outdoor pools, including a soothing thermal bath and spa.
Despite being home to fewer than 16,000 people, Locarno rivals major European cities with an envious cultural calendar. The undisputed star is the Locarno Film Festival held in August, which sees the main piazza converted into an open-air cinema that screens mainstream Hollywood productions as well as independents. The event draws an A-list crowd who come for the relaxed approach that's light on glitz. Music festivals and performances are also common during the year.
"There's a lot to see and do for a small town, while still being close enough to the big city when you need it," says Zürich-native Susan Engelhard Herdeg, owner of Villa Novecento hotel. She and her husband had previously been guests at the 19th-century structure – which has leafy gardens and panoramic lake views – and fell in love with the area so much that they decided to take over the business.
For Matteo Inches, an Italian-born architect and longtime Canton Ticino resident, it was the scale of the town that drew him in. After living in Australia, he and his German wife Nastasja Inches-Geleta, also an architect, opted to set up their own practice in Locarno. They enjoy the mix of independent family-run shops, such as grocer Suini and pastisserie Marnin, known for its candied-pineapple panettone. "In Locarno there's the Italian influence but with a Swiss quality of life," says Inches. "It's the perfect balance."
---
Why it works
This is Swiss living but with an Italian twist, offering the winning combination of nearby Zürich and Milan. Residents have high spending power and like to enjoy the finer things in life, making this a great place for starting out in hospitality or retail. Add in a strong arts offering, an almost Mediterranean micro-climate and plenty of options for enjoying the outdoors (even within the city) and this becomes a standout place to live and work.
Starting out
Population: 16,000
Average rental price: CHF2,000 (€1,850) per month
Average salary: CHF4,700 (€4,350) per month
Nearest airport: Lugano is 40 minutes away by car. It has 4 flights to Zürich daily and connections to more than 100 destinations worldwide
Time it takes to register a business: Individuals with commercial activity of at least CHF100,000 (€92,500) in turnover must register. The process takes 2 working days