Companies that cook / Global
Meal deals
From a rooftop barbecue in Vienna to breaking bread with the neighbours in the Copenhagen district you designed, eating at work doesn't have to mean a sad sandwich served in the glare of a screen. We meet seven companies– big and small – to find out why sharing a meal can profit everyone.
Bureau F –
VIENNA
Bringing the high life to the office.
Viennese design agency Bureau F consists of just three people but its office in the Austrian capital's outlying 15th district is always bustling with activity. This is partly because the firm likes to meet its customers on home turf and, perhaps equally, because the team enjoy having friends over for a post-work barbecue on the building's spacious rooftop.
"We invite every prospective client to the terrace for a coffee and, in the evenings, we like to kick back here with a bottle of wine," says Philipp Stürzenbecher, who runs the bureau with his partner Fabienne Feltus and their other employees, including Katharina Chalupsky.
This communal space is also good for morale: the trio often discuss ideas over languid lunches. When too tired to cook, they order a takeaway from a restaurant downstairs. "The rooftop always gives you this feeling of escape and calm, especially with a view of the mountains," says Feltus.
the menu:
To eat: Sausage, halloumi, assorted vegetables and kringel (bread rings with sesame seeds). Plus drinks from the fridge.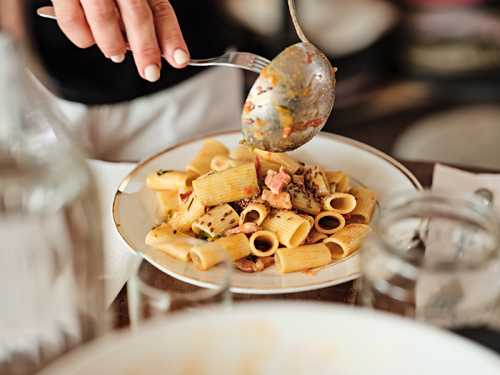 Reinhard Plank –
FLORENCE
In food, as in life, toppings are important.
A millinery and a kitchen might have more in common than is first apparent – certainly that's what Reinhard Plank thinks. The South Tyrolean hat-maker built a base just outside Florence where, like a chef, he tinkers with the ingredients that go into his handsome headwear, including felt, lapin and wool.
Plank's hats take their form through the application of heat and elbow grease – not unlike the process of cooking a meal. At lunchtime he and his team apply the same principles to the raw components that make up a meal.
THE MENU:
to eat: Pasta with peppers and rigatino – a kind of herb-cured Tuscan pancetta with a higher-than-usual fat content.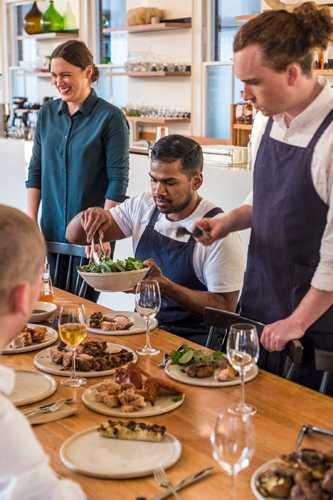 Agrarian Kitchen Eatery –
HOBART
If the staff love it, the customers will too.
As the final paying guests wind up their long lunch at Tasmania's Agrarian Kitchen Eatery, the chefs are already preparing for the staff meal that follows. Head chef Stephen Peak and his team are grilling locally found guinea fowl over coals and roasting rooster in the open kitchen.
The late-afternoon meal is shared by staff at the restaurant, which is set in a historic former mental asylum north of Hobart. It is frequently an opportunity for ingredients and dishes to be trialled alongside new wine that is about to be added to the wine list.
But the staff meal here is much more than a tasting. "Eating together goes a long way to helping create the right mentality and building team spirit," says co-founder Rodney Dunn. With the last rays of sunshine streaming through large windows, the team sit down to enjoy an unpretentious meal. A selection of natural wine accompanies the feast but the free-flowing conversation suggests that the group require little excuse to chat and joke with one another.
the menu:
to eat: Guinea fowl and rooster with roasted potatoes; broad-bean leaf salad with goat's cheese; and house-baked focaccia.
to drink: Selection of natural wine.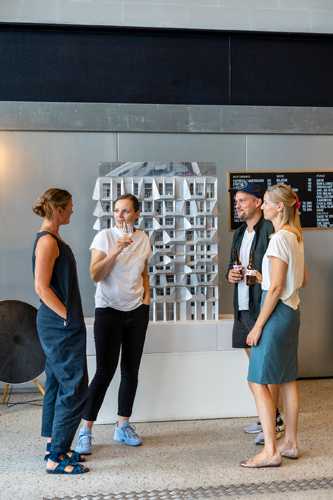 Cobe –
COPENHAGEN
Opening the door to meet the neighbours.
Having embarked on the mammoth task of creating a masterplan for Copenhagen's Nordhavn district, architecture studio Cobe decided to move its 150-strong office there to see how its vision is taking shape. Transforming the reception of its headquarters into a lively social space felt like a logical step. "We decided to do what we're trying to make everyone else do: open the door to the neighbourhood," says founder Dan Stubbergaard.
Throughout the week residents and architects gather around an oak table for informal meetings, snacks and strong coffee; on Fridays, after-work drinks sometimes develop into impromptu parties. Visitors can inspect intricate models of Cobe's latest projects, peruse specialist publications or buy posters and planters for their homes. "It feels great to create such a space," says Stubbergaard. "People are dropping by and smiling at me when I arrive at and leave the office."
THE MENU:
TO EAT: Pastries, smørrebrød and skyr.
TO DRINK: Coffee, lemonade, craft beer and wine.
Here Design –
LONDON
Putting the products it creates to good use.
Much of what east London-based graphic-design studio Here Design does is about food. From packaging to branding, the team have worked on projects for the likes of restaurant Palomar and chef Yotam Ottolenghi's dining spot Nopi. So it seems natural that lunch here should be a big deal.
The company's ground-floor kitchen is used daily but every Friday it hosts a company-wide banquet cooked by a rotating roster of colleagues. The tradition began in 2006 during the early stages of the agency's existence, when the three founders worked at partner Caz Hildebrand's house. But as the business grew and moved to London Fields, a hip and foodie neighbourhood, the habit endured.
Catering for 40 people is no easy feat but doesn't seem to be a chore. "This is my favourite thing about the job," says senior project manager Olivia Rawlinson. A budget of £175 (€190) per meal goes a long way. Whether inspired by one of the recipe books the team have designed or a celebration in a staff member's home country, menus change constantly; there have even been Midsommar and Thanksgiving-themed Fridays.
THE MENU:
TO EAT: Tomato, onion and sumac salad; cucumber and lamb's lettuce salad; baked rice with pomegranate seeds, walnuts, olives, feta and pomegranate molasses; lentil, rocket and fennel salad; burrata and pesto; edamame-and-pea hummus; classic hummus; and bread.
TO DRINK: LA Brewery Kombucha.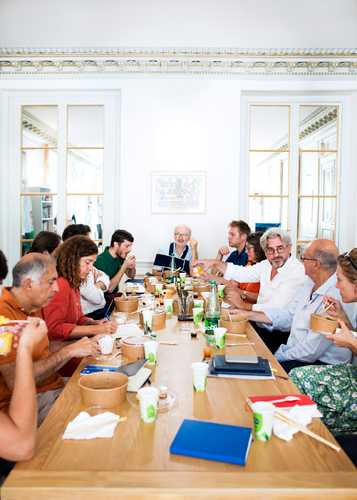 Le 1 –
PARIS
From the dining table to the front page.
Every Monday the team behind French weekly newspaper Le 1 make a point of gathering around a table to share lunch. Together with retired journalists, correspondents who have returned from the frontline, poets and illustrators, they discuss the themes of upcoming issues to ensure that the coverage is as impartial as possible. "It was hard for us at the beginning but we knew we had to talk to people outside mainstream media, otherwise we'd be heading in the same direction as everyone else," says artistic director Natalie Thiriez.
The grand feel of this Parisian flat in Pigalle might evoke images of bourgeois liquid lunches but don't be fooled: the days of knocking back wine on a deadline – and in between – are long gone. That said, Thiriez does have fond memories of the staff canteen at Paris Match. "We prefer something healthier now – and we drink water."
THE MENU:
TO EAT: Korean salad bowl with a choice of salmon, chicken or tofu.
For dessert: fruit salad and matcha cheesecake.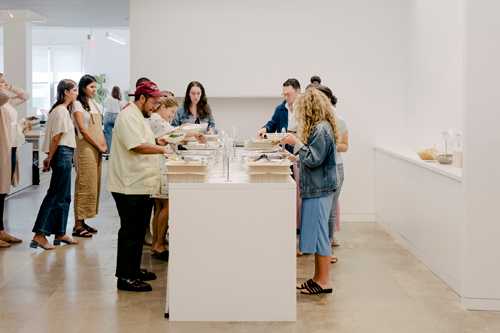 Warby Parker –
NEW YORK
Weekly lunch reflects eyewear firm's vision.
In 2010, Warby Parker shattered the eyewear industry. The company, which began by selling affordable glasses online, was among the pioneers of the then fledgling direct-to-consumer retail model. Today it has more than 90 shops and, earlier this year, the company was said to be valued at $1.7bn (€1.5bn).
Despite the firm's growth – it now employs more than 2,000 people – eating together remains a part of life at its Manhattan headquarters. Every Tuesday the company has a meal catered for its staff. Larger headquarters often have their own canteens but they can come at a cost, preventing investment in businesses on the doorstep. But Warby Parker partners with nearby restaurants to devise its menus. When we visit, the food comes courtesy of Inday, Basu Ratnam's Indian restaurant. Judging by the calm, convivial atmosphere, it has the recipe for staff satisfaction.
THE MENU:
TO EAT: Charred chicken curry; chicken-and-turkey meatballs; miso salmon; falafel; cauliflower rice; basmati rice; quinoa; sweet potatoes; yoga lentils; salad with lemon, turmeric and vinaigrette; and corn salsa.